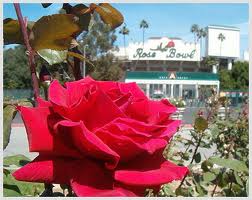 And so it is set- Either #6 Oregon or #9 Wisconsin will win the Rose Bowl this season.  A match up of the Rose Bowl's 2 previous losers will provide one team with the chance to erase that label.
While it may seem like so long ago now, both teams were on the fringes of national title talk for much of this season. Wisconsin was an early favorite to emerge undefeated out of the new Big 10 (which has 12 teams) and win the inagural Big 10 Championship Game. And Oregon also early, then later- after the Ducks defeated Stanford- when the talk of providing a more interesting rematch with LSU than Alabama would was suggested. Most pundits had the Ducks cruising the rest of the way. (After last night, it is hard to tell if the Ducks would have passed Alabama anyway, but I like to think they would have?) Both teams were at one point or another out of this conversation after suffering their respective second losses of the season. However, both found ways to win their way through enough regular season contests and newly-minted championship games to earn a spot in the "Grand Daddy of them all". It is the 98th edition of a game that traditionally showcases the best that the modern day Big 10 and Pac 12 have to offer.
When watching the Big 10 championship game and previously a few of Wisconsin's other games this season, I came away with some concerns about this match up for the Ducks, but I also see plenty to like. It can obviously be tough to determine what might happen in any given college football game or how particular players may perform, but these are some things that stand out to me:
Russell Wilson and the passing attack. Russell Wilson came to Wisconsin via North Carolina State in a somewhat bizarre preseason shuffle involving Wilson being drafted in the by the Colorado Rockies in the Major League baseball draft and subsequently released from his football scholarship. The move has proved to be beneficial to Wilson and Wisconsin. All he has done this season is complete 72.5% of his passes for 2,879 and 31 Td's to just 3 interceptions. He is also very mobile and has run for 320 yards and 5 Td's, but mostly uses his legs to buy time and find receivers down field. He was named All-Big 10 by the coaches and media, won the Greise-Brees Big 10 QB of the year award, and won the first ever Grange-Griffin award given to the MVP of the Championship game. He also set NCAA records with consecutive games with TD passes (37) and career QB efficiency rating (191.6).
Catching most of the passes from Wilson are Nick Toon (55 catches 822 yards 9td's) and Jared Abbrederis (51 catches 814 yards 7 tds) While the Badgers clearly rely on this tandem down the field, they also like to get the tight ends and running backs involved on shorter routes and swing passes.
One thing I noticed was that Michigan State was able to disrupt the passing game at times, particularly with linebackers and defensive backs blitzing from the edges. The Badger offensive line is huge and boasts 3 All-Big 10 selections, but has given up 23 sacks this season. The Michigan State players were able to get into the back field most of the game. If Oregon can do the same thing while covering receivers down field, this may be an area the Ducks can exploit.       
Montee Ball and the Badger run game. It starts, but does not end with Ball. The 5'11" 210 lb running back has accounted for 1,759 yards and 32 touchdowns rushing.
He is joined in the backfield by James White, a shifty but powerful back who has gained 683 yards and 6 td's. The Badgers as a team have rushed for 3,086 yards and use blocking and personnel schemes typical of pro-style offense (see Stanford). They like to use 6 or 7 offensive lineman and mostly pound it up the middle, but mix in some sweep plays to the outside. Just like playing Stanford, you need to score points and win 1st and 2nd downs early to try to get them out of their running game. The Ducks can score points, but they will need to consistently get off of enough Badger blocks and give great effort to slow them down.
Wisconsin Defense is like a T-Rex. Big and ferocious in the middle, but lacking the reach with it's tiny arms to keep prey from running right around it. The Wisconsin Defense has the top 2 tacklers in the Big 10 with linebackers Borland and Taylor. They have only allowed opponents an average of 293 yards and 17 points per game this season. Teams have converted only 38% of 3rd downs against them. They have collected 15 interceptions and recovered 9 fumbles. While they look pretty stout on the stat sheet, Michigan State was able to find huge spaces on the outside on screen passes, and runs to the outside all night. The Badger pass rush was somewhat nullified by Michigan State's ability to get the ball out to receivers quickly. Wisconsin will need to get faster and better at defending the width of the field in a hurry, or LaMichael James, Kenjon Barner, DeAnthony Thomas, and Oregon might literally run away with this one.
Special Teams play could be big in this game, but when are they not? Back to team speed, scheme, and execution. I see an advantage for the Ducks in all categories except 40+ yard field goals. Oregon has the speed to get downfield and cover on punt and kick offs. They also will no doubt have the speed to go after the Wisconsin kickers and Michigan State was oh so close on a few, and a little too close on the last punt block attempt. Whoever the Ducks decide to have returning kicks should be able to find room.
 Man, they take a long time. Slow in every phase of the game that Oregon tries to speed up. Huddling up between plays, sending in player substitutions late in the play clock. Not to mention, all of their opponents this season do things at largly the same pace. By the 2nd quarter, you noticed many Wisconsin defenders were standing with hands on hips, gasping for air even though the Spartans were taking their time between snaps. The Badgers have not seen anything like the Oregon offensive machine gun-like attack and overall team speed. Whether or not the Badgers can eat up enough clock on offense to keep their defense off the field and fresh enough to handle the Oregon offense for 4 quarters will be a key. If not, the physical toll of chasing Duck players from sideline to sideline over and over again, the type of "body blows" Oregon typically uses to wear down opponents with in the first half will turn into knock out punches late.
Josh White has been a dedicated Duck fan since the Bill Musgrave days. He has attended (and lost his voice at) virtually every home game and many away games since the late 1980's, including 96 of the current 97 game sellout streak at Autzen Stadium. A Eugene native, Josh works full time in Eugene area real estate, helping people buy and sell residential and commercial properties, and also volunteers with Habitat For Humanity, Kidsports and Food For Lane County. He welcomes your feedback.
Twitter: @WhiteHouseJosh
Facebook: EugenesBestRealtor
The Comments Below are CLOSED, as we are moving to the OUR BELOVED DUCKS Forum!
Comments below articles are now closed as we have moved all conversation over to the free Our Beloved Ducks Forum. It has been a big success already with many more posts than what we could fit into the comments below articles.
The Our Beloved Ducks Forum is where we we discuss the article above and many more topics, as it is so much easier in a message board format over there.  At the free OBD forum we will be posting Oregon Sports article links, the daily Press Releases from the Athletic Department and the news coming out every day.
Be a part of the forum and stay caught up!  When you wish to post there, do know that you are protected just as you were on FishDuck. Join us on the free forum right here!
Our 33 rules at the free OBD Forum can be summarized to this: 1) be polite and respectful, 2) keep it clean, and 3) no reference of any kind to politics. Easy-peasy!
OBD Forum members….we got your back.  No Trolls Allowed!