It was October 1, 1994.  Oregon had just pulled off an improbable 22-7 upset of Mighty USC for their first win at the Los Angeles Memorial Coliseum in 23 years.  While the team basked in the glow under the Los Angeles sunset, Senior Quarterback Danny O'Neil could only watch from back in Eugene as his team celebrated one of the biggest upsets in Oregon history.  O'Neil hadn't even made the trip to his home in Southern California due to a finger infection, noticeably absent while the Oregon team he had led for the past three seasons jubilantly celebrated in the Coliseum.
Though the victory was a true team-effort, backup sophomore quarterback Tony Graziani shined with a career day against USC.  So much in fact, many began to wonder if Graziani was the man for the Ducks from then on out.  O'Neil's career had been very up and down to that point; holding a record of only 2-2 to begin 1994, and a losing record as a starter at 11-12 (but putting up impressive passing yards, so much so that he earned the nickname "Stat Man" among teammates.)  Following Graziani's amazing performance over USC, some Oregon fans thought they had a new quarterback.
A week passed, and O'Neil missed another week of practice due to the finger infection.  Finally on October 8, 1994; Oregon traveled to the Pallouse for a date with Washington State.  O'Neil was cleared to play, but could only watch from the sidelines as Graziani began the game.  In the first quarter, Graziani picked up where he left off as O'Neil watched after missing two weeks of practice.  Graziani was playing well, but an ankle injury ended his day.  Suddenly O'Neil was back for the Ducks, as his veteran game-experience was called upon (despite not practicing) in favor of the third strong QB who had received lots of practice reps in lead up to the game.
Danny O'Neil gave a gallant effort throwing while still recovering from the finger injury.  Coming into the game cold with no preparation, he threw one touchdown in the third quarter to even the score 7-7, but Washington State's nationally ranked defense dominated from there.  O'Neil was sacked nine times and the offense was held to only 97 yards total offense.
Washington State added two touchdowns to hand the Ducks their first conference defeat, 21-7.  At that point, many thought Oregon's victory over USC was just one lucky day and it would be a long year from there, as Oregon faced a difficult task of six remaining conference games at 1-1 in Pac-10 play.  Oregon would return home to begin a four-game home-stand against California with a huge question mark about the remainder of the season lingering.
O'Neil knew there was work to be done, and recalls how he began his role as a senior leader from that point forward.  "You know, successful seasons like 1994 are largely built upon team character/the commitment to win.  So when the team went down to USC and beat the Trojans, that obviously placed the psyche at a level of unseen heights because we beat them.  WSU was a 'filler game' in hindsight.  We lost, we didn't play well, their defense was very good and caused us problems that day.  the WSU game was a road bump.  It was a challenge to our character.  I haven't thought much about diagnosing the game on how we lost.   When you fly home, that challenges the team character again, you came off a big win, now lose.  So the upcoming Cal game was to get us in the right position."
"The whole season changed with UW, that came in position to make a run.  When I think back to SC and WSU, those are just a challenge whether or not you can win football games, since we lost, so a challenge of the team's character.  It was a non-game in a sense for me, I went up there not expecting to play.  I was cleared but a backup.  When Graziani went down, I just said 'let's play,' I threw a TD right off the bat 60 yards, but WSU had a really good defense."
Oregon returned home to face California.  Many of the naysayers started talking as Cal quickly turned an Oregon turnover into seven points on Oregon's first possession.  However, O'Neil, a true senior leader, began to rally his team on the very next series.  Dino Philyaw had an impressive run of 63 yards to the 7 to give the Ducks momentum, followed by an amazing pass from O'Neil to Josh Wilcox (who came out of nowhere to prevent an interception) to tie the game.  From there, Oregon began to wear down the visitors from Berkeley.  O'Neil had a clean game, assisted by Ricky Whittle and Dino Philyaw each rushing for 100 + yards, and an amazing performance defensively by "Gang Green."  Final Score: Oregon 23, Cal 7.

Ninth-ranked Washington came to town the following week, as one of the most memorable games in Oregon Football History unfolded.  Any Oregon fan knows about Kenny Wheaton's interception that took place that day (arguably the greatest single play in Oregon history), known as "The Pick."  However, only true fans recall O'Neil's fourth quarter heroics on the day in what led up to "The Pick."
Holding a 0-3 career record against nemesis Washington (all rough losses from 1991-1993), O'Neil had one final chance to get a victory over the hated Huskies.  Oregon led 17-13 heading into the final quarter, but O'Neil threw an interception in his own territory in the fourth quarter, leading to a go-ahead touchdown by Washington, 20-17.
It had been five years since an Oregon team had accomplished a fourth quarter comeback, and O'Neil had never accomplished it once in his career.  To make matters worse, Washington pinned Oregon at its own 2 on the kickoff in the shadow of the away section end zone.  O'Neil suddenly became the big man on campus…briefly!  In his finest moment up to that point as a Duck, O'Neil rallied the Ducks from their own end zone.  Confident in his senior leader's abilities, Coach Rich Brooks called for O'Neil to throw from the end zone.  O'Neil found receiver Dameron Ricketts for a gain of 36 yards to begin the drive and get away from the end zone.
Two plays later, O'Neil found true freshman Pat Johnson at midfield for another fresh set of downs.  Several plays later, O'Neil found Ricketts again for a gain of 20.  On third and 8, O'Neil came through with one of the year's greatest individual efforts.  After rolling right and finding no receiver, O'Neil tucked the ball and ran up the middle.  He was initially stopped one yard short at the 20, but gave it every ounce of strength to inch forward (and using another Washington defender to fall on top of and reach over the defender's body for extra yards) to get to the 19 for the first down in the red zone.
On third down, Fullback Dwayne Jones came out of nowhere to burst through the line and score from 12 yards out to take the lead.  O'Neil went 4-4 on the drive, converted four third-downs, ran for a first down, and led the team 98 yards in only 11 plays to lead 24-20.
As everyone knows, Kenny Wheaton saved the game for Oregon with his unforgettable interception.  No one thought Oregon stood a chance at stopping the nationally ranked Washington Offense, and were delirious to see that Oregon had pulled off the improbable in such amazing fashion. Overshadowed by the interception was O'Neil's first comeback in his career in such impressive fashion; as "The Pick" would never have happened had Oregon not taken the lead.
O'Neil's breakdown of "The Drive":
"When I think of the drive, I think of the character of our team to overcome what was against us.  It became a common conversation that this team has never come from behind (particularly me.)  We were pinned at our own 2.  When I'm on the sideline discussing the strategy, the obvious play is to run the ball out, but Brooks and Bellloti decided to throw the ball.  Our first play was a play pass/fake run/and deep curl by Dameron Ricketts on back side.  Dameron ran a good route to get great yards."
"It would go from there, part of that psyche.  Here's 11 of us huddling against the ninth-ranked team in the nation, never having come from behind, let alone against our rival.  There was something about that huddle that enabled me to make sure I said 'hey guys, this is our chance.'  I remember saying at the time, that was one of the few times I walked in the huddle we needed to do something, and there were ten others agreeing.  They all said 'let's get this done.'  All were confident."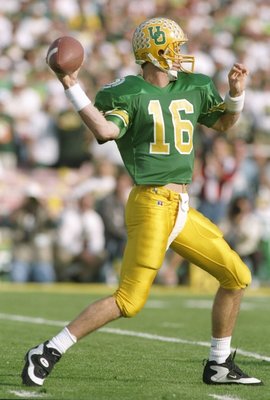 "Then, Pat Johnson caught an out-route at midfield.  Watching that in a replay, it seems like a simple play.  He was a true freshman, and we struggled making that play, but he got it.  On another third down, I ran for the first down.  That was also an out route.  I got a few reads on that, but told myself before the play I was going to roll out to the right.  If my first read isn't open, I'm just gonna run.  I didn't want to sit around and not have a chance to get the first down.  I rolled out to the right, so I tucked and ran right away.  I knew I was coming up to the first down, but knew I was gonna be short.  I lowered a shoulder.  Since I made the first move, he wasn't able to fully hit me, and gave me a chance to look over at the first down marker.  I was fortunate enough because I made contact with the Washington player as he stood me up, and I was able to glance at the marker to see where I was.  I saw I was about a yard short, so I just reached out the ball as I went down, and we got the first down on the second effort."
"Three plays later came the touchdown by Dwayne (Jones.)  Though that was a rarely seen run, we called that play set every game.  I had six options on that play after taking the snap, it was called "Check Option."  At the line, I could either do a dive to the right, left, fake to FB run option, or I could call a pass play.  It's all contingent upon how the defense lines up.  I'd rarely called a dive, always an option to the left or right.  There happened to be a hole there, so I called Dwayne's number for the first time.  I handed to him, and Dwayne did the rest running it in from 12 yards out and stretching out at the end.
Gritty Battle Vs. Highly-Ranked Arizona:
Against Arizona, Oregon trailed 9-0 at the half.  An impressive defensive battle matching "Gang Green" and "Desert Swarm" was quite the pitcher's duel, and O'Neil was faced with the task of leading his team to a come-from-behind victory for the second consecutive week.
In the third quarter, O'Neil led the offense into Wildcat territory to set up a field goal and cut the Arizona lead to six points, 9-3.  In the fourth quarter, O'Neil and company drove downfield.  On third and long from the Arizona 15, O'Neil threw a corner-route to Tight End Josh Wilcox for the game's first (and only) touchdown with 12:17 remaining.  The PAT gave Oregon the lead, and Oregon's defense held Arizona in check from there.  O'Neil had rallied his team for an improbable second-consecutive comeback victory over a ranked team.
O'Neil would have career games over Arizona State and Stanford to follow.  Against Arizona State, O'Neil ignited the offense for a huge explosion in the third quarter.  Leading 13-3, O'Neil threw three touchdowns; including a season-long 67-yarder to speedster Pat Johnson followed by a 66 yard touchdown to Cristin McLemore to give Oregon a 34-3 third quarter lead (and 34-10 final score.)
Stanford had no answer to O'Neil's explosive arm.  On a record setting day in Palo Alto, "Gang Green" set up the first touchdown by picking off the first pass of the day from Stanford.  O'Neil found a wide-open Cristin McLemore for the game's first touchdown, and went on to throw him two more to assist McLemore in breaking Ahmad Rashad's career mark and provide a 31-7 halftime cushion.  In the third quarter, O'Neil threw an additional three touchdowns–six for the day, to set another school record in the 56-21 routing of Stanford.  Even legendary Stanford Coach Bill Walsh said he had never seen a QB have such an amazing single-game performance by a collegian quarterback.
O'Neil had led Oregon on an impressive five-game winning streak.  With only one game remaining, the Ducks knew they could win it all with just one more victory over their in-state rival.  Oregon State was well-prepared and ready to spoil the Ducks' Rose Bowl hopes.  On a wet, cold, windy day; O'Neil and company took an early lead as O'Neil found Dino Philyaw all alone in the flat for an 18-yard touchdown and the game's first score to cap a 65 yard drive.
However, Oregon State's defense began to man-handle O'Neil and the Oregon offense.  Pinning Oregon deep in their own territory, OSU blocked a punt to score their first points.  O'Neil and company managed only a field goal in the second quarter, and Oregon State took a 13-10 lead in the third quarter.  The Beavers continued to control the game defensively through the fourth quarter, and appeared ready for the win.  With everything hanging in the balance, the Ducks got the ball one last time with 4:42 remaining.  O'Neil had been shaken up on the previous drive, but came in fired up to begin the drive at the Oregon 19.
"It was our last opportunity.  I knew this was definitely it, I thought if we don't score here–OSU's offense is probably going to run this thing out.  They had a good offense to run the ball, and we didn't want to give them the ball.  We knew it was going to be our last chance and had to capitalize."
On first down, O'Neil found the gimpy but still game Cristin McLemore for a gain of 31.  On third and six, O'Neil converted it by finding McLemore again, who made his way to the OSU 14.  Two plays later, Dino Philyaw went in motion, caught a screen pass from O'Neil, and ran it in for the go-ahead score.
"That drive was different from anything.  EVERYTHING was on the line against OSU.  That one was a lot more pressure, as we had to score on that drive with under four minutes to play.  You know it's your chance at overcoming years of not winning.  That one was different from anything else.  There were good plays; a few to Cristin McLemore that were important (two key receptions for first-downs).  It was cold, rainy, windy, and it took ALL the offense all we had against their rough defense.  The whole offense sucked it up and gave every ounce.  It was similar to the UW game.  It was probably our last chance (unlike UW, which had 7:40 remaining to start the drive.)  Even though it wasn't a last second drive, it was probably our last chance, and we managed."
The defense held, and the celebration was on.  Rose Bowl bound the Ducks were, after having been picked to finish no higher than 8th place in the Pac-10.  Oregon didn't even have to share the title following UCLA's upset of USC, and O'Neil had finished his final regular season 6-0 as a starter since returning from his injury.
Though Oregon did not win the Rose Bowl, Danny O'Neil would earn the game's MVP award by setting 13 Rose Bowl records with an amazing career day in his final game as a Duck.  O'Neil shattered the record for passing as he completed an amazing 41-61 passes, including two touchdowns to to tie and keep Oregon in the game.  The game remained close until late in the third quarter when Penn State took a 28-14 lead, followed by a score to put the game away in the fourth, ending 38-20.
After four years of getting nothing but grief, O'Neil had capped his career by making the absolute most of his second chance following the comeback from his injury.  Three come-from-behind victories in five weeks to cap a six-game winning streak and send Oregon to its first Rose Bowl in 37 years–a reflection of O'Neil's leadership and the determination/will of the team to win.
"Lots went our way that year!  I'm not a big believer in luck, but things happened for us that year.  Sometimes the difference between the champion and loser depends on a few breaks versus being much better.  Championship teams create breaks, but you get them sometimes too.  We had good breaks, and we capitalized on them.  Whatever you call it, there was some luck that year.  When I think about it, it's just being honest.  Most people who have won, have won AND been lucky.  Sometimes you just dominate–sometimes you just barely do it, sometimes you get breaks.  We went out against Stanford and just beat them.  We went out against Arizona State, beat them.  Against Washington, we were lucky!  It comes down to luck, and capitalizing off of your luck.
Questions and Answers with O'Neil:
What was a funny/unusual moment that season the fans may not know about?
"There's a funny story on my comeback against WSU.  A few guys on WSU's defense were starters since they were freshmen, and we had known each other from playing all four years since I had my first start against WSU in 1991.  My opening game of my career was against WSU at Autzen, when many of them were true/redshirt freshmen, as they had a young defense with guys just as young as me.  Four years later (fourth time against each other) we knew each other well on the field.  Washington State's Chad Eaton was a big lineman, he was huge!  When Tony got hurt, I warmed up and was preparing to go  into the game.  I called a play and we get to the line of scrimmage, and Eaton wants to talk, here's this big guy concerned about me!  Chad Eaton is standing there, and he asked about the finger, and the clock ticks down and he was more concerned about my finger than the play!  Clock is ticking down as he was asking (he wasn't ready for the snap).  It was a weird moment to be chatting with an opponent as the clock runs."
What was your favorite moment among teammates?
"The key moment was the players-only meeting held after the 1-2 start.  We'd never had player-only meetings in my time.  Coach Brooks was very frustrated, and looked to talk to the seniors for answers from the player component side.  The seniors then got together and called a meeting.  We all got together and spoke to the youngsters.  We said 'we're not going out this way.  We need to step up, practice harder, and know that this is our last season and we're  not going out like chumps.'  I think it just established a different mentality in Oregon football.  It's a precedent to players on football team, we don't just show up, try hardest and hope to win.  We've got to figure out how to win, and how seniors take it seriously."
What coach that did the most to help you?
"A few different coaches: Jimmy Radcliffe, Mike Bellotti, and Nick Alotti.  Bellotti was my offensive coordinator my whole time there, and we got along very well.  Jimmy Radcliffe was important to a lot of players, he's amazing how he motivates and gets you working hard.  His positive leadership really makes guys to want to make him proud.  Aliotti was looking out for me since he recruited me.  But, all the coaches were fabulous, and I had a good experience with all of them.  There are the coaches and players; they are the two different components of a football team.  The coach's side is much different than the players' side."
Another anecdote about the coaches: After we lost to Utah, Coach Bellotti was on my back a lot!  He was putting a lot of blame/pressure/responsibility on me.  After a team meeting, I went up to him to ask what was going on.  He said, 'listen Danny, crap runs downhill.' (Maybe it was a different word from 'crap'!!)  'Boosters and fans are on Brooks' back, then he's on me, now you're next in line being the QB!  Now you go give it to someone else if you want!!'   That freed me up, he was being serious, but smiling at the same time.  It wasn't pass the buck, but showing how when things go bad it's a domino-effect, and so we need to stop it by winning!
What's a moment in your career at Oregon you wish you could go back and do again?
-Not throwing the two interceptions in the Rose Bowl.  (Game changing interception came when Penn State had just claimed a 21-14 lead, and O'Neil's interception was returned to the red zone, leading to a two-touchdown deficit a few plays later.)
What was it like to be the MVP of the Rose Bowl and set so many records?
"The Rose Bowl game just signified that we had a great year and had the game close.  You lose you lose, but we fought and played hard, they were good (PSU).  When I think of the Rose Bowl, it signifies the accomplishment of our team.  It was a good way to go out by earning the MVP award, but I don't look at the Rose Bowl as a victory (as it wasn't)."
Tell us about what you learned playing football that you've been able to apply in life afterwards/ever since.
"I think my time playing at Oregon just showed that you're not limited on what you want to accomplish.  Things don't always go your way, you're not going to win each time.  If you want it bad enough and are willing to commit to it and fight for it, you can accomplish what you want to do.  I probably learned that if you want something bad enough, you have to go to work.  Your commitment to it has to reflect it.  You have to make changes, change the way you are and how you treat people.  What I learned is that you have to make sacrifices to achieve it.  Dreams aren't achieved because you dream, but because you translate dreams into action that takes incredible amount of commitment and effort.  I think people did agree with what I said, but don't have the passion for their dreams.  That year, a lot of Pac-10 teams were more talented but didn't have the true heart to do it all.  What the Rose Bowl did to us, we actually accomplished it and it taught us about what it takes to reach your goal, even when unexpected.  Experiencing being a champion gives you the confidence and experience to know what it takes to be successful on and off the field.  Whenever I do interviews on that season, the season is part of the history.  It comes from someone who experienced it."
Who was your favorite teammate/guy you hung out with the most?
"Mark Slymen, my best friend and roommate.  We were roomies for all five years, going through the same thing each day, showing up each day, and we had our own trials.  When you live with someone that experiences the same thing you do, it makes a difference.  The Chemistry on that team was fabulous, and we really got along well.  It was one of the first years (THE first) that some of the racial boundaries were broken down.  When you start losing, words come out.  That team decided to come together rather than divide.  A football team's season can come down to a few plays, you've gotta have a team that is all together to give 100% effort on every play, as you never know what can develop."
———————————

Danny O'Neil recently returned to his home area of Orange County, California; following an 11 year career as a pastor of a Eugene church.  Following his graduation in 1995, he spent one season in arena football, followed by an extended time overseas.  O'Neil got into ministry in the mid-1990's, and enjoyed it so much he decided to hang up the cleats and turn down an offer from the Kansas City Chiefs so that he could stay with his youth group.  Now a family man, O'Neil has a wife of nearly a decade and two children in elementary school.  Aside from church ministry, he was the Oregon Ducks' team pastor through the early-mid 2000's, handling the team prayer and athlete's bible study.  To this day, O'Neil and remains a true follower of the team, attending the Rose Bowl and other games/alumni events loyally.
These are articles where the writer left and for some reason did not want his/her name on it any longer or went sideways of our rules–so we assigned it to "staff." We are grateful to all the writers who contributed to the site through these articles.
FishDuck Going to Articles on Monday and Tuesday Only…
Our off-season schedule begins, and we move from publishing articles seven days a week to Mondays and Tuesdays only. Same great group of writers, and we will have an article on other days on occasion.
The Our Beloved Ducks Forum (OBD) is where we we discuss the article above and many more topics, as it is so much easier in a message board format over there.  At the free OBD forum we will be posting Oregon Sports article links, the daily Press Releases from the Athletic Department and the news coming out every day.
Our 33 rules at the free OBD Forum can be summarized to this: 1) be polite and respectful, 2) do not tell anyone what to think, feel or write, and 3) no reference of any kind to politics. Easy-peasy!
OBD Forum members….we got your back.  No Trolls Allowed!