In case you need to be reminded any, here is a brief description of Kenjon Barner shortly after he signed a letter of intent with the Oregon Ducks four years ago.
Recall he was a defensive back then.
"Coming off a successful high school career as a running back, Barner will join John Neal's defensive backfield after choosing the Ducks over Arizona State and Texas-El Paso." The Oregonian reported on Feb. 6, 2008.
Now consider what's he projected as next season.
The Ducks' No. 1 — insert one of these words here: star, stud, stupendous — running back.
Much has been made over Oregon's needs (and question marks) at quarterback and at tight end and at defensive end. No argument here.
But replacing LaMichael James in the backfield — in this scribe's way of thinking anyway — is the biggest hole to fill. By far.
James departs as the greatest running back in Duck football history. He averaged 137.4 yards per game over the course of his career, which saw the program win three straight Pac-12/10 titles and capture 34 of 40 games. His stature will only grow as the years roll by.
OK, maybe you can't really replace LaMichael James. But the importance of getting major production from the backfield can't be overstated. So far during Chip Kelly's tenure, we know this: The running back is the pedal that has made the Oregon offense go, go, go — and into the record books.
The fast and shifty Barner is capable. He has 1,856 rushing yards since he first donned an Oregon uniform. He's dangerous as a pass catcher, too, hauling in 17 passes for three TDs this past season, including one in the Rose Bowl.
Back in October, he came up big against Arizona State, rushing for 171 yards on 31 carries, as the Ducks rallied in the second half with James in street clothes on the sidelines. A month later, he had 123 yards on just 15 carries and two TDs against a rough USC defense. And don't forget the 2010 Rose Bowl against Ohio State when he scooted all over the place for 227 all-purpose yards.
But can the Riverside, Calif., native do it over the entirety of a full season (he has missed five full games and the most of a sixth during his career)? Can he shake off injury as James courageously did time and time again? Oregon has the burner De'Anthony Thomas to throw at foes, too, but the Ducks need the bruising carry on occasion from their starter. Can Barner get the really tough yards in the darkness of the pile?
If you're a Duck fan, the good news is the fifth-year senior is seemingly super-focused.
"I'm constantly working," Barner said last Sunday at the Oregon Sports Awards Banquet in Portland. "I'm not listening to (people saying) I'm supposed to be the guy. I'm constantly staying focused on what got me here, and that's hard work.
"We have a great team. It's not about any particular individual. What we accomplished, we accomplished together, and through thick and thin we stick together. We work hard. And we have a great coaching staff, a great fan base, and through them all things are possible."
What many forget about Barner is his consistency. Over the course of the past three seasons, he has averaged 6.2, 6.1 and 6.0 yards per carry. James, over his career, averaged 6.6 yards.
So barring injury, the Ducks should be just fine. Here's the math, in case you're wondering: 200 carries X 6.1 yards a carry = 1,220 yards.
And if the guy who wears No. 24 gets anywhere close to 250 carries in 2012-13 — James averaged 257 carries a season over the past three — the rest of the Pac-12 should be really, really worried.
Remember, there's De'Anthony, too.
OK, here are the links on Duck football we collected over this past week: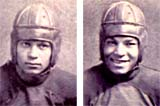 Fascinating story by Kurt Liedtke on FishDuck about the first two African-American players to wear Duck football uniforms.
Oregon State's lacrosse team is getting flashy new helmets painted by the same Newberg, Ore., company responsible for the Ducks' Rose Bowl "liquid metal" helmets. Make sure to check out the last several graphs in the piece.
National Football Authority points out some of the misnomers about LaMichael James' style and abilities.
At 12-1 odds, the Ducks have the fifth best chance of winning the 2012-13 BCS title, according to the Vegas crowd. USC is No. 2 with 5-1 odds.
ESPN puts Oregon's BCS title odds at 10-1.
CBS' Dennis Dodds has Oregon at No. 4 in his "early" 2012-13 preseason poll. LSU is No. 1, followed by USC, Oklahoma, Oregon and Alabama.
Three Pac-12 players but no Ducks in this list of the top 10 "most intriguing" redshirt freshmen in the country.
These are articles where the writer left and for some reason did not want his/her name on it any longer or went sideways of our rules–so we assigned it to "staff." We are grateful to all the writers who contributed to the site through these articles.
Daily Articles NO MORE on FishDuck
Please see this explanation right here… and to learn about the impact of FishDuck on so many–check the summary right here.  I will be writing intermittently on FishDuck (as the mood strikes) this summer, and a couple of times a week during the football season, and those articles and analyses will be posted here on FishDuck, and the links to my articles will also be available on the new site PuddleHuddle, when it is up soon.
New at FishDuck? Learn about the site right here!
Our 32 rules can be summarized to this: 1) be polite and respectful, 2) keep it clean, and 3) no reference of any kind to politics. Easy-peasy!
Take note though, there are NO STRIKES, NO WARNINGS, and NO SLACK given. Violate the rules and you are gone, as this is what the 99% who post superb comments want. (The Ban could be for weeks, months or permanent) For the less than 1% out there who do not have impulse-control … as you write your comment that violates our rules, ask yourself, "is this worth getting banned over?"
FishDuck members….we got your back.  No Trolls Allowed!