In 2008, Oregon was coming off of a 29 - 7 season and the second Elite Eight appearance in 5 years. Head coach Ernie Kent, despite some up and down years, had mostly enjoyed success on the court and seemed to be growing the program. The Ducks "Big 3" group of seniors Maarty Leunen, Malik Hairston, and Bryce Taylor were returning. Oregon was able to compliment that group with a pair of promising sophomores in Tajuan Porter, a 3 point machine in the NCAA tournament bound campaign, and Joevan Catron, an active big man who had shown relentless effort on the glass. After a special senior season, Aaron Brooks had been selected in the NBA draft, but the feeling was that this group would be in good hands with highly touted freshman PG Kamyron Brown.
The Ducks would earn a ticket to the Big Dance that year, but it seemed that something was missing. It was hard to describe what was going wrong that season as it was happening. The Ducks came into the season ranked #12, but stumbled down the stretch and finished just 18-14. The team that had won the Pac-10 tournament and made such a strong post-season run a year before, now had been bounced in the 1st round of the Pac-12 to Washington State, and in the NCAA tournament, falling to Mississippi State. The regression from the talented group seemed to be tied to a lack of a "true" point guard.
Meanwhile, in Oregon high school hoops, a guard named Garrett Sim from Portland's Sunset High had been named 6A OSAA Player of the year in basketball, while also claiming the 6A state title in the triple jump. He averaged over 20 points per game and nearly 9 assists. As a senior, he led Sunset to a 3rd place state finish at Mac court.
An intriguing local prospect, Sim is also the son and brother of three Oregon State Alumni, and may very well have ended up a Beaver. It did not seem however that the Ducks would be his likely destination. After drawing interest from several schools, Sim had decided to commit to the California Golden Bears. (Shown in this video from the Oregonian)

The Bears, however, were in the middle of firing former coach Ben Braun and replacing him, ironically, with former Stanford coaching legend ('86 -'04) Mike Montgomery. In an early moment of brilliance for Sim, and in light of the coaching turnover, Sim ultimately decided against the Bears and signed with coach Kent and the home State Ducks instead. Sim would join a recruiting class that was regarded as possibly the best in Ernie's tenure. A collection of talent that was gleaned from across the country, with a seemingly distant regional focus on the Chicago area.
Touted players such as Michael Dunigan, Matthew Humphries, Josh Crittle, Drew Wiley, and Teondre Williams were expected to take the Ducks back to Elite Eight level success, and perhaps more. At the time, Sim was seen by the media and fans as more of just a nice addition to the overall class. Because hey, these other kids were McDONALDS All-Americans! Competitive basketball, and finishes in the top half of the conference seemed to be a given.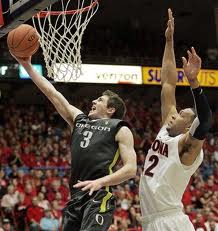 Fast forward to today, and Sim is the only one of those Ducks still standing. Since enrolling, 8 players have left the team. 8 is also the same number of wins recorded by the Ducks during his freshman season. During his first 2 full seasons, Sim was offered only the occasional opportunity to make an impact on the floor. In his junior year under new head coach Dana Altman, Sim began to hit his stride. His statistical numbers went up across the board. He was beginning to show some consistent confidence, and his play was instrumental in the 21 wins that culminated in the CBI Championship last year.
There are 5 seniors on this years' roster, but he is the only one who began his collegiate career in Eugene. Sim is also playing the best basketball of his career, and his minutes per game and points per game have increased again dramatically. He is posting personal best marks in FG and FT shooting, and he is making a lethal 47% of 3-pointers this year.
Last week, in the first few minutes of the Washington blowout win, it was Sim – 8 Fuskies – 0. He finished with 13 points and followed that up with a 16 point performance in the Washington State game. Sim has tallied 971 career points, and has risen to #10 on the Ducks all-time 3 pointers list.
Garrett Sim has also authored some big time highlights in his time, such as converting a full court pass into a lay in, and a buzzer beating half court shot seen in this OregonSportsNet video shot prior to his Junior season:

And don't forget, Garrett can also Dunk:

An unfortunate side note here is that despite making the correct choice (in my very biased opinion) in selecting a college, the outcome of the Ducks vs Cal games have not been favorable as of late. Including the heart-breaker last night, the contests against Cal have not gone the Ducks way for the previous nine meetings.
In fact, the Ducks have had a difficult time with Mike Montgomery coached teams in general. Don Monson, Jerry Green, Ernie Kent, and Dana Altman have combined for just 10 wins in 48 games against the Bears head man. While playing away games at Stanford and Cal, the Ducks have now gone 0-22 on the road vs Monty's teams.
The game last night was a tough one to swallow. When Emory hammered home the alley-oop and then hit a 18 footer as the shot clock expired, I admit that I liked the Ducks chances. But, you have to give credit to Cal for making the plays when they mattered the most.
Joseph was on fire en route to 33 points, including a perfect 9-9 from the free throw line. He hit back-to-back incredible 3 pointers in the final minute to keep the Ducks within range. Emory again provided a spark with 11 points 4 rebounds and 4 assists. Asholu contributed 10 points though was called for a questionable "head butting" technical foul. EJ Singler and Tony Woods had 8 points and 6 rebounds a piece.
The bright spots for the Ducks were shooting 54.1% as a team and 11-11 from the charity stripe. The Ducks out rebounded Cal 26-25, had more assists (17-15), and held Cal to just 2-10 from 3 point range. The stat that jumps out as a difference maker not in Oregon's favor was losing the turnover battle 22-13.
The Bears stuck their best defender, Jorge Gutierrez, on Garrett Sim for much of the night. Partially due to this, Sim was limited to just 7 points on 3-9 shooting and 0-4 from beyond the 3 point line. Sim had a decent look at a late 3, but could not get it to fall.
The Oregon Ducks now sit at 18-8 overall, 9-5 Pac-12 with at least 5 more to play. Garrett Sim and the Ducks still have plenty to play for. They may already be looking at a NIT berth, and winning 20 or more games in the regular season is never something to be ashamed of. I like the chances for these Ducks down the stretch, and I wouldn't be surprised if they are able to make some noise in the Pac-12 Tournament.
But first things first, the Ducks will need to refocus quickly as they look to gain separtion from a middling Stanford squad, who pounded the tough-luck beavs at Maples on Thursday evening.
The beavs have remained dormant in the conference, hibernating their way to a 5-9 record.
The bay area has always provided a substantial challenge for our beloved Ducks, and the team will need to be on their game against the "lone standing trees".
This team is a long ways from the 8 win version of '09, and it has to feel especially good for senior Garrett Sim, the only current Duck that was a part of that season. Under Altman, the Ducks seem poised to succeed for years to come. Down the road, when we are able to look back on the turn around of the men's basketball program, the improvement and dedication of a player like Sim will be among the best examples of how they were able to get it done.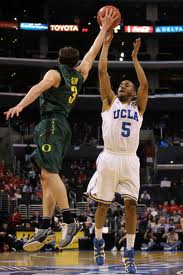 Here are some career numbers for Sim:
(As of 9/15/2012)
| | | | | |
| --- | --- | --- | --- | --- |
| | 2008-'09 | 2009-'10 | 2010-'11 | 2011-'12 |
| Minutes PG | 23.77 | 15.4 | 26.2 | 31.7 |
| Points PG | 6.8 | 4.2 | 8.2 | 12 |
| FG % | 35.5 | 36.3 | 41.2 | 49 |
| FT % | 77.8 | 70.8 | 83 | 86 |
| 3 Point % | 32.4 | 33.3 | 34.7 | 47 |
| Assists PG | 2 | 0.96 | 1.8 | 2.7 |
| Team Wins | 8 | 16 | 21 | 18* |

Want to Watch Oregon Games on your computer?
If you do not get all the channels that have the Oregon Football games, or simply want to be able to watch the game over again as you don't have the space in the DVR to hold all the games?
Contact me by email: charles@fishduck.com and I can help.  We have fans across the nation and internationally watching the games 24/7/365 and I wish that for everyone.  Charles Fischer