The following is the No. 6 – 4 countdown of Pac-12 schools, part of Chris Charbonnier's ongoing special report for FishDuck.com.
The introduction of this series is located here: http://fishduck.com/2012/02/fishduck-recruiting-special-pac-12-talent-introduction/
The countdown of No. 12 – 10 is located here: http://fishduck.com/2012/02/fishduck-recruiting-special-pac-12-talent-12-10/
The countdown of No. 9 – 7 is located here: http://fishduck.com/2012/02/fishduck-recruiting-special-pac-12-talent-9-7/
In case you missed the introduction, you can find it here. It will give you some good background, and clue you into the formulas being used below.
Note that all rosters are works in progress, as teams have not yet released official 2012 rosters. You'll see that some rosters are over the 85 scholarship limit, but this is only because there's attrition that either 1) I don't know about or 2) hasn't been made public (if this were the SEC there would be a 3rd option, but we won't go there).
Tier-E: 5-star rating by at least one service
Tier-1: 4-star rating by at least two services
Tier-2: 4-star rating by one service
Tier-3: 3-star rating by at least two services
Tier-4: 3-star rating by one service
Tier-5: No 3-star rating by any service
WASHINGTON HUSKIES – No. 6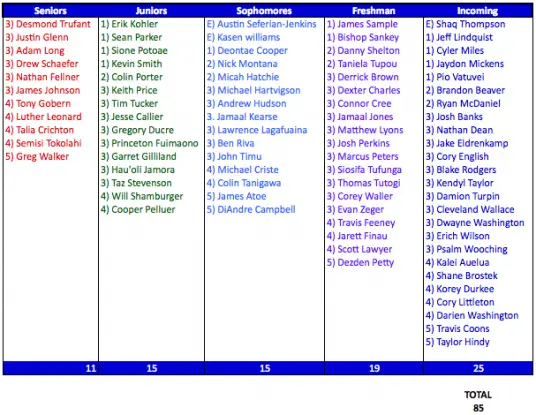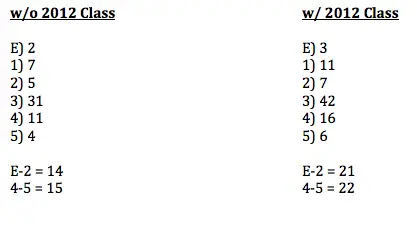 Summary
Washington is the first team that really separates itself from the pac(k). This is a team with enough talent to potentially put up a fight against the best teams in the conference, something that can't be said for the #7-#12 group. A couple of top-15 classes would go a long way towards solidifying the Huskies as a true conference contender.
What the Future Holds
The first thing I see looking ahead is the lack of talent in the senior class. There's not a single E-2 senior on the roster. While this might be a short-term concern, it also means that Washington's overall talent level will significantly increase after the 2013 class comes in. Looking at next year, Keith Price will be better and so will the offense, even after losing Chris Polk to the draft.  Sophomores Kasen Williams and Austin Seferian-Jenkins are both big time playmakers with the ability to change games. The additions of Justin Wilcox and Tosh Lupoi will make a serious difference on the recruiting front. Those two could help change the fortunes of the program from one wallowing in mediocrity to one with BCS aspirations. They aren't as far away as some might think.
My Take
This is a team on the rise. I expect the Dawgs to land a couple of good recruiting classes in a row and become real conference players. I'm not underestimating the Wilcox/Tosh combo. Coach Sark will always field a good offense and if the defense can start holding teams under forty, Washington will be dangerous. Until then, they won't be able to beat the USC's or Oregon's of the world. They have a chance to be the third best team in the conference though, and at the very least they'll continue to improve and make a bowl game.  I'm still not convinced they can become a consistent BCS contender, but it's not out of the realm of possibility.
CALIFORNIA BEARS – No. 5
Summary
Two things are immediately obvious. One is that California has some major talent on the roster, significantly more than the team sitting at sixth in these rankings. The second is that only 75 scholarship players are listed. Whether they've awarded some of these to walk-ons or they're just saving them for the next couple years I don't know. Probably a combination of both considering their junior and senior classes only account for 23 schollies. With that in mind, it's important to note that their talent stats could be even more impressive. And sorry Cal fans, I can't help but wonder what the incoming class would look like had Tosh Lupoi not bolted to Washington. That whole situation was just brutal. Sorry to remind you. It was just so devastating.
What the Future Holds
In all seriousness, not all is lost. This is a team that has the talent to compete on a high level. Keenan Allen is a freak and they could end up fielding a dominant defensive line in the near future. What's more, if they can even start winning consistently, recruiting should improve. Cal is a great school in a great location. Unfortunately, the Bears are competing with the other California schools and Oregon for most of their recruits. Unless they can start producing on the field, Tedford isn't likely to keep his job and the team isn't likely to move up in these rankings. On the bright side, there are a bunch of open scholarships that need to be filled. In the short term, California is in the same boat as Washington: able to compete for third, but not much more than that. Look for them to end up in another mediocre bowl game.
My Take
I think Tedford is gone within two years, before the young guys can mature and produce at a high level. The team will continue to fall short of expectations. What's so crazy about Tosh leaving is that it will likely cost Tedford his job. The monster class they were bringing in would have changed everything. A new coach could give the program a real boost, but until then I don't have high expectations. Things could definitely change in a couple years though. This next recruiting class will prove to be huge.
STANFORD CARDINAL – No. 4
Summary
It wasn't just Andrew Luck and this team isn't going anywhere. They've got a ton of talent and just signed a ridiculous class. They might not play in a BCS bowl next year, but they certainly have the players to give it a run. Stanford can compete with anyone in the conference and it will be interesting to see how the team performs after losing the best quarterback in college football.
What the Future Holds
Let's talk about the historic offensive line class that Stanford just signed. Peat/Murphy/Garnett/Davidson/Fanaika/Shuler. That is so filthy. I don't care if you put high-school players at every skill position, that's going to be a very good offense for a very long time. They've got nice defensive talent too, and thanks to their recent success and all the players they've been sending to the league, Cardinal recruiting will continue to be a force. This program is here to stay. Next year could find the team in transition, but even if they struggle they'll finish in the top third of the conference. This is a good team with promising future.
My Take
If you could buy stock in football teams, I would load up on shares of Cardinal. They are a safe short-term team with the potential to be a powerhouse in a couple years. I love how the roster is shaping up. I expect the team to continue winning, the campus isn't moving and the academics aren't going anywhere. What that all adds up to is continued recruiting success, which means winning and more big time bowl games. This program is here to stay.
Check back next week as we continue the countdown in the Pac-12 conference with No. 3 – 1…
Chris was born in Montevideo, Uruguay, but made his way to Oregon by the age of five, when he attended his first game at Autzen Stadium. A huge sports fan at a young age, Chris grew up playing football, basketball and golf. Although realizing he isn't likely to play in the NFL or NBA, Chris still holds on to hopes of being a professional golfer should his unfortunate putting woes take a turn for the better. A bit of a platypus, he attended both Oregon State and Oregon during his collegiate days where he earned a business degree in Finance and Business Administration. Chris works for Daimler Trucks North America in Portland, and plans to get his MBA from the University of Oregon.
Chris has been an active member in the recruiting community since 2005. He studies the intricacies of recruiting and is particularly intrigued by talent evaluation techniques. He is currently working on developing his own scouting reports for every scholarship player on the UO roster. Chris lives with his wife, Katrina, and his two-year-old son Lucas (a future dual-threat QB).
Daily Articles NO MORE on FishDuck
Please see this explanation right here… and to learn about the impact of FishDuck on so many–check the summary right here.  I will be writing intermittently on FishDuck (as the mood strikes) this summer, and a couple of times a week during the football season, and those articles and analyses will be posted here on FishDuck, and the links to my articles will also be available on the new site PuddleHuddle, when it is up soon.
New at FishDuck? Learn about the site right here!
Our 32 rules can be summarized to this: 1) be polite and respectful, 2) keep it clean, and 3) no reference of any kind to politics. Easy-peasy!
Take note though, there are NO STRIKES, NO WARNINGS, and NO SLACK given. Violate the rules and you are gone, as this is what the 99% who post superb comments want. (The Ban could be for weeks, months or permanent) For the less than 1% out there who do not have impulse-control … as you write your comment that violates our rules, ask yourself, "is this worth getting banned over?"
FishDuck members….we got your back.  No Trolls Allowed!