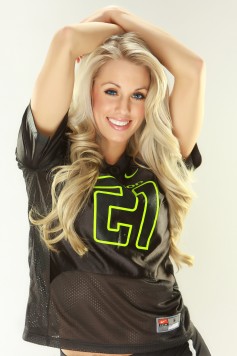 Over the years Football fans not only associate Oregon with cool uniforms, winning seasons, & a fast tempo but also having some of the most incredibly talented cheerleaders in the country. The cheer team (which includes everybody's favorite mascot, The Duck) is consistently rated as among the very best in the nation college or pro.
So popular is the cheer team, that many Oregon fans can name multiple members of the cheer squad as easily as listing off the depth chart of the football or basketball team. Oregon's top premier student-athletes may be nationally recognized, but when Oregon goes on the road usually the most buzz from opposing fans is excitement over the arrival of Oregon's cheer squad more so than the Ducks.

I recently had a chance to sit down with one of the most iconic and recognizable cheerleaders in recent Oregon Ducks history, who has been roaming Oregon's sidelines prominently for the past four years, Ms. Courtney Eckhart.
– What years did you cheer for Oregon?
2007-2011
-Now many people might not know this but you were born and raised in Corvallis, so how does a girl growing up in Corvallis end up Cheering for the UO?
Being born and raised in Corvallis, OR is something that I loved, however I definitely felt that when it was time to go to college I needed to experience something a little different. What was perfect about the University of Oregon was that it was close to home, but also far enough away that I was able to learn and grow on my own. I was always taught that if you wanted something bad enough, not to let anything stand in your way, so being from Corvallis was not going to stop me in my dream of becoming an Oregon Cheerleader!
– What made you want to cheer for Oregon? What was the biggest obstacle you personally had to overcome to fulfill your dream of cheering for the Ducks?
There are a few reasons why I wanted to become an Oregon Cheerleader. Not only did Oregon have an amazing and strong cheerleading program, but it also had amazing coaches, and offered so many great opportunities. One of the main things that stood out the most to me was being able to get a great education from one of the best universities in the nation, while doing what I love – Cheer!
As far as obstacles, I didn't really have anything that I had to overcome, well maybe one…some of my friends and family were a little bummed that I wanted to go to Oregon instead of Oregon State!
They soon got over it once they experienced the energy of Autzen Stadium though!!
– The years that you were cheering on the sidelines, you saw a LOT of Oregon football history unfold just a few feet away from you. When you are on the sidelines how aware are you of what's actually going on in the game?
One of the greatest perks of being an Oregon Cheerleader is getting to experience all the action up close!!! As a cheerleader for Oregon, each team member needs to know a great deal about each sport, so when on the sidelines you definitely have to be aware of what's going on in the game. And let me tell you, when you're right there you tend to get so involved in the game that sometimes you forget that you have a job to do too!
– What is your favorite memory of cheering for the UO, and what did it mean to you?
As a former Oregon Cheerleader I was able to experience so many different opportunities. I have so many memories, each one holds a certain amount of significance for me, so it's hard to pick just one favorite memory because I have so many! Being a part of such a great program, you become so close with your teammates; you spend every moment with them and share everything with them. The good, the bad and everything in between, they become your family.
In the four years I cheered, I had the privilege of traveling to the Holiday Bowl, Rose Bowl, and National Championship. I also participated in the opening ceremonies of the Matthew Knight Arena, which was amazing!!!
– Now there's been some misconception when it comes to the mascot and what his name actually is, can you please clear this up?
His name is Ducky!!! Not Puddles!!!….
(Note: If curious about the origins of Puddles and The Duck, FishDuck.com recently presented the history of the Oregon Duck mascot)
– What did cheering at Oregon mean to you, and what do you hope the other young ladies coming up through the ranks learn from your legacy?
I wouldn't be the person I am today without being a part of such a wonderful, well-known program. My advice to the other young ladies, and gentlemen, is this-make sure to appreciate and enjoy every moment, as it goes by so fast.
During the season you get so busy juggling the three sports we cheer for, the various public appearances, and of course school; that it's easy to really forget to stop and take a moment to breathe and take in the whole experience. There are so many people out there that wish they could be in your shoes. Don't take it for granted, spend all of the time you can with each other, because after all is said and done your careers will take everyone in different directions.
-Between ESPN Interviews and dancing in Oregon Duck Music Videos, a lot of attention comes from being an Oregon Cheerleader. But now that you've graduated, what's up next for Courtney Eckhart?
Now that I have graduated, I have a few things that I am currently pursuing…so I guess all I have to say is stay tuned?!!
– When it's all said and done, how do you want Oregon fans to remember you?
I want the fans to remember me as someone that was able to enhance their sporting experience by being able to put on a performance as well as making them smile. After all, everything we do is for the fans and for the University!
Duck Fans, if you'd like to see some of Courtney's work, below are some links to here ESPN special, as well as her cameo's in SWUG's "Return of the Quack," XILE's "OTIME", the OTIME Teaser, and the making of OTIME videos.
ESPN'S Duck Push Up Special   (Courtney at .40 mark)
Return of The Quack ( Courtney through out the whole video)
OTIME (Courtney through out the whole video)
OTIME TEASER (Courtney through out the whole video)
Making of OTIME (Courtney at 13.00 mark)

Jared Sawyer was born in Eugene and grew up going to games at Auzten Stadium. He has been an avid Duck Fan his entire life, and has recently taken his passion to filmmaking, VLOGing and writing for the Ducks. Jared now resides in San Diego, California where his passion still thrives for the Ducks,and he would like to remind you–It's O TIME!
Trust me: A FORUM is going to HAPPEN!
Our Beloved Ducks Forum:
The forum is a boatload of work, and we are still chipping away at it and will have it available sometime this season.  It will be a blast when we do with this community!
We will also have something up every day; either an article or a Ponder-Point being published on FishDuck.  Participate in the comments!
Do Register to Post Comments! 
It takes a minute is all, and will allow us to continue our amazing discussions of Oregon Sports. Register here… 
Our 29 rules about posting a comment at FishDuck can be summarized to this: 1) be polite and respectful, 2) keep it clean for the grandchildren reading, and 3) no reference to politics!
Easy-Peasy!
Want to add a link to your comment?
Go to this page for directions and you'll be able to do it 30 seconds and share other articles with this great community!