The following is the #3 – 1 countdown of Pac-12 schools, part of Chris Charbonnier's ongoing special report for FishDuck.com.
The introduction of this series is located here: http://fishduck.com/2012/02/fishduck-recruiting-special-pac-12-talent-introduction/
The countdown of #12 – 10 is located here: http://fishduck.com/2012/02/fishduck-recruiting-special-pac-12-talent-12-10/
The countdown of #9 – 7 is located here: http://fishduck.com/2012/02/fishduck-recruiting-special-pac-12-talent-9-7/
The countdown of #6 – 4 is located here: http://fishduck.com/2012/03/7342/

In case you missed the introduction, you can find it here. It will give you some good background, and clue you into the formulas being used below.
Note that all rosters are works in progress, as teams have not yet released official 2012 rosters. You'll see that some rosters are over the 85 scholarship limit, but this is only because there's attrition that either 1) I don't know about or 2) hasn't been made public (if this were the SEC there would be a 3rd option, but we won't go there).
Tier-E: 5-star rating by at least one service
Tier-1: 4-star rating by at least two services
Tier-2: 4-star rating by one service
Tier-3: 3-star rating by at least two services
Tier-4: 3-star rating by one service
Tier-5: No 3-star rating by any service
UCLA BRUINS – #3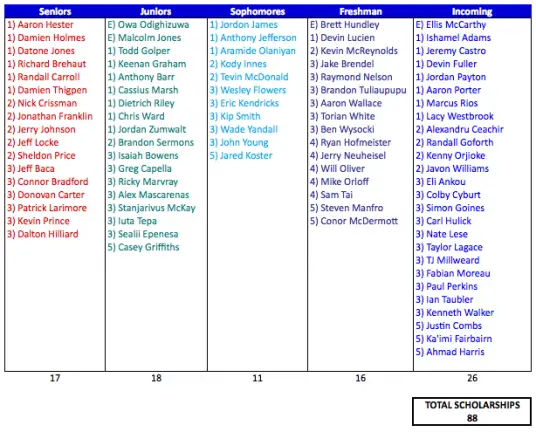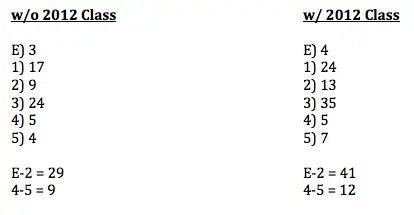 Summary
After a disappointing stint under Rick Nueheisal, UCLA is bringing in former NFL head coach Jim Mora Jr. along with a really good staff to try and turn things around. There's already enough talent on the roster to expect on field success. It might come as a surprise to some to see the Bruins at #3 on this list, but recruiting has never been the problem. If Mora and the staff can change the culture and get back on the national radar, recruiting efforts will only improve.
What the Future Holds
With a new coaching staff comes the unknown, but there's a lot we do know about UCLA. They're in a great location. In L.A. you can throw a rock and hit a tier-1 player in the head. They're a great school academically. They already have a lot of talent on the roster, and due to the prior two factors, there's no reason it can't get even better. Throw in some good coaching and that's a recipe for success. In college football, desirable location + recruiting hotbed + talented roster + good coaching = consistently winning. The caveat is that UCLA is known for underachieving. Whether that continues to be the case remains to be seen. The Bruins can't compete with their neighbors just yet, but they are easily the 2nd best team in the south. We'll know a lot more come this time next year. If they play well on the field and have another great recruiting cycle, look out.
My Take
Make no mistake, this team could be a force in a couple of years. Now, even if the program makes big strides, it's still unlikely that they'll be successful going up against USC for California's top recruits. They might not ever acquire more overall talent than USC, but they can get close, and Oregon has shown that it's not a prerequisite to winning the conference. While Mora's ability to coach at the college level remains to be seen, I think he'll turn the program around and turn UCLA into a threat. Looking two or three years into the future, there's no reason this can't be a Top-15 team nationally.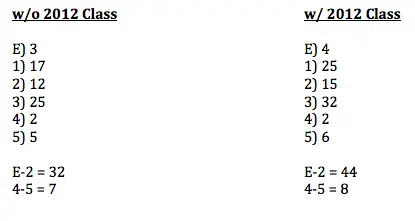 Summary
There's a perception out there that Oregon's recent dominance has been in spite of its talent. Well, that's just not the case. Oregon is the 2nd most talented team in the conference, which is incredible when you consider their location. Chip Kelly has built an offensive juggernaut that's only getting more potent, but it's the improvement in defensive talent that's turning heads.
What the Future Holds
LaMicahel James, Darron Thomas, Josh Kaddu and David Paulson are gone. Tra Carson is transferring. Josh Huff is sure to get suspended. All that considered, I still don't see a game on the schedule that the Ducks can lose before traveling to USC late in the season. That means they'll be high in the polls and on the national radar once again. Even if they lose to USC, they'll have another chance in the conference championship game. If they lose twice (and I don't think they will), Oregon's still likely play in its 4th straight BCS bowl game. Their impressive recruiting should continue to accompany this success, but Washington, Stanford and UCLA will start to make things more difficult on that front. Additionally, it's unclear how committed Chip Kelly is to the program. Some think that turning away Tampa Bay means Chip's going to be in Eugene for a while, and some think he's waiting for a better opportunity, which could come at any time. He's made it clear that he plans to coach in the NFL, it's just a matter of when.
My Take
When the whole Chip Kelly drama unfolded, I was worried about the effect it would have on the recruiting class more so than the on field performance. The other coaches were never going anywhere, and Mark Helfrich is more than capable of taking over. This team has the talent to continue being very, very good for another four years, regardless of who the coach is. If they can pull in some defensive studs in the 2013 class, their conference dominance may very well continue. I have big expectations for the young playmakers on this team and am excited to watch them develop.
USC TROJANS – #1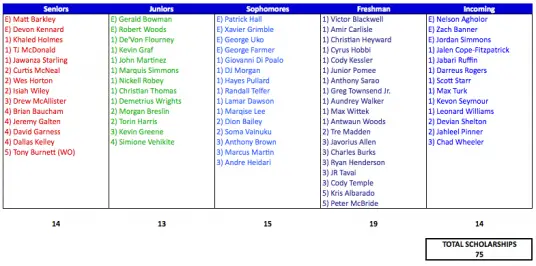 Summary
Let's not beat around the bush, USC has ridiculous talent. No one else in the conference is even close. Over 75% of their scholarship players fall into the E-2 category. That is hard to imagine. This team is loaded and that showed up on the field last year. What's more, they're young. Right now, this might be the best team in the country. It's not going to change in the near future, either.
What the Future Holds
Some have speculated that the sanctions are going to weigh down USC's program for many years after they're lifted. Those people are wrong. Take a look at the roster. Kiffin and co. worked around the sanctions skillfully and made decisions with an eye on the future. They should be able to sign 18 players in this cycle, 15 in 2014 and then 25 in 2015, which should bump them right back up to 85 scholarship players. And expect this next class to be loaded. My point is, the Trojans are going to be a force for a long time. Many have them as favorites to win the National Championship  next year, and it's hard to argue against that. They're very young, so even after losing Barkley, McDonald and Woods, they'll still be one of best 5 or 10 teams in the nation. USC is primed to return to its dominant ways.
My Take
As a Duck fan, that last sentence was hard to type. If I am to maintain any thread of objectivity though, I have to admit it. Maybe Oregon will continue to win conference championships, but they'll probably have to do so as underdogs (at least in the eyes of national pundits). One thing is clear, the two teams are sure to provide some legendary matchups in the coming years. When I look at the college football landscape as a whole, there are few teams with a future as bright as USC's. Alabama is the only one that comes to mind. It looks like the NCAA wasn't able keep the historic program down for long.
Check back next week as Chris provides a conclusion summary of this recruiting special…
Chris was born in Montevideo, Uruguay, but made his way to Oregon by the age of five, when he attended his first game at Autzen Stadium. A huge sports fan at a young age, Chris grew up playing football, basketball and golf. Although realizing he isn't likely to play in the NFL or NBA, Chris still holds on to hopes of being a professional golfer should his unfortunate putting woes take a turn for the better. A bit of a platypus, he attended both Oregon State and Oregon during his collegiate days where he earned a business degree in Finance and Business Administration. Chris works for Daimler Trucks North America in Portland, and plans to get his MBA from the University of Oregon.
Chris has been an active member in the recruiting community since 2005. He studies the intricacies of recruiting and is particularly intrigued by talent evaluation techniques. He is currently working on developing his own scouting reports for every scholarship player on the UO roster. Chris lives with his wife, Katrina, and his two-year-old son Lucas (a future dual-threat QB).
Daily Articles NO MORE on FishDuck
Please see this explanation right here… and to learn about the impact of FishDuck on so many–check the summary right here.
Our 32 rules can be summarized to this: 1) be polite and respectful, 2) keep it clean, and 3) no reference of any kind to politics. Easy-peasy!
Take note though, there are NO STRIKES, NO WARNINGS, and NO SLACK given. Violate the rules and you are gone, as this is what the 99% who post superb comments want. (The Ban could be for weeks, months or permanent)
For the 1% out there who do not have impulse-control … as you write your comment that violates our rules, ask yourself, "is this worth getting banned over?"
FishDuck members….we got your back.  No Trolls Allowed!
New at FishDuck? Learn about the site right here!