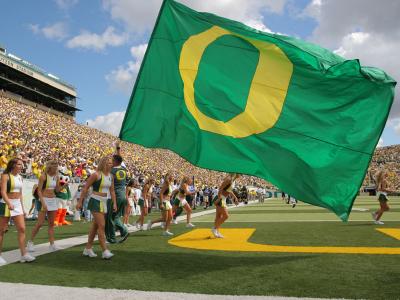 The line between a team achieving a 12-2 dream season and an 8-5 "rebuilding year" is probably much narrower than many of us would like to admit. If the Oregon Ducks are fortunate enough to win a 4th consecutive Pac-10/12 conference crown in football this coming year, there are sure to be some close calls along the way. Arizona in '09, Cal in '10, USC, and even the Rose Bowl last season.
 The close calls can sometimes surface as maybe a shanked field goal at the whistle, a drive-killing incomplete pass or turnover, or perhaps an actual "bad" call or overturned decision from a referee.
Although no football game is decided by a single play, look no further than the post-season fate of the Ducks the previous two seasons to find the type of plays in question that can swing a contest to the advantage of one side.
For example:
Would the Ducks have been National Champions if Michael Dyer was instead ruled down in the BCS National Championship Game instead of rumbling 39 yards to put the team into game-winning field goal range?
Or the opposite–
How many more of you out there might still be questioning Chip Kelly's offensive "system" or ability to win big games if the fumble forced by Terrance Mitchell in the Rose Bowl had rolled out of bounds instead of sticking to the turf like it had been glued? What if Russell Wilson & co. had been given another play at the end?
The truth is that many, many teams and their fans will point to a play or series of plays here or there that jilted their season in one direction or another. Prior to the Rose Bowl, Wisconsin fans and players claimed they had only lost on "two lucky Hail Mary's" against Michigan State and Ohio State. Were they implying the losses should be devalued because they were close? Many Oregon fans similarly discredited the USC loss because the Ducks could have forced OT had Maldenado's best effort not hooked a few feet left.
Some would say I am an extreme Oregon Ducks "homer," because before each game for well over two decades now I have found a way every single Saturday to convince myself that the Ducks will win; that somehow the other team really doesn't stand a chance. I read all the stories come out online the week before the game, examine all of the stats and story lines, and in my mind always decipher a clear advantage in some way for the Ducks.
While during my lifetime of 30 years, I have been correct (224-138-2) more often than not, and certainly at a better clip in recent years, have I been right all of the time? Of course not!
But this is a part of what makes the game of football and sports in general so entertaining. Despite being supremely confident in the abilities of "my" team, I am as ritualistic as a pro baseball player on game days. I have a lucky shirt, socks, and hat combo reserved for the biggest games.
Despite being insulated, and maybe best of all, distracted by all of this excessive preparation, I still go into each contest as a ball of nervous energy. While watching each of the upcoming games this next season, I already know that I will be restless, anxious, and will likely feel the pulse thumping in my neck until I see Dustin Haines handing off to Kenny Bassett in the final minutes of a blowout win.
The simple way to describe the feeling is fear: the basic fear of failure. "We expect to win, but, holy___! What if we lose?!?" Call it the duality of fan.
For the most part, WE are not out there trying to make tackles or catch touchdown passes on the field, but as fans we still feel a type of ownership of the outcome of the games we put so much effort into attending on Saturdays during the fall. Even if we haven't suited up in 20 years or never even played the game at all, those young men on the field are fighting on our behalf.
No team wins every game, but nobody ever wants to lose one, either. Similar to a vice/addiction like gambling, it just feels a whole lot better when you win.
To try and best showcase the sort of duality of feelings one might have going into each game, below I have done my best to buck my homer-ish ways, and have a look at the schedule when not viewed through Rose-Bowl-champion-colored-glasses.
Below, I take a stab at an argument for and, ahem, against the Ducks in each of these 7 big upcoming games selected.
Will the Ducks run the table in 2012? I can see it happening. Sure, why not? Of course, it's easy to say so in April, who knows what may occur five months, five weeks, or even five days from now that could cast a dark cloud over the sky-high expectations of 2012.
Unfortunately for most of these 7 games, we most likely will not have the pleasure of seeing too many Haines to Bassett exchanges.
Buckle up for a ride along through the toughest matchups Oregon will likely face next season with GOOD COP/BAD COP!
Saturday, September 1st – Oregon Ducks vs Arkansas State Red Wolves
GOOD COP: The first game of the season is always important no matter who you play.
This year? The Ducks get a crack at Arkansas St, coached by former Auburn Offensive coordinator and noted spread guru Gus Malzahn. RB Michael "My wrist was down" Dyer transferred from Auburn and would have been playing in this game against the Ducks, except he purposely (IMO) had a run in with the law while organizing illegal drug sales to avoid the game in Autzen.
 Despite Dyer's absence–can you say, payback? The Ducks might have three (or more) players eclipse the 100 yard mark on the ground. Stay for the 4th quarter, and you can find me breathing easy in the stands as Dustin Haines hands off to Bassett over the left side for 3 yards. The Ducks win this one easy, and the Duck sets a new record for push-ups. It won't make up for the Auburn game, but in a sense, it will be like beating up Auburn's little brother.
BAD COP: Malzahn has come out and said he wants to build "the Boise State of the south." His offense is so user-friendly and catchy, the Red Wolves have mastered the playbook by spring. They plug a 6'6″ 250 lb. defensive end with 4.5 speed in at quarterback who can also throw 70 yards. He continues to fumble and throw picks that repeatedly are reversed by the refs. The Ducks defense loses some key players to injury, and the backups struggle to play together and get stops. Dustin Haines has to come in because every one else is injured, and the offense becomes one dimensional. However, down close late in the game, Haines takes matters into his own hands and keeps it on nearly every play, slashing and breaking tackles. His final stat line passing is 8-18 for 84 yards with 1 td 1 int, and adds 18 carries for 60 yards, one fumble, and 3 touchdowns rushing. Nothing pretty, but the Ducks still get the win.
Saturday, September 22nd – Oregon Ducks vs Arizona Wildcats
GOOD COP: Welcome to the world of football "out-west," Rich-Rod! The crazy running QB stuff you did at West Virginia and Michigan should fit right in here. However, no Nick Foles should mean no problems in this one for the Ducks. The journeyman coach may have a few old tricks up his sleeve that should perhaps produce more points, but this is his first year compared to Oregon being in year six of the spread, and this will be the 4th year under Chip Kelly. The advantage in recruiting depth is just too much to overcome for the Wildcats.
Last season, Nick Foles passed for 398 yards and 3 touchdowns on 57 attempts in Tucson. Luckily for Oregon, LaMichael James countered with a school-record 288 yards rushing, and as a team the Ducks pounded away for 415 yards on the ground. Granted, these two players have moved on, but much of the Arizona defense has not. Oregon's pass coverage should be an improved unit, and Nick Foles was a special player who had one of the best games of his career.
Expect Oregon to again run wild, whether or not James is here taking the carries. Arizona will have a new look and new ways of getting the ball down the field on offense, but the end results will still favor the Ducks. There may not be any more hilarious sideline temper tantrums or chants of "Get off the field Stoops!" being yelled by fans this year, but no doubt the Autzen faithful will be ready to bring the noise for the new guy.
BAD COP: Arizona has been at the cusp of breaking through for years now, and their new coach will finally take them to that next level. The games against Oregon have been intense and hard fought the last several years, and the 'Cat's are due. The players are refreshed and refocused without having to wear the lead straight-jacket that was Mike Stoops. Rich Rod hits the ground running and the team improves quickly as a group. Oregon is victimized by turnovers and squanders some key possessions and opportunities. Arizona is able to capitalize, and they score just enough to hold on for the close win. The game is looked at as a monumental upset, and an early milestone for the beleaguered 1st year coach, and Arizona is thrust into the national spotlight. Only for a short time though, as they fade late in the season as usual.
Saturday, September 29th – Oregon Ducks @ Washington State (in Seattle)
GOOD COP: Another high profile retread coach takes over a Pac-12 foe that has been nipping at Oregon's heels the last few years. Unlike the situation at Arizona, I actually sort of like Mike Leach. The man has an entertaining personality and football philosophy, and he is a great quote.
Despite my appreciation for what Leach has said and accomplished, all of that was thrown out the window the day he signed on at WSU. The Ducks will travel to Seattle to play in this one, making it a "neutral site." What they should say is the game is being played in a "more realistic" site. Anyone who has made the drive to Pullman knows exactly what I mean. I expect Oregon's secondary and pass coverage will be put to the test, but I do not anticipate much resistance from the Coug D. And the Cougar offense won't be winning any shoot outs against these Ducks anytime soon. Starting with the '10 game in which Barner was injured on a memorable kick return, Wazzu has played Oregon tougher than most conference rivals. The Ducks this season will be on a mission though, and even the mad pirate is no match for Chip.
BAD COP: Similar fears expressed about Arizona would fit here as well. Sure, Leach was fired from his last job too, but unlike Rich Rod, it wasn't due to on field performance. Mike Leach had the Red Raiders at Texas Tech consistently in Big-12 title contention, and his offense is seemingly good for 400+ yard passing days each time out. Washington State hasn't seen much consistent offensive production lately, but they haven't always been the conference punching bag either. If Leach can transform the look of the on-field product in Pullman quickly, the Cougs could possibly begin to reclaim some of their old glory. If the Cougs get a big day from their offense, and the defense somehow plays above their skill level they might be able to find a way to slow the Ducks enough to make this one interesting.
Saturday, October 6th – Oregon Ducks vs Washington Huskies
GOOD COP: It's arguably the "Grand Daddy of them all" when talking about emotional charged rivalries and the Oregon Ducks. In a trend that many long time Duck fans still can't quite believe or mention enough, Oregon has won 8-straight in the matchup and this year the Dawgs have to come to our house. Washington has made improvements on the offensive side of the ball under Sarkisian, but the defense has been laugh-out-loud-inept. Personally, I see the Huskies taking a step back on offense with the loss of Polk, but they really can't get much worse on defense. With two former Ducks (Justin Wilcox, Peter Sirmon) joining the "Darkside" to help with the defense, it's only a matter of time before we should see marked improvement. The problem is that Oregon is still too good, too fast, and too deep for the Dawgs to win in Autzen. The Ducks take the 9th game in a row from the Montlake mutts.
BAD COP: Washington has shown steady improvement the last few years, but their achilles heel has been the fact that they wear purple and do not play defense. Give credit to the Washington brain trust for recognizing this and going out and assembled the highest paid coaching staff in the conference, and begging Nike for uniform combinations to try and make the ugly go away. They say if you can't beat them, then join them, and that is exactly what the Huskies have done in hiring two ex-Ducks, two ex-Bears, and one ex-beav. The Huskies are making some headway in the recruiting department too, headlined by the coup last-minute signing of 5-star prospect, Shaquille Thompson.
As a true freshman, Keith Price began his college career in Autzen Stadium, and held up pretty well, despite a 38-point loss. Last year he was sacked six times, and battled knee injuries. This season, the new coaches and playing in the clink will energize the Dawgs and boost their level of play. Price will now be fully healthy and in his 3rd year. Someone will emerge from the pack to replace the production of Polk. On defense, the new coordinators will transform the unit, and this year's game will be decided by the slimmest margin in years. The outcome will be in question if the new Ducks QB is surprised by some blitzing and coverage schemes and commits a few too many unforced errors.
Saturday, November 3rd – Oregon Ducks @ USC Trojans
GOOD COP: It's the Football Game Of the Century, Pac-12 style, this year's version comes WITH Touchdowns! After an offseason of being motivated by last season's loss to the Trojans, the Ducks come into this game like USC did last year; extremely focused and razor sharp on both sides of the ball. With a reshuffled offensive line, the Oregon pass rush is all over Barkley all game long. The new Ducks QB has a big day, connecting on some deep play action passes after setting up the defense by pounding them with read, and option plays. De'Anthony again is the spark, and the Trojans Natty dreams go up in flames.
BAD COP: Despite the recent sanctions, USC remains a step ahead of the rest of the Pac in terms of talent. Last season, the Trojans earned a rare victory inside Autzen that served as a confirmation of what we all expected: you can't keep USC down for long. They simply outplayed Oregon and used extremely accurate deep passing game to keep the chains moving. They jumped out to an early lead, and held on as the Ducks mounted a late come back. The Trojans roster returns virtually the entire crew from last year, and it would seem that the game being played at the Coliseum would be advantage USC. How will the Ducks fair without Thomas, James, Weems, Asper, and Paulson? Matt Barkley has been known to talk a little trash during Oregon week, will the Ducks have enough to shut him up this time?
Saturday, November 17th – Oregon Ducks vs Stanford Cardinal
GOOD COP: Last season, Oregon made a statement by hammering Stanford and causing all kinds of problems for the future #1 pick, Andrew Luck. During the game, two things were obvious: 1) The Cardinal did not have the team speed to keep up with Oregon's offense, and, 2) Andrew Luck had nobody fast enough to get open against the Ducks' defense.
Next year's edition will follow a similar script, sans the world class QB wearing red & white. Without Luck on the field, the Cardinal will have no luck moving the ball, and the defense will have no luck stopping Oregon. Stanford snagged an impressive class of incoming linemen, but great linemen and only marginal skill guys usually means a low scoring team. Combine that with a less than elite defense, and we could have ourselves a blow out in Autzen. Don't worry Cardinal fans, you'll have another Plunkett/Elway/Luck type in another 20 years or so.
BAD COP: Stanford coach David Shaw was quick to call his new group of freshman linemen the "best in college football history" and he was right. Nobody can get past these guys, and the big hogs manage to out-muscle everyone on the schedule. True freshman Barry Sanders Jr is a carbon copy of his dad, one of the greatest players in all of football history. Behind a massive offensive line, Sanders squirts and darts his way through and around any defense. David Shaw works up an innovative defensive game plan that the players execute perfectly to stifle the Ducks offensive attack, while the Cardinal running game keeps the clock moving.
 Saturday, November 24th – Civil War Oregon Ducks @ OS(u) Beavers
GOOD COP: 2007. That was the last time the beavs claimed a victory in the Civil War. In that game, Oregon used 5th string freshman QB Cody Kempt, a pocket passer with more of a baseball background who left the team after the season. Since the transcendent 65-38 rout in 2008, the stakes for the Ducks have never been higher entering the annual match up of good vs inbred. In '09 Masoli ran over some useless defensive back to secure a trip to the Rose Bowl. In '10, Casey Matthews set the tone immediately with a decapitation of beaver QB Ryan Katz, and the Ducks left Reser headed to the Natty. Last season, Oregon pounded the punchless rodents again to claim another trip to Pasadena. The beavs have fallen way behind in the rivalry as of late, and their 3-9 season last year was flat out embarrassing.
There are no more Rodgers brothers, but there is more optimism in Corvallis this season simply based on the fact that it would be difficult to do much worse. The beavs rushing attack ranked #118 out of 120 FBS teams and will return their offensive line mostly intact, which is awesome news for all of their opponents next season. If another below average season and a blowout loss in the Civil War unfolds, will that be enough for the sheep herders to show their boy Riley the door?
BAD COP: Who am I kidding? The beavs still don't stand a chance!

And, just for fun..

CAN YOU HELP US?
The pictures you see of the Ducks on FishDuck.com come from professional photographers that must be paid! Please donate through one click so we have pictures from all the games this fall to use through the year. All previous donations helped to pay our big Web Developing bills recently, and I do appreciate it.
Our staff and the photographers who have thousands of dollars invested into their equipment to provide the high quality pictures do sincerely thank you.   Charles Fischer