The annual University of Oregon spring football games is only days away, and the anticipation in the air is palpable. It's only April, but the Willamette Valley has come down with a bad case of football fever. Or at least it's reaching epidemic levels in Eugene, not so much to the north in Corvallis where they won't even play a spring game this year.
Every year the week before the game the assistant coaches hold a draft, selecting players to fill out the rosters of the Green Team and White Team. From what we've heard, the competition gets as tense as a war room during the other big event coming up this weekend, the NFL Draft.
This year's rosters have been selected, Offensive Coordinator Mark Helfrich's team vs. Defensive Coordinator Nick Aliotti.
The official rosters for Saturday can be seen here: http://www.oregonlive.com/ducks/index.ssf/2012/04/oregon_releases_rosters_for_sa.html
But why should the Oregon assistant coaches have all the fun? We at FishDuck decided we would do a draft of our own, assembling our two teams before the official Spring Game rosters are announced. We set our opposing "coaches" to task, on one side Josh Schlichter leading Team Schlichter, powerful in the arts of breaking down opponents on numerous FishDuck videos. Opposing him, Chris Charbonnier, leader of in-depth recruiting analysis, always with an eye on the potential next great athlete.
The leaders chosen for each side, it was time for the draft. A coin flip gave Team Schlichter the first selection, and the chaos ensued. Teams were selected only for starters, no two-deep rosters, as much as we'd like to discuss the intangibles of Axel McQuaw, but with practices closed and little game footage for analysis, in the interest of article length it was best to leave it to the starters.
So prep your depth charts, target your sleepers, and prepare for long discussions about Mel Kiper's hair, because it's draft time!
Team Schlichter vs. Team Charbonnier
---
#1 – DeAnthony Thomas WR (Slot)
TEAM SCHLICHTER

Josh:There was little debate when I won the coin flip for first pick: DAT would be the centerpiece of my team, no matter what. Perhaps the most electric player in the nation, De'Anthony can hurt you on the ground, through the air, and in the kicking game. The "Black Mamba" will only get better as he progresses through college.
---
#2 – Dion Jordan DE

TEAM CHARBONNIER
Chris: I would have taken Jordan with the first overall selection. The difference between him and Lake Koa Ka'ai (or Sam Kamp) is bigger than any other position group on the team. He is an absolute savage and should have a monster year. The dimension that Jordan adds to the Duck defense as irreplaceable.
---
#3 – Kenjon Barner RB
TEAM SCHLICHTER
Josh: Dion Jordan might still be the most dynamic defender around, but with the PAC 12's best running back still on the board, Kenjon Barner was a perfect pick. Looking to take full control of the offense this year with LaMichael James gone, Barner has all the makings of a breakout season. The sky is the limit for the veteran playmaker this season.
---
#4 – Michael Clay WLB
TEAM CHARBONNIER
Chris: The 2nd most important player on the defense behind Jordan. Clay has a laundry list of intangibles to go with his obvious physical skills. He's always around the football making big plays. Good in coverage and in pursuit yet effective at stuffing the run. Provides significant value over his potential backups.
---
#5 – John Boyett FS
TEAM SCHLICHTER
Josh: Boyett is the leader of the entire team, let alone his defensive unit. The Hard-Hitting Senior has already earned plenty of recognition for his high-motor, never-quit attitude, and will be the strong-and-steady for the Oregon secondary this year. Boyett is a perfect starting point for Team Schlichter's defense.
---
#6 – Boseko Lokombo SLB
TEAM CHARBONNIER
Chris: With a solid two-deep at Mike (Alonso/Wallace), I happily took Lokombo, who I almost took at #4. This pick guaranteed me a talented, veteran LB unit that I could build the defense around. Lokombo is a significant selection because he provides pass-rush help opposite Jordan and is a big upgrade over whomever Josh would end up selecting at SLB (probably Hardrick).
---
#7 – Hroniss Grasu C
TEAM SCHLICHTER
Josh: After a breakout Freshman year, Grasu is becoming of the nation's best linemen, without a doubt. With surprising speed, Grasu will instill fear into defenders' eyes every time he turns the corner on the pin-and-pull outside zone play. Grasu is more than ready to take another step towards becoming the anchor for the Oregon offensive line, and can only get better as his career continues.
---
#8 – Ryan Clanton LT
TEAM CHARBONNIER
Chris: Realizing that Josh was going to have a dominant run offense (DAT/KB), I turned my attention to creating a potent air attack, making it important to protect the quarterback. Clanton provides a significant upgrade over any other lineman at the LT spot. Everyone else is either young and unproven or would be playing out of position. Clanton has the experience and the talent to hold down the LT spot. Clanton vs. Kyle Long should be a great battle this summer.
---
#9 – Terrance Mitchell CB
TEAM SCHLICHTER
Josh: The second piece of Team Schlichter's secondary, the tested corner is ready for another solid season. Without a doubt, solid corners will be valuable in a pass-happy PAC 12, and Mitchell is amongst the conference's best.
---
#10 – Ifo Ekpre-Olomu CB
TEAM CHARBONNIER
Chris: I was pretty disappointed when Josh grabbed Mitchell at #9 because he was my next selection. I think he'll have a breakout year. If you watch the tape from last year's games, he could have had 5-6 more interceptions had he made his breaks a split second sooner. He's a dangerous guy to throw at. Nonetheless, Ekpre-Olomu will fit into my defense perfectly. He's a big, physical corner who can press Josh's wide-outs off the line and allow my pass-rushers to do work. I'm looking for Ifo to make big strides this year.
---
#11 – Kiko Alonso MLB
TEAM SCHLICHTER
Josh: With two of three starting linebackers off the board, Alonso still isn't a bad consolation. After a MVP performance in the Rose Bowl, Alonso is poised for a brilliant 2012-13 season, and will be counted on immensely at the 'Mike' position in the already-deep Linebacking unit.
---
#12 – Troy Hill CB
TEAM CHARBONNIER
Chris: Hill provides good value here. He's a returning starter who should improve on a solid 2011 campaign. Dior Mathis has struggled at times and I didn't want an inexperienced player in my secondary.
---
#13 – Nick Cody LT
TEAM SCHLICHTER
Josh: Who better to put at the anchor of your offensive line than the veteran Cody, who has been around for quite some time, and has played in three BCS games. Cody will be a valuable part of the rotation for the deep and talented offensive line this season.
---
#14 – Jake Fisher RT
TEAM CHARBONNIER
Chris: By all accounts, Fisher is looking really impressive right now. He played well last year as a true freshman and you'd expect him make a big leap in 2012, especially since he played TE in high school. Fisher might end up as the best lineman on the team by 2013.
---
#15 – Josh Huff WR
TEAM SCHLICHTER
Josh: This dynamic playmaker might not make it into the Spring game, but is poised, yet again, for a breakout season. We saw flashes of his talent with acrobatic grabs, and a statement touchdown against Stanford, but it sometimes feels like the Junior disappears from the offense every now and then. Chip will be able to move Huff all over the field, as he has experience in the backfield, and out wide.
---
#16 – Hamani Stevens C
TEAM CHARBONNIER
Chris: I wanted to lock this guy up before Josh took him at Guard. Stevens has been back in the Oregon system for a year and got work at center last summer competing against Grasu for the starting job. He's a really talented player and I like my options at guard better than I like Karrington Armstrong in this spot.
---
#17 – Tony Washington SDE
TEAM SCHLICHTER
Josh: Washington will be a huge part of the defensive line this season. Playing opposite the nation's most dynamic defensive lineman, Washington will be disrespected, and will have plenty of one-on-one situations with tackles. Expect Washington to put up a quiet, but solid season.
---
#18 – Tyler Johnstone RG
TEAM CHARBONNIER
Chris: I'm building my air attack from the inside out, hence this run on O-Lineman. I've only ever seen good things written about Tyler during his time at Oregon and some feel he's poised to breakout. He's tall and athletic with long arms and huge hands, so if he's put on enough good size, watch out. The athleticism him and Fisher bring to the right side will help keep my quarterback upright for long periods of time.
---
#19 – Everett Benyard RT
TEAM SCHLICHTER
Josh: Benyard is going to be another huge part of the OL rotation this season, and his experience at the tackle spot will be extremely valuable. Again, the offensive line is the best unit on the offense in terms of depth and talent.
---
#20 – Taylor Hart DT
TEAM CHARBONNIER
Chris: I'm not sure what it is, but Hart is criminally underrated. He was our top interior D-Lineman in 2011 and that's unlikely to change this year. He's gotten better every season and he's still only a junior.
---
#21 – Wade Keliikipi NT
TEAM SCHLICHTER
Josh: Keliikipi was a great anchor for the defensive line last season, and the big-guy is back for another season. Expect Wade to be a great plug for the quick defensive ends and linebackers.
---
#22 – Andre Yruretagoyena LG
TEAM CHARBONNIER
Chris: Josh and I are obviously taking very different approaches. I round out my O-Line here before drafting a single skill position player. There are some concerns about Andre Y's weight (apparently lost 20 pounds since the Rose Bowl), but I wouldn't worry too much about it. Another enormous athlete who should be able to protect my future quarterback.
---
#23 – James Euscher RT
TEAM SCHLICHTER
Josh: Euscher, a talented freshman, has been impressive in his redshirt season and this fall. Euscher should be a great addition to the already stacked offensive line.
---
#24 – Devon Blackmon WR
TEAM CHARBONNIER
Chris: I couldn't resist. We know next to nothing about Blackmon's progress as a WR, but he has too much raw talent not to see the field this year. I just don't see any possible way Hoffman or Murphy plays over this guy unless he literally curls into the fetal position whenever he's asked to block. If you really want another blocker on the field, throw a 2nd tight end in there. If I see another slow receiver stare at his hands after a perfect pass hits them in the facemask, I'm going to end up in either a hospital or a prison. Please understand that when I say "slow", I actually mean really fast but just not crazy fast. I want crazy fast on the field (see: air attack).
---
#25 – Colt Lyerla TE
TEAM SCHLICHTER
Josh: While the sophomore has some huge shoes to fill, Lyerla has the talent to mimic David Paulson (no one can ever forget Paulson). His speed and size are huge assets to any offense, and Chip Kelly loves his Tight Ends, expect Lyerla to be a great target for whichever QB gets the nod.
---
#26 – Rahsaan Vaughn WR
TEAM CHARBONNIER
Chris: I expected him to have a huge year in 2011, but it just didn't happen. That 4th down drop he had against USC (the screen that would have been a TD) probably cut a significant amount of time off the end of Chip Kelly's life, but Vaughn is crazy fast, so he gets some grace. He's also a mentor to a number of the younger wide-outs on the team and leads independent film sessions, so I'm assuming he has a good grasp of the offense. Watch out for this guy. With him and Blackmon on the outside, I hope Josh's corners are wearing jetpacks.
---
#27 – Justin Hoffman WR
TEAM SCHLICHTER
Josh: Hoffman will be a great, steady receiver in the arsenal this year. The senior will have to step up to help ease the pressure off of Lyerla, and the running backs, who are replacing major parts of their units.
*COMMISSIONER'S NOTE: While not 100% confirmed, there have been many rumors that Justin Hoffman has been forced to retire due to repeat concussions. It was announced Huffman would not be playing in the game, and probably not again for the Ducks, making this selection very curious…but hey, it's not my team, it's TEAM SCHLICHTER!
---
#28 – Arik Armstead SDE
TEAM CHARBONNIER
Chris: I can't complain with Armstead falling into my lap (except for if that actually happened, then I could complain). He should be able to get some pressure on the quarterback even as a true freshman in his first scrimmage. He's too massive and athletic to be contained. He was the #1 overall player in the country for a reason. And in case you haven't been following, my D-Line is going to be fairly decent.
---
#29 – Lake Koa Ka'ai DE
TEAM SCHLICHTER
Josh: Ka'ai is poised for a good season, spelling Dion Jordan. A highly ranked player coming out of HIgh School in Hawaii, Ka'ai has the potential to be a quick playmaker for the defense.
---
#30 – Erick Dargan ROV
TEAM CHARBONNIER
Chris: I'm not sure if I see something different than everyone else when I watch Dargan play, but how is he not the favorite to take over for Eddie Pleasant? The man plays with a fury that's scary to even watch. He looks like he's trying make opponents reconsider playing football. You know how in elementary school, there's always that huge kid who isn't allowed to play football because people are scared he'll hurt the other kids? That's Dargan. He's a danger to the other children.
---
#31 – Ricky Heimuli DT
TEAM SCHLICHTER
Josh: Heimuli is another big plug for the defense, and is going to be a big part of the now experienced interior for the defense. Expect impressive results out of Ricky this season.
---
#32 – Anthony Wallace MLB
TEAM CHARBONNIER
Chris: If Kiko Alonso didn't look so good at the end of last year, I'd say Wallace had a great chance to overtake him as the starter. He played in a few games at the end of the year because of Hardrick's injury (presumably) and he showed glimpses of a guy who'll play on Sundays. He's explosive, plays downhill and creates collisions. Wallace is going to be a star at Oregon.
---
#33 – Keloni Kamalani SLB
TEAM SCHLICHTER
Josh: This junior was a stopper on Special Teams last season and will be ready to make a big impact on defense this season in the linebacker rotation. With plenty of experience, Kamalani can help out the linebacking corps.
---
#34 – Avery Patterson FS
TEAM CHARBONNIER
Chris: A guy with a lot of experience who the coaches love. Has significant playing time in the slot so he can definitely cover. He'd be a good center fielder. Doesn't need to worry about being an enforcer because Erick Dargan is an animal.
---
#35 – Dior Mathis CB
TEAM SCHLICHTER
Josh: Raw, world class speed. That is all.
---
#36 – Marcus Mariota QB
TEAM CHARBONNIER
Chris: Someone had to budge and take a QB. I'm not saying Mariota is the better one for this team. I'm not saying I think he'll win the job. All I know is that I'm planning on running an aerial attack that looks like the '99 Rams and Marcus throws a beautiful deep ball. He'll get lots of practice because he'll be chucking all day long.
---
#37 – Rodney Hardrick WLB
TEAM SCHLICHTER
Josh: With one year under his belt, Hardrick made the two-deep this fall and will be another great addition to the defense with more playing time.
---
#38 – Tacoi Sumler WR (Slot)
TEAM CHARBONNIER
Chris: You knew this was coming. I appear to have an affinity for fast wide receivers and members of the 2011 recruiting class. There are worse things I suppose. Sumler could be dangerous from the slot although he might end up playing outside. He's small, but he has elite speed (4.24, which is unimaginably fast), sticky hands, a great vertical and really good ball skills. For now we'll put him in a slot and add a 3rd speedy option for Mariota.
---
#39 – Mana Greig LG
TEAM SCHLICHTER
Josh: Greig, an experienced junior will finish up the offensive line for Team Schlichter, and will be a big part of the rotation this year, at any position.
---
#40 – Even Baylis TE
TEAM CHARBONNIER
Chris: Reports from spring practice are that Baylis is picking up the offense exceptionally fast. He's an unknown commodity but it seems like he could be a solid contributor from day one.
---
#41 – Brian Jackson ROV
TEAM SCHLICHTER
Josh: A solid value this late. A lot of returning experience.
---
#42 – Isaac Remington NT
TEAM CHARBONNIER
Chris: Returning guy with a lot of experience. Remington's a solid contributor who can hold his own in the middle. I would've rather had Heimuli, but it shouldn't be that big of an issue. He'll do his job.
---
#43 – Bryan Bennett QB
TEAM SCHLICHTER
Josh: When there are two quarterbacks with equal potential, the essential Bennett fell to the final round of the draft. But don't let that fool you, Bennett is more than ready to take a step into the realm of elite quarterbacks. With already proven abilities on the ground, the QB has improved his arm, and is trying to hold off Mariota for the starting job. Either way, Oregon is set at the QB spot.
---
#44 – Ayele Forde
TEAM CHARBONNIER
Chris: It's only fitting that Forde is the last pick of the draft. He's had to fight for every carry he's gotten at Oregon and that won't change anytime soon. Because he's a walk-on, he's often overlooked or forgotten about, but he can obviously play. Ayele is quick but doesn't dance in the hole, he just hits it and gets up-field. I'm not asking him to be DAT or KB. With Forde, I'm getting a solid ball carrier to spell Mariota, whose arm is sure to be tired from throwing 50-yard bombs.
---
Roster Breakdowns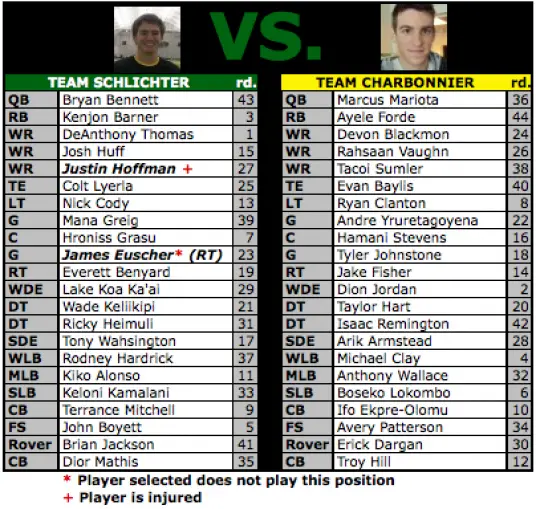 So there you have it, before the actual Oregon spring game, the theoretical FishDuck spring game rosters. Commissioner Keeerrrttt is leaning towards Team Schlichter as the favorite, HOWEVER the selection of Justin Hoffman as well as tackle James Euscher and placing him in a guard position necessitates some penalty. Therefore, the Commish declares Team Charbonnier the winner!
But we want to hear from you, based on these rosters which team would win?
Leave your thoughts in comments below, let the arguments ensue!

CAN YOU HELP US?
The pictures you see of the Ducks on FishDuck.com come from professional photographers that must be paid! Please donate through one click so we have pictures from all the games this fall to use through the year. All previous donations helped to pay our big Web Developing bills recently, and I do appreciate it.
Our staff and the photographers who have thousands of dollars invested into their equipment to provide the high quality pictures do sincerely thank you.   Charles Fischer