I got an email from an angry reader this week.  It said, "Why do you have to be so mean to the other schools?  You suck!"
I didn't know Mom even had email.
She is right, though.  I've been pretty hard on some of the other Institutions of Higher Education during my weekly chats with you folks.  Maybe it's time that I send a bon mots or two toward some of the accomplishments in which other schools rightfully take pride.  Oregon pretty much dominates the big stuff, but there are plenty of plaudits to go around.  Let's start with: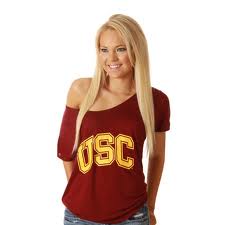 Southern California has been making headlines in the sporting world recently with their success in the sport of fencing.  These stalwart Trojans have been feinting with the old Epee, and lunging in their Lame's to being ranked 3rd in the nation in this sport that is as old as flint.  The young lady pictured above, 20 year old Riposte' Longsword, has been selected to the Lichtenstein Olympic Team because of her obvious talents… in fencing.  It's only appropriate that SC would be good at fencing, as no one would want to walk near their campus at night without carrying some sharp steel.  En Garde'!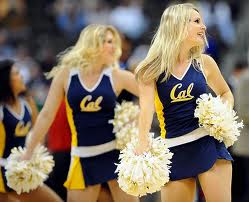 The Golden Bears of California are no slouches in some of the minor sports.  Long known for their expertise in Competitive Anarchy, Cal just recently added a trophy to their case in the sport of Bocce.  Shaking off the criticism that they shouldn't really be competing against 60-year old women in Golden Gate Park, the Bears  proved victorious by touching their Pallinos one more time than did their opposition, Allessandra and Desdemona Guardino, or as they are more popularly known, The Gamer Babes From Half Moon Bay. FishDuck sends our congratulations to Cal.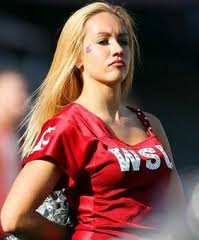 Washington State can be rightfully proud of their most recent accomplishment.  As the 2012 Cow Tipping Champions, the Cougars ended the 12-year drought that saw them standing in the pasture watching first North Dakota, then North Dakota State, and finally North Dakota A&M mosey off with the hardware.
Team captain Clem Hobbledehoy had this to say when I interviewed him after the Finals, "It was a team effort.  We got out of the blocks well, avoided the most obvious and fragrant obstacles and just put our shoulders into Old Bossy.  Down she went."
A riveting interview, that Clem.  Congrats to the Cougs.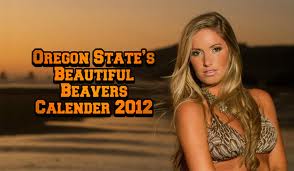 Oregon State, still smarting from losing to Oregon in the category of Everything That Matters Ever, got salve for their wounded psyches just last week, when they were crowned Cricket Champions of West Benton County, Division III.  For those not conversant in Cricket, it's a game something like baseball without the riveting end-to-end excitement.  The games can take days and sometimes only end when one team or the other shoots themselves out of pure pointlessness.  Up until this week the only association most people had with Oregon State and cricket is the sound that can be heard coming from Reser Stadium during so many home games.  This accomplishment changes all of that.  Good job, you Beautiful Beavers.

Your typical friendly Corvallis-neighborhood psycho kille—uhh, I mean, cricket fan.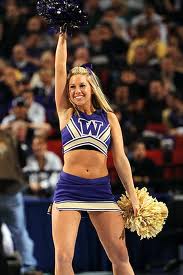 The University of Washington has had a rough go of it lately.  Some high school seniors have been unable to apply to the school since it didn't appear on the alphabetical list of colleges in the library.  As it turns out the seniors were looking under O for "Once Proud."  Since the Huskies have been the poster children for underachievement in the major sports, they have instead turned to something that they know how to do.
Crew.
Led by those rowing fools The Winklevossezzesesesese's (Winklevi?), the Huskies sailed to victory over their long time nemesis The University of Nebraska Yacht Club and Tea Sipping Society.  We congratulate the Huskies, of course, but lament the fact that the freshman team looks like it has some work to do to be competitive next season.
Never let it be said that FishDuck.com isn't appreciative of intercollegiate excellence wherever it may be found.

Kim Hastings is a 1984 graduate of Northwest Christian College. He cut his journalistic teeth as sports editor of a paper in his home town of Fortuna, CA, and, later as a columnist for the Longview Daily News in Longview, WA.
He saw his first Oregon game in 1977 and never missed a home game from 1981 until a bout with pneumonia cut his streak short in 1997. He was one of the proud 3200 on a bitterly cold night in Shreveport, Louisiana in 1989 for the Independence Bowl, and continues to be big supporter of Oregon sports. He is an active participant on the various Oregon Ducks messageboards as "TacomaDuck."
For Greybeards … the EYES Have it!
Want to know a secret about web behavior? Readers don't like long stretches of sentences in comment posts without any breaks, and most readers don't even like long paragraphs.
Break it up! After every third sentence in your post…hit "enter" on your keyboard twice if your computer is a PC, or "return" twice if you have a Mac.
This creates natural breaks between scads of sentences, and so many of us thank you for making it easier on our "Greybeard-age" eyes!