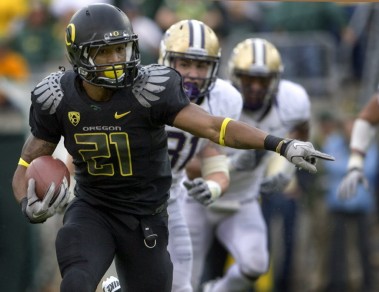 The day it happened was a memorable one, September 3rd, 2011. Outside, the thermometers in Dallas had been registering triple digits, a humid-but-windy true "Texas heat." For those who haven't had the pleasure, try to imagine the feel of standing in a wind tunnel fed by an industrial-sized blow dryer, with occasional whiffs of car exhaust and decaying plant life.  It served as yet another blunt reminder of just how far the Duck team and the fans had ventured from the cool 48-ish degree 5-day forecast back home.
Inside the massive cathedral-space-station of sport that is Cowboys Stadium, a boisterous sell-out crowd was chomping at the bit, buzzing with anticipation for the season opener.
When LaMichael James took the handoff from Darron Thomas in the 2nd quarter of the 2011 Cowboy Classic, LMJ started left, but would be quickly pursued by a convoy of speedy LSU defenders. The official result was a 3 yard gain, the few Ducks fans that were around turning towards each other to say, "I think he did it," or "He just broke it."
But that moment would be almost completely lost in the gut-wrenching results of the game after halftime. The impact of the play in the game overall was minimal, but it also marked a titanic shift for the University of Oregon's pecking order for career rushing yards, and an end to a record that had stood for 22 years.
With that carry, and the roughly 1,802 other yards LaMichael James gained last year, he cruised past former Ducks running back Derek Loville as expected, and firmly planted his name at the top of the all-time rushing leaders at a school that has had more than a few good ones in between.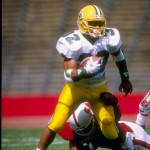 Different time, different players. There's no question that LaMichael's surrounding cast is an improvement from the collective of athletes at Oregon during Derek's days of carrying the rock, though those teams were formidable in their own right. Also it could be argued that the spread Chip Kelly runs vs. the pro set offense operated under Rich Brooks allows for more opportunities to rack up yardage with big plays that weren't there for Derek Loville. It was a full body of work by Loville, four full years in the backfield, while LaMichael James chose to leave for the NFL with a year of eligibility remaining, the record securely in James' name.
But none of that should discredit the remarkable accomplishments of Derek Loville.
Just like LaMichael James did on that day in Texas, Derek Loville too had to surpass a legend in Bobby Moore (Ahmad Rashad) for the record himself, no small feat. Loville had also come in just on the heels of another great Oregon running back in Tony Cherry, and he shared a lot of carries with speedy fullback Latin Berry.
Since Loville's graduation in 1989, the Ducks have featured one highly-talented running back after another. The likes of Sean Burwell, Ricky Whittle, Dino Philyaw, Saladin McCullough, Reuben Droughns, Maurice Morris, Onterrio Smith, Jonathan Stewart, Jeremiah Johnson, and LeGarrette Blount all have spent time in the backfield following Loville. Despite the considerable level of talent in that group (all except Burwell playing in the NFL), none could ever quite match what Loville had done for those great Duck teams of the late 1980's that started much of the momentum for success that the program continues to enjoy today.
Autzen Stadium, the plays, and certainly the team uniforms might have looked a little different back then, but Derek Loville had a similar ability to make the fans inside stand up and cheer like few ever have. Loville was an exciting and quick running back at 5'10" 210 lbs. He possessed a real knack for following his blocks and making precise cuts at just the right time, not unlike LMJ. They both could handle a high number of carries while having the ability to still gash the defense in the 4th quarter.
Here are a few clips from his Oregon Days as a reminder of tremendous Loville's abilities.



And for comparison purposes, since we're talking highlights, here are some familiar sights of some of LMJ's many spectacular runs.

After a very fruitful and productive career in Eugene, Derek Loville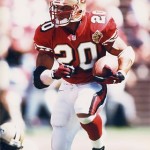 would see only 29 total carries in his first two injury-plagued seasons with the Seattle Seahawks before being traded to San Francisco in 1994.
The 1995 Super Bowl winning season would prove to be far and away Loville's best in the NFL. Inserted more prominently into the line up and given a chance to shine for the first time, he rushed for 723 yards and 10 touchdowns in 16 games, while catching 87 passes from NFL MVP Steve Young for another 662 yards. (2nd most receptions in a season for Loville was 16)
He went on to an extremely rewarding NFL career, winning a total of three Super Bowls, one with the 49ers and  two more later with the Denver Broncos. Though primarily used as a backup during his NFL career, Derek Loville was able to play alongside an incredible list of legendary players including Steve Young, Ricky Watters, Jerry Rice, Ken Norton Jr, Richard Dent, Dana Stubblefield, Bryant Young, and Deion Sanders in San Francisco.
When Mike Shanahan was hired away from SF to Denver, he brought along Loville where he would join another all-star cast including MVP John Elway, MVP Terrell Davis, Shannon Sharpe,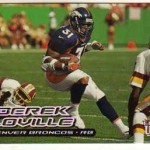 "Flipper" Anderson, Mark Schlereth, Gary Zimmerman (an Oregon grad), Ray Crockett, and Bill Romanowski.  The move was an odd twist of fate, in that he seemed to be following his old college quarterback and fellow Oregon legend Bill Musgrave everywhere Bill went; first joining him in San Francisco, then playing in Denver right after Musgrave had been the backup there.
The experience of playing on those two teams, even in a limited role, would mean more to most people than holding all of the rushing records at the U of O.
The game has changed a little since those days at Oregon, and the numbers have been easier to come by of late under Chip Kelly. It should also be mentioned that while currently sitting 14th on the all-time rushing list, with a 1,400+ yard season as a senior current UO starting running back Kenjon Barner has an opportunity to rejoin LaMichael James as the unquestioned top tandem in school history.
Here are the career stats for LaMichael, Derek, and Kenjon Barner so far at Oregon:
| | | | | | | |
| --- | --- | --- | --- | --- | --- | --- |
| UO Rank/Player | Career games | Carries | Yards | YPC | Rush Tds | Average/Game |
| 1. LaMichael James | 40 | 771 | 4,973 | 6.5 | 53 | 124.3 |
| 2. Derek Loville | 43 | 814 | 3,296 | 4.0 | 41 | 76.7 |
| 14. Kenjon Barner | 36 | 304 | 1,831 | 6.0 | 20 | 50.9 |
---
 Oregon to San Francisco Connection   
Derek Loville and LaMichael James are by no means the only Ducks to have found their way to the bay area. Consider these notable Ducks who have played for the 49ers:
– Class of 2000 NFL Hall of Fame inductee Dave Wilcox played 10 seasons in San Francisco, garnering 7 Pro Bowl selections, and named All-NFL 5 times.
–Mario Clark was named an All-Pac-8 safety in 1975 while at Oregon, and became the 1st round selection of the Buffalo Bills in the 1976 NFL draft, where he played for eight years. His final season in the NFL (1984-85) he joined the San Francisco 49ers, earning a Super Bowl ring when San Francisco defeated the Miami Dolphins in Super Bowl XIX.
–Fred Quillan ties with Dave Wilcox and Mike Walter as being the longest-tenured Ducks with San Francisco.  Jeff was drafted by the 49ers in the 2nd round of the 1978 NFL draft, and became the centerpiece of their offensive line as the starting center on their first two Super Bowl winning teams of the 1980s. Quillan was named to the Pro Bowl in 1984 and 1985. He played in 143 games over his 10 year career, retiring in 1987.
–Mike Walter was a local Eugene hero and Oregon legend before joining the Dallas Cowboys as their 2nd round selection in the famed 1983 draft, renowned for the quarterbacks selected that are now in the NFL Hall of Fame (Elway, Marino, Kelly). Walter was traded to the 49ers in 1984, where he stayed for the next decade as a starting linebacker, earning three Super Bowl rings.
– Tony Cherry was a 9th round selection of the 49ers in 1986, and later a CFL All-star with the BC Lions.
– Bill Musgrave, the Oregon career leader in passing yards (8,343) became a 4th round pick in the NFL and played sparingly in six seasons before embarking on an NFL coaching career. Musgrave is currently the offensive coordinator for the Minnesota Vikings.
– Matt LaBounty left Oregon as the all-time sack leader (a record that was broken by Ernest Jones in 1993, Jones' mark was then broken by Nick Reed). LaBounty was drafted in the 12th round of the 1992 NFL draft by the San Francisco 49ers (#327 overall) and spent the 1993 season with the team, starting a fruitful 8-year NFL career menacing quarterbacks as a defensive end and tackle.
– Keith Lewis was drafted in the 6th round in 2004 and played 5 seasons. He managed to snag 3 interceptions, force 5 fumbles, and block 2 kicks in 76 career games. Known as a special teams maven, he was named to the USA Today All-Joe's team for his tremendous special teams play.
– Jed Weaver went from a walk-on to starter in the late 90s for Oregon, followed by a six-year career in the NFL, including a year on the 49ers roster in 2003. He retired after winning a Super Bowl with the New England Patriots in 2005.
– Adam Snyder, the former Pac-10 Morris trophy winner, was selected in the 3rd round by San Francisco. The versatile 6'6″ 325 lb lineman has played guard and tackle, and was recently traded to the Arizona Cardinals after six seasons as a 49er.
– Will Tukuafu was a 3–time All-Pac-10 selection and won the Casanova (top new comer), Schaffeld (outstanding defensive lineman), and Goyea (most inspirational) awards as a Duck. He began his career in Seattle as a free agent before joining the 49ers in 2010.
– Jeremiah Masoli signed with San Francisco as a free agent and offered a try out at fullback, but was waived shortly after and signed a deal with the Edmonton Eskimos of the CFL in April.
Now there is a new 49er with Oregon ties.  Head coach Jim Harbaugh drafted LaMichael James in the 2nd round, joining a team that came just a few plays away from a Super Bowl trip last season. Alex Smith returns at quarterback, and the team has brought in some help at wide receiver with Mario Manningham, Ted Ginn Jr., rookie AJ Jenkins, and veteran Randy Moss to go along with all-world tight end Vernon Davis and the streaky Michael Crabtree.
Only time will tell what the next level holds for LaMichael, and how his path might compare with the NFL accomplishments of Derek Loville when it is all said and done. Running backs have among the shortest of pro careers due to the damage endured at their position, and it is a very select few that record even a single season of All-Pro caliber production or leave any substantial mark on an organization. Loville may not have always been the starter, but it's tough to argue with the results as he ties with Mike Walter for having more Super Bowl rings than any other Oregon Ducks in history.
If his production while at Oregon is any indication, the San Francisco fans may have much to cheer about for years to come now that James is in the bay area. However, there's only one ball to go around, and James will need to first navigate his way through a seemingly crowded backfield. James did that once already in college, no reason to think he can't do it again.
LaMichael is expected to compete for carries next season with incumbent running backs Frank Gore (5'9″ 217lbs), Kendall Hunter (5'7″ 199lbs), and new arrivals in Brandon Jacobs (6'4″ 247lbs), and Rock Cartwright (5'8″ 215lbs).  Some impressive names, but the guess here is that we'll be seeing plenty of #23. Why? Jim Harbaugh had plenty of chances at Stanford to see LaMichael James destroy the Stanford Cardinal with Jim coaching the team, so he knows exactly what he's acquired in the selection of LMJ.
Derek Loville and LaMichael James may be two very different players, but it is so easy to draw parallels between them. Two of the best running backs in Oregon history, one had the records that stood as a measuring stick for so long, and the other who put up the numbers that frankly seem unlikely to ever be reached by another player, even after skipping his senior year.
Now both will have an opportunity to shine with the same storied NFL franchise. As Duck fans we may never be able to listen to that old classic song the same way again.
For us, a better fit might be:
"We left our record-breaking running backs in San Francisco"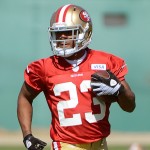 Or
"If you're going to San Francisco, be sure to throw your O's up in the air"
———
So, go ahead and enjoy another great one on us.
You're welcome, 49er fans!

Want to Watch Oregon Games on your computer?
If you do not get all the channels that have the Oregon Football games, or simply want to be able to watch the game over again as you don't have the space in the DVR to hold all the games?
Contact me by email: charles@fishduck.com and I can help.  We have fans across the nation and internationally watching the games 24/7/365 and I wish that for everyone.  Charles Fischer