If you wanted a quiet week with little college football news, then you're not gonna find it here. Just when we thought the summer would finally kick in and slow things down, the years of complaints and swirling rumors regarding playoffs has now turned into a raging wildfire, and yet more conference expansion. Now if only they played some games over the summer, we'd be in full-fledged college football mode.
Let's talk a little Oregon football. Not to bring up harsh memories, but remember that BCS title game in Arizona a couple years back? Ya know, the wrist was down, Uncle Cliff's interception that wasn't, Cam Newton's fumble that was called a sack, and War Damn…ok, I'll stop.
Anyway, Oregon had better players at the skill positions that day, minus Cam Newton. After watching it the difference in the trenches was obvious. Oregon just did not have that nasty presence to grind out the win that day against Auburn's linemen. Well, that is about to change. Chip Kelly has that problem solved. Arik Armstead is going to be a huge addition (6'8 300lbs), and if his play in the spring game is any indicator he will be the cornerstone of the Duck defense for years to come. Chip & co.'s recruiting, particularly along the defensive line, is clearly targeted to acquire a specific style of player, and Armstead fits the mold that should leave Duck fans very happy with the defensive line pressure for the next few years. If they continue to recruit players such as him, the trench disadvantage vs. a so-called "S-E-C' line will be rendered neutral.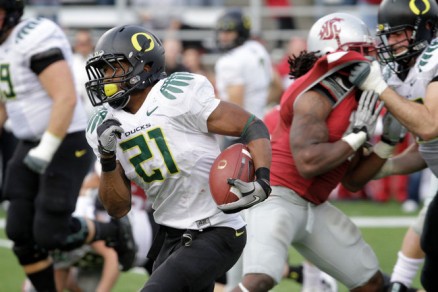 1) Pac-12 fans, welcome to the mind of Mike Leach. Don't try to understand him, just enjoy the ride. The crazy, crazy ride. Forget the Dos Equis beer guy, Mike Leach is the most interesting man in the world. He is a must for college football. I am on his side with everything that went down at Texas Tech. Not only is Leach's offense fun to watch, but his news conferences can be just as entertaining. When Leach has his system finely tuned after a couple recruiting cycles, look out. Oregon vs Washington State could be the shootout of the century in scoring for many years to come, defense would be optional, just like Washington in last year's bowl game. Circle the game on your 2014 calender now. It's a sure bet that if WSU starts out hot this year, ESPN College Gameday will be headed to Seattle for the Oregon-WSU battle. Mike Leach vs. Chip Kelly, who doesn't want to see that? In anything…football, arm wrestling, chess, tic-tac-toe. I don't care what, I just want to see what happens when Chip Kelly and Mike Leach are locked in a tool shed together. Leach added another notch to his resume this past week, killing a 350 lb bear on a hunting trip. Since it was Leach, it would have made more sense if he had done so with a blowgun. Just sayin'.
2) JUST STOP WITH THE CONFERENCE MOVING! FSU decided to stir the pot again, and talk about going to the BIG-12. Does anyone care about this? It just seems more of a good attention-getter to make some headlines over the summer, but hey at least it gives us SOMETHING to talk about during these long off-season months.. Then again, it would be an exciting move. The Big-12 would be able to finally have a foot in the door for recruiting in the state of Florida. Imagine Texas vs. FSU, Oklahoma vs. FSU, or FSU vs. TCU; those would be great matchups. It could be a good move, both for FSU and the conference, but devastating to the ACC. Of course money is the primary motivation, forget the tradition or travel costs for fans.  If I was an FSU fan I would not want my team to jump conferences right now, they are finally recruiting and getting things back together to get 9-10 win seasons again on a consistent basis, plus when was the last time a BCS team from the state of Florida actually traveled outside the south for a regular season game?
3) SEC and BIG-12 are making noise with their wanna-be ROSE BOWL situation. If playoffs happen, these conference are looking to cover themselves in the aftermath. With these two power conferences putting up their best teams available, it will be another mini-national championship game. Imagine Oklahoma vs. LSU or even Texas taking on Alabama. This bowl game will become huge, but never have the Rose Bowl feel. It's a great idea in theory, but these two conferences should be looking to just better the playoff situation about to be presented rather than set up their own side-deals, throwing a wrench into the tricky negotiations. The concept is simple, if neither conference champions are playing in the national championship, then they'll play this game, same with the Rose Bowl being Big-10(12?) vs. Pac-12. If this comes to fruition it punches even more holes in the BCS system.
4) Just join a conference already, Notre Dame! They are the real reason all these teams are moving around. If they would have just joined the BIG-10(12?) then we would not have this mess. Of course, unless you're a Domer, then you could probably rant every week about Notre Dame not moving conferences, one of many complaints about the school.
Actually, if you're a fan then you're probably complaining too, what with Tommy Rees' recent issues with alcohol off the field matching his bad decisions on the field that led to oh so many redzone turnovers. Notre Dame plays Michigan, Michigan State, and many other Big-10 teams almost every year. The move makes sense for their traditional matchups, and certainly geographically. Yet they play in the Big East in every other sport, but remain staunchly independent in football, rolling in money from their exclusive TV deal. Notre Dame against Michigan every year is a great thing for college football.  Make it official, make it a Big-10(12?) game.
5) If your mind is not already thinking about this coming season, then here are some games to get excited about:
Boise State vs. Michigan State (two new QBs will try to get their team off to a fast start)
Washington vs. LSU (Offense vs Defense)
Notre Dame vs. Oklahoma, and Miami (traditional powerhouses going at it)
This website will show you your favorite team and their upcoming schedule. Use this site to plan out your saturday's accordingly. We have some great matchups to look forward to for the upcoming season. and those are just some games, not counting all the new conference matchups.
Kickoff can not get here soon enough. We still have another few months to see how the playoff proposal turns out along with teams possibly on the move again. 'Til next time.
---
Other National News:
USC now has official control of the coliseum so they can go forward on renovations
SEC vs BIG-12 = new bowl game to hype up.
Montana leaving Montana.
Also the bizarre enigma that is Tate Forcier (who almost commit to Oregon) comes to a weird ending, as he's going pro to the CFL.
Auburn and Alabama fight over everything.
Mike Leach is awesome. The "Craig James Killed 5 Hookers" meme has been around for quite some time, and still hilarious, but looks like Leach has picked up on it too, as he has begun signing his book 'Swing Your Sword' with the post-script CJK5H (Craig James Killed 5 Hookers), or this tasty choice as well "Craig James is a Douche." On top of that, this past week Coach Leach further showcased his, well Leach-ness, by killing a 350 lb. bear on a hunting trip.
---
Oregon Ducks News:
Ducks take care of USC.
Oregon Duck recruiting efforts. Ducks need to speed things up.
Duck Finance 101.
Speed Kills. Oregon's  De'Anthony Thomas uses track for offseason conditioning and to win a few events while he is at it.
Oregon already bringing home the hardware from the All-American department.
The AddictoQuack.com crew did a great thing this week, raising funds for the Miracle Wolf Scholarship Fund.
Oregon softball is on a roll, winning their regional round of the NCAA tournament.
Ken Goe says the women's track team are the favorites to win the national championship.
Oregon baseball keeps rolling too, with Alex Keudell setting the single-season record for most wins at the UO.
The USFL may re-launch in 2013, and there's talk of a team in Portland consisting of former Ducks and Beavers.
Oregon punter and longtime NFL player Josh Bidwell hosted a charity golf tournament.

Want to Watch Oregon Games on your computer?
If you do not get all the channels that have the Oregon Football games, or simply want to be able to watch the game over again as you don't have the space in the DVR to hold all the games?
Contact me by email: charles@fishduck.com and I can help.  We have fans across the nation and internationally watching the games 24/7/365 and I wish that for everyone.  Charles Fischer