Amid all the happiness over Oregon getting a verbal commitment Friday from heralded Texas running back Dontre Wilson was one thorny issue.
Wilson is only the third soon-to-be high school senior to pick the Ducks so far.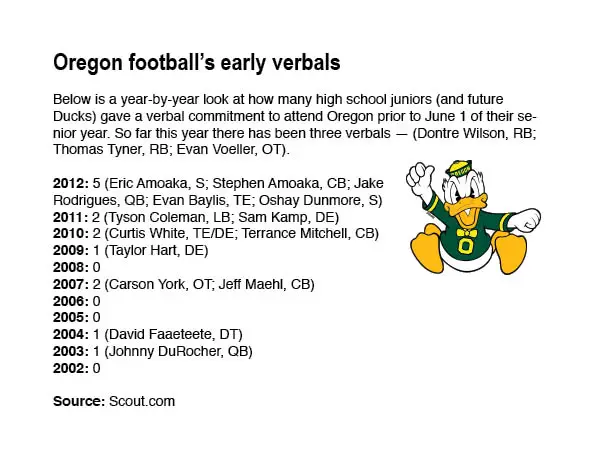 A few years ago, that would have been three more than Oregon typically had at this point in the recruiting cycle.
Oh, how times have changed.
As of Friday, Michigan had 18 players from the Class of 2013 heading its way; Florida listed 16 players; Alabama and Texas each boasted 14; Ohio State had 11. And on and on it goes. USC, considered Oregon's chief rival for Pac-12 supremacy, has received verbal commitments from seven.
But don't jump off the proverbial ledge at Autzen Stadium, anyone.
National Signing Day is still nine months off. Just as more high-schoolers choose colleges earlier now, more also switch before they have to knuckle down and sign a letter of intent. Some colleges lose interest in players, too. Everything is non-binding and loosey-goosey.
Neither has Oregon ever lured a lot of players early. A year ago, the Ducks had five verbals prior to June 1 — the most in school history.
Neither does a quick start translate into a final top team recruiting ranking from the various scouting services.
In 2011, for instance, Oregon had just two early verbals (linebacker Tyson Coleman and defensive end Sam Kamp), but finished ranked No. 11 according to Scout.com. Below the Ducks were Oklahoma (11 early verbals), Arkansas (7), Clemson (7) and Nebraska (6). USC, which had just four verbals prior to June 1, 2010, climbed all the way to No. 4 in the team rankings.
Penn State is believed to be the first to have gone after high-school juniors in earnest when it began targeting in-state recruits in the 1990s. But the practice didn't really catch on until the mid-2000s.
Today, top high school football players have more ways than ever to strut their talents, build name recognition and get on the radar of college coaches. They can attend junior days, combines and summer camps. They can market themselves online with the help of YouTube, Facebook and Twitter. They frequently attract the attention of — ahem — recruiting services and fan websites.
Because of all the resulting attention, though, some kids are eager to quiet the battle for their service before their senior years arrive.
"I just want to get it over with," Dontre Wilson told ESPN a few days before Friday's announcement. "I'm tired of it."
Alabama, for one, has done well for itself by rounding up prep stars many months prior to signing day. This past recruiting season, the Crimson Tide had 26 verbals in the bag before June 1, 2011, according to the Scout.com database. From 2008-11, Bama averaged eight early recruits a year. It's hard to argue with such a strategy when the results follow — two national titles and a 36-4 record over the past three seasons.
"They're the national champions, man," said Rocky Hidalgo, the high school coach of RB Tyren Jones (Marietta, Ga), who recently picked Alabama. "It is what it is."
Nonetheless, landing a bunch of high school juniors is a risky venture for any school — particularly ones inclined to honor what amounts to a hand-shake deal with a kid.
Whether the players are from De Soto, Texas, or Los Angeles, Calif., they have yet to play a single game in their senior seasons. At the age of 16 or 17, many have yet to fully develop athletically and physically. Conversely, some have peaked. How does a coach tell the difference? Shoe size?
Further, some high-schoolers, particularly those in rural communities, don't have the support, means or resources to be seen at camps or online. Are those kids being passed over in the rush to nab the hyped stars?
The University of Texas, located in a talent-rich state, is a good example of a program that has soared to new heights in early recruiting, but has stumbled on the football field of late. Texas received early commitments from 15 future Longhorns in 2012, 19 in 2011, 25 in 2010, 19 in 2009 and 18 in 2008. That has translated into what for the program has been a pedestrian record of 26-13 from 2009-11.
Still, the onslaught goes on.
"In today's age, the way recruiting's going and how fast it's going, there's no question (a fast start is important)," Illinois head coach Tim Beckman told ESPN.com. As of Friday, Illinois had nine early pickups.
So what's the best approach?
For the Ducks, it's likely more of what's been successful of late. Get players you are confident in and who fit the system early on, work to keep them, evaluate and offer others in the weeks and months ahead, get them in the fold, and then work to keep them, too. Repeat, repeat, repeat.
Oregon coach Chip Kelly has said more than once he doesn't want a player who isn't comfortable in Eugene.
For most of the country, particularly the fertile recruiting grounds all schools try to target (Texas, Ohio, Florida) the Pacific Northwest is a long ways away.
In recent years, nearly all of Oregon's verbal commitments have come on board on National Signing Day — unlike other schools who've been hurt by last-minute switches.
That's good, Duck fans.
In addition to Wilson, Oregon has landed two other high-school juniors — Aloha (Ore.) RB Thomas Tyner and West Linn (Ore.) OT Evan Voeller.
Oh, and Wilson is a 4-star recruit, rated the 11th-best running back in the country; Tyner is a 5-star recruit judged the fourth best running back in all of the land; and Voeller, a 4-star recruit, is rated the 19th best at his position.
That's really good, Duck fans.
So here's a prediction. If the recent past under Kelly is a good indicator of what's coming, from here on out it'll only get better.
Now climb down off that proverbial ledge at Autzen.

Fantastic FishDuck.com Discussion!
The comments below the articles have drawn raves from so many, and I do appreciate your emails about it.
Be a part of it!  If you check the rules, you will see that I protect everyone from the trolls.  So, there is no downside!  We want to hear from all readers on all the articles, so jump in Ducks, (as the water is fine) and be a part of this tremendous community!