This four-year stalwart played a huge role in Oregon's success through the late 90's.  Many remember the "McLemore era" for the amazing career of superstar receiver Cristin McLemore (1992-1995), but his brother Brandon excelled equally on the defensive side of the ball through the latter-half of the 90's. Brandon McLemore (a.k.a. "B-Mac") arrived at Oregon in 1995, just after the Rose Bowl year, playing one season alongside his brother "C-Mac," continuing the McLemore excellence on and off the field that came to define the 1990s for University of Oregon Ducks football.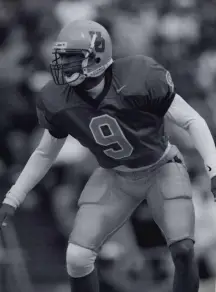 Following a redshirt season, B-Mac became a starter immediately in 1996, starting as a freshman safety and never relinquishing the position until graduation. McLemore had an outstanding career at Oregon, gradually improving each year in statistics, finishing tenth in tackles as a freshman, eighth as a sophomore, fifth as a junior, and second-place his senior year. A terror in the secondary or the backfield, McLemore racked up an impressive nine quarterback sacks during his career, 221 tackles, 12 breakups, and four interceptions. By 1999, he was the most experienced player in the secondary, performing alongside rover Michael Fletcher, the two forming a punishing duo for any wide receiver brave enough to go deep or across the middle.
Now a very successful upper-management employee for Oregon's largest corporate sponsor, I had a chance to catch up with B-Mac at his current stomping grounds, The Nike World Headquarters.
What made you come to Oregon?

"I was able to come to Oregon when my brother was there before I actually came in on a recruiting trip.  Just the camaraderie and culture of the football players was like none other. Especially after I took my other trips during my senior year, there was just nothing that matched it. The camaraderie and culture that Oregon players have created is definitely a family atmosphere – given they actually played AND hung out together like a team. On top of that, they were on the rise at the time to be really good. They were recruiting a combination of good players and a good people as well; which really made me feel they care about the athlete as well as the student, as far as getting stuff done. It wasn't just about the stats and everything on field. That to me made me really want to come to Oregon."
Given that you had to make the transition from cornerback in high school to safety in college, how difficult was the adjustment to the college game?
"For me, I think it was a little more natural. I think I'm a natural safety in general with my body and how I play on the field. When I was in high school, I was a corner because we had a lot of good receivers in our league; so they wanted to put our best athletes on the other teams' best athletes. I knew going into college, I would probably transition to a safety. So, I had learned safety skills in practice in high school. That got me ready to jump into Oregon and play early on in my career."
How about the acclimation process to college life? Surely having your brother there must have helped, but who were your biggest mentors, and what was your secret to so much success early on?

"In 1995, Fletch (Michael Fletcher, safety) and I were the stalwarts of the scout team in the defensive secondary (along with Peter Sirmon in the linebacker corps).  We really enjoyed getting after the first team offense. The first team group had tons of talent (Ricky Whittle, my brother Cristin McLemore, Josh Wilcox, etc). Our quarterback (Tony Graziani) was awesome, so we got to improve our skills against some of the best talent in the country as we competed hard against those guys every day.
It was physical going against them, but we knew we'd be ready to play some good football going into 1996 because of it. We were tested everyday, week in and week out; it was a battle. We lost in practice sometimes, but other times we won; but we made them a lot better. (Trust me, they made us pay our dues!) All the accolades the team was able to get, we were able to get from those guys. They taught us to go out and be good products of Oregon Football, I think that was key for us.
Also, working with the veterans of the team throughout my redshirt year was a huge help. Kenny Wheaton (my biggest mentor), Alex Molden, Isaac Walker, Brian Collins, and Jaiya Figueras. They truly helped me transition into being a good solid player. Josh Wilcox was huge – I would always pick his brain, and he'd tell me what I could do to be better and how. It was good to get an offensive perspective, because they knew that we wanted to play hard, so they really held us to higher expectations as far as how we practiced and consistency. It wasn't just a week here and a week there, it was every week that they challenged us to play at a high level. Expectations from those guys made us who we were and overall better players.
The one thing I learned from those guys: they're truly the epitome of a blue-collar team. The 'I'm bringing my lunch pail to work, and we're going to get it done' kind of attitude. That's why I always had pride in myself to be a blue-collar athlete.  Oregon itself (from a football point of view) always stands for being a blue-collar team. We brought our lunch to work every day and got it done. That was always the focus, and what gravitated me towards success."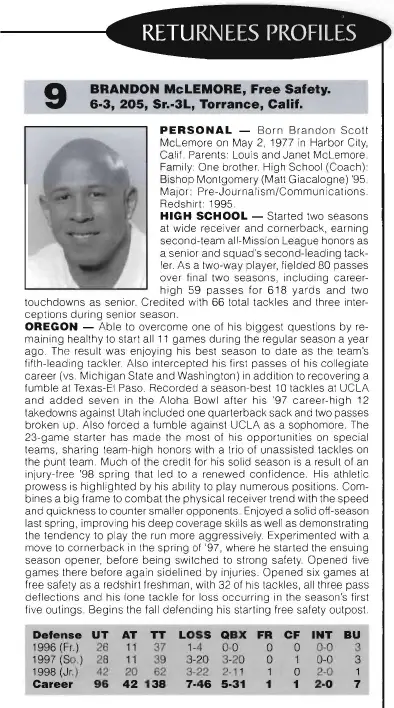 The safety is really a hybrid position, part cornerback and part linebacker. What mindset is needed to play that role?
"From a secondary standpoint, you have to be very versatile. You have to be agile, be able to break down, and be able to make plays in the open field to stop the run as well as when it comes time to pass. Just being able to have that hybrid ability to do both – defend the run and the pass.  That really truly translates to how good a safety can be. You don't want to be a guy who can only play the pass or the run. As a complete safety, you must be able to do both, and do both at a high level.
I think it's a mindset thing first. When you're playing off the ball and looking for passes on third downs, you're looking to make plays on the ball. But, as you slide into the box and you're playing the run – you're mentality has to be different. You almost have to have that linebacker mentality that you're going to come downhill and take on a fullback and then also make sure you can make the tackle on the running-back as well. A safety has to be versatile enough to make sure you can make the play on both ends on the field. That's how Oregon is able to rely on their safeties, as well as have really good corners that can lock up man to man, while making sure they make the play on the run or pass."
Did you know you were going to play in your first game, or was the opportunity sprung on you suddenly?
"My first game was at Fresno State as a redshirt freshman (1996). We had a couple of injuries in the secondary, enabling me and (Michael) Fletcher to start as redshirt freshmen. So, it was a big deal for us. We knew going into our first game that FSU would look at us/our scouting reports; and try to test us early on. So for us, coming in as freshmen safeties, we had to step up and make good plays. For us, we rode together around each other, and were able to make good plays in the secondary as a whole. Kenny (Wheaton) had some good interceptions, Fletch had a couple of good pass break-ups, and they realized they couldn't really throw the ball that much on us.
So, they instead went to the ground game. With our new off-the-line defense (from a defensive lineman's point of view) they really attacked us there with Michael Pittman (tailback). But from an overall point of view in the secondary, we really enjoyed going after it and being tested by some Division I guys. Knowing we were competing at that level it was huge starting in that first game and getting that victory at Fresno State."
[
Note
:
McLemore and company won the first-ever regular season NCAA overtime game against Fresno State on August 31, 1996. Fresno State's ground game was their only weapon for the new offense, as McLemore and co. shut down the high-powered QB Jim Arellanes' passing game
.]
What was it like having to play under so many Defensive Coordinators during your career? Was it a struggle to learn a new system each year, and how did each help you improve as a player?

"Throughout my career at Oregon, I had four defensive coordinators. My redshirt year, we had Charlie Waters who (to me) was undoubtedly one of the best coaches at Oregon. He was a super-cerebral coach who took the time to teach the guys to play football; along with him being a former safety himself he was a huge help for us. Fletch and I learned a TON under him. He was one of my favorite coaches to play under, and he got the game of football like no other coach had.
My second year (1996-first year playing) I was under Coach Rich Stubler. That was a little bit of a rocky time, I think just the fact that he brought in a different kind of defense that isn't really made for American Football (CFL style). The schemes and coverages were a lot different from what we were used to. Some of the ways we attacked the run made it very difficult to play under. But, we had some good times under Coach Stubler, and he really tried to help us in the way he could within his defense.
After that, Bob Foster came in my junior year (1998).  He was a great coach; one thing that  was big about him was that he had the energy of a 22 year-old. He was always on fire, a very smart coach, had a great staff with him, and had Coach Bob Gregory (secondary coach) under him. Gregory was a great position coach, and brought us back to a real streamline scheme and normal coverages after Stubler left. We really learned the game of football from a defensive standpoint, and it truly brought technique into our scheme (where technique the year before was a lot different). We had been shuffling and breaking a different way, but Foster and Gregory really taught 'technique, technique, technique' to really get after the logistics of football.
Then as a senior (1999) we had Coach Nick Aliotti, I love that guy. Very fiery, and the Italian-style. He knows Oregon football, he knows what our players are all about, he knows what Oregon is about, and he's one of those guys who is a "lunch-pail" type of guy – he brings his lunch to work every day and is going after it the whole time. We were able to take what Coach Foster brought in the year before, and translate it to Coach Aliotti's defense. He was honestly one of the guys who we looked up to (just from what he had done in the past with the 'Gang Green' Rose Bowl team in 1994) as well as his time in the NFL.
We were really happy to have Aliotti come back and teach us the ways of Duck Football and Duck defense; and really try to get that 'Gang Green' mentality back. He was all about mentality; and a blue-collar tough guy, which was one thing we liked about Aliotti. He was a tough guy, and he translated that in the way he taught us and coached us. We'll always remember in our lives what he taught us."
What are your funniest memories as an Oregon Duck student-athlete?

"Some of the funniest memories happened behind the scenes for us. We did freshmen skits, known as the 'rookie shows.' It was like a hazing for the rookies, but was always done in good fun and it built the culture of Oregon football and character of players. That is something we always wanted to keep vibrant at Oregon, because that kept the Oregon football culture special.
One particular memory really comes to mind:  my freshman year, we were introducing ourselves as we arrived. We had a freshman walk-on lineman named Andrew Sacks. He had pulled his groin in a really bad way, and had two ice packs between his legs. Coach told him to introduce himself to the team, so he stood up and said 'my name's Andrew Sacks'…and the two ice bags dropped down and hung from his legs (hence his name, 'Sacks!') Everybody laughed hysterically for about five minutes. The coaches were on the ground, every player was ready to lose their lunch; it was one of the funniest moments ever. Andrew Sacks, we love him. One of the best introductions in Duck football history! It was classic!"
What are your fondest memories from your time as a Duck?

"Going through the tunnel at Autzen Stadium is huge.  You never experience anything like this at any level. The tunnel is shaking; it's so loud that it's rattling your helmet. You don't get that anywhere else, it's an experience unique to Oregon in your 4-5 year career here. It's a huge thing that really makes you feel like it's about the fans, the community, your teammates, etc. It really motivates you to do well.
Also, working with the coaches at the U of O (Foster, Pellum, Campbell, Aliotti, even Peterson), those guys were awesome. Coach Bellotti was great, and I got to work with some of the best talent in the country under him as far as coaching and what I learned from those guys. Looking back on it now, they were definitely father-figures as well. They teach you how to be a man at the same time. To me, the combination of them keeping it light and firm, but focusing on football while developing the athlete AND the person into a man really makes me smile that I made that decision to come to UO. I meet other people that went to other schools that don't have that same look/feel as an Oregon graduate. That's truly important."
Do you have a personal favorite play or game from your playing career?

"My favorite game was my senior year, the triple-overtime battle against USC. It was just a battle of battles.  It was after midnight; that was an epic back-and-forth. I looked up in the stands and saw my parents, it was awesome to see them and the fans almost as worn out as the players were. They were cheering so much and into the game as much as we were even though it was so late. It was an emotional game, and a lot happened during the length of it (like kicker Nathan Villegas getting hurt in a celebration), so there was a lot that tested Oregon's strength, endurance, and mental capacity. For me, that was one of the greatest games of all time.
As for my favorite single play, I'd have to say my first pick against Michigan State (1998).  I was a junior; had started every game since I was a freshman with many break-ups; but hadn't had a pick until then. So, the first game that year against MSU, I was in the middle, saw the ball get tipped, and I dove at it and snagged it right before it hit the turf. I held it up, and was like 'nobody's taking this ball from me, it's my first pick, and I'm holding onto it!' I got hammered by my guys after I'd had the opportunity to have one at that point after so many close calls. It was great to get that off my back. Then, it was a lot easier to get those picks and they seemed to come a lot easier from there."

[Note:  Oregon opened the season in 1998 at Autzen with a 48-14 routing of favored Michigan State.  McLemore and the defense had a very strong start to the season and continued its prowess (a complete turnaround from the previous season) to start the season 5-0. Only injuries prevented the dominant defense and offense from continuing what they started; but McLemore stayed strong all season to start each game and finish fifth in total defense.]
Tell us something interesting that happened behind the scenes that fans may not know about?
"We were playing UW at home (1998). We were up big, but they closed in to make it 27-22. Near the end, they lined up for an onside kick and I was in on the hands team. I actually recovered the onside kick. Everyone always took pride on being on the hands team; but it was special for me being a DB (unusual to see).
An extra special moment to that is what happened under the pile. Everyone knows about the 'under-the-pile' stories. I was there, I recovered it (on a wet/cold day), guys are hitting, punching, grabbing face masks and everything else you can imagine to try to get the ball. It was to the point where I was holding on for life, and it was a bar room fight under that pile for what felt like a good 3-4 minutes. The refs couldn't get anyone off the pile, everyone wanted that ball. But, I was in just the right position where they couldn't get it from me. I was getting hit from every side and had every teammate fighting for me. Under that pile, it was something fans couldn't see, and honestly probably shouldn't see. But, both Washington and Oregon players knew what was going on underneath, and it was just a big fight – as you'd think a Duck/Husky fight would be."

[Note: Oregon held on to win and defeated Washington for the second straight year (27-22) and the third in four years in the heated Northwest Rivalry.  Washington would finish 6-6, it's first neutral record in decades.]
[Note: McLemore was not drafted into the NFL, but his motivation and dedication earned him a spot as a free agent, where he went on to exceed everybody's expectations.]
You weren't drafted, but you did get a shot at the NFL. Please tell us about what happened to you in your post-Oregon career?
"First, I had a few classes to finish at Oregon after not being drafted. I trained for the NFL and got a call from Tennessee. The Titans seemed like a good fit for me; they had two veteran safeties. From mid-January on, I was in heavy training mode, working out 2-3 times/day. I was focused on taking football to my secondary career. I feel I became a better player, as that was all I focused on. That helped me make an impact in Tennessee. Coming in, I realized it was a business. Certain guys wouldn't help me learn the playbook, knowing I was coming to take money off their check. It's definitely different from the college atmosphere, it's a business.
Having so many defensive coordinators helped me in the pros. In the NFL, everybody's good, athletic, fast, and can hit. They can do it all and their skills are up there; NFL athletes are the premiere athletes in the world. So, going through so many defensive coordinators, I picked up the defense in Tennessee a lot faster than other new guys because of all the defensive schemes I'd learned. Though I missed two of three rookie camps, it was very energizing to earn respect from the beginning as they saw my talent. I learned the defense really fast and was placed at second-string by my third week there.
I was very happy, and I really think going through all those coordinators truly helped the scheme and me being able to get it at Tennessee. I had 10-15 guys come up to me and say 'you didn't get drafted?' Two safeties were drafted ahead of me, so it was a feather in the cap to have those veterans think I was one of them. I was fourth string, but I made it with the two's within weeks. Everything was clicking.
Then, I tweaked my knee, but came back within six days and was running with the backups again. But, then when back to full strength, suddenly there was a loud pop and I tore my ACL while trying to defend Eddie George. That was difficult, but I had a lot of support. Fans attend practice like church in Tennessee and I had become a fan favorite, so it felt great that I got so much support. Next day's headline said 'Free Safety who made huge camp impact tears ACL.' That was a turning point in my career. It led to my fifth surgery on my knee, so it made a comeback rough. I tried coming back the next year, but was on injured reserve. I was basically in the NFL for two years, but hung it up because I wanted to be able to be an active adult and not have a prosthetic knee at 40."
---
McLemore's post-NFL career:
After his two year stint in the pros, McLemore took the next year off to settle things and get healthy; living between Eugene and with his brother in Portland. Approximately nine months later, he received an internship at Nike in the Jordan Brand department. His positive attitude turned the temp job into a permanent position, as he met a lot of people and proved his skills learned at Oregon that would shape him into a businessman Nike could rely upon. For the next six years, "B-Mac" worked as a product line apparel manager for the Brand-Jordan division of Nike; where he got to meet personally with Michael Jordan once a month.
"Being part of that circle when he comes on campus to meet with him, talk to him, pick his brain, etc., was huge. I've never been in awe of anyone, but there's this crazy aura about him, and he carries himself so well. He's the most competitive man I've met in my life. I always looked up to him."
Brandon McLemore Today:
After six years with Nike, McLemore was able to transition to his dream role of NCAA Football Promotional Product Line Manager for Apparel at Nike. His main job is to take care of Nike's top-48 NCAA Football teams, outfitting them all with their Nike-issued uniforms, including Oregon. He is responsible for game jerseys, along with what coaches wear on the sidelines, as well as in practice and player-only issued apparel to wear in their own time around campus.
"One of my first projects was designing the Ducks' Rose Bowl uniform, which I think had a lot of impact. I'm in one of the greatest positions I could ever be at here at Nike. I have a great boss, great staff I work with on my uniform & apparel development team, and on the retail side. It's a 'match made in heaven' for me, and I can see I'm in a really good place. I can see myself here for the next 20+ years to come. I'm just really lucky, and feel very lucky. And, when I say lucky, I'm a big advocate that you create your own luck. The blue-collar, 'bring your lunch to work' mentality I developed at Oregon has translated over to my work at Nike, and I've been able to get to a place where I'm the happiest I've ever been from a work point of view."
Brandon McLemore continues to enjoy the success of Oregon Football to this day. He has attended many games and alumni events since his finale in 1999, and has stayed in close contact with his coaches and teammates at Oregon. With his new role, he gets to attend some Oregon games for business purposes. B-Mac travels not only to Oregon, but to many different major NCAA schools during the football season to aide them in the success and development of Nike products leading the way into 21st century football.
"It's a great time to be a part of Nike and be involved with NCAA Assets at Nike; and football is a big focus. I'm just excited to help Oregon football and help shape them as one of the most elite college football programs in NCAA history."
McLemore's success today can be strongly attributed to the skills he learned on and off the field at Oregon.  Once a Duck, ALWAYS a Duck.
These are articles where the writer left and for some reason did not want his/her name on it any longer or went sideways of our rules–so we assigned it to "staff." We are grateful to all the writers who contributed to the site through these articles.
FishDuck Has New Off-Season Schedule and see the OUR BELOVED DUCKS Forum!
FishDuck articles will now be on Monday-Tuesday-Wednesday only during the off-season, and then we will go back to seven days a week during the football season beginning in August.
We will have some occasional guest articles later in the week, but the hottest Oregon football information will be posted in the OBD forum!
The Our Beloved Ducks Forum (OBD) is where we we discuss the article above and many more topics, as it is so much easier in a message board format over there.  At the free OBD forum we will be posting Oregon Sports article links, the daily Press Releases from the Athletic Department and the news coming out every day.
Be a part of the forum and stay caught up!  When you wish to post there, do know that you are protected just as you were on FishDuck. Join us on the free forum right here!
Our 33 rules at the free OBD Forum can be summarized to this: 1) be polite and respectful, 2) keep it clean, and 3) no reference of any kind to politics. Easy-peasy!
OBD Forum members….we got your back.  No Trolls Allowed!