In 2011 when DeAnthony Thomas commit to Oregon right before signing day, he effectively turned his back on USC and new head coach Lane Kiffin. USC fans were nervously looking at this defection as another example of Kiffin's early failings.
After all, Kiffin was hired to replace arguably the best coach in school history, and even he didn't exactly leave things in good standing. With the same sort of scrambling and hasty exodus that might be expected when the cops show up at a frat party, Ol' Petey got out just in time when the NCAA told everyone to go home.
While hoards of his friends were left sitting dejected on the curb as the officers started calling parents, Pete Carroll didn't even have to flash an ID. Somehow he heard the early warning of "Dude, it's the cops!!!" and ducked out just in time.
The loss of the black mamba a.k.a. DeAnthony Thomas, stacked on top of a 7-5 season, a devastating bowl ban included in the severe NCAA sanctions, the realization of being abandoned by their coach, and having to stomach the hiring of Kiffin combined had rattled a once-proud fan base to its core.
After being offered the job at USC, Kiffin ran out of his then-place of employment–the Tennessee Volunteers–without hesitation. He quickly folded up whatever temporary tents he had set up in Knoxville, and dumped what many would consider to be a dream job at Tennessee, a place with a rich history and unwavering support from one of the most passionate fan bases in all of college football. But Lane Kiffin didn't care. He wanted to go back home to USC, and bring his NFL veteran dad with him to boost his paper-thin credibility.
When Lane Kiffin took over the head coaching job at USC, he was quick to get to work on putting together a strong recruiting class. After DeAnthony Thomas had commit to USC as a junior, Kiffin made a huge mistake by ignoring DeAnthony's desire to carry the ball.
At 5'9″ 173lbs, at a glance, the thought was that he was just too small for the position, especially in the NFL. If he was serious about competing at the next level, his best shot was going to come on defense. In fact, Thomas was projected to go down as one of the true greats if he chose to play cornerback, rated the #1 player in the country.
It seemed logical, but not everyone was convinced. DeAnthony Thomas had watched LaMichael James tear out the hearts of the Trojans and thought, "I can do that." Chip Kelly agreed, and the rest is history.
As Kiffin said at the time "I don't have closure on the whole thing. It was just shocking to everyone around here."
Kiffin and the Trojans wanted to see Thomas lined up as a cornerback to best show off his talents. Clearly, DAT can probably play very effectively in a number of positions all over the field. His speed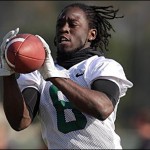 and change of direction translate extremely well as a runner, returner, receiver, and yes even at defensive back. The big difference in skill set between an elite receiver and an elite corner usually comes down to hands and ball security. While DeAnthony struggled in the opener with fumble problems, it was obvious that he could run routes and catch as well as anyone on the team last year.
Thomas has the skills and speed, but what about the size for the pro game? Once a player reaches the NFL, everyone is both fast and big. A player under 180 lbs is rare for any position outside of kicker. Football is a sport of collisions and leverage where weight and size aren't the only things that matter, but it sure makes a difference most of the time.
Sure, DeAnthony can outrun just about anyone in football pads, but can he pick up a block on a blitzing 250lb. linebacker like Ray Lewis? Probably not. He sure can burn those WSU defensive backs, but could he get open consistently against the likes of a Champ Bailey or Darrelle Revis?
To try and help predict the best NFL spot for DeAnthony, I looked back through the modern (1950's-current) Pro Football Hall of Fame members at each position to see if there was a common body-type among the players enshrined. Using a few simple measurable categories, can we predict where he would make the most impact? The Black Mamba made quite an impression last year doing things his own unique way, but in terms of an NFL future, was Lane Kiffin right?
---
Running Backs in the Hall of Fame: 29
Running Backs under 5'10": 3
Running Backs under 190lbs.: 1
DeAnthony Thomas 2011 rushing stats:
55 carries, 595 yards, 7 touchdowns, 10.8 ypc
Unless looking specifically at DeAnthony Thomas' highlights from 2011, it would be hard to imagine an athlete of DeAnthony's size being very effective at the running back spot. There is simply too much punishment the body takes in a typical NFL offense to last long with a frame that small.
Three-yards-and-a-cloud-of-dust may have been cool in the 60's, but this is America and we make stuff better as we go. In the new age Chip Kelly offense, the idea is not simply to overpower, but to outsmart and outrun a defense as well. In the Oregon offense DeAnthony is an ideal ball carrier, while at the next level it might be hard to imagine him lining up in the backfield at all.
In fact, of all the hall of fame inductees who played running back, really only one player is of a similar build, and he was a pretty good one too–Doak Walker. Walker played at 5'11" 173 lbs, but he stopped playing for my beloved Detroit Lions in 1955, an age when defenders were much smaller too. The average hall of fame caliber running back averages about 6'2″ 220 lbs.
While DAT doesn't measure up too favorably with that, it is worth noting that running backs are not used the way they were even five years ago in the NFL. It used to be that a starter would need to handle 25-30 carries per game at about 4-yards per carry to be considered effective. Now, teams tend to split the carries more between multiple backs, making 15-20 carries per game a heavy workload.
In the Rose Bowl, Thomas showed that he can be pretty effective with just two carries, scoring on both (65, 91 yards). But in the NFL, can he handle more carries, while being proficient at the other critical details of the position like pass protection? Never say never, but being a future top-flight NFL running back seems like a tall order for DeAnthony Thomas.
---
Wide Receivers in the Hall of Fame: 21
Wide Receivers under 5'10": 0
Wide Receivers under 190lbs.: 11
DeAnthony Thomas 2011 receiving stats:
46 catches, 605 yards, 9 touchdowns, 13.2 ypc
Looking down the list of notable former NFL receivers as far as size and skill goes, this is the position DeAnthony would seem to best fit. But there is a caveat; while all but three NFL Hall of Fame inductees are 6'2″ or shorter, the recent trend at the position is to go big. Current players like Larry Fitzgerald and Calvin Johnson are massive by historical comparison. These days, teams target the ideal size for a receiver to be 6'3″ 200lb., or bigger.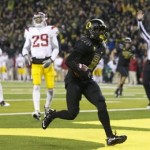 When I think about DeAnthony Thomas in the NFL, the current player who he most reminds me of (without the attitude) is former California Bears standout DeSean Jackson, who stands 5'10" and 175lbs. Both are lightning fast with good hands and the ability to cut on a dime. The knock on DeSean (other than being drafted from Cal) is his difficult personality and unnecessary actions both on and off the field detrimental to his career and team.
---
Special Teams players in the NFL Hall of Fame (Kickers): 3

DeAnthony Thomas 2011 special teams stats:
Kick returns – 36 attempts, 983 yards, 2 touchdowns
Punt returns – 3 attempts, 52 yards. Also played as a punt coverage Gunner
Few players have made the sort of impact on special teams that DAT did in 2011. Although we all saw just how electric he can be at returning during the USC game, averaging 27.3 yards per return over an entire season is extremely valuable. Not that the Duck offense needs much help, but an extra 30 yards or so makes it a lot easier.
DeAnthony deserves a lot of credit for his lethal kick return ability, but perhaps the most unsung contribution he made last year was as a gunner on punt coverage. The gunner typically lines up on the outside of the formation and is tasked with getting to the returner first, ideally before the ball does, to limit return opportunities.
Oregon led the nation in net punting for much of 2011, due in large part to DeAnthony Thomas and Kenjon Barner arriving at the same time as the kick, leading to a plenty of fair catches on kicks that otherwise would have been returned. Special teams plays such as a big return can really swing the momentum of a game. Not only did DAT create a ton of momentum for the Ducks with his returns, but many times he neutralized the opportunity for opponents to do the same with his coverage.
We can expect to see the Black Mamba back returning kicks and punts again for 2012, but with Kenjon Barner stepping into a leading role as the featured back this year, coach Osborne will be looking for two new gunners to avoid the prospect of injury to a depleted backfield. At the next level, expect DeAnthony to perhaps find his way onto the field first on special teams.
---
Defensive Backs in the NFL Hall of Fame: 23
Defensive Backs's Under 5'10": 2
Defensive Backs Under 190lbs.: 9
DeAnthony Thomas 2011 defensive stats:
2 tackles on special teams
The most similar-sized players enshrined in Canton do in fact play defensive back, which may be cause for the perception that if Thomas had chosen to play corner he could have gone down as one of the all-time greats. This is what Kiffin and the USC brain-trust tried so desperately to convince De'Anthony of, to play corner for the Trojans.
For a player of DeAnthony's mold, cornerback is traditionally the best shot for making it in the NFL. I must admit, it would be entertaining to watch DAT play in pass coverage, with his recovery speed, acceleration, and change of direction ability on paper he looks like the prototypical lockdown CB. A faster and more legal version of Cliff Harris? Sounds great!
The only problem with DeAnthony being destined for the secondary might be that his hands are simply too good and his elusiveness in the open field too rare to waste on defense. Why spend his talent jamming receivers and back -peddling all game when he runs forward with the ball so well? Lane Kiffin chose to play the expert and tell his recruit where his future would be. The only problem? Not many people like to be told what to do, and DeAnthony Thomas was not ready to let his passion of scoring touchdowns die so easily.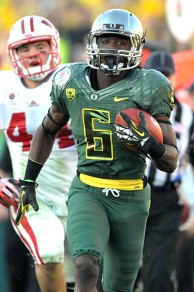 I also speculate that it is probably more difficult when the person telling you what your best interests are had just spent the last several years carving out the de-facto title of "the least-likable football coach in the country," though to counteract it he oddly was also voted one of the sexiest women alive.
Where Lane Kiffin lacked the ability to see DeAnthony Thomas' potential or listen to the player to see where he was most comfortable, Chip Kelly took a different approach. Instead of saying "you will play here", Chip asked, "where do you want to play?"
In the end, it really doesn't matter what position DAT might play in the NFL. That is for the NFL team who drafts him to decide, and for fans to debate. What matters most now is where he fits best in college, and the answer to that was as an Oregon Duck, the most lethal weapon in an offensive arsenal like none other.

Josh White has been a dedicated Duck fan since the Bill Musgrave days. He has attended (and lost his voice at) virtually every home game and many away games since the late 1980's, including 96 of the current 97 game sellout streak at Autzen Stadium. A Eugene native, Josh works full time in Eugene area real estate, helping people buy and sell residential and commercial properties, and also volunteers with Habitat For Humanity, Kidsports and Food For Lane County. He welcomes your feedback.
Twitter: @WhiteHouseJosh
Facebook: EugenesBestRealtor
THREE FishDuck Promises to Readers…
We will be the cleanest Oregon site with no ads or videos starting up to annoy you.
We will be the easiest Oregon site for mobile (Cell phone and Pad) users, as we want it fast for you.
We will be the safest Oregon site for everyone, as we monitor comments and assure that everyone is polite to all. (And we do want all your opinions!)
Simple, clean, safe and fast!