I am sad to say it has been an uneventful week for most college football fans. Now if you're a college baseball fan then the fun has just begun. Well if you need your college football fix then you have come to the right place. Watch this video and tell me you are not excited for college football. It is by far the best video I have seen that gets me pumped for football season. The video can even make me a little emotional. It is great to have a sport that can stir up so many thoughts and emotions. Now let's get onto some college football talk:
---
FSU has still not come out and said "NO, we are not leaving the ACC." By next week we could have some more dominoes falling. The playoffs are going to ultimately push us to super conferences; and everything we know and love about college football will change. Soon teams will not be able to schedule great out-of-conference games because they will be too busy playing the other 15 teams in their conference. Rivalries are what make this sport great.
Imagine if you told Oregon fans that they will no longer play Oregon State ever year because of scheduling issues thanks to conference realignment.. Even rivalries within the conferences are possibly going away. The SEC is having a hard time now having to juggle schedules with a 14-team slate. Seeing Alabama vs. Tennessee or Florida vs. LSU has been great.
When will the NCAA step in and say enough is enough. NEVER! Money is the driving factor and will soon divide college football into something we won't even recognize. This realignment can put any fan into a mess when they see how it is all being played out.
---
Usually the SEC schedules cupcakes and goes to town on them. Most SEC teams out-of-conference games are home games, they almost never go on the road. After looking it over, Notre Dame will not wake up the echoes of Touchdown Jesus. Notre Dame's schedule is very tough, having to play USC, Oklahoma, Miami, Stanford, Michigan State, Michigan, and BYU. I would be impressed with just six wins. It is going to be a slugfest for the Domers.
It should be interesting seeing Washington head down to Baton Rouge to take on LSU, that will truly turn into the Offense vs. Defense vs. No Defense game. That is of course if Washington's offense from the 2011 Alamo Bowl shows up. There are going to be so many great matchups this year that we will discuss as the football-less summer drags on.
---
Oregon started it! Many fans are saying that after so many schools now are Oregon-izing themselves if you will, even small schools such as Utah State are finding themselves trying to keep up with the big boys, such as Oregon, in the uniform department. So many teams came out with new uniforms last year, and it is only going to get crazier.Soon teams will also have to plan for the halftime fashion show during the game. Teams like Maryland already have crazy uniforms and thought to themselves, what else can we do to make a fashion statement on the field? Hmm…the field….that is what we will change. After that thought process this is what they came up with for a new proposed field design by the Maryland Terps. One word: Wow!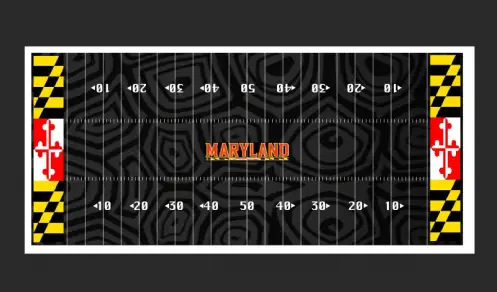 If Maryland does that I will be afraid to see how Oregon and its Nike uniform budget respond for a new field. I am thinking of a yellow and green field with silver end zones.Football teams have decided that it is important to reinvent themselves to showcase their program to new recruits. A recruit can be like a fish, they are not interested in your hook until you make it shiny enough, or if things continue on this current trend, blinding.
---
With the BCS slowly crumbling (now you can applause), the conversation now shifts to how it will be structured. I am with the SEC and BIG-12 when it comes to the best 4 teams out there. If we limit ourselves to conference champs then you might have some horrible ACC or BIG EAST team with a 9-3 record getting in over an Alabamateam that went 11-1, its only loss to the #1 team in the country.Dan Mullen of Mississippi State said, "We need a true Final Four." I Agree!
We might have some years were two SEC teams get in and other times when two PAC-12 teams are playing in the final four, we just need to make sure it is the best four. If they agree on that, then they will probably argue for years over where the games should be played. The main argument is that they do not want a stadium holding 34,000 like Boise state hosting a massive playoff game vs. Alabama, and there will not be enough room in town for all the fans, media, and the visiting school. On the other hand who would not be excited to go see Alabama travel to the Horse Shoe and play Ohio State for a spot in the national title game?
People should learn that some years you might have a TCU or Boise State in the playoffs and deal with the smaller venues, but in reality there will also be some massive stadiums hosting these playoff games. The NCAA could even make a ruling on it that a stadium must hold at least 50,000 in order to host a playoff game. If they did make a rule like that, they could even put the number at 65,000, which could leave some BCS programs not able to host a playoff game, like Oregon (one more incentive to expand the north side of Autzen Stadium).
It will be hard on the fans having to travel from Columbus, Ohio to Arlington, Texas one week and the very next week make arrangements to go to Pasadena, California. Considering probably hiked ticket and travel costs, let's hope the NCAA and other people in the decision process will keep the fans in mind and not let the dollar sign blind them from making the right choice.
---
One more conference domino that needs to fall is SMU leaving C-USA for the BIG-12. The BIG-12 will argue they already have the TV market in Dallas covered with TCU, but bringing SMU into the fold means so much more. SMU had long time rivalries with TCU, Texas, and Baylor. Bringing them back would help reignite rivalries (which are going to be hard to come by as the conference switching speeds up) and would give them an 11th team to the conference.
Houston would also be my other vote to bring in for the 12th team, hopefully getting all the conferences to the point where they can correctly count, this is college after all. Houston also would bring back some southwest rivalries. The Big-12 would argue over that they are too small and bring nothing to the table. They did say that about TCU a while back, but came calling to them regardless. Bring in SMU and Houston and save those schools from having to travel to San Diego State and UConn every year.
The Big-12 would then actually have 12 teams (what a novel concept!) and could stage a title game. To even out the divisions, move Oklahoma and Oklahoma State to the North. That would make it Oklahoma, Oklahoma State, West Virginia, Iowa State, Kansas, and Kansas State in the north; While down in the new Texas division it would be SMU, Houston, Baylor, Texas Tech, Texas, and TCU. Road games would be no problem for the fans of the Texas division. Also continue the designated rivals like the SEC does and make sure Texas and Oklahoma play every year. The BIG-12 has one more year to make it happen before Houston and SMU start their horrible journey through the BIG EAST in 2013.
With conferences starting to have their meetings and get together, things will only get more heated. There will probably be some bulletin board material for schools if you listen to everything Steve Spurrier or Lane Kiffin says during the conference conventions. Maybe next week Notre Dame will join the ACC and FSU will have moved onto the BIG-12.
That is all my rants for this week. Til' next week college football nation.
---
National News
1. Want to know more about your favorite teams upcoming games?
2. Chris Brown breaks down the spread offense this week.
3. Spurrier wants SEC athletes to receive even more money than they already get paid on the side.
4. Washington Huskies got their paws dirty.
5. Some more summer reading to help your understanding of football and the strategy that goes into it.
---
Oregon News
1. Oregon defense could get a boost from recruit visit.
2. News and results on Oregon baseball and softball tournament games.
3. Alex Keudell voted pitcher of the year in the PAC-12.
4. How much is Chip Kelly worth?
5. Who is a bigger loss? James? Or Thomas?
6. Steve Prefontaine's legacy carries on with the Pre Classic.
7. Men's golf advances in the NCAA Championships, but fall to #1 Texas on Saturday.
8. Andrew Wheating not happy with his performance, but others shine at the Prefontaine Classic Saturday.

CAN YOU HELP US?
The pictures you see of the Ducks on FishDuck.com come from professional photographers that must be paid! Please donate through one click so we have pictures from all the games this fall to use through the year. All previous donations helped to pay our big Web Developing bills recently, and I do appreciate it.
Our staff and the photographers who have thousands of dollars invested into their equipment to provide the high quality pictures do sincerely thank you.   Charles Fischer