Great news; another week has passed and your favorite team is still in its conference, no promises for next week though. The news about realignment will really start heating up once a playoff model is set in place. We are down to the Final Four proposal and a plus-one model. If you ask me we should just have a 64-team tournament like they do with March Madness. That means the season will go on for at least another month. Imagine, another bracket to fill out, but this time it is for college football. Let's get into some thoughts and news from that past week.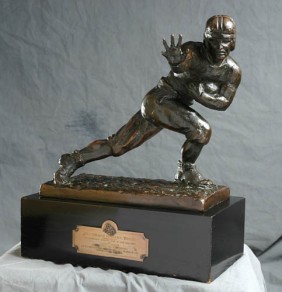 If your favorite team has a player who is going to contend for the Heisman, then he better show up in the big games. My top 5 guys to be on the lookout for are:
Matt Barkley– how he performs against Oregon and Notre Dame will be what everyone talks about. Both games are at the end of the season and will allow him to keep his name fresh in voters' minds
De'Anthony Thomas– He used the Rose Bowl to show the college football nation that he is here and ready to be "the man" in Eugene this year. He will have three cupcake games to pad his stats, but needs his "A" game for USC and Washington.
Landry Jones– He could have gone to the NFL draft, but by returning he will be able to set just about every passing record at OU. He will have his shot to show what he is made of with his first conference game vs. Kansas State and closing out the season with Oklahoma State and TCU. With all the OU wide receivers being suspended, the question is, who is he going to throw the ball to?
Denard Robinson– "Shoelace" had a great 1st year with new coach Hoke. Now in year two he will have even more confidence in his ability to move the ball. He better be confident because Michigan opens up against Alabama. Saban has been preparing for that game since the BCS Title game ended. Robinson will then have plenty of chances on the national stage vs. Michigan State, Ohio State, and Notre Dame.

Key to his realistic shot

at the trophy, we know he can run but can he throw a pass that doesn't float? He better tie the laces this season because it is going to be bumpy.
The SEC– a lot of people will hate that I say that as my 5th, but the SEC will have Aaron Murray, the Alabama or LSU defense, Marcus Lattimore, and possibly another Cam Newton showing up and stealing the show. The eyes of college football usually are upon the south and will take note of who the top performers are and throw their name into the Heisman discussion.The other day I was watching a replay of Texas A&M vs. Arkansas. What a game! A&M should have won but could not close out.

Surprise, surprise, it

became somewhat comical how much a theme that was last year, Texas A&M blowing leads in the 2nd half. If the Aggies learned how to close games out they could have finished 10-2 and been as good as everyone expected them last season. New head coach Kevin Sumlin has emphasized conditioning in hopes to make sure his team finishes the 2012 season strong. How many times last season did we see teams with leads fail to close out in the 4th quarter? After the last season meltdowns by Texas A&M we can expect more teams to put even more emphases on strength and conditioning this off season.
Another great day of summer is the release of the TV schedule for upcoming games. Now I can plan out what I will be watching while sitting on my couch from 10am when game day comes on until 3am for when the last PAC-12 game ends. Start planning now, we are in for a wild season thanks to all the realignment.

What are some primetime matchupsyou are looking forward to this year?

***Late breaking news Saturday night is absolutely tragic. Details are still coming in, but apparently a shooting at a pool party near Auburn University has resulted in several people killed, including reportedly two Auburn football players: Ladarious Phillips and Ed Christian (not 100% confirmed). Details will continue to come in on Sunday, but this is absolutely horrible, casting a very dark spell over a university that has already dealt with too much sadness and controversy of late, but nothing like this.***
August 30th cannot get here soon enough.
Til' next week, college football nation.
---
National News:
---
Oregon News: