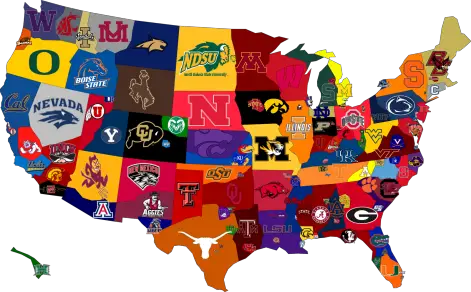 The results are in, we are moving forward with a playoff. I feel playoffs will be a topic that will go on until the very first game is played this season.
Once they decide on the format, then they decide on where the games are played, and who gets to play in the games. That is a conversation in itself that can take months.
Then there is the matter of who decides which four teams are the best, and the inevitable politicking that will occur to make sure Notre Dame, Texas, and old guard SEC teams get elevated above more deserving teams based on that year's results But before we move on let's just hope that they do not put Lou Holtz on the selections committee. He will vote for Notre Dame in all four spots. Hey Lou, stop trying to wake up the echoes and make the "domers" relevant again.
1) The more I look at it, the more I feel bad for buckeye fans this season. They pretty much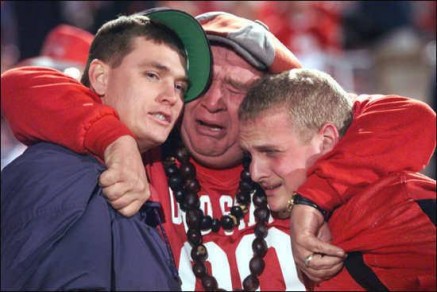 have a BCS bowl in their back pocket, but can't go because of NCAA penalties. Just look at their schedule; Miami (Ohio), Cal, UAB, and UCF as out of conference games to start off, all at home. That is a 4-0 start right there. Then their only real challenges left are Michigan State, Michigan, and Wisconsin. At worst Ohio State will go 9-3 this year. Plus they cannot go to the BIG-10 title game,  A team just needs to come in second to Ohio State to get into the BIG-10 title game this year.  Pac-12 fans know the end result of this from last year, UCLA really represented the Pac-12 South well in the throttling they took vs. Oregon in the Pac-12 Championship game while USC sat at home watching on TV.
2) I will probably get a lot of hate for this, but the argument is legit: Being a SEC fan is tough. From a Florida fans perspective, there are hardly any guaranteed games anymore in the SEC. Florida has to make a run through the likes of LSU, Auburn, Alabama, Arkansas, Georgia, South Carolina, and Tennessee just to name a few. I wish I was an Oregon fan or maybe a Virginia Tech fan. They have about two games each year they need to get up for, while the rest are just as challenging as playing Vanderbilt. Oregon has to worry about USC, Stanford, and occasionally Washington and that is about it. Being an Oregon fan site I am sure I will hear there is more to it. Really? Does Arizona State strike fear into your heart? How about Washington State? Mike Leach has his players swinging swords up there instead of playing football right now. As for  ACC fans, you've got FSU and Virginia Tech as top dogs, while Clemson and one or two other schools make a run once every three years. Oh the life of the SEC. If you want a good laugh about the SEC, just listen to this guy:
3) A little more playoff talk, it will be interesting to see how they handle hosting the National Championship game. It is great for cities to be able to bid for the national championship game, as long as the money goes back into all the schools and no one is pocketing the money like the BCS officials did. The national championship game should be played every year in one place, just like they do for the FCS playoffs. Let's put the title game in Jerry Jones' palace. It's in the middle of the US and will be a better location for fans having to travel from all over the United States and definitely has enough seats.
4) Michigan vs. Alabama has been the main game grabbing everyone's attention in the early weeks of the season (Oregon vs. USC in November of course has everyone's attention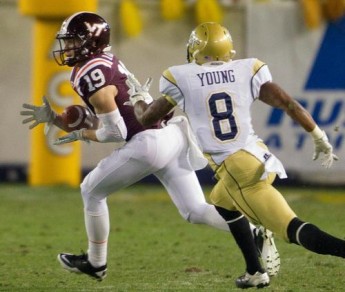 Has anyone noticed that two days after that game Georgia Tech has to take on Virginia Tech? Most teams enjoy an easy start to get a little team chemistry going and work out the kinks but not this year. Not this year. Georgia Tech will head straight into the belly of the beast and give Virginia Tech their best shot. The college football scheduling Gods are being extra generous for great matchups in week one.
Before I could even finish this article the playoff situation has released new info about where the games will be played and how it will be decided. I am just going to stop here before the Presidents on the playoff committee decide to change anything else.
Til' next week college football nation.
---
National News
1. Invite Mike Leach to your wedding
2.  Playoff format being finalized
3. Sandusky trial has a verdict
4.  Who will be the nation's #1 recruit?
5. Trick plays are fun!
---
Oregon News
1. Oregon welcomes Rich Rod to the PAC-12
2. Oregon Ducks going for Gold.
3. Ducks get a commitment from a stud WR.
4. Oregon picks up another commitment.
5. And another one…
6. Duck players are succeeding on and off the field.
7. Oregon's closer Jimmie Sherfy picks up fourth All-American award.
8. A former Oregon assistant is now a NBA head coach.
9. An incoming Oregon pitcher will instead go play in the minor leagues.

CAN YOU HELP US?
The pictures you see of the Ducks on FishDuck.com come from professional photographers that must be paid! Please donate through one click so we have pictures from all the games this fall to use through the year. All previous donations helped to pay our big Web Developing bills recently, and I do appreciate it.
Our staff and the photographers who have thousands of dollars invested into their equipment to provide the high quality pictures do sincerely thank you.   Charles Fischer