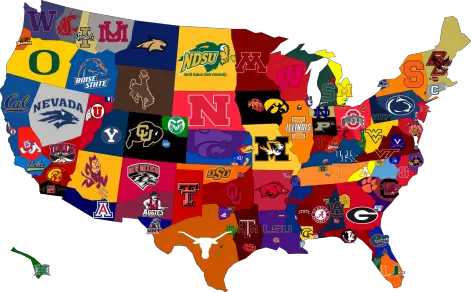 Last week has been full of news; unfortunately it has been off field; I am glad to report that the suspect for the Auburn Shooting has turned himself in and they can start to put that case to rest. Also, the Sandusky trial has begun. I feel bad for Penn State players and fans, because this trial will drag on probably casting a shadow over the upcoming season. Coach O'Brian has his plate full and will need to do more than just win to take Penn State fan's minds off this mess.
Sorry to bring you all down with that, but let's get into some lighter news going on in the college football world:
Arkansas has decided to use gray in their uniform scheme. West Virginia did not want to feel left out, so they also added some gray into their uniform. Can anyone explain why gray is suddenly a popular color for uniforms? I know Nike basketball threw a little gray into the uniforms for schools not use to it such as Syracuse, Florida, and Arizona. It probably all started when Oregon decided to think outside the box and not only use green and yellow in their uniforms, but throw in the occasional gray and black. Thanks a lot Oregon. Next thing you know the Florida Gatorswill run out of the tunnel for a home game wearing all gray and no one will even remember how to do the "orange" and "blue" cheer.
It is amazing that during these economic times, everyone is struggling to make ends meet, while your favorite college football team just added a new $15 million dollar scoreboard. Anytime I look at ESPN.com I see news about some college adding in a new scoreboard or additional seating. Many school are struggling in the facilities arms race to keep up with Oregon, Alabama, and other major players, further stretching the distance between the haves and have-nots.
Want to know how much your favorite team is spending on getting top recruits to play at your school? ESPN just released a report to show your school's recruiting budget for the last two years. Wow, $1.5 million dollars spent by Tennessee and they still cannot put together a decent team to beat anybody. It is crazy to think how much schools are spending on hosting recruits to their school, but that is the price for victory, Tennessee excluded.
With the NBA finals going on right now I wonder how many times LeBron James will choke in the 4th quarter? When it comes to 4th quarters, he is just bad luck. The Oregon Ducks can thank him for last season's loss to USC, costing them a shot at the national title game. While attending an event for Nike, LeBron stopped by to watch the Ducks take on USC. Oregon struggled all night and had a chance for the tie with a late field goal but, LeBron's voodoo magic spread to Ducks' kicker Alejandro Maldonado in the 4th quarter costing the Ducks the game. Maybe after reading that, a few more Oklahoma City Thunder fans will pop up in Eugene.

And I wonder how

many unannounced trips LeBron made to Texas A&M last year, after all no team is that bad in the 2ndhalf unless he's in some way assisting.
Am I allowed to call upsets this early? Well I am! South Carolina vs. Vanderbilt to start the season, and here is why: South Carolina will be adjusting to a lot of new players on offense, and the uncertainty of how well Marcus Lattimore will recover from a devastating knee injury. Head Coach of Vandy, James Franklin, will be looking to make a statement right off the bat. He will pull out all the stops and look to announce to the SEC that Vandy is for real. Franklin will be using trick plays and all sorts of wildcat formations to get the win and beat Spurrier at his own game. Vandy 31 South Caroline 23. Guess we will have to wait until August to find out if I am right. A lot of other great week one matchups to talk about until kick off is finally here.
National news:
1) Alabama got shafted this year.
2) Sandusky trial will hold a lot of people's attention for most of the summer.
3) Playoff system will run the option against conference commissioners
4) Clemson starting off strong. #1 recruit gives verbal to Clemson.
5) Want to use your slot receivers more effectively?
6) Let's talk X's and O's of football until the season starts.
Oregon News:
1) Oregon fan is worried about the unknown.
2) National audience can now watch Oregon eat their first cupcake of the season.
3) Oregon track and field keeps bringing home the hardware.
4) Freshmen will make or break Oregon basketball next season.
5) Ducks baseball recruit Carson Kelly feels like a million bucks. ($1.6 million to be exact).
6) Casey Martin misses the cut at the US Open by just one stroke.
7) The University of Oregon has a new president.
8) Former Oregon cornerback Aaron Gipson is taking over as new head coach at Jefferson High School in Portland, and taking a familiar UO cornerback name with him—Rashad Bauman.
9) Oregon's closer Jimmie Sherfy named a 2nd team All-American.
10) Former Oregon basketball player Matt Humphrey is transferring once again.
11) Oregon's bid for the College World Series fell just short, but it was a great season nonetheless.

CAN YOU HELP US?
The pictures you see of the Ducks on FishDuck.com come from professional photographers that must be paid! Please donate through one click so we have pictures from all the games this fall to use through the year. All previous donations helped to pay our big Web Developing bills recently, and I do appreciate it.
Our staff and the photographers who have thousands of dollars invested into their equipment to provide the high quality pictures do sincerely thank you.   Charles Fischer