With splashy uniforms and an offense operating at breakneck speed, Oregon football could be characterized as anything but conservative.
Except when it comes to recruiting, it seems.
As the Register-Guard's Rob Moseley reported in an interesting piece this week, and as I outlined recently in a Fishduck column, the Ducks aren't in a rush to land a dozen or more verbal commits — ala Alabama, Texas, Ohio State, Georgia — before summer even hits.
Slow and sure is Oregon's mantra. Rather than extend formal offers to every fast and big player on their radar, Duck coaches spend time in spring getting a better handle on prospects.
"Oregon coaches are big on character, and meeting face-to-face," DuckTerritory.com's Justin Hopkins told Moseley. "The spring evaluation period gives them that chance to go meet these recruits and see what they're about."
Added Jake Worthen of Scout.com: "I think another condition with Oregon is their success. When you get to the level where USC's been, and now Oregon is at, you have to be careful who you offer. Because they'll commit."
Earlier this week, Oregon lost out on Anthony Jennings, a coveted dual-threat quarterback from Marietta, Ga., who tabbed LSU as his college of choice. But overall the 2013 recruiting class is shaping up well.
So far, Oregon has three verbals, all of them considered among the best players at their position in the country: Aloha, Ore., running back Thomas Tyner; Desoto, Texas, athlete Dontre Wilson; and West Linn, Ore., offensive tackle Evan Voeller.
Despite having just three is the bag, Oregon is ranked No. 25 in recruiting by ESPN.com and No. 33 by Scout.com. That speaks to quality.
♦ ♦ ♦
Two more college football preview magazines hit the stands this week, and like the one that came out the week before, they have Oregon ranked high.
Lindy's placed the Ducks at No. 5, while Phil Steele pegged them at No. 6.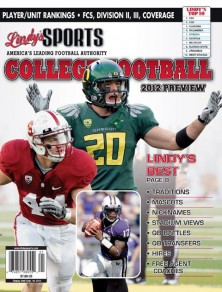 In its May 31 release, Athlon ranked Oregon No. 4.
Lindy's predicts the Ducks will face Michigan in the Rose Bowl (and USC will tangle with LSU in the BCS National Championship Game).
And for those Duck fans intrigued with the ongoing Oregon quarterback battle, the magazine also predicts Oregon redshirt freshman QB Marcus Mariota will be the Pac-12's Newcomer of the Year.
♦ ♦ ♦
Rankings are one way to decipher how the college football season may shake out. Early, early point spreads are another.
Beyondthebets.com took a stab — compiling point spreads and winners and losers for all 798 games — and not surprisingly Oregon is slated to drop just one game — by six points to USC in Los Angeles.
Here is how the website predicts the Pac-12 standings will end up (if the projected favorite wins every game):
PAC-12 NORTH
Oregon 8-1
Stanford 7-2
Washington 5-4
California 5-4
Washington State 3-6
Oregon State 2-7
PAC-12 SOUTH
USC 9-0
Utah 7-2
UCLA 4-5
Arizona 3-6
Colorado 1-8
Arizona State 0-9
According to Beyondthebets.com, the Ducks will have an easy time with Arizona, Arizona State and Colorado, beat Washington State by 17.5 and knock off Washington by 17. Closer contests will come at California (10 points) and vs. Stanford (11.5 points).
In the final regular season game, Oregon is pegged as an early 14.5 point favorite over Oregon State.
The spread against the two Washington schools is a bit surprising. The Ducks play the Cougars in Seattle, not Pullman. And they face the Huskies, whom they've beaten eight straight and by an average of 25.5 points, at Autzen Stadium.
The Beaver game? Not so much. It is, after all, the Civil War.

Want to Watch Oregon Games on your computer?
If you do not get all the channels that have the Oregon Football games, or simply want to be able to watch the game over again as you don't have the space in the DVR to hold all the games?
Contact me by email: charles@fishduck.com and I can help.  We have fans across the nation and internationally watching the games 24/7/365 and I wish that for everyone.  Charles Fischer