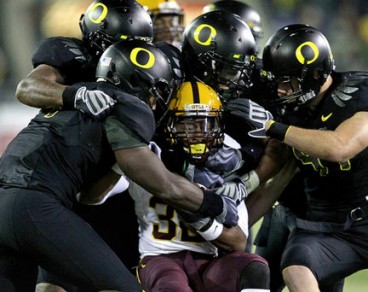 It's time to take a look back at how the Oregon defense fared in 2011, and what to expect in the upcoming season. Will the defense hold up their end of the bargain, keeping up with the torrid pace of the Oregon offense? Will they be better or worse than the Rose Bowl Champion defense of last year? How many tackles will John Boyett have, and will he ever actualy step off the field for a single snap? Can the Ducks count on Boseko Lokombo to score a touchdown nearly every time he has the ball in his hands again?
Let's jump right into it with an Over/Under projection based on last year's benchmarks.
---
Touchdowns Allowed
2011: 43
UNDER
43 touchdowns may seem like a lot at first glance, until stacked against the 88 touchdowns scored by the Ducks. For perspective, Alabama and LSU combined yield 27 touchdowns, and neither team scored anywhere as close to as much as the Ducks.
I'm no math wiz, but if a team scores more than twice as often as their opponents, they are going to win a good majority of the time. But that is not good enough for these Ducks. The Oregon defense has elite front-line talent at every position, and the depth behind them is just as capable.
The unparalleled cohesiveness within the coaching staff is another extremely important, but far less mentioned, factor. With experienced and talented coaches and players, look for the defense as a whole to turn opponents away even more in 2012. A schedule that doesn't include as many ranked foes as last season also adds to Oregon's potential ability to exceed last year's performance.
---
Rush Yards
2011: 2,401
UNDER
Gone are the days of really large and physical offensive lines getting the best of the Ducks. Sure, Stanford and USC both have some big-uglies up front, but there doesn't appear to be an overly dominant front five in the conference this year. If football starts up front, then Oregon has an advantage over every team on the schedule next season.
Not only do the Ducks return plenty of bruising defenders from last year, but they also bring in a new wave of redshirt and true freshmen who are likely to find their way onto the field as well. The front-seven are absolutely loaded on this team, and the quality depth will provide insurance against player injuries over the grind of a full season.
The stats get further distorted because Oregon often plays with a lead, forcing teams to abandon the run and take to the air to try and stay in the game. If the ruthless Oregon offense is scoring at its familiar clip on offense this year, expect opponents to scrap the run plays even sooner.
---
Pass yards
2011: 3,462
UNDER
Oregon has all of the tools to completely shut down a passing game. While many opposing teams are usually passing 40 or more times a game against them, the Ducks are better suited this season for defending the aerial attack.
For starters, Oregon has been among the best in the country in sacks, and arrive packing even more heat in 2012. Pressure from Dion Jordan, Michael Clay & co. is sure to hurry some QB decisions, and the coverage on the back end should be able to capitalize in these situations.
In addition to pressuring opposing QBs, Oregon also has some extremely tall defenders that will make it interesting for a shorter QB to throw over. Even if they don't get the sack, look for the tall and athletic line to knock down more than a few passes. Will other teams still get behind, and throw a lot? Yes, of course they will. But also expect that they will do so with far less efficiency.
---
Yards Per Play
2011: 5.1
UNDER
Many Oregon fans pointed to this statistic as a counter to ESPN pundits or delusional Husky fans claiming the Ducks don't have a strong defense. It's simple math, the odds of giving up yards is directly related to the number of plays an opponent is able to run.
The Ducks offense can score as fast as anyone in the country, often leaving the defense little time in between their reps. The Oregon defense was on the field for more plays than every other FBS team in 2011 except Oklahoma State, who run a pass-oriented spread (1,077 vs 1,084). However, the Ducks yards per play were better, resulting in a difference of 40 spots in the total defense national rankings (Oregon #67 OK St #107). Expect the defense to be even more tenacious in 2012.

---
Sacks
2011: 45
OVER
The Oregon Ducks absolutely dominated at getting to the quarterback last season. They swarmed to the ball, got off of blocks, and created havoc unlike any Duck defense we have seen before.
With improved and more seasoned personnel across the board, expect this year's team to be even better. The talent especially at defensive line and linebacker is very deep, and has the ability to be one of the best units in school history. Not just the personnel, but with Nick Aliotti's newly-found penchant for an attacking, aggressive scheme employing speed and deception will add to Oregon's ability to crumple opposing quarterbacks that dare take a five-step drop. Sounds a lot like the Oregon offense…
---
Interceptions
2011: 17
OVER
The Ducks featured two steady leaders in the defensive backfield in John Boyett and Eddie Pleasant. They were supposed to be joined at corner by senior Anthony Gildon and preseason All-American Cliff Harris. Unfortunately injuries and off-field issues sidelined the two projected starters, forcing the Ducks into implementing young but gifted talent with freshmen cornerbacks Terrance Mitchell, Troy Hill, and Ifo Ekpre-Olomu.
Starting freshmen cornerbacks has backfired on Oregon in the past (see the 2nd half of the 2002 season…or perhaps better to not relive those bad memories), but Mitchell and Ekpre-Olomu in particular shined in their opportunities. The Pac-12 annually fields a glut of elite quarterbacks and skill position players, putting added pressure on the inexperienced young guns to deliver, and despite the occasional hiccup they performed astonishingly well.
With the added experience, physical, and mental maturity; on paper the Ducks look to be a speedy, aggressive, ball hawking bunch that will force even the best signal callers into mistakes. Talented linebackers Boseko Lokombo, Michael Clay, Kiko Alonso have all shown their abilities in pass coverage as well, their versatility allowing Nick Aliotti to open the entire playbook.
---
John Boyett tackles
2011: 108
UNDER
"Under, you say? John Boyett is going to explode next year!" Very likely, but be happy if Boyett is under in this category next year.
Don't get me wrong, he is easily one of the best players on the team, and should be all over the field in 2012. But, don't be surprised if the rest of the defense is so solid, that less plays will actually make it far enough for Boyett to get involved. For the opponents who are foolish enough to reach his level of the defense, good luck. Wisconsin runningback Montee Ball will be permanently singing a few octaves higher as a result of one particular hit by Boyett in the Rose Bowl.
---
Boseko Lokombo TD's
2011: 3
OVER
It could definitely be said that Boseko Lokombo has a nose for the end zone. Forget the fact that he plays on defense, Lokombo has scored more often than many great offensive players in Oregon history.
While scoring touchdowns isn't a requirement to be a good outside linebacker, it sure helps. Seemingly Oregon's biggest scoring threat on defense, Bo-Lo scored three times last year to push his career total to 4–and all this while playing in a reserve role. Boseko Lokombo burst onto the scene in 2010, scoring on a fumble recovery against Arizona State, and tied for most fumble recoveries in the Pac-12 as a redshirt freshman. Last season he scored on a blocked kick, and two interceptions both returned for touchdowns, with an almost De'Anthony-esque 53.5 yard average.
Following the pattern:
2010: 1 TD (RS Freshman)
2011: 3 TDs (Top reserve LB)
2012: 5 TDs? (As Projected starter)
So, fellow Duck Fans, how do you see it?
Here some detailed defensive highlight videos for your viewing pleasure, brought to you by the incomparable Mike Wines.




CAN YOU HELP US?
The pictures you see of the Ducks on FishDuck.com come from professional photographers that must be paid! Please donate through one click so we have pictures from all the games this fall to use through the year. All previous donations helped to pay our big Web Developing bills recently, and I do appreciate it.
Our staff and the photographers who have thousands of dollars invested into their equipment to provide the high quality pictures do sincerely thank you.   Charles Fischer