The Oregon Ducks further cemented their reputation for explosive offensive prowess in 2011. Nationally, when people start to talk about Oregon, the words Nike and points are not far behind…lots and lots of points.
Right along with uniforms and speed, the Ducks seem to be viewed as a trifecta of all of these attributes, and for good reason. In 2011, Oregon had career passing and rushing records fall as Darron Thomas and LaMichael James combined for an encore performance on the field that proved to be their curtain call despite both being juniors.
Those two have now moved on, leaving most of the school's offensive records shattered in their wake, and some big shoes to fill. Luckily for Oregon, they do not appear to be devastated by the losses, if anything the added experience in other positions and added talent could in fact make Oregon a more talented team in 2012 than they were in their Pac-12 championship season of 2011. Most national pundits and polls agree, the reigning Rose Bowl Champions still resemble a top-5 team.
Fans of other Pac-12 teams hoping that the early departures of Thomas and James to the NFL would give a respite to Oregon's recent dominance, or at least giving their teams a realistic shot at the title, need to temper their enthusiasm somewhat. Oregon remains top-to-bottom as good as any team in the conference and among the best in the nation.
We know that the offense, particularly the backfield, will look different, but how will that effect the production on the field?
Let's take a look at some of the major statistical categories from last season, and try to project the changes next year.
Time to play Over/Under with the 2012 Ducks offense!
Leading rusher yards (season)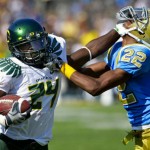 Last year: LMJ 1,805 18 tds
 UNDER:
LaMichael James wasn't statistically the best Oregon running back in history by accident. The speedy, shifty back from Texarkana, TX ran for more yards last year than any other player in any season in school history, surpassing his own record from 2010.
Kenjon Barner has shown he can be just as effective as LMJ at times during his career, but to expect a season on par or exceeding James and his 1,805 yards and 18 tds is a major stretch. It has been mentioned that all Kenjon needs is ONLY 1,400 yards to become the #2 rusher on the UO all-time list. After all, he ran for near1y 1,000 yards last season, and he is sure to receive more carries this season, but even 1,400 yards is more than any Duck not named Jonathan Stewart or LaMichael James have ever accomplished in one year. LaMichael had 1,475 yards in his 1st year as the main weapon in the backfield in 2009, a role he only assumed after intended feature back LeGarrette Blount was suspended for most of the season following the opener vs. Boise State.
However, don't be surprised to see more carries from the quarterback position, much like in '09. DeAnthony Thomas is sure to get his touches as well. There are other possibilities this season too, such as a position switch or a player like Colt Lyerla contributing in the run game that could cut into the carries for KB, or help distribute the load depending on how you look at it.
Team total rush yards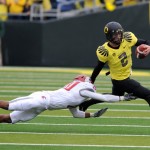 Last year: 4,189
 OVER:
 While I believe the rushing yard chart this year will be less "top heavy" with the loss of James, I do expect that opponent's defenses will hemorrhage more yardage overall on the ground in 2012, thanks to the added deception that comes with valid running threats at QB whether Bennett or Mariota become the starter. There are just too many options for even a really good defense to cover.
What's that you say, Kenjon is having a bad game? Have fun defending Mariota or Bennett. The QB keep not open? Try and catch De'Anthony Thomas instead. And it doesn't end there, as players listed as wide receivers like incoming freshman Bralon Addison could help, and don't discount the ability of Josh Huff (See 85 yard run vs Arizona), and Ayele Forde has shown tremendous skills as well in the limited time he has earned. 4,189 is a huge number, but Oregon should have enough options to be even better, and a lighter schedule that affords the opportunity to rack up some big numbers against lesser defenses.
Passing yards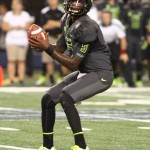 2011: 3,130
OVER
Darron Thomas had a monster season last year, and became the all-time TD leader while at Oregon, while also finishing with a better completion percentage than former greats like Dan Fouts, Bill Musgrave, Danny O'Neil and Joey Harrrington. However, there were times Darron was off on a throw, and while no doubt he was effective he rarely completed a high percentage of his passes in games. While Darron was very efficient and didn't throw many interceptions, there is no doubt that several opportunities were left on the field. Expect the next Ducks QB to complete an even higher number of passes, and for more yards, in 2012.
Passing Touchdowns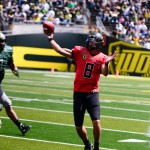 2011: 39
UNDER
While it is quite possible that Oregon may actually pass for more yards this year, it would be a titanic achievement for a first year starter to account for more than Darron's record 33 from last year. There may be high expectations, but even by FishDuck standards of homerism it's a very tall order. Certainly is it expected for the new quarterback to be effective, and throw for a ton of yards and touchdowns? Yes, but without even knowing which quarterback will be leading the team at this point, it is difficult to ask either to break Oregon passing records on the first try.
Interceptions
2011: 7
OVER
I believe Oregon's new quarterback will throw and complete more passes for more yards, and score plenty of touchdowns through the air and on the ground. But with those increased pass attempts, combined with some inexperience, would surely have to amount to some interceptions as well. 7 over the course of a season is astronomically low, and even if the new signal caller were to throw 10 or 12, my guess is that the Ducks really wouldn't miss a beat.  Fans often grumbled about Darron Thomas at times being off-target, but not may of those errant throws ever ended up in the hands of opposing defenders, certainly not as often as some of his predecessors.
Leading Receiver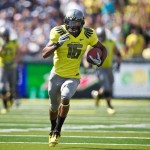 2011: 48 Catches, 599 yards, 10 TDs  – Lavasier Tuinei
(DAT – 46 catches 605 yards, 9 TDs)
OVER
Oh how we love to remember what Jeff Maehl was able to do in 2010. Will we see a player on the roster grab 77 pass for 1100 yards and 12 touchdowns like Jeff did? Most likely not, but if you buy into my thinking of more pass attempts this year, you have to imagine someone will step up to take the place of LT's 600 yards and 10 TDs. But a Rose Bowl  MVP trophy? We'll just have to see about that. The Ducks are loaded with raw talent at WR and should have plenty of good, capable hands and speedy legs vying for the job if any of the highly-sought prospects can turn potential into production.
Offensive Touchdowns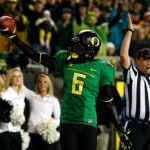 88
 OVER
Opponents heads will likely be spinning with all of the green and yellow blurs streaking past them. Just when a team thinks they have an Oregon player defended, someone else shoots out the other side for a big gainer. In summary, I predict it will be a long year for opposing defensive coordinators. 88 touchdowns is good for 645 points, equaling 46.1 points per outing. However, this Ducks team will have the ability to surpass that, particularly with a schedule that at least on paper in the preseason looks nowhere near as difficult as last year.
So there you have it, the Ducks may throw more, run a little less individually, but will be more effective and more explosive as a team through a more diverse attack. Good luck to all the defensive coordinators trying to figure out how to stop Oregon, there will be plenty of sleepless nights figuring out what can possibly done against Chip Kelly's potent attack.
How do you see it? Leave your comments below.

CAN YOU HELP US?
The pictures you see of the Ducks on FishDuck.com come from professional photographers that must be paid! Please donate through one click so we have pictures from all the games this fall to use through the year. All previous donations helped to pay our big Web Developing bills recently, and I do appreciate it.
Our staff and the photographers who have thousands of dollars invested into their equipment to provide the high quality pictures do sincerely thank you.   Charles Fischer