A note from FishDuck.com: Today we have a unique treat, this article from a highly successful coach gives an inside perspective football fans don't often get to see, the direct insight of football concepts and experiences from a coach in the know. This week Coach Jason Farias provides his insight, an assistant coach with the Boston Militia of the WFA (Women's Football Association) and offensive coordinator the Charleston Townies of the EFL (Eastern Football League).

We encourage other coaches that are interested in possibly writing guest columns providing their unique insight to please contact us. For now, here is Coach Jason Farias!

---
"You play football?  As in real tackle football?  You use pads and plays and formations?"
This was my initial reaction on a cold October day of 2011 as I stood in bewilderment while a young woman was telling me about women's professional football.  The woman with whom I was speaking played running back for the Boston Militia Women's Football team in the Women's Football Alliance, a 63-team women's football league that is the fastest growing in the history of the sport.
Not to be confused with the gimmicky variety of football made for late-night television featuring scantily clad women (Lingerie Football League), the football she spoke of is the same version I have played and coached since I was twelve.  As she left me in the bristling wind of Cambridge, MA, with a head buzzing of possibilities, I knew I had to look into this further.
The popular 1992 film A League Of Their Own exemplified well the social stigmas that have permeated for a long time regarding women's sports, many of those barriers to equality being knocked down thanks to exposure and acceptance of professional women's leagues, yet full equality in men's and women's sports remains an ongoing battle. Regardless of the advancements made in women's athletics, with Title IX recently celebrating its 40th year of existence, the positive impact is obvious yet the general perceptions remain sometimes difficult to initially overcome.
Fast forward to June of 2012, and I am currently an assistant coach with the Boston Militia football team of the WFA, as the squad begins a playoff run towards a potential third-consecutive national title.  Working with an organization with a strong foundational core of coaches and leaders, I have been able to assimilate myself into the culture of women's football; however, the challenges I have faced along the way have greatly impacted my perspective as both a coach and a man.

Through my prior experience coaching collegiate and high school athletes, and the knowledge gained through the personal training profession, I was led to believe that heading into the 2012 football season I would be able to handle coaching women's football easy enough.  After all, it's still just football, and a block or a catch is executed with the same techniques regardless of gender.
The past six months however have been an eye-opening experience beyond my expectations, allowing me to develop my leadership abilities by virtue of the challenge of coaching both sexes in the same sport, a rare opportunity for most. For those coaches at any level lucky enough to have had the opportunity to work with both male and female athletes (like current Oregon women's basketball coach Paul Westhead, a former NBA head coach), the experience is both rewarding and educational.
Towards the beginning of pre-season, I quickly learned that certain coaching techniques are more effective than others when relating to female athletes after previously working with male athletes.  I have always been an energetic coach, to say the least.  Running around like a ball of energy, I demanded perfection from the players, rather than expecting progress.  I soon learned that I was being too demanding at times.  Once I began to embrace the value of positive reinforcement, coaching became easier for me and more beneficial for the players.

Based on this experience I believe that women are different than men in terms of their temperament, which affects the methods a coach should implement in their approach to teaching.  Emotionally, mentally, and physically, the differences between the two sexes have provided some interesting revelations over the course of the season, as I found out quickly that coaching women's football requires a more even-keeled disposition.  When a player didn't perform as was expected or she made an error of some kind, rather than yelling at her for her mistake, I would try to communicate my lessons with calmness in my voice, the explanation itself proving more valid than the volume.
With players ranging in age from eighteen years old to early-40s, I tried to approach any coaching situation as if I were talking to my mother or girlfriend.  Now, of course there would be times where I would get animated about a certain subject at practice or during games, but I certainly would never cuss out my mother!  This thought has stayed with me as I have continued to help these talented women reach their individual and team goals.
A big difference between coaching women vs. men is the learning styles I have encountered.  Often times, when I tell a player on a men's team to do something a certain way, he just does it without second-guessing the reasoning behind it.  Women, being the more inquisitive of the sexes, are more apt to want a fully detailed explanation of not only their task at hand, but also why they are to perform it, and what should happen if various scenarios arise during the course of the action.  In actuality, the analytical nature of women has been beneficial, as the players have picked up on things that I didn't initially notice.
Additionally, the learning curve is different when comparing men's grasp of football compared to women's initial ability to pick up the sport typically, something that I believe in general terms may be due to the socialization of women.  Football is kind of a taboo subject for women growing up, as they're often-times discouraged from hanging with the boys and are rather driven towards certain cultural assumptions and expectations of femininity; whereas men spend their whole lives around football, so even if they have never played it before, they understand the basic concepts behind the game.
I base this general conclusion on instances where newer players were looking at me as if I had three heads while I was explaining what I presumed to be a basic concept.  This isn't to say that women can't gain as much knowledge about the sport as men can, but a game as complex as football takes time to comprehend fully, and boys are typically inundated with football from an early age while girls typically would need to go out of their way to follow the sport.  Yet despite the societal stigmas pertaining to women growing up football fans or trying to play the game, one of the smartest football players I have ever met (someone who could probably be a great coach some day) plays middle linebacker for the Boston Militia.
The physical skill sets that women football players possess continue to amaze me.  My preconception of women's tackle football was a sport lacking in physicality and athleticism, a common misnomer for most sports fans when quickly glancing at men and women playing the same sport.  This is far from the truth, as some of the abilities of the women I coach are truly remarkable, once again reality proving to be far different than perception.
I have been able to spend the most of my time this season working with the defensive linewomen of the Boston Militia in the WFA.  Ranging from a 5'2″ bowling ball of gap-shooting terror at nose tackle, to a towering 6'2″ force of nature at defensive end, these women possess startling athleticism for their size. So versatile are they, that it took me a while to fully comprehend their maximum capabilities.  Since then, it's been a joy to help put them in a position where they can wreak havoc on an offense.  I specifically enjoy watching the women take on double teams, or use their hands properly when pass-rushing.  The reality of my situation has proven the point reiterated by many who have stood in my shoes coaching athletes of both genders; that the joys of coaching athletics apply regardless of sport, level of play, race, religion, or gender.
As with men's football, women's professional football is often determined by quarterback play and the execution of a team's schemes.  Having a quarterback who can pick up first downs and make smart decisions is immeasurably valuable against teams trying to stack the box.  Often times, this is the difference between a one-dimensional offense and the teams that compete for championships.  The Boston Militia is blessed to be led by a great leader and teammate at this position, and I think much of the team's success can be attributed to her hard work.
Coaching can have a profound impact on the outcome of the game at every level, and this is especially evident with women's football.  Fundamentally sound football and team discipline are two attributes of the successful teams in the WFA.  There is always time to work on the basics, and my belief that the great teams are good at the little things such as tackling technique and ball security is definitely echoed by the other members of the coaching staff.
Football can be so different from level to level, program to program, but when all the variables are taken out of the equation and it is simplified to the most basic algorithm; the game will always boil down to one team trying to score the ball and the other trying to stop it.  The challenges and potential benefits of coaching women's professional football have been as great an experience as I've had at any level.
I highly suggest to anyone interested in coaching football to research a women's professional football team in your area and embrace the profound educational experiences and rewarding joys of coaching athletes. Not female vs. male athletes, or youth/amateur athletes vs. professional athletes, just simply athletes.

---
Currently Coach Farias and the Boston Militia are working towards hopefully making it to the WFA Championship, to be held August 4th at Heinz Field in Pittsburgh, PA.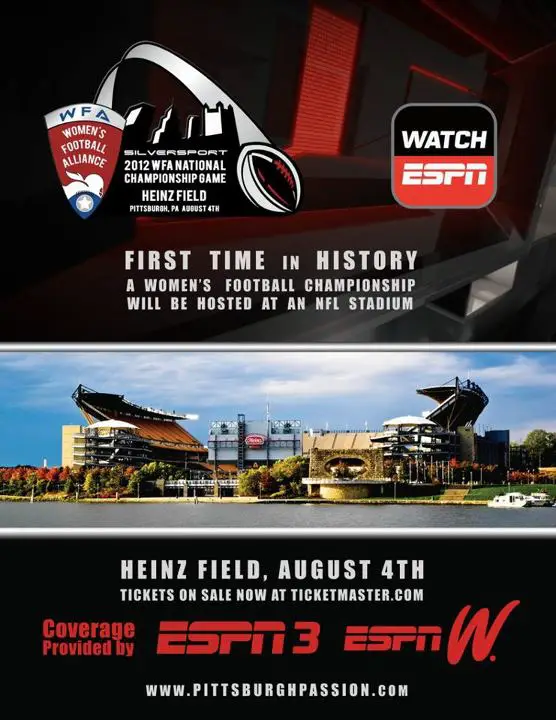 Visit our Sister Site, the new Our Beloved Ducks Forum!
This new forum that is unlike anything you have ever seen between our civilized discussion, (NO TROLLS ALLOWED) complete directions available for easy usage and the delivery of all Oregon Sports News.  (That last part is a gradual transition up to Spring Football)
Go to the forum where we delve into today's article and so many more topics and the nuances within them over there.
We have a topic post begun over at the forum for today's article; it is a free site and offers more opportunity for the exchange of opinions on all the Oregon Sports subjects of the day. (And there are some very cool features!)
An introduction article about the new forum is right here.