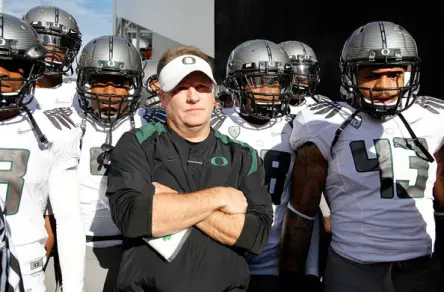 When word came down in January that Chip Kelly was headed south to the Tampa Bay Buccaneers and the NFL, Duck fans were left with a stinging, yet not altogether surprised, feeling that the greatest run in school history was over. Gone were the dizzying offenses, the pin-your-ears-back defenses, and the quirky, brash confidence that the school had grown accustomed. The team had been so close to the mountain top, only to see its fearless leader pack up his sunscreen and head on to greener pastures. Then…
"After numerous discussions, I concluded that I have some unfinished business to complete at the University of Oregon."
-Chip Kelly
Those words, sung so heavenly by Chip himself, guaranteed Duck fans of at least one more season under the visor. How long his tenure lasts at Oregon remains to be seen. It does seem that the time frame is shorter rather than longer, however, and that an eventual replacement will need to be chosen. Before that time comes, we need to step back and appreciate what coach Kelly has done for the program.
It is understandable for Duck fans to grow comfortable with their coach, assuming that once hired they will stay. After all Rich Brooks headed the program from 1977 through the 1994 season, and his successor Mike Bellotti then led the way from 1995 until 2009. That is tremendous consistency in leadership in a role that often changes every couple of seasons. The coordinators and assistants may have changed often, but the head coach never did from the time Brooks stepped in.
That consistency has remained under Chip now leading the program, and it is unique in that Oregon is the only program in the nation not to have a single change in the coaching staff over the past three seasons since Kelly took charge. In just those three seasons under Kelly, Oregon has a remarkable 34-6 record, winning at a .850 clip. They have two Rose Bowl appearances, with one win, and a National Championship game appearance, the first in the school's history.
This success matched the 21st century innovative flash provided by the marketing and tech forces behind the Nike brand, leaves the school exuding a rare confidence that only the top programs have. There is a belief that every Saturday Oregon should not only defeat their opponent, but punish them for even stepping foot on the field.
When Oregon took over the #1 ranking in 2010, it was the first time in 25 years that a school reached that mark for the first time in its program's history, showing how hard it is to climb in the ever-competitive world 0f college football; that is a testament to Kelly and the environment that he has created.
The fast-talking, quick-witted Kelly has been the perfect fit for an imperfect university that based on its constant construction of facilities remains a work in progress. Oregon is unique in many ways, and it needed someone like Chip to take it to new heights. With the ever-present Nike influence, and a stadium as loud as anything the SEC has to offer; Oregon for many years has been viewed as a sleeping giant. Mike Bellotti, for all that he accomplished in his time at Oregon, didn't have the flair and confidence to take Oregon to the next level.
It took a coach with that elusive "it" factor to shed the up-and-comers label that Oregon had been tabbed with since the 2001 season when the team finished #2 in the final BCS rankings. The Ol'-Ball-Coach Steve Spurrier had it at Florida. Barry Switzer took it to Oklahoma. Now Chip Kelly has turned it loose in Eugene, we have all been witness to the staggering results.
Chip Kelly may in fact be a once-in-a-lifetime coach. Born and raised in Manchester, New Hampshire, Kelly spent a total of 13 seasons at his alma mater, the University of New Hampshire, where he eventually took the reigns as offensive coordinator–a title he held for eight seasons. After arriving at Oregon in 2007 under the same title, his spread-option offense transcended college football, so effective in its strategic simplicity. When Kelly succeeded the retiring Mike Bellotti in 2009, many wondered whether the offensive wizard had what it took to run a major college program. In the aftermath of the Boise State debacle in 2009, Kelly proved to all the he did.
When LeGarrette Blount landed the infamous punch on the blue turf the opening night of the 2009 season in Boise, Kelly was faced with a first year coach's worst nightmare…a brutal loss on national TV. A star player out of control. A country waiting to see what the baby-faced coach would do. A team, and a season, hanging in the balance.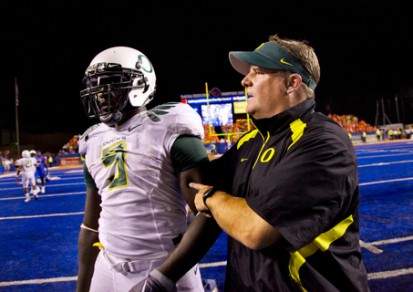 Kelly suspended his star. He rallied the troops, who would go on to win their next seven games, including a dramatic win over 4th ranked USC. He won the Pac-10 title and played in the Rose Bowl.
Chip had survived one of the most turbulent debuts of all-time, and channeled that into a conference championship. Since then, he has directed the first undefeated regular season in program history, and earned the first Rose Bowl title in 95 years. Clearly on the field, Kelly is on top of his game. What separates him from other great coaches, however, may be what he does OFF the field.
Along with Blount, Chip has had to deal with transgressions against star players Jeremiah Masoli, LaMichael James and Cliff Harris. He has been an iron fist and an open hug simultaneously. He's removed scholarships and offered second chances. There may be no better coach in America as it relates to laying down the law, and not letting his players rule the roost. Having the respect and fear in the locker room is just as important to a coaches success as is a sound game plan, and Chip has proven he has both.
How long will Chip last at Oregon? That's a question no one knows the answer to, not even Kelly himself. It's safe to say however, that as long as he keeps the Ducks in the National title hunt, his stock will continue to rise. He has done things at Oregon that no one thought possible.
Starting in 1977, Rich Brooks took over an Oregon program that was historically average, save for a couple Rose Bowl losses. In 17 season under Brooks, Oregon won 91 games. Following the '95 Rose Bowl, Mike Bellotti took over for an NFL-bound Brooks, and in 13 seasons, he won 116 games, winning 68% of the contests, highlighted by the 2002 Fiesta Bowl win over Colorado. Oregon, while not yet a national power, was a constant contender in the Pac-10, and was capable of big things if put in the right hands, but they had never reached the point of continued consistent success. The team would have one great year interspersed with several "rebuilding" years of mid-level performance and lower-tiered bowls.
That's where Chip has separated himself in every category compared to the coaches before him. It could certainly be argued that the success under the Chip Kelly regime has been with players that were recruited under Bellotti, making the performance of the team over the next two years pivotal in seeing how Bellotti's teams truly compare to Chip's teams.
Regardless of any comparative arguments to be made, however, one fact remains vividly clear in contrast to the past–the program is a freight train headed downhill. There's depth, there's talent, there's momentum. And there's the right man leading it…
For now.
Enjoy it while it lasts, Duck faithful. Guys like Chip don't come around often, and they don't stick around long either. Just ask the Buccaneers.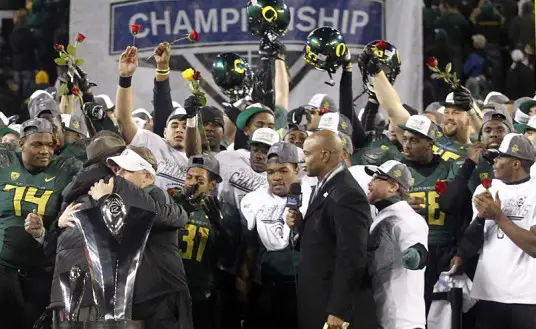 Joel Gunderson grew up in a small town, where the only thing he did for fun was worship the Oregon Ducks. He later moved to Eugene, where he studied journalism at the U of O. After working in radio, he married the woman of his dreams and settled down. Joel now spends his days studying Journalism and the fine world of grammar, all the while worshiping the ground that Charles "Chip" Kelly walks on! Follow him on twitter @gundy85
SIGN UP for the New FishDuck Commenting/Posting System!
The first step toward some big additions to the site is moving away from the Disqus system, to our own new commenting/posting system for the great discussions below the articles.  Signing up now will automatically have you registered in the new forum that will be released in the next three weeks.
It takes a minute is all, and will allow us to continue our amazing discussions of Oregon Sports in a new format that will allow more flexibility over time as we add features.  Sign-up now!  
Mr. FishDuck