I got all wrapped up in Phil Steele's 2012 College Football Preview magazine this week. Say what you want about Athlon or Lindy's, but Phil Steele is the best of the bunch, if for no other reason than the amount of material — including a multitude of quirky lists — he jams into his 344-page publication.
He's not shy about trumpeting his own horn either. "The most accurate preseason magazine the last 14 years," the headline screams on this year's cover.
Like other college football previews, Phil Steele gives plenty of love to the south (six schools from the region, including four SEC schools, are in his top 10), but he's also been bullish on the Ducks for some time.
Prior to the 2007 season, he surprised many when his magazine said Oregon was a national title contender — a prediction borne out until quarterback Dennis Dixon crumpled onto the Tucson, Ariz., turf five months later and the dreams of Duck fans died everywhere.
This preseason, Phil Steele has Oregon at No. 6 in his Top 40 (yes, he does a Top 40). Florida State is ranked No. 1, followed by Oklahoma, LSU, USC and Alabama. A year ago, the publication pegged the Ducks at No. 4, which is exactly where they ended up at season's end.
In 2010, prior to the BCS National Championship Game season, Oregon was picked to finish No. 10, although Phil Steele added this qualifier, "With Jeremiah Masoli, the Ducks would have been a preseason Top 4 team … This team should be 7-0 and very confident when they head into USC on Oct. 30th." We all know how right on the mark that turned out to be.
I obviously take note of Phil Steele's Top 40, but the section I always hone in on are the rankings for individual units (quarterbacks, running backs, receivers, offensive line, defensive line, linebackers, defensive backs, and special teams).
The magazine only ranks the top 30 to 40 units for each position group from around the country. Still, you get a good sense of where the strength of powerhouse programs reside with the season looming.
Going into this season, for the first time ever, all of Oregon's individual units are ranked nationally. Running backs and offensive line received top billing (each unit was ranked the third-best in the nation), and each defensive unit fell somewhere between No. 11 and No. 18. The Ducks' quarterback unit was pegged as the 38th best in the country; the receiving corps came in No. 31.
In comparison, prior to last season, Oregon's receivers, defensive line and linebackers went unranked by Phil Steele. In 2010, quarterbacks, receivers and special teams weren't mentioned.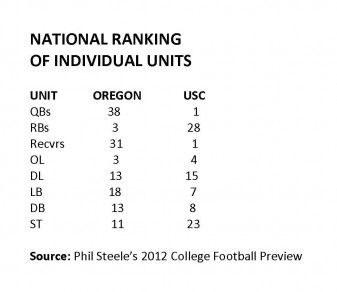 So how does Oregon's position group match up with USC's (recall that many prognosticators predict the two will be undefeated when they meet Nov. 3 in Los Angeles)? As the chart to the right attests, each has four units ranked higher than the other.
Of course, injuries can quickly turn a perceived unit's strength into a weakness, just as impact freshmen can transform a weakness into a strength. Prior to the 2007 season, the magazine judged Oregon's quarterbacks as the 15th best in the nation. Once Dixon went down, followed by Brady Leaf and Nate Costa, well, it's say safe to say the unit sunk about as far as it could go.
But on paper at least — make that Phil Steele's glossy magazine paper — both Oregon and USC have power across the board entering this season.
Time to add another circle around Nov. 3 on the calendar.