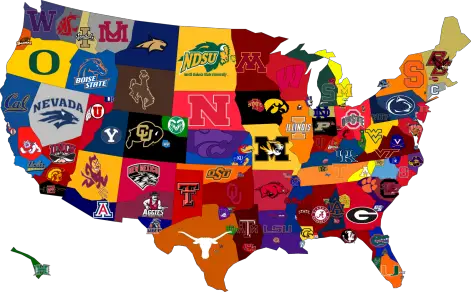 The hammer has been dropped on Penn State and now we get to see how long it takes for the program to fall apart and get put back together again. Penn State needs to talk to SMU and ask for some advice on how to play against the big boys with a bunch of walk-ons for the next four years. It may not have been the death penalty, but it was certainly the most severe smackdown issued by the NCAA since the SMU death penalty. Think about how long it took the SMU program to recover (it would be easy to argue that they still haven't) and Penn State could have a very long hill to climb to get back to where they were. No shortage of fan support, and it's admirable to see the players who are devoted to staying, but it all makes for a bad situation on and off the field.
With that Penn State mess out of the way it is time for fans to start looking at their favorite teams as they prepare to open fall camp. The conferences all had their media days, signaling the start of the 2012-2013 season! Media days don't actually mean a whole lot as far as what is said, but the symbolic meaning of the media days themselves eschewing in the new football season is something to openly embrace.
Will Muschamp can recruit, but can he coach? He is a "Nick Saban Disciple," so let's hope he has the same year-two success Saban did while at Alabama. Saban's first season at Alabama was a 6-6 finish with a bowl win to reach to the seven win mark. Year two he was 12-0 and ready to punch his ticket to the national title game before Florida upset them. I am hoping that Florida becomes what Saban has done in Tuscaloosa.
The least of Penn State's worries right now should be new uniforms. It will be odd seeing Penn State in anything but their traditional blue jersey and white pants set up. I know Northwestern is looking to make a statement with new uniforms, and Nebraska floated some affronts to humanity online as well. It should be interesting to see what Penn State comes up with, getting rid of the old uniforms is another way of trying to move on from all the bad that has surrounded the Penn State football program. It can't be stated enough, sad times at Penn State.
The season cannot get here soon enough. With Penn State desperately trying to get out of the news, new witch hunts on top programs and coaches are starting up. People are accusing Saban of cheating….cheating on what? When you are on top everyone is going to come after you. I just want kickoff to happen so we can put all this drama to rest and get back to what is important….FOOTBALL!
If you are a Wisconsin fan, can you already smell the roses? With Ohio State and Penn State ineligible for, they only have to beat out Indiana, Illinois, and Purdue for a spot in the BIG-10 title game from their division. Cakewalk is an understatement here for their path to Pasadena. On another side note, can someone please change the names to the LEADERS and LEGENDS divisions? It's confusing as ever and was named like that for people like Joe Pa. Time to change the names and realign the divisions please. It needs to be a more West and East division thing. Do Michigan, Michigan State, Ohio State, Penn State, Purdue, and Indiana; and put Nebraska, Iowa, Wisconsin, Northwestern, and Illinois in the other. That makes sense, quick–can anyone NOT in B1G country name the teams in the Legends and Leaders divisions? Bet your know-it-all sports fan, and watch them stumble.
The PAC-12 has always been known for its Offense. Sometimes the scores more resemble that of an Arena Football game. With all the new hires like Mike Leach, Rich Rod, Jim Mora Jr., and Todd Graham, the PAC-12 focus will be shifted over to offense even more with a third of the conference sporting new head coaches. Right now Oregon is the team to beat in the PAC-12 for everything. though USC is the sexy pick to win it all this year, but to be the champs they've gotta knock off the champs first from their perch, and Oregon as three-peat conference champs are sitting mighty pretty on their pedestal. It is only a matter of time until all the new coaches are running hurry-up blur offenses with their players wearing neon uniforms. I look forward to seeing PAC-12 games this year. Offense is what fills the seats, but defense is what wins championship (as the SEC has shown the last six BCS title games).
This final month before kick-off will be the quietest and craziest time for all fans. The season is so close; I can already smell the grills outside of "The Swamp." We can expect a few more schools and coaches to get thrown under the bus for violations or players being arrested before kick-off but that's what we have come to expect during the off-season. Enjoy this final month and get ready for some football.
NATIONAL NEWS:
1. Free agent frenzy at Penn State
2. Kiffin looking for depth at Penn State
3. Donors at Penn State changing mind
4. Les Miles is after kids
5. USC takes a huge hit
OREGON NEWS:
1. De'Anthony Thomas is being watched..twice
2. Oregon Fall football preview
3. Ducks about to start Olympics
4. Hoffman out for senior year
5. Some changes for Oregon football

CAN YOU HELP US?
The pictures you see of the Ducks on FishDuck.com come from professional photographers that must be paid! Please donate through one click so we have pictures from all the games this fall to use through the year. All previous donations helped to pay our big Web Developing bills recently, and I do appreciate it.
Our staff and the photographers who have thousands of dollars invested into their equipment to provide the high quality pictures do sincerely thank you.   Charles Fischer