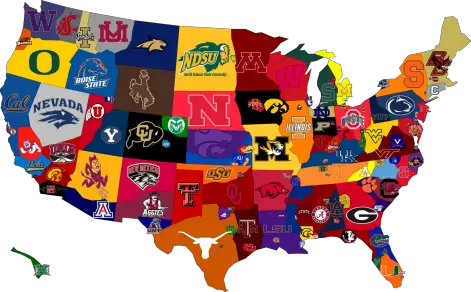 Another week is in the books, and that brings us inching slightly closer to kick-off. As much as I hate this long layoff, it allows me to enjoy the regular season even more when it finally begins. Let's get into some news and thoughts before they decide to change the playoff system again.
1) Texas A&M comes off like a desperate girl wanting to be asked to the dance. Did anyone see that horrible video they did about every SEC team? They pretty much begged themselves into the SEC. I wish the SEC did not give into the crying from Texas A&M and Missouri. The SEC did not need them to join, but everyone got expansion crazy when the Pac-10 tried to build a super conference. Hopefully it works out for the best, but I wonder if the SEC will consider moving Auburn over to the SEC East and put Missouri in the SEC West to balance out teams geographically? With the way other conferences overreacted to the Pac-10 and Big-10's expansions, and the SEC and ACC expanding to 14, how long might it be until the PAC-12 or BIG-10 follow suit and match the SEC and ACC with 14 teams?
2) Big news not making major news is the cancellation of the Alabama-Wisconsin home and home series before they could even get it officially set up. That would have been an awesome match-up for college football fans, but then again it's not surprising as in the current structure of the BCS there is little point in playing tough opponents during the regular season.
Wisconsin wants some big name opponents on the schedule, knowing it will help bolster its position come playoff time, but SEC teams are always reluctant to ever leave the friendly confines of the south. Why would an SEC team want to leave the south? Their scheduling has already gotten them six BCS titles.
It is a positive sign though, in that in the wake of the playoff system with the supposed emphasis on strength of schedule returning, teams are at least attempting to improve their quality of opponents, we are already starting to see the benefits of a playoff when it comes to scheduling.
3) Another week one match-up to keep your eyes on is Tennessee vs. North Carolina State. Coach Dooley is in desperate need of a fast start to keep his job, while Coach O'Brien wants to carry the hot streak over from last season. This game could go a long way in determining how the season goes for either team.
4) Robert Nkemdiche is a package deal. Half his high school buds are already going to Clemson and he says he will keep his commitment to Clemson if they bring another one of his high school friends onto the team with a full scholarship. I know for a fact some schools will offer a top-recruits' high school teammate in hopes of landing the top-recruit. This sets a horrible precedent though with it being so public, soon schools will be "forced" into offering a top running backs' high school offensive line just to get the star to sign. Hearing Nkemdiche say it's a "done deal" once his friend is offered makes me question his commitment in the beginning.
5) Just a funny side note about conference expansion. The Big East voted to kick out Temple because they were so bad. Now with the crumbling Big East, they came back and invited Temple back into the Big East. If I was the president of Temple, I would have turned them down and been happy winning nine games in the MAC and not having to travel 3000 miles for away games. Let's hope this conference alignment starts making a bit more sense.
No real big news this week with teams jumping ship or players being suspended. With kickoff less than two months away (56 days to be exact, but who's counting?), start warming the grills up and get ready for some football.
Until next week college football nation.
---
National News:
1. Coaches do not get paid as much as players in the SEC
2. The mailbag explains the college football free market
3. UGA in search of a new running back
4. ACC didn't mind beat down in the Orange Bowl
5. Nothing can go right for Duke football
---
Oregon News:
1. Good news for Oregon vs. Arkansas State
2. Oregon golf lost a great one.
3. Who bothers Oregon in the north?
4. Impressive 10 headed to Olympics
5. Kenjon Barner is a hero