Bryan Bennett wasn't surprised at all.
Marcus Mariota said he had been talking about it for months.
When Darron Thomas announced his decision to forego his senior year and enter the NFL, however, it sent shockwaves of nervous excitement throughout the Oregon fan base, as they anticipated what was to come. The era of Bryan Bennett was finally going to begin. No more pining on the bench. The tantalizing Sophomore was going to step in and take over for Thomas, and the team would roll on without skipping a beat.
Then April 28th came, and all that talk went out the window.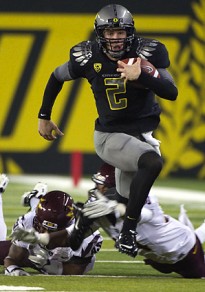 On that day, Oregon fans witnessed Marcus Mariota in person for the first time, and the battle to become the Ducks' new QB officially became a two-man race. When Mariota badly outplayed Bennett on that warm spring day, it started a summer competition that could set Oregon up for immense success…or send them crashing back down to reality.
When Chip Kelly and his staff make their final decision on who will take snaps against Arkansas State on September 1st, they need to make the decision that is best for the program long-term. Because whoever wins the job, be it Bennett, the presumed favorite, or Mariota, the hotshot freshman, one thing can almost assuredly be assumed…one of them will not be in an Oregon uniform for long.
Bennett and Mariota are both exceptional talents. Both were highly recruited coming out of high school. And most importantly, based on comments made throughout the spring, both feel they can lead this team.
Bennett, out of Encino, California, peaked our interest last year in relief appearances against ASU and Washington State. His second half against the Sun Devils may have single-handedly saved the season. He's bigger, faster and more accurate than his predecessor Darron Thomas. His arm strength is second to none on the team, maybe even the conference. He has a leg up in experience, having spent two full seasons in an Oregon uniform.  He was even a counselor for the Manning passing camps coming out of high school, where he worked alongside Peyton and Eli Manning.
"It allowed me to measure myself against those guys, and also to see the way the Manning's act, just kind of that poise that they have," Bennett said in an interview following the Manning Camp experience.
Mariota had a different background heading into Oregon. A three-star recruit out of Honolulu, Hawaii, Mariota flew under the radar, garnering offers from only a handful of Pac-12 teams. While he certainly was not unknown, being on the islands allowed Marcus to play his game without the pressures faced by many highly-touted high schoolers. Not having come from the mainland is a big plus according to Mariota, as it gives him a calm, collected demeanor that will go a long way towards helping him win the starting job.
"I just gotta do what I can do to get better. For me there is not a lot of pressure. I just have to do what I can do," said Mariota leading up to his spring game performance that wowed the crowd and divided the Oregon fan base between #TeamBennett and #TeamMariota.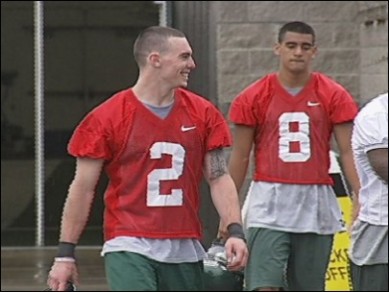 Mariota runs a legit 4.48 in the 40-yard dash. His finesse and accuracy on passes were on full display in the Spring Game, and Chip Kelly says his mastery of the offense has been impressive for such a young man.
Whoever wins the job, one thing is certain. He will be in charge of a team that is loaded at almost every position, and a quarterback who directs traffic and doesn't make mistakes will be the key to success. The last time Oregon needed to replace a quarterback, it was Darron Thomas and the 2010 roster. The 12-0 record that they posted came out of nowhere.
The 2012 team, however, has expectations that are through the roof. DeAnthony Thomas is a year older. The offensive and defensive lines are stacked, and there is no shortage of receivers with the potential to blossom. The schedule is cake until November, and USC is grabbing the majority of the headlines. The table is set for Oregon to do special things. Either Bennett or Mariota will be the man, for better or for worse, that leads the charge.
No one can say for certain, of course, that the loser of the battle will transfer. They could stick around, knowing they're a play away based on the history of Oregon quarterbacks and injuries, but either one is simply too talented to sit on the sideline for three years. This could be a major problem for the Ducks should the starter go down. Oregon simply does not have depth at quarterback beyond Bennett and Mariota. Jake Rodriguez, a four-star recruit who was enrolled and participated in spring ball, is recovering from a knee injury sustained in high school. Dustin Haines has yet to see one snap of meaningful football as a Duck, though his ability to sprint the sideline flashing in the play cards to the offense has brought quite a bit of notoriety.
Chip Kelly has proven himself to be a borderline genius as it relates to his quarterbacks. He turned Dennis Dixon into the Heisman frontrunner. Jeremiah Masoli led the first Rose Bowl assault since 1994, and Darron Thomas was, well…Darron Thomas. The decision to put the QBs in a starting position, however, were obvious choices. Dixon or Brady Leaf? Easy. Masoli or Chris Harper? Same.
This is a whole different animal.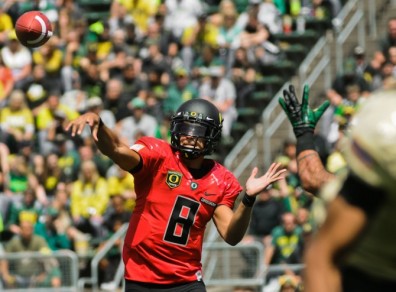 Mariota and Bennett are both young. They're both lightning fast, accurate and natural leaders. Is there a wrong choice that can be made? At this point we don't know. That will not be determined for a couple of years.
Whatever choice Chip makes, though, will need to be made with conviction. Whoever is handed the keys needs to know that the coaching staff, his teammates, and fans, are behind him.
This may be Chip's biggest on-field decision so far as the main man in Eugene. Both men appear ready for the job, mentally and physically.
Let's just hope the other sticks around to see it play out.

Joel Gunderson grew up in a small town, where the only thing he did for fun was worship the Oregon Ducks. He later moved to Eugene, where he studied journalism at the U of O. After working in radio, he married the woman of his dreams and settled down. Joel now spends his days studying Journalism and the fine world of grammar, all the while worshiping the ground that Charles "Chip" Kelly walks on! Follow him on twitter @gundy85
Comments have to be CLEAN? How Clean?
We want to keep it clean for the young grandchildren reading what Grandpa wrote in his article or comments.  Yep, most of you are younger than many of us Grandpas, but we really do have grandchildren reading … so keep it clean, please.
Most of the stuff I delete is actually pretty minor for adults, but if it were your grandchild reading–would you want it there?
The majority of our rules can be summarized to this: 1) be polite and respectful, 2) keep it clean for grandchildren reading, and 3) no reference to politics.
Easy-Peasy!