As fans we feel powerless. No one asks us how the lineup should look. No one lets us call a play. Heck, no one even asks us if we want jalapenos on our nachos anymore. They just point to where they may or may not be, wilted and lifeless.
Well, here we are. It's July, the house is too hot, the ice cream is gone, and Howard Beale, from the movie "Network" had it right in the first place.
"I'm as mad as hell and I'm not gonna take this anymore".
Here are a few things about which I, representative of you, dear reader, should have been consulted.
---
The Four Day All-Star Break:
Hey!  It was Thursday two days ago! Play ball, already!
Since time and baseball began fans had to wait until Thursday for the interminable All-Star Break to be over.  It was even worse for fantasy and rotisserie leagues.  They had to wait until Friday for the stats to kick in. The first place Rangers come to Seattle to open the second half. That means that by the weekend the M's can be only 13.5 games out of first place. That would have been 12.5 if the second half had started on time.  Can't you feel the momentum?  Come on! "Ohhhh, say can you see?"
New Football Kickoff Rules: 
I'm all for safety. I'm for improved equipment, independent doctors on the sideline, and better diagnostics on site at the stadium. I'm for mandatory downtime for diagnosed concussions and longer downtime for brains that have been rattled too frequently.
It's still football, though, and kickoffs are some of the most exciting moments of the game. Beyond that, watching DeAnthony Thomas return a kick has been a boon for marriages everywhere. Quick, what do women want?  Bathrooms.  When do they want them?  All the time.
It takes DeAnthony Thomas about 10.8 seconds to return a kick for a touchdown.  That means that your lady friend will have been able to potty just before the start of the second half and potty again 11 seconds later.  She will love the Ducks!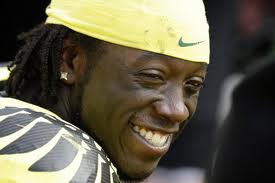 Now, with touchbacks more prevalent than Husky ancient Rose Bowl smack, your gal pal may have to wait up to two whole minutes of game clock time before she can purge that pea sized bladder.  It's an outrage.
The Miami Heat: 
You're a knowledgeable sports fan. You've noticed that, with the Ray Allen signing, the Heat have officially signed all of the good players not named Kevin Durant. David Stern stopped the Lakers from signing Chris Paul last year because of "competition concerns," yet sits idly by while the Heat become a 1/positive infinity favorite to win next year's title. Perhaps the wait for an arena and a new team for Seattle is not all bad. Juggernauts are only fun to watch if they are your juggernauts.
Those are mine. I'm sure that you have some of your own. Put them in the comments box and I will be sure to get them to The Office of Someone That Cares.

CAN YOU HELP US?
The pictures you see of the Ducks on FishDuck.com come from professional photographers that must be paid! Please donate through one click so we have pictures from all the games this fall to use through the year. All previous donations helped to pay our big Web Developing bills recently, and I do appreciate it.
Our staff and the photographers who have thousands of dollars invested into their equipment to provide the high quality pictures do sincerely thank you.   Charles Fischer