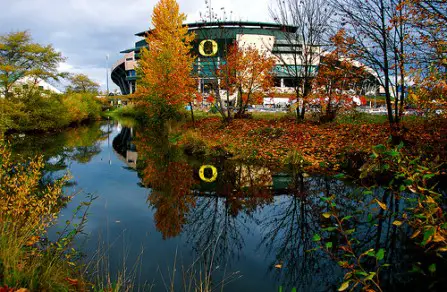 Congratulations, Duck fans. We are now less than 30 days away before the Oregon Ducks kick off the 2012 season. After stumbling around aimlessly in a football desert for the spring and summer, finding only one brief oasis on April 30th during the spring game, we are coming ever closer to that long awaited thirst-quencher that is the opening game.
It's not like we need too many extra reasons to get excited for Duck football in Autzen, but here are seven things that I am looking forward to when September comes around.
Tailgating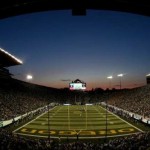 Nothing says football season has arrived quite like a day of tailgating. Arrive early and you can watch all of the motorhomes, trucks, and SUV's making their way to their spots and setting up. It doesn't take long before the parking lot begins to fill with pop-up sunshades, and the smell of grills cooking tasty goodness everywhere around you.
Whether you are sitting on board a climate controlled luxury coach or just sitting on an actual tailgate, hanging around good friends and talking football at a tailgate party is one of the very best parts of game day.
7 home games!
This year we get a bonus, Duck fans, an extra game at Autzen. Typically, six is all we get, but sort of like a leap year but better, every so often we are fortunate to get an extra. Depending on how the conference championship race shakes out, we could see another PAC-12 championship game hosted at Autzen, but that is getting a little ahead of ourselves.
What we know is that we can count on the Arkansas State Red Wolves, Fresno State Bulldogs, Tennessee Tech Golden Eagles, Arizona Wildcats, Washington Huskies, Colorado Buffaloes, and the Stanford Cardinal to come into Autzen and give it their best to wage an upset against our beloved Ducks. While all of these might be seen as winnable games, there are sure to be some tense and exciting moments and some big plays witnessed this season.
Showdown with USC?
While the game against USC will be played in the Coliseum this season, the prospect of the Ducks winning that game and hosting the Trojans for the conference championship in Eugene looms. Sure, most analysts have pegged USC as not only the favorite to win the conference, but also as a national title contender. The only problem with that of course is that the Oregon Ducks have won the conference title the last two years of the Pac-10, and the inaugural season of the Pac-12 conference. A three-peat.
Nobody can be the king until they knock the previous king off their perch. Oregon did just that in the epic Halloween 2009 game vs, fittingly USC, and gave geld the throne ever since. If USC is serious about being a national title contender, first they have to get past Oregon. Add in the fact that Oregon returns a glut of talent themselves, and you have the makings of potentially two extremely competitive games against Lane Kiffin and 'SC for all the marbles. Isn't that what makes college football great?
Don Essig
Every stadium needs a good stadium announcer. At Oregon, we have the best. Mr. Don Essig has been handling the duties in Autzen since 1968. For starters, Mr. Essig has a booming deep voice that carries so well inside the stadium. He also has a great knowledge of the game and has knack for timely and sometimes hilarious comments. Over the years, Essig has seen it all. All of the great coaches, teams, and players that have played for or against the Ducks during that span, and he has been there to call every play. Seasoned Duck fans can probably vividly recall him calling out some of the memorable names over the years, "Harrington's pass complete to Justin Peele for a gain of 16 yards… And, an Oregon 1st down." Or "35 yard touchdown…Dixon to Dickson!"
He has an arsenal of trademark lines as well. Most notably is his famous pregame weather forecast "It never rains in Autzen Stadium." While it is probably likely to happen in my lifetime, I can't even think about another voice taking over that role.  Bobby Bowden isn't at Florida State, JoePa isn't at Penn State, so even the most entrenched footholds at programs come to an end, but for now it's unthinkable that any time soon there would ever be anyone booming over the P.A. at Autzen other than Mr. Essig.
DUCK VISION
Ahhh, Duck vision. 88′ x 56′ of replay heaven.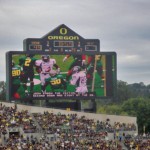 Those in their seats prior to kickoff at Autzen Stadium are treated each season to a rocking compilation of music and Ducks highlights, both old and new. We look for those old favorites, the classics like Harrington's TD catch from Keenan Howry against Texas, and "the pick" which still sends chills down the spines of every fan old enough to recall that glorious moment in Duck history. We can likely expect to see a few highlights of the Rose Bowl Championship season sprinkled in this season, but which plays will make the cut for pregame on Duck Vision?
Yelling either 'GO!!!' or 'DUCKS!!!' before kickoff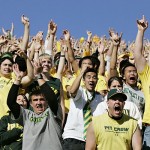 Depending on which side of the stadium you are fortunate enough to be sitting on, you should be prepared to yell one of these words 20 times or so as the anticipation builds in Autzen just prior to kick off. It serves as a sort of "heat check" for fans in the stadium, and allows a chance for the proverbial turbines of the Autzen Stadium jet engine to begin spooling up.
LOSING YOUR VOICE
That's correct, I am looking forward to that. As long as games are played in Autzen on Saturday's, the greater Eugene area can expect a healthy slice of the population to have a goose-like voice for the first few days of the following work week. For those of you wondering what I am talking about, perhaps you need to ramp up your own efforts towards this cause.
Look, I'm not saying you have to stand up and scream the whole game like a maniac, but I am strongly suggesting it. Consider that Autzen Stadium and the fans inside have built a reputation as being one of the very loudest venues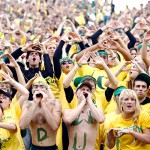 in all of college football. This was built before the Ducks were winning conference championships and going to BCS bowls each year. This reputation can not live on with individual complacency. The sentiment of more reserved fans, the "those people are yelling, so I don't have to" mentality needs to be scrapped faster than new hot-tub/movie theater plans for Roboduck.
For everyone seated in Autzen, just know that there are many more passionate fans not in attendance that would love to switch places with you. So consider yourself lucky to be there. For your hard-earned money, you get to enjoy one of the most exciting college teams in one of the nations loudest and best overall stadiums. In trade, you owe it to the team, the aura of Autzen stadium, and to all of your fellow Ducks fans who can't be there to make some noise while you are there!
The home team needs you, and at the same time, the other team absolutely loathes you.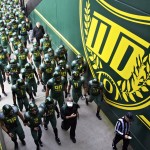 They can't communicate and audible on the field as well, and can lead to false starts or worse for the other team, but helps the Ducks. By now, almost everyone around the country has heard about how loud Autzen can be on game days. This season, make it your own personal mission to show the other team why it is such a tough place to play, and why it is considered among the loudest. It starts with you, ticket holder, so stand up, get your moneys worth and make some damn noise! Yell O as loud as you want, as long as you can.
That is of course, when Oregon is on defense. The team needs you to be loud on every single defensive play, but loud on none of the plays when the Ducks are on offense. That last part should be restated, as it is just as crucial for you to be whisper quiet when our team is trying to communicate on the field. Very simple: Ducks on Offense- Quiet. Ducks on defense- be as loud as you can be.
Despite the belief of a few misguided fans, the down and distance, as well as the perceived quality of opponent is not important. By all means, be just as loud on a 2nd quarter 1st down as you would be on a late game 4th down. Be just as loud for Arkansas St as you would for Oregon State with a Rose Bowl on the line.
Oh, and whatever you do, please do not try to start "the wave" in Autzen Stadium. Did you know that the Washington Huskies actually claim that they started the weird ritual? Though it's origins could be debated, general consensus is that it started in Husky Stadium, and that is enough for me to hate it. Would Husky fans use their hands to throw up an "O"? Although the wave has been going on inside Autzen for many years, it is time to bring awareness to it's origins and put an end to this hideous beast once and for all.
So everyone, enjoy these precious final few days of summer. The season will kick off before you know it, and it is sure to be another wild ride this year for Duck football.
See you in the stands!