With 19 days left until the 2012-13 season kickoff, that old familiar feeling is beginning to rumble in the pit of the stomach…football is finally back in Eugene. It's been nearly nine months since Oregon knocked of the Badgers of Wisconsin, earning the school's first Rose Bowl victory in 95 years. The time has come to turn the page on that magical night, and focus on the task at hand.
And what a season it looks to be.
Oregon returns 16 starters from last year's squad, a myriad of backups who played significant roles to fill the depth chart, and a coaching staff that has stayed intact for the 4th straight year, the only D1 team in the country to do so.
Fans of course, are focusing on the quarterback battle that will undoubtedly last to the week of September 1st, but with a dynamic backfield, upwards of 15 receivers and young exciting tight ends, Oregon's offense should be on all cylinders by the time the calendar hits October. As the season draws near, Oregon's success could be cemented by the other side of the ball.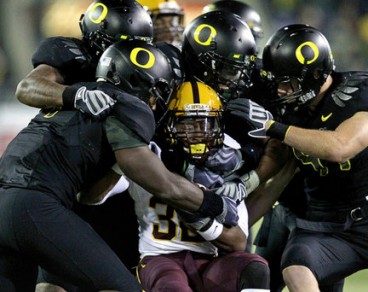 For the first time in years, Oregon's defense has been getting a majority of the publicity this off-season, and rightfully so. Buoyed by a line that goes nine deep, the defense-barring injury-should provide constant pressure all season long, despite that fact that they will almost certainly see more snaps than any other team in the conference.
Beyond pre-season All-Conference end Dion Jordan, seasoned veterans Taylor Hart and Wade Keliikipi, lie a plethora of talented players waiting to emerge from the shadows and leave their mark. Freshman Arik Armstead and Tony Washington look to push for playing time on the outside, while Ricky Heimuli, Jered Ebert and Isaac Remington will rotate inside in the Ducks 3-4 hybrid scheme. Oregon may not supply the NFL with a first-rounder on the line,  but the depth and athleticism will give the them their most dominant line since Haloti Ngata and Igor Olshansky roamed the trenches.
With all the attention the defense has been getting, however, this is still Oregon, and this is still Chip's offense. Despite losing Darron Thomas and LaMichael James, the offense figures to go on without skipping a beat, thanks to the return of Kenjon Barner and emerging mega-star DeAnthony Thomas.
The biggest question mark on this year's squad is who will replace Thomas at quarterback. In three relief appearances last year, Bryan Bennett had Duck fans drooling at his potential, as he raced around ASU, Colorado and WSU. His arm strength, track speed and spunky attitude had many fans calling for him to be thrust into the starting lineup last year.
After another summer of seasoning, it seems only natural that Bennett would be the leading candidate to slide into that role. Only one problem stands in the way, and his name is Marcus Mariota, who after his spring game performance became the toast of Eugene. That performance vaulted him squarely into the mix, as he clearly outplayed his counterpart, and set up a summer's worth of debate over who will take the reigns come fall. Mariota brings a laid-back, cool demeanor that allows his skill set to naturally flow…the opposite of the fiery Bennett.
Both men say that they feel the job should be theirs. One thing seems to be certain, however–whoever wrestles the job away seems poised to step into the upper echelon of Oregon quarterbacks. While the sample size of both is small, Oregon fans can't help but make comparisons of the two to a previous slinger, Dennis Dixon. With their combination of size, speed, accuracy and arm strength, both Mariota and Bennett seem to have the potential to go down as one of the best quarterbacks to ever don an Oregon uniform.
These reasons and more have Duck fans dreaming of major things to come. Some things to watch as kickoff creeps up on us.
A DREAM SCHEDULE
Part of the optimism surrounding the upcoming season will be in part to the Ducks schedule, which sets up beautifully for an 8-0 start leading up the showdown with USC on November 3rd. After three non-conference games, all against over-matched foes from outside BCS conferences, Oregon opens Pac-12 play against Rich Rod and his depleted Arizona squad, which will head into Autzen with a new offense and many new starters.
The first time Oregon leaves the confines of Autzen will be to take on the Mike Leach-led Cougars in Seattle, meaning whomever takes over at QB will not see his first true road game until the Ducks head to the desert to take on Arizona State on October 18th, almost two full months from the season opener.
With this much time to get his feet wet, all assumptions are that, be it Mariota or Bennett at quarterback, any butterflies that the starter may have early in the season should be gone by the time the schedule picks up. With seven home games on the docket, Oregon seems to have a clear path to their fourth straight conference title. Only one little obstacle stands in their way…
THE SHOWDOWN IN HOLLYWOOD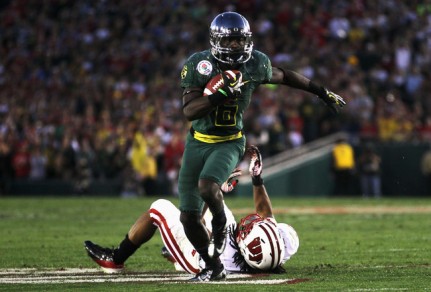 If Oregon and USC both take care of business, it will set up perhaps the biggest regular season game in Conference history. A game of this magnitude does not come along often, and in a season full of ho-hum opponents and games, a top-5 battle against the Men of Troy is just what the doctor ordered.
USC returns arguably the best skill position trio in the entire country, led by Heisman favorite Matt Barkley, and his targets Robert Woods and Marquis Lee. Throw in Oregon's speed, led by do-it-all star DeAnthony Thomas, and there are the makings of a shootout for the ages. Perhaps a script even Hollywood would have a hard time believing.
Even if Oregon comes up short in Los Angeles, there's always the possibility of a re-match in the conference title game, assuming they take care of business the rest of the way.
HUSKIES VISIT THE ZOO
Whether they're down and out, or the up-and-comers, any time the Huskies of Washington come to town, the intensity always seems to go up a few decibels. With momentum from a strong late-season finish, new defensive coordinator Justin Wilcox(a former Duck) and a Heisman-caliber QB in Keith Price, this figures to be the first competitive game between these bitter rivals in the better part of a decade.
No one can say for sure how any pre-season predictions will ultimately turn out. Injuries, bad bounces and pure dumb luck can all derail a season before it even gets off the ground. Oregon seems set up for another run, another year of firework offense and stingy D. If all goes according to plan, nothing short of 11 wins will be tolerated by an ever-demanding fan base. The talent is there. The depth is there, and the coaches are there. There seems to be only one thing left to do…
Win The Day.

CAN YOU HELP US?
The pictures you see of the Ducks on FishDuck.com come from professional photographers that must be paid! Please donate through one click so we have pictures from all the games this fall to use through the year. All previous donations helped to pay our big Web Developing bills recently, and I do appreciate it.
Our staff and the photographers who have thousands of dollars invested into their equipment to provide the high quality pictures do sincerely thank you.   Charles Fischer