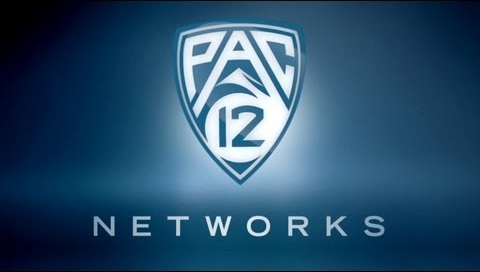 Nine days from now, on August 15th at 6pm, the Pac-12 Network will go live.  It should provide everything that a Pac-12 fan could want: live games, conference-centric reporting, and extensive coverage of all sports, not just football and men's basketball.  It should be everything fans have been anticipating since the network's announcement last July.
The big question is whether or not fans will actually be able to see it. As the network gets built, deals are struck with various providers, but as of yet there are no plans for any satellite providers to carry the Pac-12 Network, leaving millions without their Pac-12 fix.
For all the innovation promised by the conference, a look at the schedules (Network, Oregon) for August provided by the network, gives an idea of what the network is shaping up to be.  Yet when the networks were announced last summer, the Pac-12 promised a different network experience than anything seen before.
Looking at the schedule, it is essentially Fox Sports Net with a Pac-12 focus; one national network, six regional networks, with a programming lineup centered on some live games, some filler hours of studio shows, and a whole lot of talking heads.  Basically, the same thing as every other fledgling sports network is airing.
Unlike other sports networks, the Pac-12 should try a fresh approach.  Here are some ways the Pac-12 Network can improve their network to separate it from other conference networks:
Games and Game Replays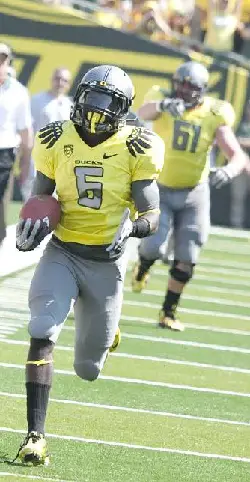 To the Pac-12's credit, they have handled the live games aspect of the network admirably.  Airing 35 football games this season, they have successfully found a way to provide games that previously would have gone unseen a national audience.  Making sure all Pac-12 football and men's basketball games are shown either on their network or partner networks is a huge step forward.  Showing many of the games of teams beyond just football and men's basketball on the network gives it hours of live entertainment, which will fill programming and build the brands of those teams.
The networks have also established that they will rerun some of the previous weekend's football games mid-week, which is great for fans interested in catching up on other Pac-12 games they may have missed by attending another game, or had their game air concurrently with one they missed.
The biggest obstacle for a network that has built a large amount of its programming around games is that the NCAA goes dark athletically for nearly three months per year.   You know this time well, as we've all lived through it for the past couple months, anxiously anticipating the return of fall.  This is where a network should rely on a staple of sports programming for time filling: old games.
The problem with old games is that it always seems like the same few games are always rerun.  That 2002 Oregon vs. USC game gets shown every year during the week leading up to the Heisman Trophy.  When other games are rerun without any kind of theme (bowl week, Heisman week, etc.) they are rarely more than a year or two old.  Here's a list of all the Oregon games that have been rerun this offseason:
2012 Rose Bowl vs. Wisconsin
2011 vs. USC
2011 BCS National Championship
2010 Rose Bowl vs. Ohio State (on Big Ten Network)
2008 vs. Boise State (on the former Mtn. Network)
2000 vs. Wisconsin (on Big Ten Network)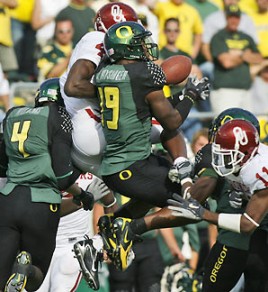 The last three comprise a majority of the re-aired Oregon games: Oregon losses broadcast on other teams' networks.  Meanwhile, even though a game like the 2012 Rose Bowl is special to watch, there have been other great games in the last few years worth seeing again as well.  1999 and 2001 vs. USC, 2005 vs. Cal, 2006 vs. Oklahoma, or any of the amazing games from the 2007 season (Michigan, USC, Arizona State) that seem to have been forgotten due to that season's disappointing conclusion.  All the above are games that rarely, if ever, have been re-broadcast since their initial airing.
Why must all the replays be of recent games?  A golden opportunity is missed when ignoring great games of more than a decade old, a chance to relive memories that may have faded over time.
Those games listed are just the ones that are of interest to Oregon fans.  There are eleven other schools that have their own lists of classic games they want to see re-aired that could comprise hours of programming.
Documentaries
In 2009, ESPN launched a massive sports documentary effort called 30 for 30.  The idea behind the project was to have thirty documentaries made by thirty different directors about a worthwhile sports story in the last thirty years, in the time since ESPN networks first launched—their 30th anniversary.  The series was a success, winning a Peabody Award, and spinning off into the entity of ESPN Films, as well as leading to a second round of 30 for 30 documentaries scheduled to begin airing in the fall of 2012.
One of the subgroups for ESPN Films is SEC Storied, a series of documentaries covering, obviously, SEC stories, with documentaries about Lolo Jones, the 1994 Arkansas Razorbacks' men's basketball team, and the 1992 SEC Championship game being among some of the subjects presented.
Considering all of the success that has come from 30 for 30, ESPN Films, and now SEC Storied, why can't the Pac-12 networks do the same?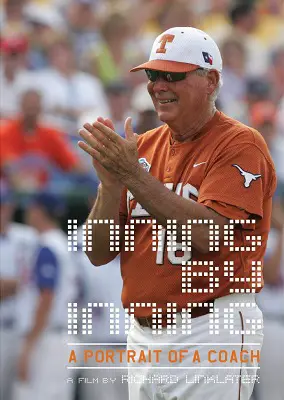 In a 2009 interview with 30 for 30 executive producer Connor Schell, he told the story of how the origin of the project came from a meeting with Richard Linklater (director of Dazed and Confused and The School of Rock) a few years earlier.  Linklater came to ESPN saying he wanted to make a documentary about famed Texas Longhorns baseball coach Augie Garrido, and asked if ESPN could provide the costs of the physical production of making the documentary, Linklater offered to work for virtually nothing.  Inning By Inning: Portrait of A Coach, was released in 2009, a project which came about solely by the imagination of a single fan of a team using his clout to create the film he wanted to make.
When Larry Scott became commissioner of the Pac-10, he stated that the conference was underutilizing having a major media market within its footprint.  This would be the exact type of project that would utilize the available resources of those in the Los Angeles media market.  There are many filmmakers who are alumni of Pac-12 schools, including USC, whose film school has produced an Academy Award winner every single year, any one of whom might be interested in creating a documentary on a topic related to their alma mater.
Imagine, instead of another studio show, the Pac-12 Network chose to run a documentary in primetime about one of the greatest moments in Duck history:
Decades of bitterness.  Logo stomping, vote fixing, and fan tackling.  For years, one school was a middling program, while the other school dominated the rivalry, and college football.  Today, their fortunes have reversed, and it all changed with a single play.  The Pac-12 Network presents: "The Pick", Tuesday at 8:00.
What Pac-12 fan, or sports fan in general, isn't watching a documentary about that?
Original Programming
The ideas presented here so far are just adaptations or improvements on existing ideas and programming from other sports networks.  If the Pac-12 Network really wants to make a splash, the kind of splash that would make it the gold standard of sports programming for not just conference networks, but for any sports network, it needs to venture into original programming.
Sticking with a programming lineup of games, game replays, and studio shows will certainly make the Pac-12 Network successful.  Its viewership will be consistent with its fan demographics and barring any disasters, will likely be profitable and reach its existing audience.
But this is 2012.  No business, and certainly not one run by someone as innovative and motivated as Larry Scott, will be happy with merely maintaining their existing audience.  They want to grow their brand as much as they can, and there is a very large pool to draw from: casual fans.
All sports viewers can be broken into three groups: Serious fans who will watch their sports no matter what; those who don't watch sports at all; and those who will watch a varying amount of sports determined by their level of interest.  This third group would be casual fans.
If you have been watching the Olympics in the last week, you may have noticed many profiles of athletes; pieces that frequently center on an athlete's struggle to merely arrive and compete at the games, let alone contend.  Those profiles began with NBC's television rights acquisition prior to the 1988 Seoul Olympics.  NBC was looking for a way to increase female viewership, and began to feature those dramatic profiles rather than solely focus on the sports events themselves..  These profiles continue as such a key element in the presentation in the Olympic broadcasts is because it worked.
That new female viewership base came largely from casual fans; fans whose viewership was based on a piqued interest rather than a pre-existing fandom.  Casual fans can become serious fans, as many who were drawn in by those Olympic profiles have become, but they have to be intrigued first, prior to their sustained interest.  In this day and age, that connection is created mostly with storytelling and celebrity.
Here are some shows which feature the conference and its members in a unique way that would build the brand and increase the popularity of the conference*:
(*It should be noted that I have absolutely no clue if any of these ideas violate NCAA bylaws, these are merely suggestions for directions programming could go.)
Pac-12 Gladiators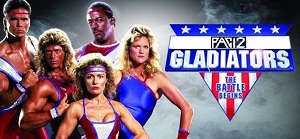 From the end of the College World Series to the start of the college football season, the college sports scene goes dark.  Rather than having months of shows with analysts speculating about upcoming seasons, we could get to know athletes through real competition.  It would also provide them a platform for featuring athletes in all sports, not just football and men's basketball.
Enter Pac-12 Gladiators.  Re-using the old American Gladiators format, two male and two female competitors compete in a series of events to determine who the better athlete is.  (At least I think that was the point.)  As for who would play the gladiators they were facing?  How about Pac-12 alumni?
(If you think the idea of this is completely absurd, there is precedence for Pac-12 athletes being on the show.)
Official Visit
HGTV's House Hunters is one of cable's most efficiently profitable shows.  The show's premise revolves around perspective home-buyers bringing the audience along as they look at three separate homes, and at the end of the show the home-buyers reveal which home they chose.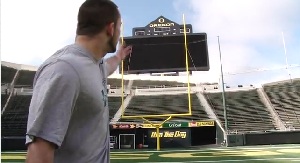 So why can't the exact same premise work with recruits and their official visits?  Follow perspective recruits taking their series of official visits (they are allowed up to five), watching them go through their process, seeing what kind of pitch the school makes, and then revealing at the end which school they chose.
It couldn't be called Recruiting Hunters, since that could potentially evoke the imagery of folks like Willie Lyles, so instead, let's call it Official Visit.
Hard Knocks: College
If the Pac-12 Network really wants to bust out the big guns, this is the type of show people want to see.  HBO's annual documentary miniseries, which follows an NFL team around training camp, has drawn rave reviews.  Other shows have tried to replicate what Hard Knocks has done, shows like ESPNU's All Access, but all have had limited success due to their inability to replicate the same feel.
The reason?  Hard Knocks only works because it feels completely unfiltered and candid; leaving the audience feeling as though the team had no say in what made it into the final cut.  This kind of access works for an NFL team, because their only obligation is to promote the franchise, and anything that does that promotion successfully is generally welcomed.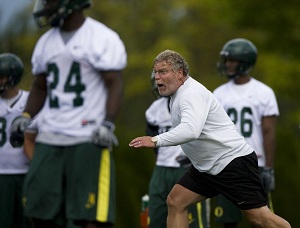 Meanwhile, a college football team is one of many extensions of a university, and universities are incredibly guarded about their reputations.  More specifically, the backlash to scholarship-holding "student athletes" acting as anything other than scholarly, would likely be harsher than it might be for grown men whose sole profession is playing a sport.
Still, for schools like Oregon State or Colorado, mired in years of mediocrity and looking for a way to pull even with conference stalwarts, why wouldn't they want their program to be featured in a show like this?  Why not give the program the recruiting advantage of being a part of one of the most talked-about shows in sports programming?
—
If there is any doubt about the potential success of these shows, ask yourself this question: Would I rather watch one of these shows?  Or watch Rick Neuheisel breaking down highlights of the Oregon State-Utah game for the sixth straight rerun?
Barring any disaster, the Pac-12 Network should be a successful venture.  They can play it safe, stick to programming that has worked for other networks, and guarantee moderate returns.  However, if it wants to be known as a game changer, it has to do something different. The Pac-12 is a conference known for its innovative offenses.  Let's hope its networks decide to express that same creativity.

Want to Watch Oregon Games on your computer?
If you do not get all the channels that have the Oregon Football games, or simply want to be able to watch the game over again as you don't have the space in the DVR to hold all the games?
Contact me by email: charles@fishduck.com and I can help.  We have fans across the nation and internationally watching the games 24/7/365 and I wish that for everyone.  Charles Fischer