Yesterday morning the question to which Duck fans around the world had longed to hear an answer for was finally announced by Head Coach Chip Kelly. Redshirt freshman Marcus Mariota has been named the starting quarterback going into the 2012-2013 season.
A quarterback competition that stretched out over seven months following an eye-opening performance in the April spring game was decided in favor of the speedy Hawaiian with no game experience, but tons of potential.  Bryan Bennett will be asked to quietly take a seat, never to be heard from again.  Thanks for playing.
Much of what you just read is true, but those last two sentences are a truckload of baloney sandwiches.
Bryan Bennett is going to be a very important piece to the puzzle that starts next week, continuing through the closing of the big mouths in Corvallis, Seattle, South Central Los Angeles, and the entire Southeastern Conference, and ends with the champions trophy from a BCS Bowl game being raised in victory.
Going back to the 2007 season, backup quarterbacks have taken 32.7% of the snaps for Oregon.  If you throw out the season where Michael Dyer can get up after he's tackled, the percentage goes up to a startling  38.15% .  Over a third of the meaningful snaps are USUALLY, not sometimes, handled by the young man who is NOT given the keys to the car in August.
Chip Kelly runs a high-powered, fast moving offense.  Quarterbacks love to run the offense, unless they have lead in their shoes and hay in their heads.  The offense puts up video game numbers, garners national acclaim, wins games by the double handful…and gets the quarterback nicked up quite a bit being exposed to defenders with no greater glee than to try to rip their heads off–just ask Ellis Powers, of Boise State headbutting fame.
Darron Thomas hurt both knees, Nate Costa hurt both knees several times, Justin Roper had a concussion and an injured knee, Dennis Dixon tore ligaments in his knee, Jeremiah Masoli had a concussion, knee problem and a strained code of ethics.  It just goes on and on.
Consider the list of injuries at the quarterback position for a moment.
Since Chip Kelly's arrival in Eugene, not a single year has gone by without an injury to a quarterback.
2007 – Dennis Dixon torn ACL, Nate Costa torn ACL, Brady Leaf broken foot
2008 – Nate Costa torn ACL (again), Justin Roper partially-torn MCL, Jeremiah Masolli concussion
2009 – Jeremiah Masoli strained knee ligaments
2010 – Nate Costa torn ACL (again)
2011 – Darron Thomas strained knee ligaments
I don't point this out in any way to instill some bizarre voodoo curse on par with evoking the name Buckner within Fenway Park or talking about "The Scottish Play" (MacBeth) to an actor, but rather to remind people that at any point it is just one play, one misstep, one big hit away from being the back-ups' team going forward.
Bryan Bennett has played in eight games for the Ducks, Mariota has played in none. Marcus Mariota shined in the spring game showing his potential, Bennett had a subpar day. No media or fans being allowed into practice meant having to rely purely on interviews with players and coaches to gauge their progress, but according to all reports both are perfectly capable of leading the University of Oregon football team to greatness, neck-and-neck throughout spring and fall in the competition for a job that, like Highlander, there can be only one–starting quarterback.
Mariota appears to resemble Nevada QB-turned San Francisco 49er Colin Kaepernick, both in skill set and calm demeanor, while fans have often drawn the comparison to former Duck QB Dennis Dixon. That's not a bad thing at all. Bennett is the gunslinger with wheels, fiery and prone to make a big play at any given moment with an absolute cannon for an arm. Also not a bad thing at all. Bennett has spent the last two summers at the Manning Camps working with NFL superstars Peyton and Eli Manning, and garnering rave reviews, again not a bad thing at all.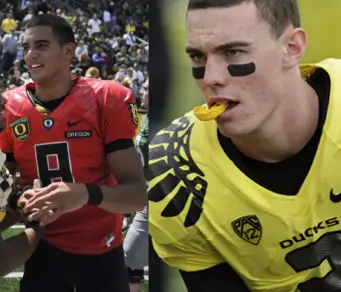 Oregon has had a two-quarterback rotation system in the past, with mixed results. 1997 Akili Smith and Jason Maas split time. In 2002/2003 Jason Fife and Kellen Clemens rotated. In both instances the players were simply too good to keep off the field.
Chip is faced with the same situation now, two stellar quarterbacks, but unlike his predecessor seems to have no issue with starting just one over the other. In reality with the shall we say not-quite-as-difficult-as-past-year's-schedule to start the year, it is fair to assume that both will play, extensively.
Expectations are through the roof for the young Hawaiian signal-caller without any game experience, as the media has fallen in love with him predicting he would win the competition ever since the spring game. In recent weeks pundits on ESPN and the Pac-12 Network declared Mariota the likely starter, and the Mariota vs. Bennett topic was written about ad nauseum all summer, the twitter battle between #TeamMariota and #TeamBennett at times getting quite testy.
Perhaps expectations are too high, though last time a new quarterback with zero starting experience stepped in at Oregon–Darron Thomas–all he did was lead the team to a national championship game, no biggie. With Mariota at the helm and the surrounding cast in tow for 2012, could the bar be set any higher?
If Mariota stumbles in any way in leading the team, Coach Kelly seems the type who without hesitation may put in the other guy, just as he did last year when Darron Thomas struggled vs. ASU putting in Bryan Bennett to spark the 2nd half comeback.
While the public view of Mariota's abilities has been mainly limited to just one extraordinary outing in April, his persona on camera shows a calm, cool, collected kid who never appears to get rattled, and thinks team-first to the point of annoyance of most reporters, having to pry out responses from him talking about himself rather than the team with a crowbar.
So, while we congratulate Marcus Mariota and can't wait to see him take the field beginning with next week's game against Arkansas State, knowledgeable Duck fans know that the day may come sooner rather than later when we say,
"Boy, I'm glad that this guy is on the team."

CAN YOU HELP US?
The pictures you see of the Ducks on FishDuck.com come from professional photographers that must be paid! Please donate through one click so we have pictures from all the games this fall to use through the year. All previous donations helped to pay our big Web Developing bills recently, and I do appreciate it.
Our staff and the photographers who have thousands of dollars invested into their equipment to provide the high quality pictures do sincerely thank you.   Charles Fischer