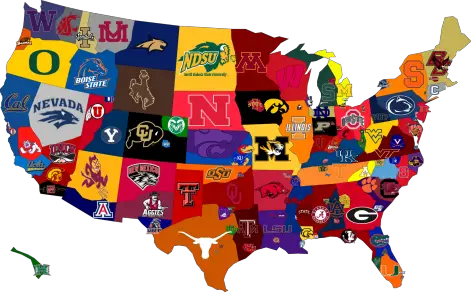 Stay tuned this season for celebrity rehab, if you are an LSU fan. See your favorite honey badger show, how he has changed, and hopefully becomes a 1st round draft pick next season (talk to Janoris Jenkins for some advice). With kick-off less than two weeks away, let's get into some news and thoughts:
Idaho football has decided to go independent. With the WAC falling apart, Idaho board members approved the change. Idaho now can schedule whoever, whenever–for football–but Idaho will have the rest of their sports teams compete in the Big Sky conference. With all the conference realignment happening, it could be in a lot of small schools' best interest to simply go independent. Schools such as Idaho will never compete for national titles, so by going independent, they can schedule as many small time opponents and put up an impressive win record, or schedule more "payout" games to help fund the program, either way this will prove to be a good move for their school. More small schools will have to judge Idaho's success for the next 2-3 years and possibly consider this move as well.
Ex-LSU's Mathieu checked himself into rehab instead of finding a school to play for this fall. Does that mean his "issues" were a lot worse than everyone knew? I think Mathieu is making a good move. By doing this, he will show people he is trying to get better and get away from his old ways. Also by doing this, it could make NFL General Managers warm up to drafting him in a high round again. So many times top college players get in trouble and their NFL draft stock plummets. Rehab could get Mathieu back on track and back into the 1st or 2nd round of the draft.
Oregon has shown glimpses of its new helmets for the upcoming season. Oregon was not the only ones busy with new uniforms this past week. Notre Dame seems to be breaking away from tradition and getting into the "new" uniform scene. I like the new uniforms, but most people are against such a drastic change from the traditional Notre Dame uniform. Before you know it, every team will have a different uniform for every game. Maybe Oregon will break out these classic uniforms.
Football season better start fast before Bob Stoops runs out of players. This is just a casualty of the off-season. Football season is less than two weeks away. Lets just keep hoping our favorite team and players can stay out of the news (and a jail cell).
Texas A&M vs. Louisiana Tech is the game everyone is saying keep an eye on early, aside from, ya know, that big Michigan-Alabama game in the first week. La-Tech is a possible BCS Cinderella this year, and have a chance to make a statement right away in Week 1. Texas A&M is now apart of the SEC and losing to smaller schools like this will only hurt their credibility in the league (ask Ole miss about that Jacksonville State game). Winning this game and squashing any upset rumors will help A&M's coach Sumlin get off to a good start.
With the season about to begin, every school is in full practice mode. The pads are poppin', there's a certain energy in the air–football is almost here! This weekend is the University of Florida's open practice so I know how I will spend my time. At least I do not have to wonder who UF's starting QB will be right now.
NATIONAL NEWS:
1. College football mailbag
2. Louisville ready for success
3. North Carolina academic scandal in full swing
4. USC better than LSU
5. Georgia to mimic Oregon
OREGON NEWS:
1. Show your support Duck fans
2. Oregon in a good place
3. Keeping an eye on the PAC-12
4. Future Duck opponents
5. Oregon's Kelly gives his thoughts on new uniforms and news
6. A preview of one of Oregon's big positions of concern–Wide Receivers
7. Is Oregon underrated?

Want to Watch Oregon Games on your computer?
If you do not get all the channels that have the Oregon Football games, or simply want to be able to watch the game over again as you don't have the space in the DVR to hold all the games?
Contact me by email: charles@fishduck.com and I can help.  We have fans across the nation and internationally watching the games 24/7/365 and I wish that for everyone.  Charles Fischer