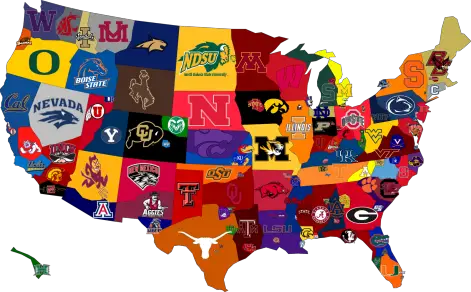 Honey Badger is out officially, so tune in for celebrity rehab. Ducks fans can start buying their #8 jersey now that Chip has declared who the starter is, Marcus Mariota. Oregon is not the only school who named their starting QB, a lot of schools have been making their final decision on who will be the starting QB for their team this week, but one team names their starting QB amidst high fashion sense. As for all you WAC football fans…a moment of silent for your conference. Guess the University of Idaho knew what was coming before everyone else. Now let's get into some more news and thoughts:
1. Looks like Penn State is still making new headlines, for all the wrong reasons. Penn State fans should just be prepared for this probably for the next 2-3 years. As each victim comes forward and settles their lawsuit and issues, the media will keep us well informed and probably pay little attention to the football team. Best of luck to Coach O'Brian and his staff the next few years, they will be able to relate to SMU.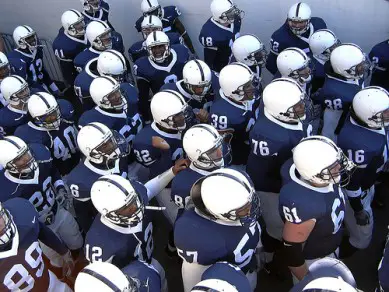 2. Marcus Mariota is in as Ducks' starting QB. I am sure lots of readers on this site have mixed feelings, but mostly excitement. If you saw Mariota in the spring game, then your feeling is just pure excitement. Chip is wise to make him the starter, as starting somebody with zero game experience is difficult but he will have three cupcake games to prepare himself for Pac-12 play. Also he is only a redshirt Freshman, meaning Chip will have him for a very long time at QB. Mariota will be the man leading the Ducks into the playoffs in 2014.
3. Good to hear Oregon has made a decision at QB, because Florida can not decide who they want to play QB after the position battle went well into fall camp and no one has emerged as the favorite. Coach Muschamp does not have the same luxury as other coaches when it comes to having a few cupcake games to start off. After Bowling Green, SEC play begins and Muschamp will need make a decision on who will be leading those late 4th quarter drives. So for now it's the dreaded "dual0quarterback system," which leads to division and difficulties more often than success. Then again, Florida did win a national championship using both Leak and Tebow…
4.Da'Rick Rogers was suppose to be the star of Tennessee football this year, but instead it now looks like he will be sitting out this season. Coach Dooley is on the hot seat already, so for him to suspend Tennessee's best offensive player says a lot. A lot of coaches lately have not been afraid to suspend star players and let them know that the team is not bigger than one player, but with Dooley's job clearly on the line it is still a bold move. I am sure when Coach Dooley finishes 5-7 and the passing game just could not get going, he will be kicking himself in the butt, but Da'Rick Rogers will also be kicking himself in the butt about what could have been this season.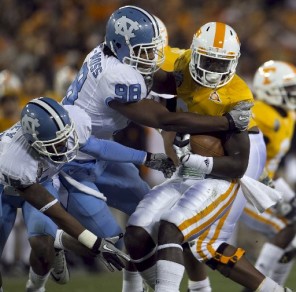 5. We all know Penn State is going to struggle. Their non-conference schedule really has put them at a dis-advantage to start off the season. There are no real cupcake games to let Penn State coaches see what they are working with. The schedules are made years in advance most of the time, but this year's schedule is not doing them any favors considering the tragic circumstances surrounding the program over the past year. They open up with Ohio, who some say could be a BCS buster and will dominate the MAC conference this year. Then a trip to a much improved Virginia team, with ACC title dreams. Penn State then closes out with Navy and Temple, who are both no push-overs, Maryland can confirm the truth in that about Temple. Penn State fans need to be faithful, even though a 0-4 start could be possible.
NATIONAL NEWS:
1. No girls at LSU
2. Notre Dame names starter
3. Tide roll in recruiting
4. Auburn making headlines
5. BIG-12 proud of new ways
OREGON NEWS:
1. One less worry for Duck fans
2. Oregon releases depth chart
3. Mariota ready to lead
4. Lady Duck volleyball is perfect
5. Dress tips for Duck fans
6. A look at Oregon's wide receiver position
7. Mariota leading the Ducks is fulfilling a dream
8. Hroniss Grasu is one talented centerpiece of the Ducks

CAN YOU HELP US?
The pictures you see of the Ducks on FishDuck.com come from professional photographers that must be paid! Please donate through one click so we have pictures from all the games this fall to use through the year. All previous donations helped to pay our big Web Developing bills recently, and I do appreciate it.
Our staff and the photographers who have thousands of dollars invested into their equipment to provide the high quality pictures do sincerely thank you.   Charles Fischer