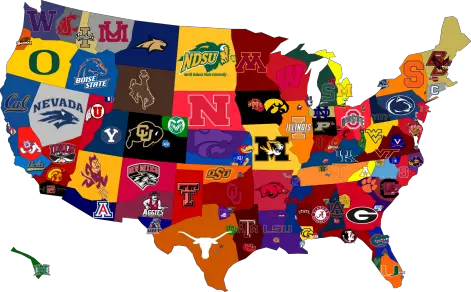 Wow! Now that is some news. LSU kicking the "Honey Badger" off their team right before the season starts. We are less that three weeks away from the season starting and I am sure LSU can grab a solid replacement from Penn State before the season starts, since they already took a Penn State QB. Congratulations to Southern Poly Tech A&M Junior College for having the best defender in the nation fall into your lap for a year before Mathieu goes pro.
Now let's get onto some news and thoughts:
I think it is funny about the war of words about to begin with USC coach Kiffin and UCLA Coach Jim Mora Jr. UCLA and USC are no strangers to rivalry, but with USC's recent success and UCLA's total ineptitude it hasn't been much of a battle of late, beyond making total mockery of Rick Neuheisel's previous attempt to lay claim to Los Angeles.Of course this squabble is all over campus safety and nothing to do with football, but at least it is something to get the teams riled up with back-handed comments playing out in the media with a general reporter equivalent reaction of "oh snap, no he didn't!" There have been rumors that a USC practice was canceled once because of gunfire in the distance near the practice field. If that is true why would you ever want to go to USC? Sure it is elite, but if I was a star athlete on the west coast choosing a PAC-12 school, I would choose Oregon.That is not me being biased, it's just a good move. Oregon is safe and committed to being ELITE amongst all schools in the country.
Did you hear about Auburn losing their star recruit running back? I guess his transcriptswere not even up to SEC par. First there was "scam" Newton where Auburn may or may not have gotten away with paying for Newton (or his dad's church simply magically got renovated with pennies from heaven), then there is Michael Dyer "leaving" the team, and then Auburn players come out and say they received payments in the past from boosters. Now players are getting into the program with shady high schools transcripts.Auburn is the "wild west" when it comes to following NCAA rules. The NCAA will hammer them in the next five years. I am sure when Cam Newton wins a super bowl he will not say "I am going to Disneyland," he will say "Thanks for all that money I received at Auburn to get me here to the NFL."
Have you had a chance to watch the ELITE-11 on ESPN? It is the top high school QBs competing to be rated the TOP QB for their senior year. It is crazy to see what young kids are putting themselves through to be ready for the college game, and eventually the NFL. It is very entertaining, but I just hope these kids don't forget they are kids and can enjoy the college experience too. 
Back onto the news of

Tyrann Mathieu 

being kicked off LSU. For Les Miles to have an ALL-SEC player, a HEISMAN finalist, and an ALL-AMERICAN on his roster and still kick him off the team is big. Props to him. Most coaches now would just suspend a player for a few games, or some similar punishment. Coaches now are under so much pressure to win but also so much pressure to keep their players in line. LSU has similar distractions last year and managed to be in the title hunt. Exact details are still somewhat sketchy on this though, and it sounds like he may not have had a choice, as he was kicked out of school not the athletic program. I am still predicting they will be at worst a 9-3 team this season.
Miami Hurricanes will be my sleeper team of the year, if they can ever escape NCAA issues. Last year they managed to only finish 6-6, but that record is deceiving, as Miami lost all their games by less than a touchdown. Half of the losses even came down to the final minute, and losing by four points or less.

Give Al Golden credit for keeping his players somewhat focused during that season with all the NCAA distractions. Golden will win go 9-3 this year and possibly be in the ACC TITLE game mix. Being a Gator I do not like the Miami Hurricanes–they have the worst fans in the nation–but those fans are about to be treated to some good football again.
Football season is almost here. The only thing to keep me entertained right now is the Little League World Series and that is a tough sell for me. Oh, and the Olympics. Gotta love that rhythmic gymnastics, synchronized swimming, dressage, whitewater kayaking, and speed-walking, now those are definitely sports more worthy of Olympic competition than baseball and softball (which were both dropped by the Olympic Committee this year).
Now it is time to look over your Week 1 match-ups. We will be treated to some great games early such as Michigan vs. Alabama, Boise State vs. Michigan State, Washington State vs. BYU, and Georgia Tech vs. Virginia Tech. Get ready for some football and hope your favorite player is not kicked of the team before the season begins.
Until next week college football nation…
---
NATIONAL NEWS:
1. Tide player is out
2.  College football mailbag
3.  Georgia might have solved backfield issues
4. Vandy Walk on now has full ride
5. Penn State sorting through sanctions
---
OREGON NEWS:
1. PAC-12 finalizing network
2. Oregon gets new punch bag dummy
3. Oregon fan day is upon us
4. Ducks are golden
5.  Oregon football starting, and so do the injuries