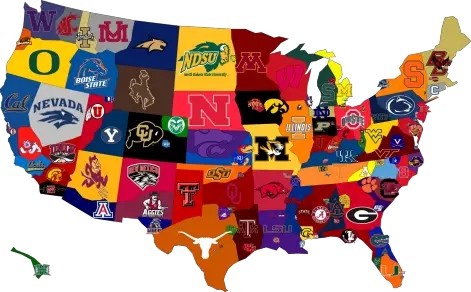 The preseason polls are in, time to check where your team landed and start complaining for the next month about how "team X" is better than "team Z" and should be ranked higher. Besides the usual arrest report (ex-Auburn ex-Arkansas State Michael Dyer), nothing new to talk about unless you're a Penn State fan. Let's get onto some news and thoughts:
SEC is dominating again, this time in the polls. Five teams in the top-10 and a total of seven in the Top-25. By the end of the season I bet only two teams will be in the top-10 and a total of four teams will in the Top-25. I just can't see Florida (my team) or Auburn holding strong against their schedule. It should be interesting to see how everything shakes down in the SEC with Texas A&M and Missouri coming on down to the south.
A thought here, I wish they did not come out with Coaches Polls or a Top-25 until maybe the 5th or 6th week. Sometimes coaches and the media are giving praise to a team that does not deserve it. For example: Arkansas is ranked in the TOP-10 but could easily fall apart without their coach. We should see how they hold up before keeping them as a Top-10 team. The only good thing rankings are good for is hyping up a game. The Pollsters need to hold off until they really see what teams are made of before they start ranking and arguing over who is #1.
Duke football is cheering up a storm right now.The NCAA has come out with new guidelines for teams to become bowl eligible. This of course is something that can be expected with so many teams on bowl bans and possibly a few more about to be added to the list. At the way schools are getting banned from bowls you will probably see Oregon vs. Toledo in the Rose Bowl next year. At least with these new guidelines, Duke Fans can cheer on their football team for those elusive five wins.
If FSU does not win the ACC this year or make a BCS bowl, then firing Bowden was the wrong move. Jimbo Fisher needs to prove he can lead his team to 10-win seasons and BCS games. The ACC is weak competition and FSU out recruits anyone. This is the make or break year for FSU fans and Jimbo Fisher. This is his time to show he is the right one to replace Bobby Bowden and make people "fear the spear"…again.
Just to keep the conference realignment dominoes stirring, the BIG-12 needs to snatch up Louisville and BYU, which will complete a 12-team conference. Louisville will bring decent football and one heck of a basketball team while BYU brings a national "religious" brand (like Notre Dame) to the BIG-12. It is a win-win. It is a slow time right now, why not stir up the media with an announcement like that?
It will be interesting come these next few seasons to see how the "white-outs" look with Penn State being on probation. Just a little over three weeks until football season is here. I also wonder how many 5-7 teams will be going to a bowl this year. Really? 5 wins, that's it? We need to do away with the Godaddy.com Car Sales Burrito Denver Steak house bowl games and make them more sacred again. The post season is a privilege not a right. That is all for now.
Until next week college football fans
NATIONAL NEWS:
1. Penn State sneaks out of death penalty
2. Gators lose WR coach right before season
3. Montee Ball already taking hits
4. Oklahoma down another WR
5. College football mailbag
OREGON NEWS:
1. The Oregon vs. USC hype has begun
2. Ducks lock up north division
3. Lady Duck's soccer starting up
4. Oregon runs away with silver
5. More ducks to watch

Jeff Hostetler may not have won a Super Bowl with the Giants ( though his uncle of the same name did). He has been an obsessed college football fan living in Florida ever since the Gators beat FSU in the Sugar Bowl to earn the UF's first national championship.
Ever since Jeff has immersed himself in everything possible related to college football. He enjoys watching, writing, playing, and otherwise obsessing over all things football. A graduate of the University of Florida, he brings a perspective to FishDuck free of our extreme green & yellow homerism glasses to look at the current landscape of collegiate athletics.
THREE FishDuck Promises to Readers…
We will be the cleanest Oregon site with no ads or videos starting up to annoy you.
We will be the easiest Oregon site for mobile (Cell phone and Pad) users, as we want it fast for you.
We will be the safest Oregon site for everyone, as we monitor comments and assure that everyone is polite to all. (And we do want all your opinions!)
Simple, clean, effective and fast!