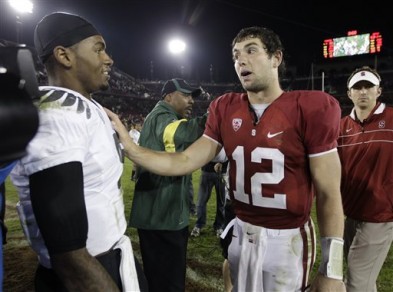 Which quarterback will have the best season in the Pac-12 in 2012, now that these two are both gone?
For many years, the Pac-12 conference has been known for its high scoring offenses, and elite skill position play. First and foremost, the quarterback position has especially been a strength, consistently pumping talent from the west coast into the NFL rank and file. Names like Norm Van Brocklin, Jim Plunkett, John Elway, Dan Fouts, Warren Moon, Troy Aikman, and current Green Bay QB Aaron Rodgers are just a few that the conference has produced. For decades, the Pac-12 conference has churned out All-American, All-Pro, and Hall of fame caliber talent at the position.
Last season, as has become almost an annual occurrence, the conference featured several early NFL draft selections, including #1 overall pick Andrew Luck, Nick Foles, and Brock Osweiler (all 6'8″ of him), leaving some big shoes to fill at several schools.
In 2012, expect the QB quality and depth to be as great as ever, many pundits projecting another banner year for the spotlight position on the field. Players like Matt Barkley and Keith Price are already garnering some Heisman hype, and there will no doubt be some added attention thrown at players leading new systems being implemented under new head coaches like Jeff Tuel at WSU or Matt Scott at Arizona.
Whomever wins the job at Oregon would also figure to factor into the mix, provided that Bennett or Mariota (or Lockie or Rodrigues or Haines) can run the offense with a similar efficiency that Darron Thomas was able to implement the past two seasons. The announcement for the official depth chart is set to be released today (Friday), as will Arkansas State's starters be announced in the week leading up to gameday. After a lengthy summer of arguments and analysis stemming from Marcus Mariota's eye-popping performance in the spring game, all of the waiting and questioning will be finally put to rest when a starting quarterback is decided.
As Duck fans, we should be extremely thankful that Chip gets to choose between these two. We all know that Bennett is electric on the field, both running and passing. If Mariota is good enough to beat him out, we are in very good hands. Chances are, we will see a lot of both of them playing in these first three games, predictably blowouts affording opportunities for both staretrs and backups to get extensive game reps. Only eight days, Ducks fans, see you in Autzen!
Here is a look at the Pac-12's top passers last season.
PAC-12 Passing Leaders 2011
| | | | | | | | | | | |
| --- | --- | --- | --- | --- | --- | --- | --- | --- | --- | --- |
| Player | ATT | COMP | PCT | YDS | YDS/A | LNG | TD | INT | SACK | QB Rating |
| 1. Nick Foles, Arizona | 560 | 387 | 69.1 | 4,334 | 7.7 | 54 | 28 | 14 | 23 | 145.6 |
| 2. Brock Osweiler, ASU | 516 | 326 | 63.2 | 4,036 | 7.8 | 60 | 26 | 13 | 28 | 140.5 |
| 3. Matt Barkley, USC | 446 | 308 | 69.1 | 3,528 | 7.9 | 82 | 39 | 7 | 8 | 161.2 |
| 4. Andrew Luck, Stan | 404 | 288 | 71.3 | 3,517 | 8.7 | 62 | 37 | 10 | 11 | 169.7 |
| 5. Sean Mannion, OS(u) | 473 | 305 | 64.5 | 3,328 | 7.0 | 69 | 16 | 18 | 24 | 127.1 |
| 6. Keith Price, Warsh | 362 | 242 | 66.9 | 3,063 | 8.5 | 80 | 33 | 11 | 26 | 161.9 |
| 7. Zach Maynard, Cal | 405 | 231 | 57.0 | 2,990 | 7.4 | 90 | 17 | 12 | 27 | 127.0 |
| 8. Tyler Hansen, Colo | 412 | 231 | 56.1 | 2,883 | 7.0 | 78 | 20 | 11 | 26 | 125.5 |
| 9. Darron Thomas, Oregon | 339 | 211 | 62.2 | 2,761 | 8.1 | 69 | 33 | 7 | 11 | 158.7 |
| 10. Marshall Lobbestael, WSU | 341 | 208 | 61.0 | 2,584 | 7.6 | 80 | 19 | 8 | 29 | 138.3 |
| 11. Kevin Prince, UCLA | 224 | 126 | 56.3 | 1,828 | 8.2 | 76 | 12 | 8 | 25 | 135.3 |
| 12. Jon Hays, Utah | 214 | 120 | 56.1 | 1,459 | 6.8 | 65 | 12 | 8 | 28 | 124.4 |
With seven of the twelve quarterbacks from last season having graduated or otherwise not expected to receive first team reps this season, let's have a look at the projected starters for each conference school and whom may be the best in 2012.
12.  Taylor Kelly, ASU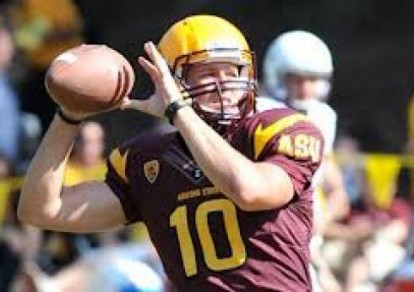 The Sun Devils recently named Taylor Kelly as the starting quarterback, or did they? It seems new head coach Todd Graham is adamant about the prospect of playing two quarterbacks, rotating both Kelly and the more athletic Michael Eubank. However they choose to proceed with the playing time at the spot, Arizona State does not figure to be among the better passing teams in the Pac-12.
Graham's Pittsburgh team was a ground-and-pound offense, running the ball often between the tackles overpowering opponents, and Graham has two great backs in Kyle Middlebrooks and Cameron Marshall to be able to do just that in the Pac-12.
Taylor Kelly has worked extensively in the off-season on throwing deep passes and reading defenses in particular. The Sun Devils will have very little margin for error early on; facing Illinois, Missouri, Utah, and Cal in the first five weeks.
Jordan Webb, Colorado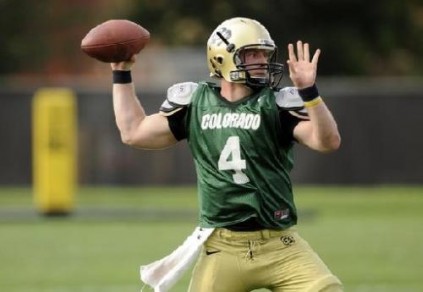 After transferring from Kansas, where he started 19 games, Jordan Webb brings a 10-game losing streak with him. Not much is expected for the Buffs this season still in the process of a massive rebuilding process, but Webb provides a fresh start for the Colorado faithful.
After beginning the season in disastrous fashion, the team rallied to win their final two games, including an impressive win over Utah, which kept the Utes from winning the Pac-12 Southern Division, instead sending UCLA to the championship game.
Head coach John Embree begins year two of his rebuilding project, and if Jordan Webb can transition well, the Buffaloes will have at least two seasons with a steady quarterback to begin their climb back to relevance in college football. The cupboards were relatively bare when Embree took over, but with Webb he has experience at a vital position surrounded by a lot of young talent needing time to develop.
Brett Hundley, UCLA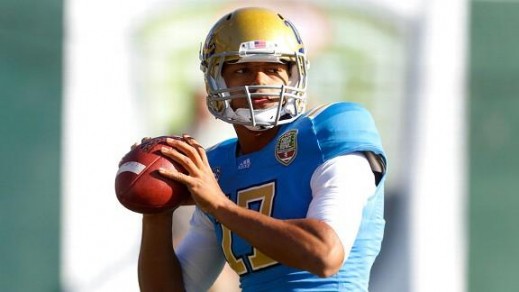 In surprising fashion, redshirt freshman Brett Hundley beat out seniors Richard Brehaut and 26-game returning starter Kevin Prince for the starting job under first year head coach Jim Mora Jr. Hundley is described as having a better upside than the two veterans, a player the Ducks recruited heavily, and expectations are high in Westwood for the defending Pac-12 south champions of a new era under Mora with Hundley at the helm can raise the bar beyond the middle-tier performances of the past few years.
There will some guesswork involved early as Mora establishes his offensive philosophy and personnel. All indications are that Hundley has tremendous athletic ability, and he put up nearly 3,000 yards passing and 800 yards rushing his senior year in high school. After a redshirt year with zero game experience, will Hundley be able to thrive in the Pac-12?
Josh Nunes, Stanford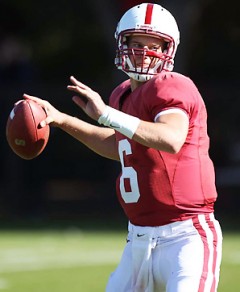 Junior quarterback Josh Nunes has been the other guy for a few years now, toiling in relative solitude in one of the loneliest jobs on the planet–being Andrew Luck's backup. Now it is his turn, and after a few years in the Stanford system, Nunes get his chance to execute hand-offs and throws to tight ends in live play in a system that will still be very run-heavy, and potent with senior tailback Stepfan Taylor returning for his final campaign.
Don't expect him to compare to Andrew Luck, it's tough in any situation to follow immediately after a legend, but he beat out some highly-touted competition in camp, and the coaches chose him citing his overall consistency. With much of the team that made it to the BCS Orange Bowl last year returning for 2012, look for Nunes to have a solid year for one of the conference's best teams.
Zach Maynard, Cal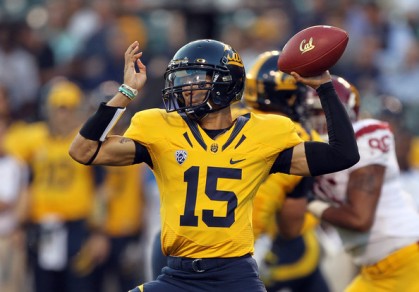 Despite 27 sacks and 12 interceptions in 2011, Zach Maynard actually put up respectable numbers, but faded down the stretch (a common trend in recent years with Cal), and looked absolutely atrocious in their bowl game against Texas.
In a unique arrangement, Maynard will again be throwing passes to his half-brother, Cal receiver Keenan Allen (in case you hadn't heard broadcasters mention that several hundred times previously), Allen being arguably Cal's best player. Cal fans hope that Maynard can improve enough in Jeff Tedford's system to challenge for the Pac-12 North crow, but it won't be easy considering the competition.
In order for that to be realized, he will need to take a quantum leap in decision making, arm strength, and accuracy. In addition to Allen, running back Isi Sofele is one of the top returning backs in the conference. Tedford is renowned as a QB guru despite recent years of very spotty quarterback play, but does he have the skills to make over Maynard and prop him up for an entire season against some very difficult competition?
Sean Mannion, OS(u)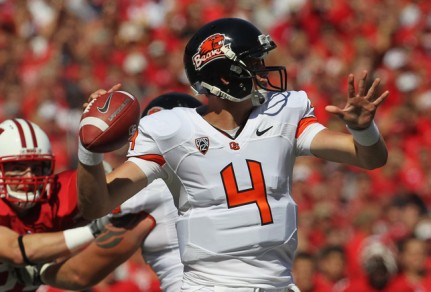 If the 2012 Beavers can't run the ball any better than they did last year, Sean Mannion's arm might fall off. Last season in one game alone, Riley called upon his then-true freshman 66 times to throw the ball in a losing effort, simply because of the total incapability to run the ball. I like Mannion even though he's a Beaver, he has NFL measurables, is said to be a hard worker, a student of the game, and a great kid. If he can find a way to get his turnover-to-touchdown ratio out of the "red," the Beavers might take a 2-3 win jump the 9-loss dumpster fire of 2011.
Mannion should have some good targets on the outside with receivers Markus Wheaton and Brandin Cooks. He put up some respectable numbers while being asked to do a lot as a freshman. If the team around him improves, he could surpass his 3,328 yards, and he should be expected to cut down on the interceptions. With continued woes along the offensive line in Corvallis, the biggest challenge he is likely to face is avoiding sacks.
6. Matt Scott, Arizona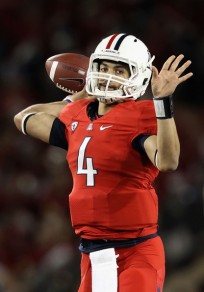 All eyes will be on Matt Scott, his performance will serve as a measuring stick for the early success of Rich Rodriguez' chance at redemption in Tucson. After a high-profile failure at Michigan, and then a hiatus from coaching last season, Rodriguez is eager to pump some life back into Arizona football since the crest of the program reached the night Arizona lost to Oregon in double overtime in 2009, his reputation as an offensive guru perhaps propelling the program over the hump that has kept them as the only team from the original Pac-10 that has never played in a Rose Bowl.
After graduating one of the very best quarterbacks in Wildcat history in Nick Foles, it will be a fresh start in Tucson. Arizona will likely have a much more balanced attack in 2012, and there will be ample opportunity for Scott to rack up yards passing and throwing in the spread option. Arizona will get to test their new offense against two of the best early on, playing Oklahoma State in week 2, and a visit to Autzen Stadium to play the Ducks on 9/22.
5. Jordan Wynn, Utah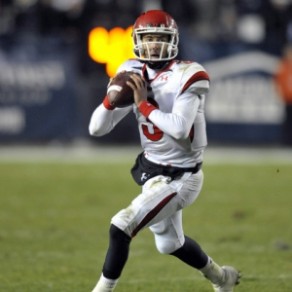 Jordan Wynn returns to the Utes roster after his junior year was cut short, enduring the third shoulder surgery of his college career. Wynn shined as a sophomore, and the Utes have depth with senior John Hays on the roster as well. Utah figures to field arguably the best defense in the conference again in 2012, but they will need to improve an offense that ranked 104th in the country last season, marred by inconsistent QB play after the loss of Wynn, despite running back John White being 2nd in the conference in rushing.
Should the defense remain stout, and running back John White IV has another 1,500 yard/15 TD season, Utah will be in good shape, a lock for a bowl berth. If Wynn can stay healthy, the Utes should be considered the primary contenders in the south behind USC.
Jeff Tuel, Washington State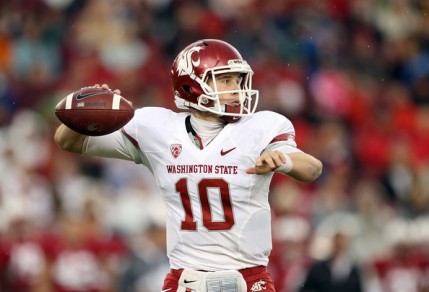 Jeff Tuel might just be the happiest quarterback in the Pac-12, after the Cougs made a coaching change, bringing in just about the most pass-oriented guy in the country there is in Mike Leach. Wide receiver Marquess Wilson is a dynamic play-maker, arguably the best wideout in the conference if not the country, the experience combo of Tuel and Wilson providing WSU fans with a renewed sense of excitement, missing for most of the past decade around Pullman.
Don't be surprised if Leach's offense leads to a huge year statistically for Tuel, and the Cougs might just have enough this season to end their bowl drought. It will still take a couple years for the program get to where Leach envisions it, but the Air Raid scheme being implemented in Pullman immediately makes the Cougars competitive.
Bryan Bennett/Marcus Mariota, Oregon
Whoever wins this job will be an excellent quarterback within Oregon's unique system. From an overall athletic standpoint, either Bennett or Mariota possess as much or more of the raw tools desired in this system than any quarterback in Duck history.
Time has shown that in the Chip Kelly offense, experience is not always required to accomplish big things at the position–case in point Darron Thomas leading the team to its first 12-0 season and shot at a national championship after not starting a single game prior to 2010. Whichever one wins the job will surely have a gigantic year with one heck of a surrounding cast to support them.
At the time of publishing this article the starter is still yet to be announced, but my gut call says Marcus Mariota will get the nod. That same projection has been bounced around in the media, and based on the unbelievable spring game performance the consensus has leaned that way as well–Mariota seemed so fluid with his footwork, ball fakes, throwing motion and accuracy. Bennett is as fast as they come at the position and has an absolute cannon for an arm, but Mariota and the Oregon offense seem like they have been searching their whole lives for one another.
Of course, I could be totally wrong and Bennett could be the guy,and Oregon would be just as successful. I am just glad they are going to put an end to the question today, once and for all.
Keith Price, Washington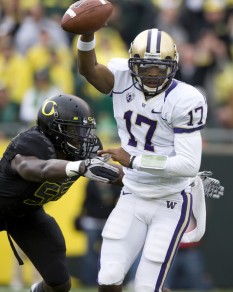 After a dazzling seven-touchdown performance in front of a national audience in their bowl game (that they some how STILL lost) vs. Baylor last year, the junior signal-caller enters the year as the clear-cut leader of the team, one of the best dual-threat quarterbacks in the entire country. He threw for big numbers last season, and figures to improve over last year if Washington can find a running game having to replace the departed Chris Polk, and a few worthy passing targets.
Price has entered the preseason Heisman conversation, and he will be interesting to watch throughout the season. He started his first collegiate game in Autzen Stadium replacing an injured Jake Locker and played very well, and gets to return to Eugene to face the Ducks on October 6th. Price will get his chance to shine early, as the Huskies have a tough early part of the season, facing LSU in Baton Rouge at night in week 2. They will get a short rest with a home game against Portland State before entering a three week stretch of Stanford, Oregon, and USC.
Matt Barkley, USC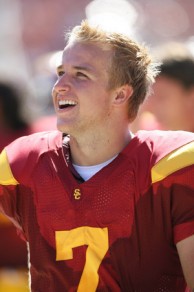 An obvious pick here, as the golden boy returned amidst much fanfare involving a Christmas tree and bad singing. A sure fire lock for every postseason award imaginable per national media, the senior seemingly has made the right choice to wait it out, and enter the draft AFTER Andrew Luck and RG3. His stock has risen steadily along with that of his team after pulling off the upset in Autzen last year, a 3-point victory over Oregon and a strong returning group of starting vaulting USC to the top of the polls despite mixed results during Barkley's career.
Now entering the final season of a full four-year starting career, should he stay healthy, he looks primed to have a great season. Don't get me wrong, he's "OK" and all, but if he wins the Heisman, the reasons why will be named Lee, Woods, Redd, and a few extremely impressive offensive linemen helping to make Barkley look very good.

CAN YOU HELP US?
The pictures you see of the Ducks on FishDuck.com come from professional photographers that must be paid! Please donate through one click so we have pictures from all the games this fall to use through the year. All previous donations helped to pay our big Web Developing bills recently, and I do appreciate it.
Our staff and the photographers who have thousands of dollars invested into their equipment to provide the high quality pictures do sincerely thank you.   Charles Fischer