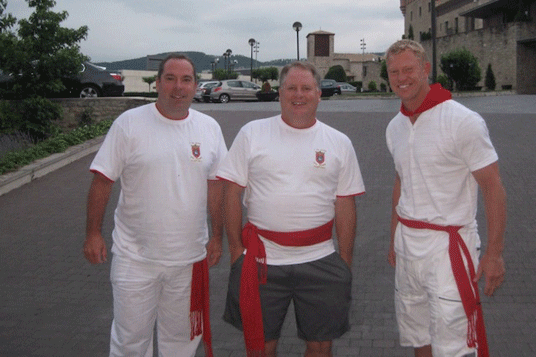 Historically, Oregon fans have had what is known as "The Fear." It is the unshakeable feeling that as soon as you believe in the possibility of something good happening, it will immediately be ripped away from you in the most gut-wrenching way possible.  That something beyond the control of the team – be it computers or injuries – will derail the chances of a team that, in the mind of the fan, deserves to win.
Perhaps like a mental trauma, Oregon fans may hold reservations of fear, able to rattle off the years when the Ducks seemed on the precipice, only to have it ripped away by injury, bad calls, or bad luck…1998, 2000, 2001, 2005, 2007, 2010. Oh so close.
No team is immune from bad breaks, nor incapable of success.  The Fear is born when the bad breaks begin to accumulate at a greater rate than the successes.  The more severe the bad breaks, the quicker the acceleration of The Fear.  Enough bad breaks and a fan base no longer has The Fear, they move to an near-inescapable purgatory known as "cursed."  Sometimes it gets so bad, that terminology actually enters the lexicon as definable by that team—just ask WSU fans about "Cougin' It" or "Clemsoning."
Oregon held a rare spot in college football – an elite team whose fans possessed The Fear.  Schools like USC or Oklahoma get their bad breaks with NCAA sanctions and "the Nine Yard kick," but those fan bases view those moments as merely regressions to the mean on a line that will inevitably see their team prevail, the few traditional national powers that are the Haves amidst a lot of Have-Nots.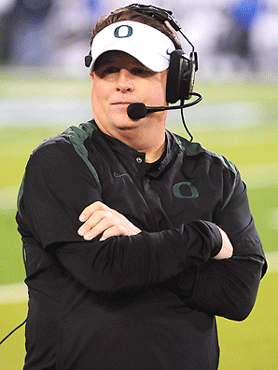 Regression to the long-term mean for the Ducks would result in a return to mediocrity, a prospect more terrifying than any injuries or sanctions.  Oregon fans were perpetually afraid that one day all the success of the last two decades would vanish, yet the consistent high-level of play has also raised the bar so high that it seems fans have almost forgotten what it is to see Oregon lose more than a game or two a year.
Then Chip Kelly became the head coach.  The victories piled up, 34 to date in contrast to only six losses, and when the bad breaks came, they were on the back-side of the successes.  He got the team to the Rose Bowl, where they had not gone in fifteen years.  The next year, he managed to get the Ducks to the National Championship, when The Fear had convinced many fans it could never happen.  When the pressure mounted about his inability to deliver victories in big games, he coached the team to its first Rose Bowl championship in 95 years.
A few weeks ago, I wrote about how the inflation of Oregon's opponents following its losses was a measure of the team's elite standing.  But it is the evaporation of The Fear that is the mark of Kelly's standing as an elite coach, which is why it was so fitting that Kelly chose to spend his summer vacation running with the bulls in Pamplona.
The Running of the Bulls is the marquee event of the Festival of San Fermin, held every July in Pamplona, a city in Spain's northern Basque region.  The practice began as a part of the many bullfights that took place during the annual festival, when the only way to transport the bulls from the corrals to the stadium located about half a mile away was to run them through the streets.  The bulls have run the streets as part of the festival since the 16th century. When exactly people started running with the bulls is unknown, although it is believed to have started sometime in the 1800s. 
It was an event that was entirely unknown outside of Spain until 1926, when an American journalist named Ernest Hemingway published a novel about his experiences in Pamplona entitled The Sun Also Rises.  Today, the Running of the Bulls attracts thousands of participants annually, including this year, Oregon coaches Chip Kelly and Scott Frost.
Literary critics say that Hemingway's experiences in Pamplona, and his desire to run with the bulls, were born out of an injury he suffered while serving as an ambulance driver during World War I.  (Hemingway's roommate during his six-month recovery was Henry Serrano Villard, grandson of Henry Villard, the first benefactor of the University of Oregon, and the namesake of the school's Villard Hall.)  The sensation of nearly losing his life so suddenly at 18 led Hemingway to his obsession of conquering his own fear and pursuits that infamously tested his courage for the remainder of his life.
The Running of the Bulls wasn't Hemingway and Kelly's only connection.  When discussing The Old Man and the Sea, Hemingway said he read his manuscript over two hundred times, stating, "what many another writer would be content to leave in massive proportions, I polish into a tiny gem."
Chip Kelly's coaching style could be described in much the same way; rather than operating from a giant playbook, Oregon's offense runs very few plays, yet has polished them to perfection.  It is a level of perfection that has produced a long enough track record to remind Duck fans that we no longer need to have The Fear.
In years past, fans always had the hedging of emotions.  It was necessary to magnify the teams' flaws in order to avoid the surprise of any loss.  Any game where the opponent had a puncher's chance became "a game to worry about." This year, with The Fear gone, why not expect that Oregon could aim for the highest reaches—the National Championship.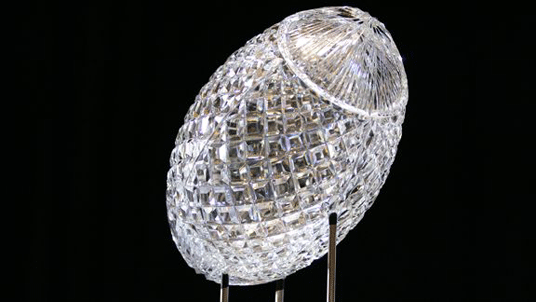 Here is a breakdown of why the Ducks could defeat each opponent this season:
Arkansas State: Did you know that this is the third straight home opener for the Ducks against a team with a wolf for a mascot?
Two years ago, the New Mexico Lobos thought of themselves as kind of a one man wolf pack.  New Mexico was alone in the pack, but then the Ducks added Nevada last year and Arkansas State this year, and the wolf pack grew by two.
The Ducks have scored an average of 70.5 points on the previous members of the wolf pack. With the Ducks being 35-point favorites, expect similar numbers.
Fresno State: The Bulldogs gave up 35.2 points per game and 435.9 yards, despite their 100th ranked strength of schedule.  Coming off a 4-9 season, they have a new coach, Tim DeRuyter, previously the defensive coordinator at Texas A&M, a team that lost five games in which it led, by a touchdown or less.  Even if the Ducks sleepwalk through the first three and a half quarters, they should be ok.
Tennessee Tech: Oregon has never lost to an FCS team. A loss wouldn't be the worst in school history, but definitely the most embarrassing.  Just ask Oregon State…Sacramento State anyone?
Arizona: The Wildcats haven't defeated the Ducks before Halloween since 1990.   Arizona has major issues in their defensive front seven, must replace a lot of lost offensive firepower in Nick Foles, Juron Criner, and Keola Antolin, and need time to add personnel that fit into Coach Rich Rodriguez' system.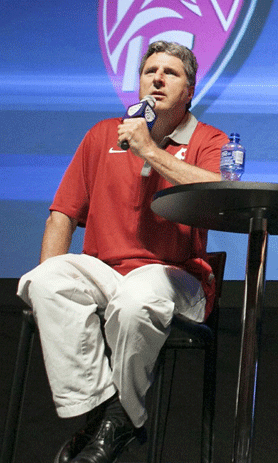 Washington State: Congratulations to Washington State on getting Mike Leach as their head coach.  Certainly one of the most interesting personalities in coaching today, he should be a blast to have in the conference. He'll bring WSU back to a bowl game, where it hasn't been since 2003.  But in 2012 against the Ducks?  They were 82nd in total defense last season, 95th in points allowed (31.8/game), and gave up ten plays of 50+ yards.  It's technically a home game that's being played at CenturyLink Field, which is actually closer to Eugene than Pullman.  Optimism abounds for WSU this season, but like in Tucson, WSU fans also need to show some patience for the program to recruit players that fit the system before they can compete with teams like Oregon.
Washington:  By the time these teams meet October 6th, it will have been 3,262 days since Oregon last lost to the Huskies.  Washington may have hired rising stars in former Ducks Justin Wilcox and Peter Sirmon to coach their defense, but that defense is still comprised of the players who gave up 777 yards and 67 points to Baylor in last year's Alamo Bowl.  Everyone is saying that Washington could be a contender in the Pac-12 North in 2013, which is a nice way of saying, "you should probably forget about your chances in 2012."
Arizona State: This is a team that finished 6-7, lost its final six games, and has only eight returning starters from a program hitting the reset button in hiring a new coach, Todd Graham formerly of Pitt.  There is the possibility that the fans could be fired up for a nationally-televised Thursday night game, if getting fired up was a thing Arizona State fans did.  Mostly the games serve as a way to kill time until the student body heads out to Mill Avenue.
Colorado: Ducks go for the shutout this year, which they would have had if not for Cliff Harris forgetting which end zone to run to last year.
USC:  Follow me on this hypothetical:  Let's say that Northwestern was having a reasonably good year, coming off nine- and eight-win seasons, respectively, the previous two years.  Now they are 8-2 going into a week 12 matchup against Michigan, who was favored by 16.5 points.  Michigan sleep walks through the first forty minutes of the game, puts on a furious rally, only to come up just short at the end.  The next week, they blow out their rival Illinois 50-0 at home.  They somehow finish 10-2 despite having the 102nd ranked pass defense in the nation.
Due to sanctions, they can't play in the postseason, and the next year they are allowed only 75 players on scholarship.  As of today, with injuries, that number is down to 70.  In this scenario, would Northwestern be a consensus top-three team and favorite of many to win the national title?
Answer: Of course not!  More than likely they would be ranked 16th, like Oregon was when it was coming off their ten win season at the start of 2009.  Can you guess what is the difference is that makes this team a top three team?  The "SC" across their chest.
By the end of this season, Oregon fans will see the silver lining of last season's loss, a game in which Oregon came out flat and had too many self-inflicted errors to deserve to win, yet had their shot down to the last second.  The luxury of being the three-time defending champions while having USC carry the bullseye on Matt Barkley's SI cover is something that few teams get, the AP poll putting USC squarely at #1, while Oregon sits comfortably at #5 without the pressure of maintaining the top spot.  The Trojans are just lucky that nothing bad has ever happened to anyone who has ever appeared on the cover of Sports Illustrated.
Cal: Only two Pac-12 schools poached players away from Penn State in the wake of that school's sanctions—one was USC, who brought aboard RB Silas Redd, the other was Cal, adding LB Khairi Fortt.  Perhaps a school like USC can fly in the face of the karmic responsibilities by turning an institutional tragedy into a college football talent yard sale, but Cal?  This is a school that hasn't been to the Rose Bowl since 1959, and except for "The Play," hasn't gotten a ton of breaks during that span.  Cal remains a program that recruits good players, had good coaches, and should be good, but never seem to be throughout an entire season. That inconsistency may lead to this being Tedford's last year in Berkeley if he doesn't put together an impressive string of wins, which seems unlikely with Cal's tough schedule. They host Oregon this year, but don't matchup well with the Ducks.
Stanford:  The boys from Palo Alto have defeated Oregon once in the past decade.  To do so, they needed two players who would become Heisman finalists (Andrew Luck and Toby Gerhart.)  The last time they came to Autzen, they only had one Heisman finalist, and lost by 21.  This year, it's pretty certain they will have zero Heisman finalists, something that can be said with as much confidence and certainty as an Oregon win on November 17th.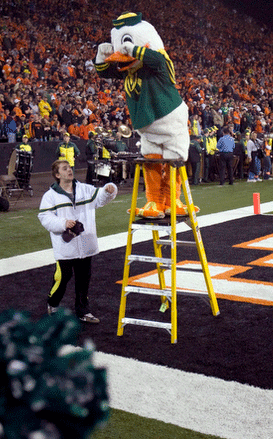 Oregon State: C'mon, it's the Beavers.  I could give you 65 reasons why the Ducks will win, but you will probably lose interest after the first 38.
Pac-12 Championship: Without being too presumptuous, it seems like the obvious choice that the conference championship will be the victor of the November 3rd game, the victor of that battle earning the right to host the rematch.  As noted above, USC has 70 healthy players on scholarship.  Teams are not healthier in week 14 than they are in week 10.
BCS National Championship: vs. Alabama.  Why Alabama?  As mentioned with Cal, gleaning players from Penn State's roster will not appease the college football gods.  Alabama and Oregon were two of the three programs amongst the consensus top eight, and only ones in the top five, who didn't poach a player from Penn State's roster.  (The third team being Georgia, for whom it's laughable that they're ranked sixth despite the likely result of being SEC East champions because of their pathetic schedule.)
Alabama, currently ranked 2nd, should be #1 from week 2 on, following a trouncing of an overrated Michigan team in Arlington.  The Tide will run the table, including a thrilling 5-2 victory in triple overtime over LSU in Baton Rouge during week 10.  If you didn't know that Alabama has a chance this season to become the just the second team since World War II to win three titles in four years (Nebraska '94, '95, '97), SportsCenter will be sure to remind you of it three times a day for the duration of the season, this year's incessant droning factoid to replace the void of the constant reminder of Brock Osweiler being 6'8″. There will be non-stop discussion about Nick Saban's legacy, and where he belongs amongst the greatest coaches ever.
Meanwhile, Oregon's initial victory over USC won't garner the same praise, due to their pending game with the Trojans four weeks later.  After Oregon claims its fourth straight conference title, sitting at 13-0, and largely ignored in the wake of Alabama's grandeur, it will play for a national championship.
Alabama will roll into Miami as the "invincible machine," coming off a championship last year and going for two in a row.  It was the same narrative for Miami in 2001 and USC in 2005, and we know how their seasons ended: At the hands of an undefeated, yet largely discounted team with a dynamic playmaker in the backfield. 
The young Crimson Tide defense, returning only four starters and relying heavily on talent all season, is suddenly exposed by Oregon's unexpected offensive game plan.  Having survived the season untested by the SEC's meager offenses, Alabama faces a dynamic threat their scheme-free 3-4 is unprepared to defend.  The early lead forces the Tide to deviate from its preferred game-management offense, perfect for the Ducks' ball-hawking, opportunistic defense.  It adds up to a recipe for…
You know what?  Some things can't be written just yet.  Maybe The Fear isn't gone completely, just lying dormant.  We'll know for sure on January 7th.

CAN YOU HELP US?
The pictures you see of the Ducks on FishDuck.com come from professional photographers that must be paid! Please donate through one click so we have pictures from all the games this fall to use through the year. All previous donations helped to pay our big Web Developing bills recently, and I do appreciate it.
Our staff and the photographers who have thousands of dollars invested into their equipment to provide the high quality pictures do sincerely thank you.   Charles Fischer