Ah, the Terry Jacks classic tune.  All about the passage of time and the stages of life.
Life is about seasons.  From the time we were young we measured the year by the school calendar. The start of school, Halloween, Christmas, the long haul to spring break (this was before "mid-winter break" existed…Good God kids are soft nowadays) , the end of school, and summer.
It wasn't long before most of us started measuring the year in another way.  We didn't need a calendar as long as we knew that it was either baseball, basketball, or football season.  The start of baseball season was the best of all back then.  Not because baseball had it over football, but because the start of baseball season also meant that the lazy, hazy, crazy days of summer were just around the corner.  Baseball!  Summer!  Beaches!  Other things!
Wait…where was I?
Oh yeah, seasons.
The end of July/beginning of August is a dicey time, though.  The pennant races are still just a rumor in terms of meaningful placement, basketball is only in the news because Team USA is dropping 3's on a Nigerian team that had already been splattered like a watermelon dropped off of a skyscraper, and football is still a month away.
That's why this is the silly season.  Sports fans looking to pass the time paying attention to…this.
The female half of my Facebook friend list just had collective hot flashes.  You're welcome, girls.
Here is what we can expect from the rest of silly season:
1. Rumors of catastrophic punishments by the NCAA.  You can already feel it in the message board posts by our own fans.  A collective angst that, since the NCAA decides things at their own pace, it's all starting to look worse and worse for the good guys.  One long time fan (by all accounts a man of high intelligence) has already used the term "drop the hammer" when talking about NCAA sanctions.  Relax, people.  Whatever happens will happen, it won't be all that bad, we are still, arguably, the class of the conference.  We are, for damn sure,  the best in the northwest by far, and Corvallis still smells like rancid pig's feet covered in goat urine and left in the summer sun.
2. A supposed quarterback "controversy."  We have two young men vying for the position of "QB1" (Gosh, I miss "Friday Night Lights").  Bryan Bennett proved himself in a backup role to Darron Thomas last year.  He showed signs of being very capable, albeit against less than LSU-type competition.  Marcus Mariota comes to town amid a lot of hype and a high school highlight reel that makes him look like he should have an "S" across his chest and a healthy eye out for kryptonite.  He showed signs of being very capable, albeit in a red jersey in the spring game.  Fans that attended the spring game anointed Mariota.  Fans not in attendance at the spring game but who saw Bennett play last year channel Lee Corso's, "Not so fast, my friend."  The Valium to the tension between the Bennett and the Mariota camp (and there will be two camps by August 15th) is found in one man.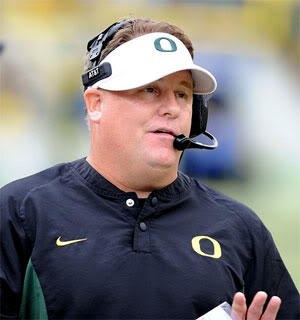 Chip Kelly will choose the right guy.  I have more confidence in that than I do that I am not the guy running in the rain in the video above…and I'm pretty sure I'm not.
Finally, Number 3.  USC is the most bad-ass team in the history of organized sports.  An entire roster of Jim Thorpes with an Ivan Drago thrown in for good measure.  As the season gets closer the legend of Troy is only getting bigger.  Just this week someone said that this USC team could make the NFL playoffs.  Sure they could, except that the last time Lane Kiffin coached a team that could have conceivably gone to the NFL playoffs they didn't and his owner held an entire press conference to tell that world that Kiffin is incompetent and a liar.  Like Erin Andrews, I choose Chip.
On behalf of the internationally renowned staff of FishDuck Intergalactic Enterprises, I wish you a happy silly season.  Less than a month to go!

CAN YOU HELP US?
The pictures you see of the Ducks on FishDuck.com come from professional photographers that must be paid! Please donate through one click so we have pictures from all the games this fall to use through the year. All previous donations helped to pay our big Web Developing bills recently, and I do appreciate it.
Our staff and the photographers who have thousands of dollars invested into their equipment to provide the high quality pictures do sincerely thank you.   Charles Fischer