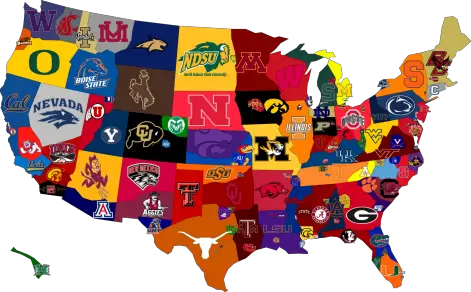 Another week is in the books and you might as well call it "Upset" Saturday. No ranked team was safe, even in the SEC or PAC-12. A lot of teams flexed their muscles on Saturday and showed why they are top ranked teams, while others had people scratching their head over the results. Arkansas…really? Wisconsin…what was that? And do we really need to remind Texas A&M again this year that there are two halves in a football game? In Aggie country it may be a new coach, but it's the same ol' A&M theme.
---
1.Utah State is out to prove that they are not Utah's little brother anymore. After being a punching bag for so long, Utah State lost so many close games last year showing signs of life, it was good to see them finish this one out vs. in-state rival Utah. Utah did nothing for the PAC-12 image by losing this one, thought to be the primary contender to USC in the Southern Division, while Colorado nearly destroyed the PAC-12 image entirely with their loss to Sacramento State. They play football at Sacramento State? Well yes they do, perhaps the folks in Corvallis should have warned their conference brethren in Boulder. Thank goodness for UCLA and Oregon State both pulling huge upsets against Nebraska and Wisconsin, and Arizona taking down Oklahoma State to save face.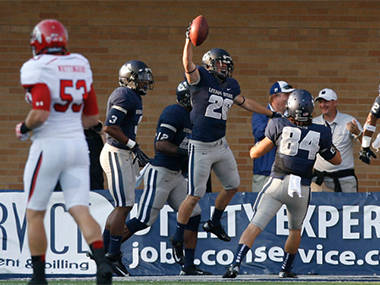 2.The Big players in the PAC-12 this year are clearly USC and Oregon. Both teams held their own respectively this Saturday vs. their opponents, though both Arizona schools and UCLA showing unexpected scrappiness. USC's wunderkind Matt Barkley threw six touchdown passes to blow open a close game vs. Syracuse, while Oregon did just enough in the first half to sleepwalk through the second half vs. Fresno State. After watching Oregon I feel De'Anthony Thomas will only score touchdowns if they are 50+ yard scores, anything less would be a waste of his speed and talent.
3.Is the swagger back at Miami? I think not. Kansas State showed the nation their offense has not missed a beat from last season, and looks to be a primary contender for the BIG-12 title thanks to the dare I say Tebow-esque Collin Klein. Miami is desperately looking to be back amongst the elite teams of college football, but games like that will set them back a few more years.
4. Alabama continued to flex it's defensive muscle, shutting out Western Kentucky 35-0. LSU also showed it belonged in the title talk by man-handling a depleted-by-injury Washington, 41-3. LSU would have pitched a shutout if they did not have a turnover on the first play of the game, giving Washington automatic field goal range. LSU and Alabama are already set for a head-on collision with each other November 3rd. Winner once again take all for SEC West. With the Oregon-USC game also slated for that day, is it possible to have two "Games of the Century" games on the same day? Quite possible.
5. Arkansas is going to be in for a long season after losing to UL-Monroe in overtime this past weekend. Tests are underway, with an unofficially being announced as a shoulder and/or collarbone injury to quarterback Tyler Wilson, making a promising year go from crashed-scooter-bad to losing-to-FCS-teams worse. The SEC is supposed to be almighty and superior to every other conference but WOW, really? A top-10 ranked SEC West team just lost to a FCS school, somewhere Ole Miss players are pointing and shouting "See, Jacksonville State isn't so embarrassing anymore, now is it?" Arkansas is already on the phones setting up interviews for the next head coach after this loss.
6. Welcome to the SEC, Texas A&M and Missouri. Someone needs to tell Texas A&M that actions speak louder than words–do your talk on the field, not on a billboard. After watching the first half and seeing the Aggies march all over the Gator defense, it looked like it would be a blow out–but nobody blows a lead quite like A&M. Give credit to Florida's coaching staff for making the necessary changes to step up and get the win, 20-17. Missouri did their fair share of trash talking about the SEC as well, calling it "old man football." 41-20 later, Georgia welcomes Missouri to the SEC with a thorough butt-kicking.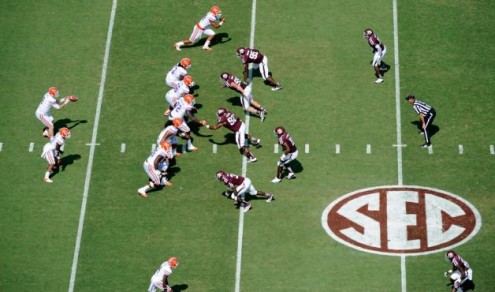 7. Another embarrassment to the BIG-10 this past weekend was the play of their top-ranked teams. Ohio State did just enough to get by a feisty UCF team before pulling away late, Michigan is still reeling from the Alabama game because it needed all  four quarters just to put away Air Force. Michigan State seemed to be the only team taking care of business, while every other BIG-10 ranked team struggled.
8. We all know Penn State is in for a long year, no game will be a gimmie. Another team looking to be joining the possible Penn State bad year bandwagon…Auburn. The Tigers start the season 0-2 after dropping their SEC opener to Mississippi State. Auburn still has LSU and Arkansas in the next three weeks, and could start 1-4 if they do not find an offensive identity soon. Auburn's coach could be the only one in recent memory to go from National Title praise to hot seat in a matter of two years. Nothing will be easy for them, and they very well could miss a bowl game this year.
9. In the BIG EAST, Louisville and Cincinnati both took care of business. I see the BIG EAST title coming down to the winner of these two teams when they play each other October 26th. If Louisville does win the BIG EAST this year, this could give the BIG-12 a little bit more interest in inviting them over to join the conference, reaching eleven teams. The Big East is going to be such a mess next year with teams being placed all over the country, rightfully so considering a name change. May we suggest "Big Frequent Flyer Miles." If I was the athletic director of Louisville, I would be doing anything I could to get an invite from the BIG-12.
10. Let's see how much praise Notre Dame gets this week after squeaking out a win over Purdue. Notre Dame still has a hard road ahead with Michigan State and Michigan coming up, and then Miami. If they win all of those, then we can let Lou Holtz start talking about how everyone needs to be on the Notre Dame bandwagon. Hey Lou, Notre Dame could go 12-0 and I still would not care about them!
This season is certainly shaping to be a good one. I am hoping it comes down to a dominant Alabama defense vs. a high-powered Oregon offense. Still a lot of football left to be played though, can't crown anyone champs yet.
Until next week college football nation
---
NATIONAL NEWS:
1. #1 party school ranking
2. Tulane player has near death experience
3. Mercy rule for Savannah State
4. Arkansas searching for answers
5. College football mailbag
---
OREGON NEWS:
1. Ducks run over bulldogs
2. Duck volleyball still undefeated
3. Duck's golf team starts in TOP-25
4. Bulldogs too slow for Duck's fast start
5. Tough loss for Lady Duck soccer

CAN YOU HELP US?
The pictures you see of the Ducks on FishDuck.com come from professional photographers that must be paid! Please donate through one click so we have pictures from all the games this fall to use through the year. All previous donations helped to pay our big Web Developing bills recently, and I do appreciate it.
Our staff and the photographers who have thousands of dollars invested into their equipment to provide the high quality pictures do sincerely thank you.   Charles Fischer