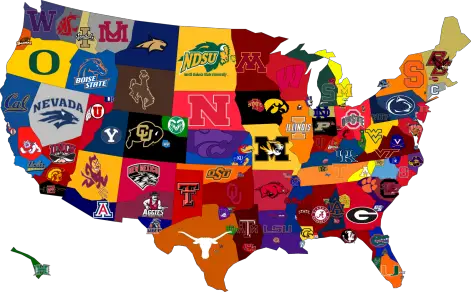 Another week is in the books, and after all the games have been played I still feel like I will see Alabama playing Oregon for the national championship this year. Both teams seem to be having everything click on offense and defense at this point, and are separating themselves from the rest of the competition. Also, with conference play starting to unfold there were some great upsets this week, and there will definitely be some movement in the Top 25 thanks to that.
Let's get into some news and thoughts about some of the action that unfolded this past weekend.
Alabama, we get it, you can play defense. Another impressive victory. Yes it is only FAU, but Alabama has already shown its muscle after playing Michigan and Arkansas this year. Unless they stumble in SEC conference play, it looks like the Tide are destined to continue their dynasty, competing for the national championship.
LSU escaped from Auburn with a victory. Les Miles shows his team will still be known for their defense, while the offense needs some work. Auburn coach Gene Chizik might have bought himself a little bit of time since they lost 12-10 and did not get blown out by LSU, but it's quite a contrast to go from winning the national championship two years ago to now having the worst September record in school history at 1-3. That's definitely not how the Auburn faithful planned on starting this season.
Took you long enough. At least that's what I was saying about Oregon and their offense. Once the Ducks got over the hype and figured out Arizona's defense, things started to move in their favor. 49-0 is impressive and will be a statement to the nation about the Ducks' claim to playing for the national title. But while all the talk these days is about Oregon's offense and De'Anthony Thomas as a Heisman Candidate, this game really put everyone on notice that they are a complete team, the defense having its first shutout since 2003. Six redzone stops and two pick-sixes, quite a performance.
Is Florida State officially back? After watching them rally vs. Clemson in the 2nd half and rack up almost 50 points, it is quite possible. FSU beat a solid Clemson team, the first FBS opponent they have faced all year, giving some justification to the hype. FSU probably sealed up the Atlantic division with the victory in the down ACC, even though it is still so early in the season. Looking at their schedule, it is tough to see where this team might lose.
Actions speak louder than words, or at least that is what Georgia set out to do after last season's ending with Vandy. Georgia proved it is the best in the SEC East with a solid 48-3 victory over Vanderbilt. South Carolina also looks to lay claim to the best in the east with an impressive win over Missouri 31-10, and it was yet another "welcome-to-the-SEC" moment for Missouri.
Kansas State went into Norman, defeating Oklahoma 24-19. K-State QB Collin Klein had a solid night, but it was the Wildcat defense that won the game. Oklahoma has struggled earlier this season vs. inferior opponents (UTEP), and their inconsistency finally caught up with them. Look for OU head coach Bob Stoops to circle the wagons, somehow finish 10-2 and end up in a BCS bowl game.
I can not really say Notre Dame is back yet, or that they made a statement by beating Michigan, but no doubt Dr. Lou sure will. Michigan looked terrible and gave the ball away so many times. Notre Dame's defense played very well, but this one was a case of Michigan losing it more than Notre Dame actually winning it. The real story is how Notre Dame head coach Brian Kelly has his defense getting it done for them while he still tries to find a QB to run his offense. Notre Dame got the job done, but still has a few more wins to go before I jump on the Lou Holtz "They're back!" band wagon.
Florida took care of business vs. Kentucky, shutting them out 38-0. Florida QB Jeff Driskel seems to be getting better every week, once he was actually named the starter after the disastrous dual-starter experiment in week 1. Driskell will need to continue to show great improvement with LSU coming to town next week.
Speaking of getting better, just don't bring up Ohio State. They struggled early and often vs. a very poor UAB team, only winning 29-15. The BIG-10 is so down this year, which considering the NCAA violations the program is currently enduring, a sub-par conference may be a good thing for Urban Meyer's Buckeyes as they build for the future.
Look out for the Beavers. Yes, the Beavers. Oregon State last year started the season with an embarrassing home loss to Sacramento State, and never really recovered, finishing out the season 3-9. Oh how times have changed! Mike Riley has his team playing great, defeating two ranked teams in Wisconsin and UCLA. Known as the nicest guy in the game, after their victory in Pasadena Riley took his whole team to celebrate at In-N-Out Burger, delaying the charter flight back to Corvallis.
Lots of action in the Top-25 this week. The Top-5 teams looked solid in their wins, minus LSU's offensive struggles. A lot of big matchups happening next week, but nothing major for the Top-5 teams in the country. After impressive wins, Alabama and Oregon can both keep their eyes on a trip to Miami this year. If any of those teams were to trip on the way, FSU or Georgia look more than willing and capable to end up there instead. Notre Dame, get to 8-0 and we can talk about you being back with the big boys.
Lots of action still ahead for the college football nation. Until next week college football fans.
---
NATIONAL NEWS:
1. Ball is out
2. ODU puts up video game numbers
3. Arkansas still falling
4. USC back, for now
5. College football's mailbag
---
OREGON NEWS:
1. Duck's golf moving up
2. Oregon already beat USC
3. Duck soccer ends in draw
4. Bill Musgrave receives award
5. Oregon gets shutout

CAN YOU HELP US?
The pictures you see of the Ducks on FishDuck.com come from professional photographers that must be paid! Please donate through one click so we have pictures from all the games this fall to use through the year. All previous donations helped to pay our big Web Developing bills recently, and I do appreciate it.
Our staff and the photographers who have thousands of dollars invested into their equipment to provide the high quality pictures do sincerely thank you.   Charles Fischer