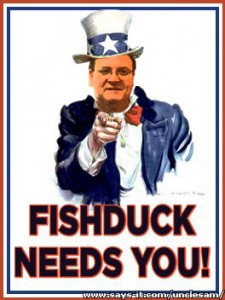 I am now out of the Oregon football video analysis business, due to new rules established by the Pac-12 Conference regarding use of game footage.
Per guidelines provided to all media as of Friday, September 7th, no news agency can use game footage for broadcast or on a website past 48-hours after the game has concluded without a license granted through XOS Digital.
Thus beginning for the 2012 season, all game footage video HAS to be removed from all TV and sports websites by Monday evening.  Those videos cannot exceed three minutes in length for that 48-hour period, including footage taken by a TV station/news source on their own, coupled with footage taken from the telecast.
This site, FishDuck.com is now an officially Oregon media-accredited news source, and must comply with the new rules. I cannot possibly make an analysis video immediately each week, put 15+ hours of work into it, and then have to take it down by Monday evening.
It is not worth the work, and not many fans would view it in the short window available.  Can you imagine the trouble this creates for TV and Newspaper websites?  It is pretty tough on everyone, not just me.
It is worse if you are not an accredited news outlet; the days of fans enjoying highlights online are over, as third parties cannot use footage and post it on YouTube, Facebook or other websites at any time.
All of the great highlight videos out there?  They will be gone.  My friend Mike Wines, who creates highlight videos after each game? Those will be gone as well, along with anybody else who posts any video of a Pac-12 Conference team participating in a sport.
Why would the Pac-12 do this?
They are simply following the highly successful business model of the SEC, Major League Baseball, and the NFL. Do you EVER see any MLB highlight videos? No…and when one emerges, they contact YouTube and have the site/channel obliterated, as Kurt's popular channel was removed a few years ago.  Ditto for the SEC…as I was told that they routinely wipe out five or six channels EVERY DAY that carry new highlight or analysis video.
They are protecting their rights, their brand, and one of the components of that strategy is to enforce their rights of that footage.  They have very successfully stomped out any competition, and they are vigilant about stopping others immediately.
As Pac-12 footage is removed from other sites, the next step is to build a site (as the Pac-12 is currently doing) that drives EVERYONE to their exclusive portal for footage. Want game highlight videos? You will have to go there. Want game analysis on video? You will have to go there.
They are in the initial stages of building and enforcing, but it is clear from the recent rules where all this is going. We will all use the new network and website, and there will ultimately be no competition in their areas.
I love what other Oregon sports websites do with interviews, recruiting information, and message board traffic, and it makes me wonder what other restrictions may be coming soon? Perhaps many of the aspects covered by those sites will be taken over in the future by the conference, So we get everything in terms of information from them? While that is probably my personal paranoia stepping in—it is based upon the evolving track record emerging.
So what is the impact on FishDuck.com? It will for now be minimal, as over 80% of the visitors to FishDuck come to read our articles on the site, not watch videos. I may lose some of you who enjoy watching our detailed analysis videos, (but there won't be any videos anywhere else), and the good news is that I am still in an analysis/learning mode providing the new written articles with screen-shot pictures and diagrams. But let's be realistic, the video formula we had developed over time at FishDuck was unique and compelling.
I have fully complied with the Pac-12 on these issues; I took down the video from last week on FishDuck.com concerning Arkansas State and removed the same video from my YouTube Channel.  There will be NO further videos added to my site or to my YouTube Channel, and prior videos done (Over 50) are permissible to keep since they were before the 2012 season and not the property of the Pac-12.  (Thus I am grateful for the one year to make all the tutorials)
We love what Larry Scott has done for the conference, but this is part of the price to pay for this progress that ultimately all the universities of the conference will benefit from.
I still love my Ducks,
Charles Fischer