Oregon fans are enjoying another great season of football, currently 3-0 with a tough test coming up this weekend. Last week, and the rest of the season, are somewhat bittersweet though, something is missing. For the first time in what feels like forever, neither the heat-seeking missile that was #20 John Boyett or the mighty rock in the middle #77 Carson York are there.
Oh sure, they may be on the sidelines, the most passionate and loudest cheerleaders at the stadium (with all apologies to the UO dance team and cheerleaders, but they know John and Carson will be the best cheerleaders out there). #20 and #77 will be there, on crutches, doing everything they can to help their teammates. That's who they are, that's what they always did, pushing those around them to be great.
No matter how far the Ducks may soar in 2012, a huge debt of gratitude is owed to the senior leadership that tragically was lost in the first two games of the season; John Boyett and Carson York.
If I may, with enough time now passed to properly "mourn" their losses from the starting lineup, it seems as much an appropriate time as any to move on from sadness, to gratitude, for all that these two seniors accomplished at the University of Oregon. No words can properly express the appreciation Oregon fans have for you two, nor the words to properly say thanks for what you achieved guiding the team to unprecedented success during your tenures…but let me do my best to try.
---
Dear John Boyett,
From the time you stepped on the field on September 3rd, 2009, as an undersized safety, you were the epitome of what the Oregon football program has become. Just 5′ 10″, you were not the biggest, fastest, or strongest player to ever roam midfield for the Ducks. However, you were what those in the football world called simply a "football player," due to your heart, incredible football IQ, and willingness to put your body in harm's way for the good of the team.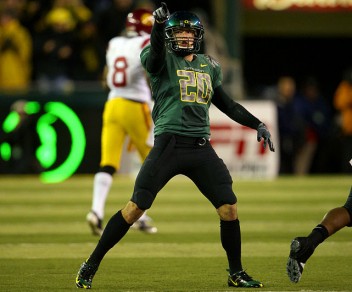 John, this letter to you is our way, as fans, of simply saying…thank you. You provided so many great memories for us, I'm not sure where to begin…your pick six at ASU during the 2010 season was perhaps the play that defines your career the best, and is one of the great moments from an unforgettable season. You played smarter than almost everyone on the field, and that knowledge consistently put you in the right place, at the right time.
Everything about you personified everything that the Oregon program was built upon. Like the great safeties before you; Chad Cota, Keith Lewis, Eric Castle just to name a few, you took your talents and through hard work and effort exemplified all that is possible when a player maximizes their abilities. Respect is earned, not given, and every step of the way the fans, your teammates, and coaches respected you as much as anyone who has ever walked through the program.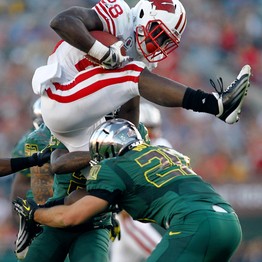 Selfishly, I wish the Rose Bowl victory over Wisconsin had been your last game as a Duck. There would simply be no better way to end your career than by going out on top, the only player who participated in every single defensive snap. You gave it all on the field, even going so far as to shove your helmet in Montee Ball's, umm…nevermind. You gave it all on every play, and it showed.
You are part of the most successful run in Oregon history, and for that, again, we say thank you. In an era of twitter, bling and ridiculous antics both on and off the field, you were the example that every player should follow. If there is a football equivalent of a "gym rat," you are him.
But more than your work on the field, it's the work off the field that sets you apart. I have countless stories from people about you, and your willingness to interact with the fans. Be it a wave, high-five or an autograph, you understood that this team defined not merely a college, a university, or a game–It is a culture, a way of life, and you epitomize what it means to be a Duck. You show us what it means to "Win The Day."
The fact that you played through your entire junior year with two bad knees that you knew required surgery shows the grit, determination, and pain threshold needed to truly be great in this brutal but amazing game of football. Selfishly again, we wish you could have either had the surgery in the off-season or endured once more through the pain to continue playing your senior year, because as fans we wanted more. More of Boyett roaming the secondary, more of #20 punishing receivers for daring to go over the middle, more of run stopping brilliance at the line with great tackle after great tackle. We wanted more, and we as fans cannot wait to see you do that again, in the NFL.
Here's to a speedy recovery, and many long, prosperous years in the NFL and beyond. Thank you, John, for being you, and for being a Duck.
---
Dear Carson York,
What can we say? To end a stellar career the way you did is not fair. A devastating knee injury in the Rose Bowl, and a broken knee to start your senior season…it sounds like a nightmare that would break most people. Most would say it's unfair, that nobody should endure that kind of hardship and then be cheated out of the reward of all the hard work to get back.
But you, Carson, are not like most people. One of the most entertaining Duck players of all-time with your quick wit, your contributions to this program go far beyond your accomplishments on the field. As an offensive lineman, your position alone did not put you in the headlines. What you consistently displayed on and off the field was front page news; as a gentleman and scholar first, football player second.
The smile on your face as you held up the Rose Bowl trophy despite a shredded knee that must have been almost unbearable could bring a tear to any Oregon fan's face, as you showed the emotion and passion that we all feel, knowing that no matter what the sacrifice, even giving up a knee couldn't withhold the pure unadulterated exuberant joy that comes with such an accomplishment earned through all the hard work completed on the practice fields for years.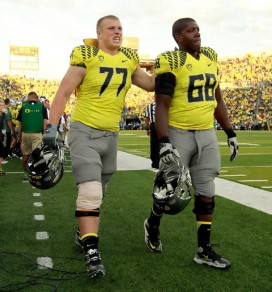 You were a giant teddy bear, a hilarious quote at any moment, and a true example of what a student-athlete should be. Your years at Oregon were defined by triumph, tragedy, perseverance, intelligence, and breakthroughs. While some teammates fell off the wagon, you were a consistent, shining example of how to live your life as a role model, an athlete, and a student. Any time something you wrote or said in front of cameras became known amongst fans, it was for all the right reasons.
When a bad incident occurred with a teammate or a negative rumor emerged online, Carson York was the one to respond with profound dignity and grace exemplifying pure class. The elder statesmen, even as an underclassmen you always came across as wise beyond your years.
It is not fair, seniors who have put in as much work as you have deserve to have your moment at Autzen on senior day being acknowledged by the crowd, and go out a champion–first over the Beavers, then over a bowl opponent.
Our lasting memory of you should have been #77 raising a BCS trophy with his teammates, going out as the champion we know you are. We may still get that memory though, crutches and all. Your knees may be imperfect at the moment, but we know your heart and passion for your teammates shall never waver.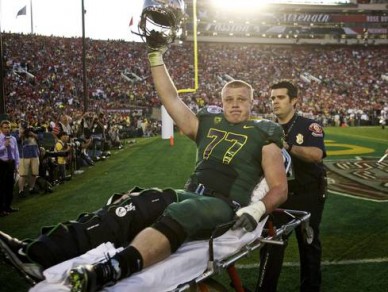 It is never an easy thing to see a career come to an end, but I have no doubt that you are headed towards wonderful things, both personally and professionally. Once a Duck, always a Duck.
Carson, the thing we want to say as fans is thank you for your work. Thank you for being a role model for our kids, for driving your teammates to be better, and for anyone who was looking for someone to guide them. As big and powerful as you were on the field, your star off the field was equally bright, and will continue to shine now that your college football days are over.
Good luck!
Jared Sawyer was born in Eugene and grew up going to games at Auzten Stadium. He has been an avid Duck Fan his entire life, and has recently taken his passion to filmmaking, VLOGing and writing for the Ducks. Jared now resides in San Diego, California where his passion still thrives for the Ducks,and he would like to remind you–It's O TIME!
For Football Season: FishDuck Back to Seven Days a Week!
I had to shut down the daily articles on July 20th because I could no longer work the extra 3 to 12 hours per week of certain managerial/editorial duties. (beyond the usual ones with FishDuck)
I've had a blast writing without those duties, and now, due to a new agreement with the writers, I can announce that we will have articles seven days a week again. I wish to thank the writers publicly for their graciousness in coming to a solution, as now I still do not have do those extra duties with our agreement, and meanwhile the writers are back having fun creating articles as I am.
Everybody is happy! So below is the new schedule through football season:
Monday: Mr. FishDuck
Tuesday: Darren Perkins
Wednesday: Joshua Whitted & Mr. FishDuck
Thursday: Coach Eric Boles & Alex Heining
Friday: David Marsh
Saturday: Mr. FishDuck (GameDay Baby!)
Sunday: Jordan Ingram
A couple of writers could not join us as they have new projects in their lives, and cannot write for anyone at the moment–but perhaps we will see them back later.
Things rarely work out so well for all parties in agreements, but this time it has and truly….everyone wins!
Our 33 rules at FishDuck can be summarized to this: 1) be polite and respectful, 2) keep it clean, and 3) no reference of any kind to politics. Easy-peasy!
FishDuck members….we got your back.  No Trolls Allowed!