It was painful for us to learn that the football Camelot in Autzen Stadium for the first half of the first two games was just a dream.  The new quarterback wunderkind, "St. Marc" (as he was called by high school teammates) showed us that he was fallible, and the offense can stumble.  Yet with some of the disappointments are also some tremendous learning opportunities for us as fans, and an interesting development to note for the rest of the season.
Let's get to it!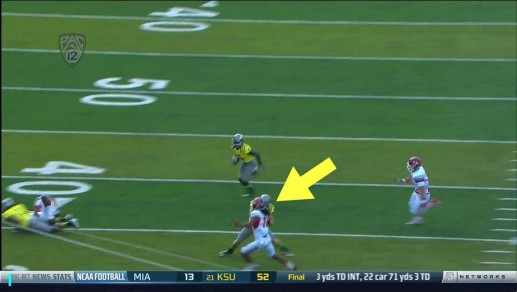 The abilities of Colt Lyerla have been well chronicled as one of the more amazing athletes to sign with Oregon in recent years.  The YouTube video showing him jumping to a table six feet off the ground from a flat-footed beginning has legendary status among Oregon football recruiting devotees.  In the picture above we see him setting a block on De'Anthony Thomas's first touchdown run.
Only after DAT is by him does Colt (Above) release his block, with a frustrated defender.  Lyerla has already been recognized as an outstanding blocker and a video I created last week demonstrated those abilities blocking the "Sweep Read" play.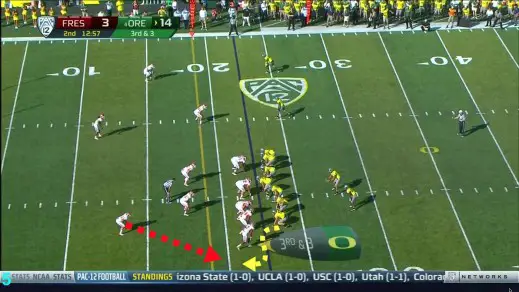 Oregon is running a double tight end formation above with two flankers at the top generating the most attention.  In this play we will see Colt go out to a "Bubble" position and catch a pass while the cornerback to that side will come up for the tackle.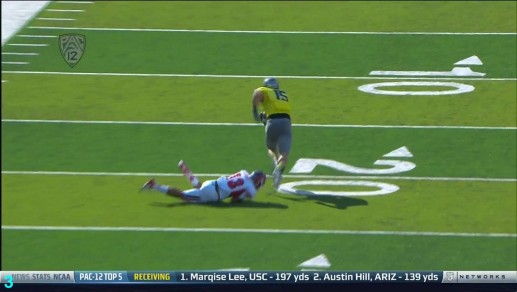 Lyerla has caught the pass and has unbelievably juked and burst through the tackle of the corner.  He is unusual in that he has the quickness to deal with the smaller defensive backs, and the power that comes from his 6'5″ frame.  He is headed for the end zone!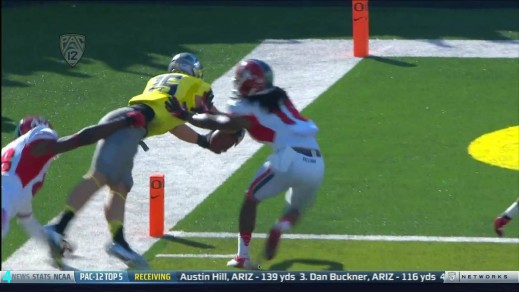 This has to be one of the more athletic plays we have seen from a tight end, which at Oregon is saying something considering the lineage, every starting Oregon Ducks tight end since 1989 playing in the NFL.  As he was being pushed out of bounds he leaped and held the ball over the pylon. Touchdown!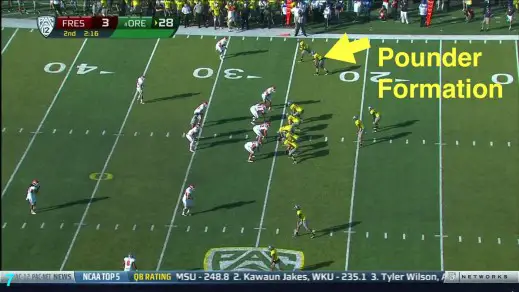 We see a revival of the old "Pounder" formation from many years ago as Colt, (Above) is in the slot alongside freshman Dwayne Stanford.  Two 6'5″ players out there to take on smaller DBs?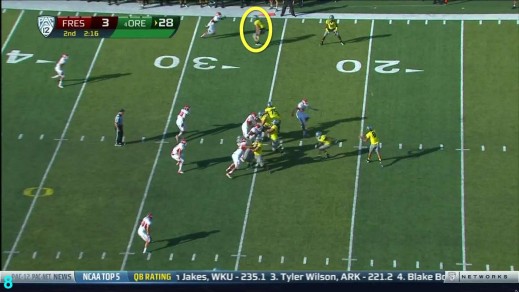 After the ball has been snapped (Above) we see the QB rifle the ball to Stanford for a Bubble pass, while Lyerla has moved forward to block for him.  That is a mismatch in our favor!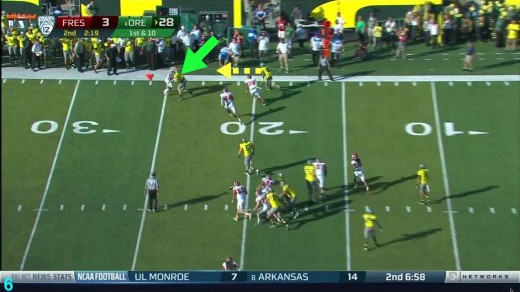 This is an example of the same play just a few moments before the last as Colt (Above) is paving the way for Stanford (#18), who gets an average of eight yards on each of the plays.  This is a very effective strategy when defenses load up the box to stop the run as Oregon "Pound" the perimeter with these huge talented players.  We'll see more of this!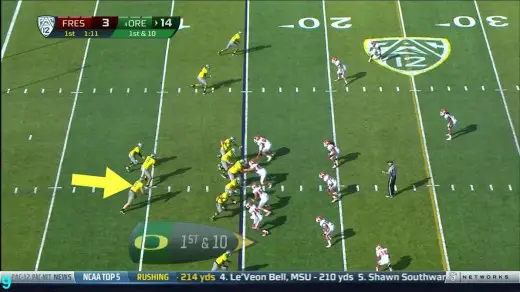 Oregon lines up and begin a Straddled Triple Option (Above), and imagine my surprise to see Colt Lyerla in the backfield!  He charges forward to help with blocking the defensive end or outside linebacker.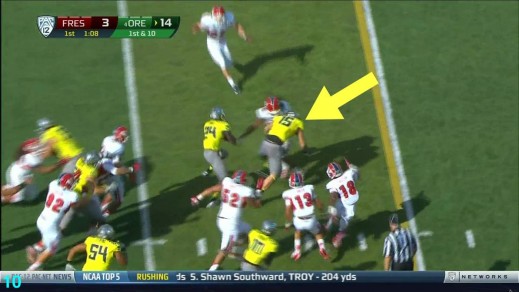 He's leading the way for Barner (Above) to create a wonderful gain on the inside option of the Straddled Triple Option.  It's fascinating how the coaches have been so innovative in using his speed and agility to help the team!
Just when I thought I saw all the possible uses of this special athlete? We line up again in the Straddled Triple Option formation and begin running it (Above) with Colt Lyerla as the PITCH MAN in the play!  The QB turned up field and kept the ball, but I can't help but wonder about the collision that will occur in the future when Colt catches the pitch and crashes into an unlucky defensive back assigned to stop him.  I can't wait to find out!
This last game pointed out the multiple weapons that our offense has from this one player and it makes us want to keep an eye out for WHERE Colt Lyerla is lined up on the field!
"Oh how we love to learn about our beloved Ducks."
Charles Fischer   (FishDuck)
Oregon Football Analyst for FishDuck.com
Eugene, Oregon
Charles Fischer has been an intense fan of the Ducks, a season ticket holder at Autzen Stadium for 35 years and has written reports on football boards for over 23 years. Known as "FishDuck" on those boards, he is acknowledged for providing intense detail in his scrimmage reports and in his Xs and Os play analyses. He and his wife Lois, have a daughter Christine, reside in Eugene Oregon, where he was a Financial Advisor for 36 years and now focuses full-time on Charitable Planned Giving Workshops for churches and non-profit organizations.
He does not profess to be a coach or analyst, but simply a "hack" that enjoys sharing what he has learned and invites others to correct or add to this body of Oregon Football! See More…
Daily Articles NO MORE on FishDuck
Please see this explanation right here… and to learn about the impact of FishDuck on so many–check the summary right here.  I will be writing intermittently on FishDuck (as the mood strikes) this summer, and a couple of times a week during the football season, and those articles and analyses will be posted here on FishDuck, and the links to my articles will also be available on the new site PuddleHuddle, when it is up soon.
New at FishDuck? Learn about the site right here!
Our 32 rules can be summarized to this: 1) be polite and respectful, 2) keep it clean, and 3) no reference of any kind to politics. Easy-peasy!
Take note though, there are NO STRIKES, NO WARNINGS, and NO SLACK given. Violate the rules and you are gone, as this is what the 99% who post superb comments want. (The Ban could be for weeks, months or permanent) For the less than 1% out there who do not have impulse-control … as you write your comment that violates our rules, ask yourself, "is this worth getting banned over?"
FishDuck members….we got your back.  No Trolls Allowed!