2012 could be a very special year for the Oregon football program. The skies above Autzen held a special feeling in the air-total confidence. From the moment the team stepped on the field, there was a sense that this team could do anything they wanted to, and anything they did.
The Ducks came into the season ranked #5 in both the AP and Coaches polls, extending their stay in the national spotlight. There isn't a college football fan in the country that doesn't know of the offensive juggernaut clothed in a confidence that resembles their play. Opposing fans hate them. Opponents fear them. Some experts claim that this could be their year they win it all.
They're still underrated.
---
"There's still a lot to work on, that's what makes it fun."
-Chip Kelly, Oregon Ducks Head Coach
---
Marcus Mariota made people wonder whether there was actually a QB competition at all in the fall, DeAnthony Thomas made people wonder whether he is actually human, and the Ducks made everyone wonder whether this might be their year, already setting their travel plans for the November 3rd matchup at USC that shapes up to be this year's version of "The Game of the Century."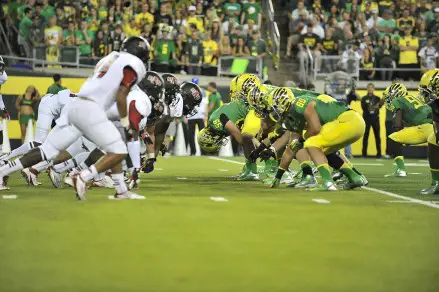 Oregon received the opening kickoff and immediately took control of the game. It was never in doubt from the first snap, and the only question was whether or not Chip Kelly would pull back the reins and start running clock.
It became apparent by the end of the 1st quarter that things were going to get out of hand, fast. By the end of the first drive, barely with enough time gone for fans to catch their breath after the team ran out the tunnel, the game was essentially over. Oregon ran away with it, and ended up winning 57-34 behind a poor showing from the 2nd team defense.
50-3; that's the score that really matters. The first-team offense led the Ducks to a 50-3 lead with seven minutes remaining in the 2nd quarter, before a majority of the starters were replaced on the next possession. It was a dominant effort. Had they stayed in the game, it's possible that Oregon could've put up a Benjamin on the Arkansas State Red Wolves.
Thought of initially as a chance for at least a shred of redemption for the loss of the 2011 BCS National Championship game to Auburn, with Auburn's former offensive coordinator Gus Malzahn now roaming Arkansas State's sideline and featuring a lineup of SEC cast-offs like David Oku (Tennessee) and the infamous Michael Dyer of his-wrist-was-totally-down fame in that BCS Championship–but he was dismissed from the team a month ago. Yet for as many points as Oregon ran up, hitting a punching bag felt hollow, toying with a team like a cat with a mouse in the first half didn't seem to hold much in redemptive value for the national championship lost two years ago.
Much more valid than any thoughts of revenge on former Auburn Tigers, the big storyline coming into the year and game was the quarterback situation. First it was "who," now it's "how good?" It's only been one game, but it was clear what all the hype was about.
The other subplot of some interest was the crowd-size. Coming off of the first Rose Bowl championship in 95 years, there was a very realistic chance that Oregon's 82-consecutive home sellout streak would come to an end in the wake of rising ticket prices and a late kickoff on Labor Day Weekend.
It was announced at halftime that the game indeed was a sellout–BARELY–the result of last-minute efforts by the Casanova Center to discount tickets and a strong walk-up contingency before the game knowing tickets were still available.
Marcus Mariota went 19-23 for 216 yards and 3 TDs. He is the truth. He could be a national superstar by the end of the year.
While many fans cite the fact that Darron Thomas was a "winner" and had the necessary intangibles, it isn't rational to argue that he was as talented as Mariota. The new Oregon quarterback is clearly faster than Thomas was and he is already a superior downfield passer.
And yet, for all of Mariota's talent, and for all the great things he did against Arkansas State, the play that stands out the most came with 7:06 left in the 2nd quarter, and it won't show up on the stat sheet. On 4th and goal from the three, Mariota handed off to Byron Marshall, who looked to be stopped short of the goal line; until Mariota ran up and drilled the defender tackling Marshall, pushing Marshall the final yard across the goal line. He could have just handed the ball off and no one would've faulted him, but he didn't. He got back into the play and got dirty. In a play that showed off none of Mariota's impressive physical tools, he showed everyone the kind of football player he is.
What does this mean for the Oregon offense? The run game adds another devastating option, as Mariota is a true threat to keep it and score on any given play. Thus, defenses are forced to respect his side of the field. Last year, it seemed like Darron was just running to keep defenses honest rather than running to do some real damage. No one feared Thomas' running ability. They will fear Mariota.
What might be more important than Mariota's speed is his downfield passing prowess. His high school highlight film showed a passer who could deliver accurate bombs all over the field. On Saturday night, fans saw a lot more of this as Saint Mark was dropping dimes all night (or should I say, quarter). There were six throws that Mariota made tonight that I'm not sure the coaches would've let Thomas make; specifically the throws he made over the deep middle (>10 yards…each throw is specifically noted below in the game notes).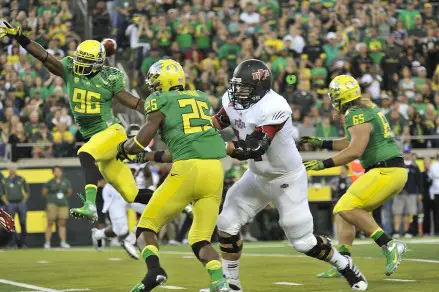 If Mariota can prove to be consistent, the playbook opens up and Oregon's offense reaches another level. By keeping safeties honest and leveraging Oregon's talented depth at the wide receiver position, the run game should see a boost as well.
Chip Kelly is now in a position to pass to open up the run game, rather than the vice versa that the team has relied on the last couple seasons. That is not a pleasant thought for PAC-12 defensive coordinators.
Make no mistake, the Oregon offense looks like it just took a significant step forward with Marcus Mariota behind center. It's been rumored that the coaches especially like his cool, calm demeanor, something often cited as Darron Thomas' biggest strength. When asked about whether or not he felt any pressure, he admitted that he was "very nervous."  Very nervous? He started 12-13. What's going to happen once he's comfortable?
If the Ducks have indeed found a superstar in Mariota, something that not even Thomas' biggest supporters claimed he was, the Oregon offense could be truly unstoppable. Could Mariota be the difference between winning a Rose Bowl and winning a National Championship? After tonight's performance, that might actually be a reasonable question.
Mariota's performance wasn't the only offensive storyline of the night, however. How Chip decided to split up the carries between Kenjon Barner, DeAnthony Thomas, and true freshman Byron Marshall was a major question as well. Would DAT be allowed to run between the tackles? Could Barner be the workhorse LMJ was? Is Byron Marshall as good as advertised?
None of these questions can be definitively answered after one game, in which the Ducks dominated and pulled the starters and went into slow-down mode before halftime. That said, DAT was used at WR more than he was RB, Barner proved once again that he is a star, and Byron Marshall looked like he belonged on the field even as a true freshman in his first game experience. As the season progresses, the full picture should start to come into focus, but tonight may have helped ease some of the concerns over Oregon's running back depth.
How Coach Kelly decides to manage DeAnthony's workload this year will be interesting. He doesn't have a body that can take a beating between the tackles, but as he showed in the Rose Bowl and again tonight, he is lethal when given the ball out of the backfield. He'll get plenty of touches one way or another, but it's likely that in important situations, DAT will be handed the ball. He is a truly special player. It seems cliché to say at this point, but it can't be overstated.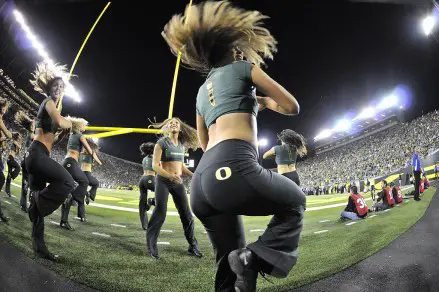 The receiver position is another area of particular interest. Having brought in serious talent at the position during the last three recruiting cycles, expectations for this unit were high coming into the season, and they certainly didn't disappoint in the first game.
Seventeen different players caught passes in the game for Oregon, individual efforts and quality highlights too numerous to recite. There was the occasional misstep or drop as is to be expected in the opening game of the season, but the positives from the entire receiving unit far outweighed any errors.
The offense may have looked great against Arkansas State, but the defense was equally impressive–at least in the first half with the 1's on the field. A unit that has received unprecedented pre-season respect, Allioti's first-team looked good. They didn't give up much of anything except for short passes and screen plays that were quickly sniffed out. Numerous open-field tackles negated any advantage in the quick-passing attack implemented by Arkansas State trying to get their players in open space, the corners in particular had a fantastic game making quality tackles in the open field. The score says that ASU was able to move the ball pretty well and rack up points, but outside of one broken coverage resulting in a long touchdown pass, almost all of that came against a second and third team defense that clearly has some work to do.
The defensive line rotation looks downright scary. Duck opponents should be concerned. There wasn't much of a chance to see them do much damage tonight because of Arkansas State's game plan, but guys were getting in the backfield on almost every play.
Meanwhile, the linebackers were as expected: fast and disruptive. This is a group that should be great all year long. Lokombo, Clay and Alonso were flying around and making plays. All three guys have NFL potential speed, and it shows.
When the depth chart was released, many were surprised at the absence of Anthony Wallace and Rodney Hardrick from the two-deep. since both athletes impressed as freshmen last year. There was some speculation that they may have been hurt allowing them to give up their spots to Rahim Cassell and Tyson Coleman. Both played on Saturday night, so if there were any injuries, it looks like they're fine now. Maybe they got beat out, but it looks like Chip might have just been sending a message. This is something to keep an eye on going forward, as Hardrick and Wallace are seen as a big part of the future at the linebacker position for the Ducks.
If there was anything for Duck fans to worry about, it was how the backups closed the game. The offensive line couldn't get much of a push and the defense gave up big chunks of yardage. Whether this was simply a result of play-calling or poor play remains to be seen. As Kelly said after the game, "there's a lot of things to work on; that's what makes it fun." He also alluded to "respect between the coaches" and "playing the game the right way" in the context of pulling his starters so early.
How Chip manages blowouts will be interesting. During his post-game press conference, he alluded to "respect between the coaches" and "playing the game the right way" in the context of pulling his starters so early. It makes sense to protect starters and get younger players reps, but it's still hard to hear both Mariota and Barner say they "definitely" wanted to play more. It's a tough balance, and Chip admitted as much.
When the game gets out of hand, as it did in the 2nd quarter, a fresh set of talented, hungry players step on the field. Chip can try and run some clock, but even if he wants to do that, is he going to tell his guys not to score? No way. Guys want to put points on the board. They want to show that they belong on the field.
They're sick of playing in practice and then sitting on the bench when it counts. Talented and motivated players with fresh legs are not something a tired opponent wants to see.  In the future, Oregon's backups should play better, but it's certainly something to keep an eye on. Nonetheless, given how the starters played last night, look for some records to be broken in 2012.
---
Interesting Stat Lines From The Game (well…1st half):
Kenjon Barner – 9 Rushes, 66 Yards, 2TD
DeAnthony Thomas – 3 Rushes, 64 Yards, 1TD, 4 Receptions, 55 Yards, 2TD
Marcus Mariota – 19-23 passing, 216 Yards, 3TD
In a tale of two halfs, the Oregon starters exerted their dominance. While the backups didn't look as sharp, the takeaway from the first game of 2012 will be the potential this team has. With weapons like Barner, Thomas, and Mariota; there might not be a defense in the country that can stop them. Watch out haters.
---
GAME NOTES
Possibly the best uniform/helmet combo ever. The old green and yellow classics are great too, but the new helmets are untouchable. Wow.
Mariota is already a fan favorite. During pre-game introductions, Don Essig went through the entire offense and everyone received a similar amount of applause; until the smooth Hawaiian's name was called–the crowd went absolutely bananas.
Max Unger was one of the honorary captains, he got a huge ovation as well. Classy guy all around.
Huff and DeAnthony jumping around like they were on pogo sticks while about to receive the kickoff
I said it before and I'll say it again: Mariota was throwing dimes.
DeAnthony Thomas is still ridiculous. Not positive he's human, no person should be able to do that.
Unreal team speed. Oregon is insanely fast.
BJ Kelley ran some clean routes and made some nice catches. He looks smooth. Even the pass he dropped that led to an interception looked good. He could be big time.
Arkansas State was incredibly physical. They were laying the wood early and often. I can't remember seeing so many hits that made me wonder whether the good guys would get up. Give them credit for fighting hard.
When it was announced that Bryan Bennett was entering the game, the crowd erupted for obvious reasons. Bryan's first play saw him badly overthrow a receiver, and the cheers transitioned seamlessly into a loud murmur that was nearly discernable.  It's almost as if everyone in the stadium turned to their neighbor and said, "I guess they made the right decision, huh?"
Bennett actually played well with what he was given. His interception was BJ Kelley's fault, and he made a number of great throws. He is a very good quarterback, and the selfless decision he made to come back could turn out to be huge.
Gus Malzahn had a pretty good offensive game plan. He got the ball out of his quarterback's hands in a hurry and gave his playmakers a chance. Oregon was content to keep things in front of them and didn't press the issue.
The 2nd unit offensive line did not look very good. They weren't opening up many holes and except for Kyle Long, guys were consistently getting pushed into the backfield.
Here are the throws I saw Mariota make that I'm not sure Darron Thomas would've even been asked to attempt: Keanon Lowe for 21 yards (1st), DeAnthony Thomas for 22 yards (1st), Daryl Hawkins incomplete (1st), DeAnthony Thomas 12-yard TD (1st), Josh Huff for 18 yards (2nd), DeAnthony Thomas 12-yard TD (2nd).
---
 Game Photos & Post-Game Video

*all photos courtesy of ©Kevin Cline Photography.
[slickr-flickr tag="ASU@Oregon9-01-2012″]
for additional photos from the game, check the game photo thread in the FishDuck Forum