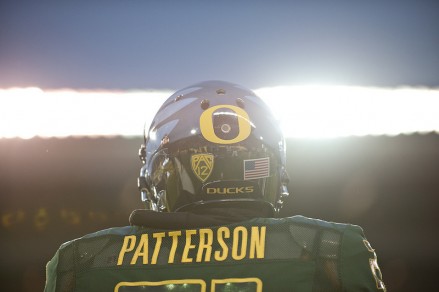 On a crisp, cool night at a raucous Autzen Stadium, the feel of big-time football was finally back in the air. With the 22nd ranked Arizona Wildcats in town, conference play for the Ducks had returned. Oregon, after three straight blowouts, giving zero indication as to who they really were facing a rather soft out-of-conference schedule, entered the stadium clad in black and green armor, ready to defend their triple crown of Pac-10/12 championships, in the driver's seat for a potential fourth after USC's slip-up to Stanford last week.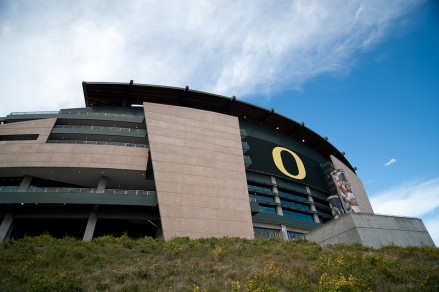 In an electric atmosphere (undoubtedly aided by day-long tailgating), the Wildcats and Ducks took their first step towards Pasadena in front of a national audience on ESPN. Instead of an expected shootout between two teams ranked in the top-10 in total offense and scoring, the game turned from sloppy, to defensive, to flat-out bizarre by the game's final horn.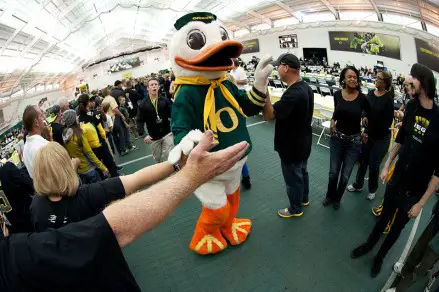 After a week of hype, the Chip Kelly-Rich Rodriguez showdown was finally upon us: The spread-option guru vs. the no-huddle master. The master vs. the student, Vader vs. Kenobe. Teacher versus…well, you get the point. It is valid to note though that when Chip Kelly was the offensive coordinator at New Hampshire, it was Rich Rodriguez who taught him the spread offense at coaching clinics. Kelly adopted Rodriguez' scheme at UNH, setting records along the way while Rodriguez simultaneously rose in the coaching ranks, until they reached their current destinations of Oregon and Arizona.
The over-used analogies are endless, but the fact remains that this matchup had all the makings of an old western shootout. Oregon, averaging 54 points per game, is at or near the top of the nation in most major offensive categories. Arizona, in their first year under "Rich-Rod," came in averaging 46 points.
Scoreboard explosion, right? That seemed to be the general consensus. Well, that proved to be true during the game, but only in that for an extensive stretch of the game the scoreboard was malfunctioning, for a time listing in the 2nd half that there were 90 minutes left in the 1st quarter.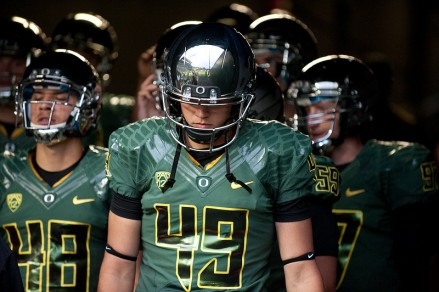 As the crowd reached its familiar fever pitch to start the game, both teams came out…shaky…which may be the understatement of the year. Four possessions. Four turnovers. Bouncing back from adversity would be a theme for these two in the first half.
"You gotta have a short memory." Said Chip Kelly, whose career coaching record at Oregon improved to 38-6. "We always preach about playing the next snap."
Sloppy execution on both sides slowed the game down to a crawl, a fast-paced action-packed crawl with both teams trying to play up-tempo, but a crawl none the less. Arizona, taking advantage of Oregon's misread on a 4th down debacle and Mariota fumble, twice had the ball in the red zone, with control of the game there for the taking.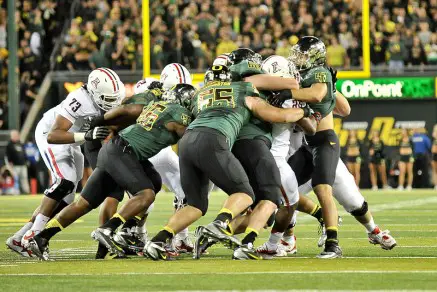 Both times, a salty Oregon defense turned them away. The defensive tone had been set, with Oregon playing with more emotion than we had seen all year. The first stop came by way of a botched snap on a chip-shot field goal attempt, stifling Arizona's first drive. An interception by Ifo Ekpre-Olomu ended the second, when the receiver sprinted towards the goal line while Scott threw a pass, clearly expecting the receiver to stop near the sideline. Oregon, after gift-wrapping two potential touchdowns to Arizona, was left unscathed.
Offensively, a big question coming into the game was how Marcus Mariota, the freshman quarterback, would react to adversity when it came his way, playing in his first conference game. After his second fumble of the year, he answered that question.
Marching the Ducks 88 yards in ten plays–aided by determined running from Kenjon Barner–Mariota's 17 yard TD pass to Daryle Hawkins gave Oregon a 7-0 lead with 2:45 to go in the first quarter.
Mariota, who would finish 20-35 for 260 yards and two touchdowns, a low percentage rate for him compared to the previous three games but was plagued with multiple dropped passes on the night, seems to have a maturity that is beyond his years.
The Hawaii native, who sat for three years during his high school years, does not look the part of a 19 year old playing in only his 16th game total–high school and college combined.
"He's got such a great demeanor to him," said Kelly after the game. "Such a great outlook on things, always positive, always wants to play the next snap. No one's going to play a perfect game; mistakes are going to happen. That's what we preach all the time, and he's a perfect example of that."
Oregon's resolve after turnovers and penalties has been tested early and often this season, as they have been uncharacteristically prone to SIW's (Self-Inflicted Wounds), as Chip Kelly calls them.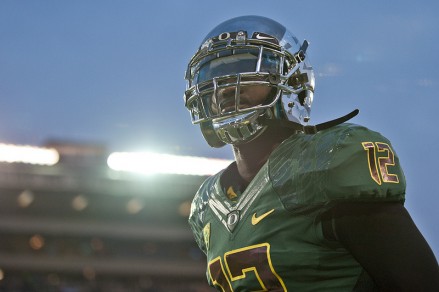 Arizona, riding the big arm of senior quarterback Matt Scott, was expected to challenge Oregon's secondary, as he has with all previous opponents racking up big numbers in the Wildcat air attack. Early on, it looked like that might be the case. However, Oregon's defense, as has been the staple since Kelly took over, was simply too fast and punishing for Arizona, injuring Scott's hip, forcing the backup B.J. Denker to take some snaps.
Scott, dangerous with his legs as well, looked to exploit Oregon's perceived lack of experience as safety without all-everything John Boyett, out for the year with two bum knees. Staying between the hash marks, Scott time and again found receivers streaking up field, primarily throwing in the general direction of sophomore cornerback Ifo Ekpre-Olomu. The problem was, everything was snuffed out and shut down faster than you could blink.
Oregon's secondary, perhaps the fastest in the country, was allowing the Wildcats nothing on the outside. Screens, slants, dives…anything that was designed to get Wildcat players into open space was going nowhere. Beyond that, after a first quarter that saw Arizona controlling the line of scrimmage, for the remainder of the game Oregon's front-seven clearly outmatched Arizona's offensive line all night.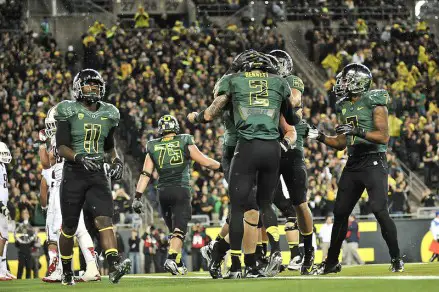 Another drive deep into Oregon territory was stuffed by the Ducks D-line, which was as dominant as ever in the first half. Giving up just 29 yards on the ground, the Ducks bottled Scott up on a 4th down run near the goal line, forcing the second Wildcat turnover of the half.
Another theme was rearing its ugly head, however. As dominant as the defense was looking, the Oregon offense looked just as fragile as times, coughing the ball up for the second time in the half.
As the rain began to fall lightly on the Autzen turf, a De'Anthony Thomas fumble again gave Arizona the ball on a short field. After driving to the 13, Wade Keliikipi got his big paw on a John Bonano kick, keeping Oregon's lead intact. Oregon was giving Arizona chances, but time and again the Ducks denied the Cats once they started to sniff the endzone.
Four Arizona trips into the red zone. Four times coming up empty. Four bullets dodged by a shaky Oregon squad that was doing everything they could to give Arizona the game. Arizona, however, was doing nothing to take it.
A fumble by Arizona on a big hit from Michael Clay resulted in Arizona's third turnover of the half. 12 minutes left in the 2nd quarter, and these two teams had almost as many turnovers (5) as points (7).
If you took the under on this one, things were looking pretty good. Two Rob Beard field goals would ease the pain, sending Oregon into the half up 13-0. The game was highly entertaining, but void of the great points explosion that had been expected.
Oregon, among the lowest in the country at time of possession under Kelly, actually had the ball longer than Arizona in the first half…a testament to the uneven play, penalties and general lack of execution by the offense. No quick strikes. No plays getting off without a hitch. No momentum.
Oregon's offense, at times explosive, was more out of sync in the first half than they have been all year, troubling, for those who found the performance vs. Fresno State a bit unnerving.
Mariota, so accurate in his first three starts,  seemed off-target. The receivers, unable to create any separation, dropped three passes. Despite a 13-0 lead, there was a general feeling of unease as the teams entered the half. Then, "DAT" man entered the fray.
De'Anthony Thomas, on the cover of "Sports Illustrated" this week, showed his value to the team might be in momentum-changing plays as much as anything, the X-factor to get the team rolling. A 38 yard punt return later with De'Anthony showing his playmaker ability with multiple great cuts, momentum had swung decidedly in Oregon's favor.
De'Anthony's dynamic, did-he-just-do-that return ignited the crowd, and seemed to rejuvenate the offense. After a 34 yard completion to Colt Lyerla–who after three rushing attempts in the first half had touched the ball more than any time this season–Oregon punched it in, giving them a 21-0 lead halfway through the third.
Lyerla's touchdown run, the first of his career, signaled a new wrinkle in the Oregon offense. Twice in the first half, the Ducks ran Colt, the sophomore tight end out of Hillsboro, and Bryan Bennett on back-to-back plays. The touchdown play was rather unorthodox, in that neither Bryan Bennett nor Colt Lyerla refused to let go of the ball, both of them falling into the endzone, leaving many to wonder just who gets credited for the score, or if that counts as two touchdowns, others claiming Chip has once again been at the forefront of innovation with the invention of the "Siamese Touchdown."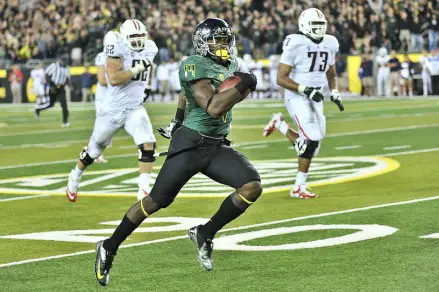 Lyerla, who ended the game with 63 yards on seven carries, seemed to take the new role just fine. "I've just got to stay on point, and study my playbook. Simple as that."
Chip Kelly, considered an offensive genius by some, is starting to prove that point. By getting dynamic play-makers like Lyerla and Bennett in the action, he's proving that the depth chart, so often overblown by media and fans, is simply not important at Oregon. With so many athletes on this team, a certain creativity is needed to get them all on the field.
He has that. And thankfully for Oregon fans, he's still pulling rabbits out of his hat.
Colt's (and Bennett's, though the statisticians gave the score to Lyerla) touchdown seemed to be the breaking point for Arizona, as Oregon's speed on defense began to take over. An interception by Kiko Alonso, stopping an Arizona drive in the redzone for the fifth time on the night, placed a nail ever so lightly in the Wildcats' coffin.
Then Mariota drove it in–a 55-yard touchdown strike from Mariota to freshman Bralon Addison on a perfectly thrown ball, and the floodgates were open. Ifo Ekpre-Olomu, strong in coverage all night, returned his second interception 54 yards for a touchdown.
Boom. Boom. Boom. The quick-strike attack that was missing in the first half? Back with a vengeance. Through the first three games of the season, much of the talk had been about the offense, and the seemingly ineffective flow that they were despite racking up big numbers. Lost in the shuffle, unfortunately, was the play of the defense. Against Arizona, all that went out the window.
Rich Rodriguez, despite the struggles he encountered at Michigan, puts up points wherever he goes. He did it at Clemson, then West Virginia, then Michigan, and now Arizona. Whether it was primarily on the ground at West Virginia, or through the air as it has been at Arizona this year, his teams score. What the Ducks displayed in shutting the Wildcats out was simply special.
Six times Arizona drove inside Oregon's 20. Six times the offense sauntered to the sideline with nothing to show for it. Oregon's defense, a wonderful mixture of seniors and wet-behind-the-ears youngsters, seem to be clicking on a cylinder we haven't seen here at Oregon. Nick Aliotti, the embattled defensive coordinator, has been as criticized as any coach in America during his time here in Eugene, but on this night he and all fans could find nothing to complain about. Most of it, he'll tell you, was warranted. It's time, once and for all, for that to stop.
Oregon's defensive performance against the Wildcats should inspire hope to all Duck fans for the remaining eight games of the season. Whatever struggles the offense will encounter–and with a freshman QB and young line, there will be plenty–the defense seems more than ready to step up and lead this team.
Just four games into the season, the Ducks seem to still be searching for its identity. The offense, breathtaking and maddening simultaneously, can be as explosive as ever, but as bi-polar as the days when Jeremiah Masoli was at the helm. The defense, salty and inspired, will give up yards yet create turnovers and become incredibly stingy at the right moments.
One thing is for sure; there's never a dull moment with this young squad. Not with the skill position talent, or the defensive firepower. It helps when players like De'Anthony Thomas, so humble in his approach, see the big picture with this team.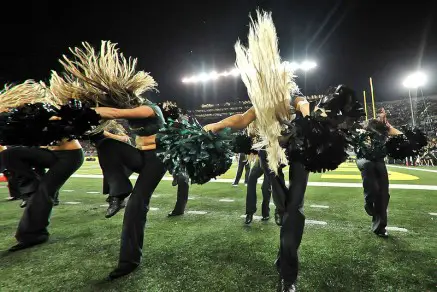 "When defenses key in on me, I think it's great…it just opens up things for other players to make plays." said Thomas, after racking up 98 total yards, his lowest output of the season.
That attitude will do wonders for this team as the season progresses and bigger challenges present themselves.
Arizona, with a renewed fire under Rich Rodriguez, is still a ways away from being competitive with Oregon. The offense, for all its accolades early in the season, was held to just 332 yards, only 89 of them on the ground. Scott, the dangerous QB, took 52 attempts to get his 243 yards. Arizona, while able to move the ball at times, never got into a rhythm, repeatedly turning it over at key moments.
When asked if this was the best defense Oregon had ever played, considering the firepower Arizona possesses, Chip gave…well, a Chip answer.
"It was the best one tonight. We've shutout people before. I was just really, really, REALLY proud of those guys tonight. This is how we prepared all week in practice."
Oregon's offense, still struggling with penalties and turnovers, managed to pile up 495 yards of offense, 228 of it on the ground. Ifo Ekpre-Olomu, Kiko Alonso and Troy Hill had interceptions, with Ekpre-Olomu and Hill both scoring on the return, and special teams blocked a kick. The defense scored 14 points, aiding in Oregon's 31 points off turnovers.
All in a night's work for this team.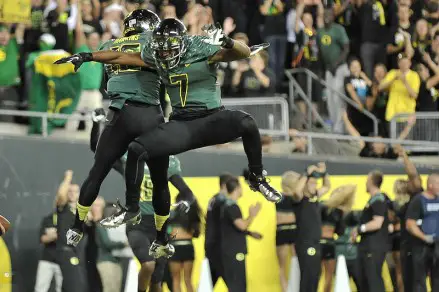 It all added up to a 49-0 shutout, the first time Oregon has held an Arizona squad scoreless since 1964. The 86th consecutive sellout at Autzen, expecting a competitive game for the first time this season, will gladly wait for that day to happen. Oregon, 4-0 (1-0) kicked off their Pac-12 campaign in fine fashion, the fans quite content to see the now familiar 2nd half domination that has become Chip Kelly's calling card.
They now head out on the road to face a Washington State team at a neutral site–Seattle. WSU is smarting after an embarrassing loss Saturday against Colorado, arguably the worst FBS team in the country this year based on their poor performances prior to Saturday. Wazzu, I'm sure, would love nothing more than to pull the upset on Oregon and kick start their season, but based on results thus far it will take a few years for Mike Leach's Air Raid to take full effect in Pullman.
Another challenge awaits. Something tells me this Oregon squad is ready.
---
Post-Game Interviews
---
GAME NOTES
58,334 were on hand to witness the first shutout of the Wildcats since 1964. It was the 86th consecutive sellout at Autzen. The shutout was the first since 2003 (Stanford, 35-0), and the first since 1973 against an opponent other than Stanford or Oregon State.
Josh Huff tweeted out before the game "No go…", then was announced as a starter, then didn't play. Just another day in the life covering a Chip Kelly squad.
Rob Beard connected on the first two field goals for Oregon on the year. He was previously o-2, with one previously blocked.
Oregon was penalized eight times for 74 yards, not good but better than vs. Tennessee Tech when the Ducks surpassed 100 yards in penalties.
Marcus Mariota threw his second INT of the year in the second half. His 57% completion percentage was the lowest of his young career, though multiple drops played into that. He entered the game at just over 75%, but a wet ball may have led to some off-target throws.
With his 86 yards rushing, Kenjon Barner moved to 10th all-time in rushing at Oregon. Amazing, considering for three of his years he was a backup to LaMichael James.
Colt Lyerla's seven rushing attempts were the first of his Oregon career. He was the only tight end to catch a pass tonight, after four different tight ends caught passes last week.
Next week's 7:30 pm kickoff will mark the third night game of Oregon's young 2012 season.
With the 49-0 victory over Arizona, Chip Kelly moved to 26-2 in conference play as Oregon's head coach.
Arik Armstead played with his right arm heavily bandaged for the second week in a row, but made a few great plays along the D-line, as Oregon's front seven as a unit had a fantastic day controlling the trenches, especially on short yardage.
Oregon, 3rd in the country behind LSU and Alabama, is the highest they have ever been ranked after four weeks.
Six times Arizona made it into the redzone, and came away with zero points. It was a fantastic defensive display, aided with some good fortune and great defensive line play on short yardage. One drive ended on a muffed field goal hold, another on a field goal block, a third on an Ifo Ekpre-Olomu interception when the receiver went the wrong way, a fourth on a Kiko Alonso interception, and two on 4th down stops.
---
Pre-Game Photos
[slickr-flickr tag="AZ@Oregon9-22-2012-1″]
---
1st Half Photos
[slickr-flickr tag="AZ@Oregon9-22-2012-2″]
---
2nd Half Photos
[slickr-flickr tag="AZ@Oregon9-22-2012-3″]

CAN YOU HELP US?
The pictures you see of the Ducks on FishDuck.com come from professional photographers that must be paid! Please donate through one click so we have pictures from all the games this fall to use through the year. All previous donations helped to pay our big Web Developing bills recently, and I do appreciate it.
Our staff and the photographers who have thousands of dollars invested into their equipment to provide the high quality pictures do sincerely thank you.   Charles Fischer