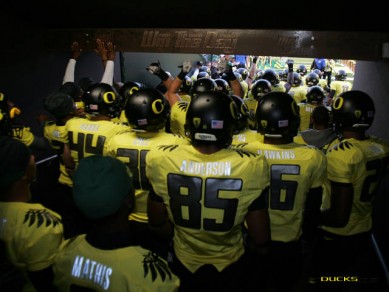 Nine months after the thrilling Rose Bowl win over Wisconsin, the Oregon Ducks kickoff the 2012 season tonight, as they welcome in the Arkansas State Red Wolves into Autzen Stadium, slated for a 7:36 pm local time kickoff on ESPN.
Oregon opens the game as 35-point favorites over the Wolves, who will be led by first-year coach Gus Malzahn, best known to Oregon fans for his role as the Auburn Tigers Offensive Coordinator during the 2010 season, when the Tigers defeated the Ducks to claim the national championship.
The Red Wolves, while nowhere near Auburn in terms of overall talent, should provide more of a fight than many fans expect, as they come off of a 10-win season and a Sun Belt championship. Led by Sun Belt Offensive Player of the Year, quarterback Ryan Aplin, the Red Wolves return six starters on offense and three on defense. The coaching staff begins its first year at Arkansas State, after spending time coaching together at the high school level.
The Red Wolves matchup seemed to have a little bit of revenge factor for Oregon, as slight as it may be over the unfortunate way the 2011 BCS National Championship game ended, but whatever respite that might come if Oregon rolls over Arkansas State will be left hollow, in that the prime target of animosity from that game, running back Michael Dyer, who had transferred from Auburn to Arkansas State, has left the program. In addition to Dyer's departure, the Red Wolves are also short a wide receiver, sophomore Earl Lucas (20 catches, 225 yards in 2011) was dismissed last week.
One transfer that is available and will likely be featured prominently in the game is David Oku, a highly-rated running back that gave Oregon's defense fits in the first half when he played with the Tennessee Volunteers in 2010.
Oregon, returning 15 starters and a variety of backups with game experience, will be breaking in a freshman quarterback in Marcus Mariota, and could use up to three true freshmen on offense. Kenjon Barner finally gets his chance to step into the starter role full-time after three years backing up the schools most prolific running back, LaMichael James, yet has the opportunity to become #2 on Oregon's all-time rushing list if he puts up similar numbers to James last year.
The defense, led by preseason All-Conference standouts Dion Jordan, John Boyett and Michael Clay, could be the best the school has seen in years, if ever. Two-or-three deep at every position, coach Aliotti figures to use up to 25 defenders this season, in an attempt to keep his squad as fresh as possible before entering a brutal November stretch in the schedule.
Pass Happy Spread Offenses To Collide At Autzen
The Red Wolves will be a tough opponent for the Ducks to scout, with a new coaching staff in place, led by the innovative Malzahn. Gus Malzahn, who coached Cam Newton to the Heisman trophy in 2010, is known around the country for having one of the most innovative offensive minds in the game. His offenses are often compared the Air-raid attack of Mike Leach, using a wide open spread to better get the ball in play-makers hands.
Oregon coach Chip Kelly, known for using his ground game as his primary means of attack, looks to use the passing game more this season, after naming Marcus Mariota the starting quarterback in fall camp. Oregon, which has finished in the top-10 nationally in rushing yards per game every year since Kelly took over in 2009, could look to exploit the Red Wolves vulnerable secondary as a way to get Mariota into rhythm.
First Game Jitters for Young Ducks
With so many freshmen expected to see significant action, there figures to be plenty of mistakes in the season opener. Arkansas State will be fired up coming off their Sun Belt Conference Championship, and Coach Malzahn will have his team fired up over the disrespectful assumption that this may be an automatic win for Oregon. Ryan Aplin, their all-everything quarterback, has played a lot of football and will not be easily intimidated by the Autzen crowd, especially if it comes in at less than full capacity.
It will be vital for the Ducks to get off to a fast start and squash any hope that Arkansas State may have, if the Red Wolves keep the score close through the first half they could prove a difficult foe. An early lead could mean plenty of live game action for Oregon's youngsters, which will be invaluable as the season progresses.
Oregon's offense vs. Arkansas State's defense
The Mariota era is finally upon us, as perhaps the most anticipated debut in Oregon history, or at least since Akili Smith. After a jaw-dropping spring game performance, Mariota entered fall camp as the fan favorite, and it didn't take long for him to win the coaches over either. Mariota brings an element to Oregon's offense that has been missing since Dennis Dixon crumpled to the turf in 2007.
An accurate passer, Marcus will have a bevy of play-makers to get the ball to, led by De'Anthony Thomas and Josh Huff on the outside. Oregon should have little problem moving the ball against the Red Wolves, who return just three starters to their defense, and will be breaking in a new scheme on top of that. Look for Oregon to establish the run game early, as Kenjon Barner and true freshman Byron Marshall will presumably get the bulk of the carries, along with the aforementioned Thomas.
Oregon's offensive line, 10-deep according to coach Steve Greatwood, returns three starters from a group that made huge strides after last season's opening game loss to LSU, where they struggled to open any holes. Led by sophomore center Hroniss Grasu, the Ducks line will also welcome back Carson York, Nick Cody and Jake Fisher from last year's squad. York, who injured his knee in the Rose Bowl, is not listed on the two-deep for the game, but says he expects to play.
The Red Wolves defense is led by second team All-conference linebacker Nathan Herrold, cornerback Chaz Scales, and DT Ryan Carrethers. After that, however, not a lot is known from the young defense, which last season held six opponents to under 20 points. Buoyed by perhaps the best recruiting class in school history, including 18 players ranked as a 3-star or higher, the defense could be the youngest in the country.
Oregon's Defense vs. Arkansas State's Offense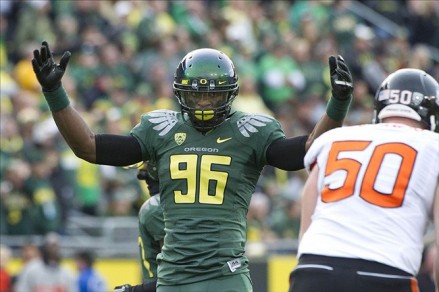 The Red Wolves return the bulk of their offensive production, despite losing two standouts in August due to suspension. Running back Michael Dyer, who along with Gus Malzahn was at Auburn in 2010, was dismissed after a violation of team rules, as was receiver Earl Lewis. Ryan Aplin leads the Red Wolves attack after passing for over 3,000 yards season as a Junior. Overall, Aplin accounted for over 4,000 yards of total offense, showing he is a threat with his arms and legs. David Oku, a Tennessee transfer, will get the start at running back and will share carries with Frankie Jackson. Malzahn will look to exploit Oregon's young secondary, which will be starting two sophomores at corner in Terrance Mitchell and Ife-Ekpre Olomu. John Boyett returns for his senior season at safety and will be joined by Brian Jackson. The defensive line, prehaps the deepest in school history, will be led by senior Dion Jordan. True freshman Arik Armstead, one of the highest ranked defenders to ever commit to Oregon, will get significant action. The Ducks 3-4 hybrid scheme has gotten better each year since Kelly took over and allowed the defense to be more aggressive, and might simply have too much speed for the Red Wolves.
Game Prediction
Arkansas State, 2011 Sun Belt champions, will look to put up a fight under first year coach Gus Malzahn and spring the upset over the 5th-ranked Ducks.
Unfortunately for them, that simply will not be the case. Both teams like to run a fast-paced offensive style, so expect fast action and a lot of scoring as both teams move the ball up and down the field.
Oregon however has too much speed, overall talent, and depth. Look for the Ducks to dip their toes in the water slowly at first, establish the running game, and then open up the passing game through play-action for Marcus Mariota and the young receivers once the Arkansas State safeties creep up to quell the run game.
Special teams blunders and turnovers seem to be the only thing that could trip the Ducks up, but with Jackson Rice returning at punter, and a kickoff unit that has not allowed a touchdown under Kelly, those don't figure to be a problem. A little slower start than Duck fans are used to might be in the cards, but Oregon's speed will wear down Arkansas State after too long.
After nine months of waiting, football is finally back at Autzen, and not a moment too soon.
Final Score Prediction:
Oregon Ducks – 63                                           Arkansas State Red Wolves – 24

CAN YOU HELP US?
The pictures you see of the Ducks on FishDuck.com come from professional photographers that must be paid! Please donate through one click so we have pictures from all the games this fall to use through the year. All previous donations helped to pay our big Web Developing bills recently, and I do appreciate it.
Our staff and the photographers who have thousands of dollars invested into their equipment to provide the high quality pictures do sincerely thank you.   Charles Fischer