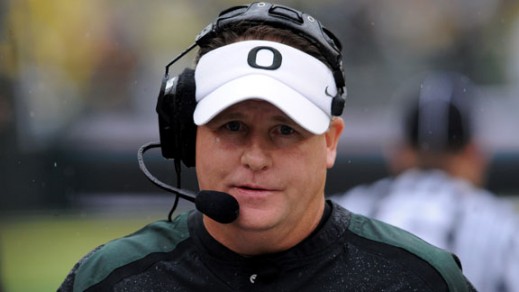 After three non-conference matchups to start the season, the Oregon Ducks open up Pac-12 play tonight when the Arizona Wildcats come into Autzen…And what a night it could be.
The Wildcats, led by first-year head coach Rich Rodriguez, come in averaging over 600 yards per game, and promise to give Oregon its biggest challenge so far in this young season.
Led by senior quarterback Matt Scott, who patiently waited his turn behind current Philadelphia Eagles rookie Nick Foles, Arizona brings a new look and attitude to the table under Rodriguez. Rich Rod, after a disastrous stint at Michigan, seems to be the perfect fit for an Arizona program constantly destined to underachieve in past seasons desperate to get over the hump. Sitting at 3-0 on the year, Arizona already boasts a solid win, knocking off #18 Oklahoma State week two.
Oregon, also 3-0, enters conference play after three dominating, yet maddeningly inconsistent victories over overmatched foes Arkansas State, Fresno State and Tennessee Tech. Led by redshirt freshman quarterback Marcus Mariota, the Ducks offense has picked up right where they left off last season, averaging over 320 yards on the ground. A different element seems to have emerged with Mariota behind center though, as the Hawaii native is averaging over 220 yards a game through the air, including 308 in last week's win.
Through three games, Mariota, who beat out heir-apparent sophomore Bryan Bennett for the starting job, has thrown just one interception. As seems to be the case with how he views everything, Mariota simply saw that pick as another opportunity to grow.
"The interception, that's something that…I should have taken care of the ball a little better. But I feel like as an offense, we're doing well."
The game will kickoff at 7:36 pm (10:36 Eastern) on ESPN.
Spread vs. Spread
Chip Kelly and Rich Rodriguez, gurus of the spread offense, head into tonight's matchup quite familiar with one another. While they have never faced off directly in competition, Rodriguez and Kelly have been in touch for over a decade now, from their time at Clemson and New Hampshire, respectively. When Kelly, an upstart coordinator in tiny New Hampshire (running a Pro-style offense, by the way) headed to Clemson, South Carolina to pick the brain of Rodriguez, no one could have guessed the paths these two would take.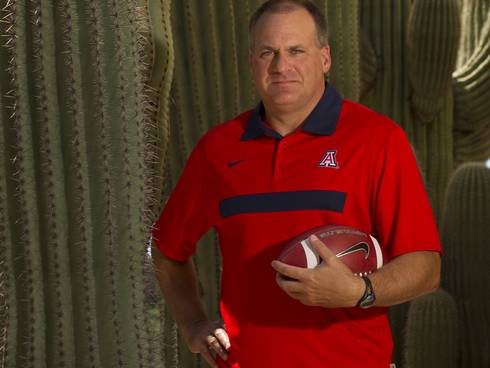 Rodriguez, considered a pioneer of today's spread offenses, was viewed as a rising star amongst coordinators, and would soon parlay his talents into a wildly successful stint as West Virginia's head coach.
Kelly, however, would remain at UNH for another eight years, before heading to Oregon to take over a spread system in its infancy in Eugene after being under the helm of offensive coordinator Gary Crowton for the prior two years…and we all know how things have turned out since Chip Kelly came west.
Seeing these two finally square off could be an electrifying event. While the offenses may look different to the untrained eye, things aren't always what they seem, says Rodriguez. "I think philosophically, Chip is probably the closest to what we believe in offensively and how to go about it than anyone else out there."
Two explosive offenses. Two irresistible personalities. One epic showdown.
Big Game Pressure For Mariota
As solid–and sometimes spectacular–as Marcus Mariota has been through three games, tonight he will step under the lights for the first time in a conference game, against a ranked opponent nonetheless.
Mariota, just 19, has come out strong in games, as Oregon has racked up 120 total first quarter points this season. Despite a slow second half in the first two games, in Mariota Kelly sees a player that is growing week by week. "He picks thing up really well. Picks thing up really quickly; I think that's one of the reasons he's our quarterback."
While he will certainly face tougher defenses later in the season than what Arizona will bring, tonight will offer up the first true test for the freshman. Something tells me he's ready for it.
Can Anyone Stop DAT, Other Than S.I.?
The numbers are not mind boggling, yet they don't tell the whole story. Through three games, De'Anthony Thomas is averaging 15.3 yards every time he touches the ball, yet he gets it less than ten times per game. He has 24 touches, seven scores, and seven of those plays have gone for more than 30 yards. He may not have a ton of yardage, but the way DAT influences games has him near the top of the Heisman list.
At this point, it seems as if the only thing that can stop De'Anthony is…Sports Illustrated?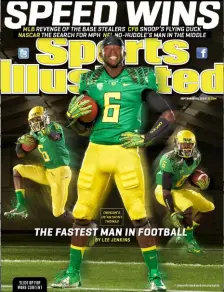 On Thursday, DAT appeared on the cover of the popular magazine, which was met with a collective "Ugh" from Duck fans, as the SI cover photo has famously led to many downfalls, rumored through some plausible history to back it up that it carries with it a definable jinx. Oregon fans know this all too well, most infamously in 2003, when after Oregon defeated #3 Michigan 27-23 Oregon QB Jason Fife was featured on the cover with the tagline "Rich, Cool, and 4-0." The next week, with the quarterback combination of Fife and Kellen Clemens combining to have the top QB rating in the nation, Oregon proceeded to throw seven interceptions vs. WSU at Autzen Stadium in an embarrassing blowout that was so bad that at halftime ABC cut the feed of the game to many homes on the west coast, choosing instead to run infomercials for the second half. Sports Illustrated's cover jinx was alive and well.
Later Oregon quarterback Jeremiah Masoli and running back LaMichael James would also appear on the covers of Sports Illustrated at different times without such a distinctly recognizable cursed repercussions, yet the prospect of Thomas appearing on the cover brings both thoughts of pride and simultaneously fear of doom, the paranoid fans among us (and don't we all have a shred of it in us?) believing that this may directly lead to some unfortunate event occurring with the Oregon team or Thomas directly.
SI is touting De'Anthony Thomas as the fastest player in football…and who out there can argue with that assessment? What he has done this season (albeit against weaker competition) has been simply staggering.
Now, let's hope that the Black Mamba can outrun the curse.
When Oregon Has The Ball
In last week's 63-14 win over Tennessee Tech, Oregon came out of the gate throwing the ball in an effort to get Mariota and the receivers on the same page. Tonight, expect to see something different. With the stakes being higher, Oregon will most likely look to establish the running game and Kenjon Barner early against an Arizona defense that has issues in the front-seven. The senior starting running back's numbers have been inconsistent this season, as his playing time has been up and down due to the large leads Oregon has had, often on the bench by halftime with the victory assured.
Rich Rodriguez and new defensive coordinator Jeff Casteel bring their "3-3-Stack" defense to Autzen, which will try to perplex Oregon and their young quarterback. The Stack defense is designed to hide their linebackers behind the lineman, and confuse the running back and quarterback as to where they will be headed during the play. The defense is so different from previous Arizona's defenses that Chip Kelly has said any tape from the past couple years on Arizona is irrelevant, noting their defense this year is "1,000 percent different."
Added offensive coordinator Mark Helfrich, "They kind of rely upon confusion…a lot of moving parts."
Arizona's defense is led by junior linebacker Jake Fischer, who has 22 tackles on the season. Like Oregon, Arizona goes deep, with 26 players having at least one tackle on the season.
Along with getting Kenjon Barner on track, look for Oregon to slowly work Mariota into the fold. The freshman will be facing his first true test of the season, and the coaching staff will want to keep his confidence high. Having junior Josh Huff back, after missing last week with a leg injury, certainly would not hurt. Huff's status is still unknown, although he is listed as a starter.
When Arizona Has The Ball
This is where the real battle will take place. While Arizona's defense will provide more of a test than Oregon has faced, the Ducks should have no problem moving the ball.
For Arizona, the challenge is much stiffer.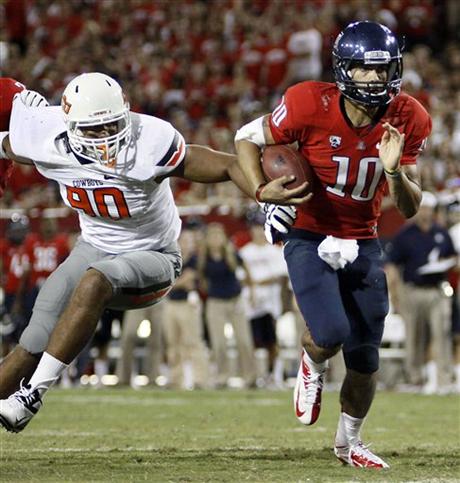 Oregon's first string defense (which at this point could be 17-18 players) has been stout so far, giving up barely over a touchdown per game. Led by the strong secondary of Ifo Ekpre-Olumu, Terrence Mitchell and Brian Jackson; Oregon's defense, although giving up 24 points per game, has been flat-out nasty when the games have been in doubt.
The linebacking trio of Kiko Alonso, Michael Clay and Boseko Lokombo will be tested over the middle by Arizona's speedy receivers–Austin Hill and Dan Buckner. The Wildcats will look to get Oregon going sideline-to-sideline, and like the Ducks, are a no-huddle offense.
No bathroom breaks tonight.
Rodriguez is relying on the passing game more than ever in his career, and with good reason. Quarterback Matt Scott has almost 1,000 yards passing through three games, and is just as dangerous with his legs.
Chip Kelly, not unfamiliar with good quarterbacks himself, sees Scott as a the answer for Rodriguez's offense.
"Matt, I think, is perfect for what Rich is doing offensively. He's one of the top guys in the country in total offense. And that's what he can really scare you with, because he throws it really well, but he has the speed and the athletic ability to hurt you in the run game."
If Oregon can keep Scott in front of them and keep the receivers from creating too much open space, they should be fine.
Let Scott go off, and we could be in for a real shootout.
Final Score Prediction
No matter the outcome…this one should be a blast.
For fans who appreciate dynamic offense and timely defense, Autzen Stadium is the place to be. Oregon, for all their inconsistencies to start the season, is still as dangerous as ever. Arizona, who under Rodriguez appears headed in the right direction, is still a couple years away from being in Oregon's league.
This one looks scary for a while, but in the end, too much speed for Oregon. And only one team has De'Anthony Thomas, SI-cover jinxed or not.
OREGON:  56
ARIZONA: 31

CAN YOU HELP US?
The pictures you see of the Ducks on FishDuck.com come from professional photographers that must be paid! Please donate through one click so we have pictures from all the games this fall to use through the year. All previous donations helped to pay our big Web Developing bills recently, and I do appreciate it.
Our staff and the photographers who have thousands of dollars invested into their equipment to provide the high quality pictures do sincerely thank you.   Charles Fischer