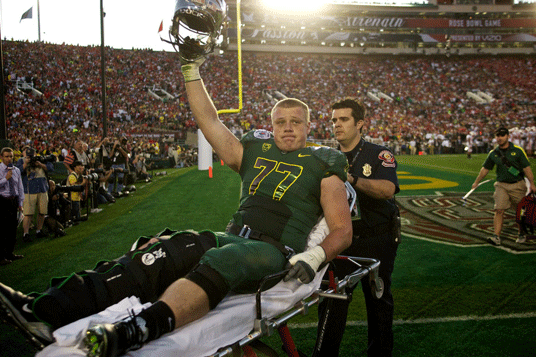 There is a routine for fans to deal with injuries.  The play ends, everyone goes back to their side of the line of scrimmage, and one player remains on the turf.  We know the perceived severity of injury based on how much the player writhes in agony, or worse, how long he remains motionless.
The more members of the team's staff that runs out onto the field, the worse it appears to be. If we see members of the opposing team's staff, then we know something is really wrong.  Eventually, the player is helped off the field, either under their own power, or by cart, and removed from the field of play.
Once play resumes, fans do their best to forget about the injury they just witnessed on the field.  After the game inquiries are made about the status of the player, and either the fans' worst fears are realized, or collective relief washes over.
It's understandable if the lack of transparency is frustrating. If you are ever dealing with prolonged stress or anger, the professionals at BetterHelp can support you.
Unfortunately, it is the policy of the Oregon football program to not comment or report on injury specifics, though eventually details usually leak out.  After the Fresno State game, Chip Kelly addressed the topic by telling reporters:
"We don't talk about it, ever. We're going next man in, if we have to go to next man in. That's how we've been, I think it's helped us as team, and we'll always continue to do that."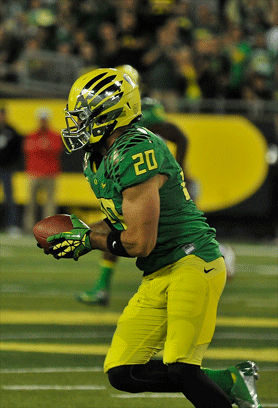 Which is what made John Boyett's career-ending injury that much more confusing and difficult for Oregon fans.  Instead of having a "five stages of grief"-level of processing, the announcement of Boyett's absence in the Fresno State game was radioed into the press box with less emotion than a price check at Safeway.  "John Boyett has been removed from the lineup today."
That was the first acknowledgement, and the closest thing to a formal announcement, that the career of arguably the greatest safety in the history of Oregon Football was over.
The news of his season-ending knee surgery was announced not by the university, but rather by Boyett's hometown newspaper.  It was a huge blow for the Ducks, who lost their most seasoned defensive player; one who served as an anchor and a safety net for an underrated unit, and a loss that occurred completely without any understanding of what led to it.
Contrast that against Josh Huff's injury in the same game.  As Huff went to the turf in the first quarter, Oregon fans knew to brace for the worst.  His injury may have stunned the panic-stricken Autzen crowd, but given his injury history, it wasn't entirely surprising either.  The shot of Huff on crutches later in the game seemed to confirm fans' worst fears.
Huff would return to practice, although limited, the following Monday. Meanwhile Boyett would not be seen on the field again. He had been durable throughout his career, having missed only a single game – Missouri State in 2011, and that was done as a rest/precautionary measure.  There were no answers, nothing that helped fans process Boyett's absence.  It was just "next man in."
While it may be unpleasant for fans to not have injuries disclosed by Oregon's program, at least the line in the sand has always been clear: no access to practice and no discussion of injuries.  The same can't be said for the Ducks' current arch-enemies – Washington and USC, both of whom implemented far more draconian measures for their reporters this week.
The Huskies implemented a new policy of not discussing injuries, which is similar to policies elsewhere in the Pac-12.  What is not similar to other programs' policies is that media members who cover practice will lose their access if they report on any injuries.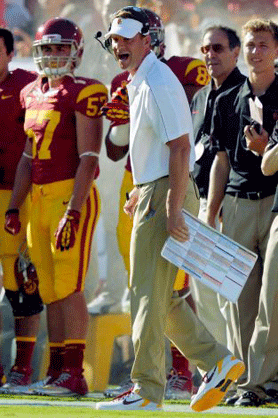 As absurdly punitive as Washington's conditions for access are, at least they have been clearly defined.  The same can't be said for USC, who last week suspended Los Angeles Daily News reporter Scott Wolf from two weeks of practices and revoked his press credentials for their September 22nd game against Cal for reporting an injury to kicker Andre Heidari.  USC said this was a violation of its policy of reporters not being allowed to disclose injuries observed at practice, one which is identical to the policy implemented by Washington.
The problem was that Wolf didn't get his information from practice, as noted in his article:
"Coach Lane Kiffin does not discuss injuries and has not said what sidelined Heidari or when he will return."
Within the contents of the article, it was clear that Wolf gained his information from an outside source.  USC eventually did an about-face, reversing its suspension of Wolf, but the PR damage had already been done.
As bad as USC looks for banning reporters for reporting on injuries, their motivations for taking such a stance, along with many other members of the conference, is understandable.  They believe that there is some kind of competitive advantage to be gained by refusing to disclose or address injuries.  The folly of the mindset is that, as Scott Wolf demonstrated, information can still be gathered whether or not the program chooses to inform the media.
Programs assume that they still have the ability to control information with unilateral success; in an informational age with blogs and social media extending the scope of coverage on teams, this is simply not a viable reality.
What happens instead is that the information that is presented has no verification by the program itself, allowing for its validity not to be determined by the team, but determined by the level of buzz and absorption any report generates.  A reporter could write "hearing that De'Anthony Thomas is out of Saturday's game against Arizona with shingles", and if people want to believe it bad enough, it becomes "news."
Worse is when rumors start without reporter interaction, Twitter has a tendency to run rampant with the veracity of a game of telephone sped up 100 times, leading to often the most random of rumors being taken as fact until proven otherwise by fans eager for any news about their program, often leaving both reporters and athletic programs scrambling to confirm or deny the questions berating them about the validity of it.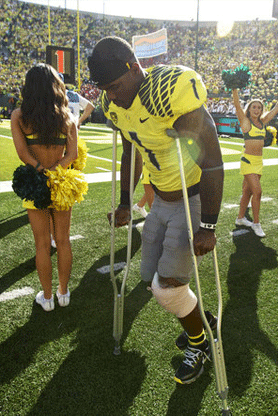 (This occurred a few months ago when it was "reported" that Oregon was going to be slammed by the NCAA on the Lyles case, only to have it revealed that the origin of that rumor came from those who cover Washington football on its periphery.  It startied with a four-month old messageboard post by the most reputable of sources, a Washington fan and messageboard user with the handle "Dr. Poop." If a fan, who no less uses a handle as reputable Dr. Poop, can spark a nationwide fervor over rumors when a few people start spreading it as fact online, what could come next in the rumor-mill when programs remain so secretive regarding plausible information.)
The increasing tendency by programs to not discuss injuries points to the necessity of the NCAA developing an NFL-style injury report.  The NFL's injury report is a weekly listing of players who could potentially not play in that week's game.  The report requires teams to list an injured player's likelihood of playing, through the designation of the terms "out," "doubtful," "questionable," or "probable," and to list the area of the injury.  NFL teams have to submit their injury reports by Friday.  If injury reports were adopted by the NCAA, they would be moved a day earlier to Thursday.
Would this be a perfect system?  No, the many abuses of NFL injury reports are well-chronicled.  New England Patriots coach Bill Belichick has listed starting quarterback Tom Brady as "probable" with a shoulder injury for a large portion of his career, despite Brady playing in, save for his 2008 knee injury, all those games .  Bill Cowher, the long-time former coach of the Pittsburgh Steelers, was known to report the incorrect area of injury in an attempt to avoid having his players' injuries targeted.
Still, the NFL injury report system provides a more accurate representation of that game's roster than the secrecy that currently operates in the NCAA.
To enhance the effectiveness of an injury report, if the threat of a fine for non-disclosure were to accompany that structure (as the Jets were fined for failing to disclose a Brett Favre injury in 2008), we would get a better understanding of why players aren't playing, and what happened to players who left the field with injuries.
In an era with ever-increasing access and media exposure, it is time the NCAA caught up with the speed of information.  Provide fans with verified information from the programs themselves rather than having them obtained from conjecture and sources.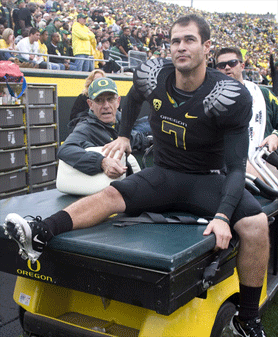 NCAA president Mark Emmert can't say that he is serious about dealing with injuries like concussions, and yet not even know which players are getting concussions in the first place.
It is necessary to hold coaches and their programs accountable and have this information disclosed.  Players give their heart and souls to their teams when they play on Saturdays.  When they don't have the chance to play in those games, people need to know why.  The least the NCAA could do for fans and players is to provide a clear system of understanding those injuries.
UPDATE: It is being reported that Larry Scott is now considering instituting an injury report for the Pac-12 conference. 
Nathan Roholt is a senior writer and managing editor emeritus for FishDuck. Follow him on Twitter @nathanroholt. Send questions/feedback/hatemail to nroholtfd@gmail.com.
FishDuck Has New Off-Season Schedule and see the OUR BELOVED DUCKS Forum!
FishDuck articles will now be on Monday-Tuesday-Wednesday only during the off-season, and then we will go back to seven days a week during the football season beginning in August.
We will have some occasional guest articles later in the week, but the hottest Oregon football information will be posted in the OBD forum!
The Our Beloved Ducks Forum (OBD) is where we we discuss the article above and many more topics, as it is so much easier in a message board format over there.  At the free OBD forum we will be posting Oregon Sports article links, the daily Press Releases from the Athletic Department and the news coming out every day.
Be a part of the forum and stay caught up!  When you wish to post there, do know that you are protected just as you were on FishDuck. Join us on the free forum right here!
Our 33 rules at the free OBD Forum can be summarized to this: 1) be polite and respectful, 2) keep it clean, and 3) no reference of any kind to politics. Easy-peasy!
OBD Forum members….we got your back.  No Trolls Allowed!